Frieze has revealed the full lineup of gallery highlights, programming and partner activations for Frieze New York 2023. Frieze New York will take place May 17th to 21st, 2023 at The Shed on 30th Street between 10th and 11th Avenues.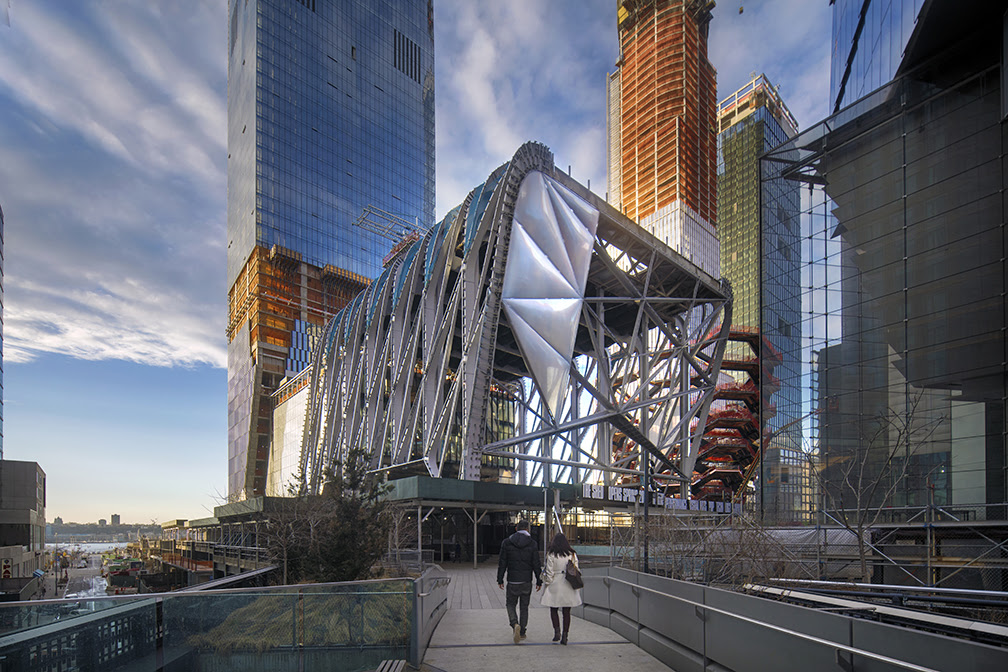 Led for the second year by Christine Messineo (Director of Americas, Frieze), the fair will bring together over 60 leading galleries spanning 27 countries, including 33 with a New York location.
As a global art fair, Frieze New York brings extraordinary galleries and artists from North and South America, Europe, Asia and Africa. New York City is the undisputed center of the art market, and as such art lovers and collectors will be able to immerse themselves in the international perspectives that the fair brings to the city.

Christine Messineo
Highlights of the fair include solo presentations by the following galleries and artists:
David Kordansky's presentation of work by Lauren Halsey will arrive soon after the artist's Roof Garden Commission at the Met and include a new suite of digital collages and gypsum-based engravings. These works reflect the artist's commitment to South Central Los Angeles –
simultaneously incubators of funkadelic dreams and futures, but also full of the concrete textures, materials, and iconographies of her community
Gagosian will participate in Frieze New York 2023 with a solo presentation by Nan Goldin, the artist's debut at the gallery following its announcement of her representation. For the occasion Goldin has composed an installation of eight of her Grids made over the last fifteen years.
Gallery Hyundai will display a solo presentation of works by Yoo Geun-Taek, a virtuoso artist who bridges the East Asian tradition of ink and color painting on hanji (Korean traditional paper) with contemporary aesthetics. The artist expands this artistic genre into subjects of nature, the environment and society to craft a singular experimental practice
Hauser & Wirth will present a solo booth of works by American artist Jack Whitten, spanning from his early career in the 1960s to his final works in the 2010s. Whitten's work bridged abstraction and process art over the course of a six-decade career, arriving at a nuanced language of painting
Jenkins Johnson's solo presentation by Mary Lovelace O'Neal, titled 'Frozen in Time,' will feature six paintings that fuse the gestural elements of Abstract Expressionism with the social consciousness of the Black Arts Movement. Though the paintings span four decades of her career, Lovelace O'Neal places little importance on the dating of her work—each painting is simply a detail within the totality of her practice and, once departed her studio, remains 'Frozen in Time'
Silverlens will debut its representation of the Estate of Carlos Villa. His innovative practice of culling materials from indigenous cultures across the globe combines feathers, bone, physical body prints and sperm to create strangely human works that challenge colonial perspectives and lay radical claim to a cross-cultural, diasporic identity.
Sprüth Magers and Karma International's joint presentation of Pamela Rosenkranz's work coincides with her recent commission on the nearby High Line Plinth. Her work involves sculptures, paintings, videos and installations that reflect on the human need to anthropomorphize our surroundings in order to understand them. In doing so, she investigates the codes through which people give meaning to the natural world
Participating galleries will also curate a number of shows that bring together artists exploring topical issues and debates:
Dastan Gallery will show works by five pioneering Iranian women artists: the renowned late painters Behjat Sadr and Farideh Lashai, alongside contemporary painter Farah Ossouli, multi-disciplinary artist Bita Fayyazi, and photographer Newsha Tavakolian
Michael Rosenfeld Gallery will show a group exhibition focused on the legacy of Roe v. Wade. Fifty years after the US Supreme Court ruled that the Constitution conferred the right to an abortion, the exhibition will feature an interdisciplinary selection of works created in 1973 by a diverse roster of women artists. Highlights will include works by Magdalena Abakanowicz, Claire Zeisler, Hannelore Baron, Mary Bauermeister, Louise Nevelson, Betye Saar, Barbara Chase-Riboud, Claire Falkenstein, Alma Thomas, Jay DeFeo, Nancy Grossman and Lee Bontecou. Created at a time of social and political change, works on view will provide a snapshot of the era's cultural ethos while taking on new valences in the wake of the case's overruling this year
Massimo De Carlo will present works by a range of artists including Sanford Biggers, who challenges our given relationships to history with its established symbols and beliefs, combining Afro-American traditions, Japanese symbolism, contemporary urban experiences and Italian technique with the rhythms of hip-hop music.
Frieze New York will also feature Focus, a section dedicated to emerging galleries aged 12 years and under. This section is advised by Olivia Barrett (Chatêau Shatto, Los Angeles) and Sophie Mörner (Company Gallery, New York). Artists with solo presentations in Focus include Sam Lipp, Min ha Park, Jagdeep Raina, Marcos Siqueira, Liao Wen and Julia Yerger.
One of the highlights in Focus will be Tiwani Contemporary's presentation of new paintings, projection and soundscape by Emma Prempeh, a London-based, British artist with Ghanaian and Vincentian heritage. Prempeh's recent body of works explore interior spaces pictorially colliding with aspects of her personal
history.
Daniel Faria Gallery's Focus booth will show a new series of sculptures by June Clark. Born in Harlem in 1941, Clark emigrated to Canada in the late 1960s due to political turbulence in the United States. In her work, she is able to simultaneously depict the America of her childhood imagination and the inherent injustices, inequalities and violence on which the country was formed.
As another highlight in this section, Company Gallery will present Tosh Basco's improvisational performance work, paintings and drawings. Under the name boychild, the artist arose from the underground drag scene in San Francisco and has made collaboration a vital aspect to her work since then. Her drawings, which are made by pressing her body tinted with makeup and paint onto paper, are the physical and emotional imprints of these movements.
Barro will display a solo exhibition by Mónica Giron. Through her presentation of the landscape, the artist creates a body of work and actions that reflect the stunning Patagonian horizon – whose human and geopolitical contexts are being rapidly transformed.
FRIEZE PROJECTS
ektor garcia: la llorona
ektor garcia's installation la llorona joins past works with new, offering a moment of pause within the continual and cyclical timeline that is the artist's practice. To garcia, both the artwork and its materials are alive, evolving together through a constant and committed creative activity. Coming together in new forms, garcia's installation prompts what it means for an artwork to be flexible, unencumbered, and open to change—freed from both his and our expectations. la llorona is realized with the support of Maestro Dobel Tequila, the works will be installed on the eighth level of The Shed.
Liz Magic Laser: Prototype for Convulsive States, selected by Lola Kramer:
For Convulsive States, multimedia artist Liz Magic Laser explores the shaking body as a symptom of sickness and a healing strategy, spanning historical and present-day incidents of individual and mass hysteria. For Frieze New York, Laser will premiere a single-channel mirrored monitor prototype from her newly commissioned exhibition at Pioneer Works, which will open in September 2023. Riffing on the 'smart' mirror digital fitness coach popularized during the pandemic, the video work invites viewers to move by superimposing their reflections onto the vibrating bodies of spiritual and therapeutic practitioners, such as dancer and somatic healer Cori Kresge. Convulsive States will be on view on the fourth level of The Shed.
Artists Space offsite performance by Shala Miller
Artists Space in collaboration with Frieze is pleased to present Genesis: Medley, a performance by multidisciplinary artist, vocalist, and writer Shala Miller. An extension of their latest three-channel installation, Genesis, currently on view at Artists Space, the performance brings together a chorus of vocalists to tell the story of Obsidian's becoming. Obsidian is a fictional character who serves as a kind of alter ego for the artist, created at the beginning of this year to process their rage as a black Femme person. For this project, Miller works closely with director and composer Tariq Al-Sabir to reimagine the installation's three- part soundtrack for live audiences, cultivating a musical arrangement and choreography that uses voice and echo as primary material. Utilizing autoethnography, song, and the artist's years long practice of creating fictional worlds, the work is a meditation on desire, mourning, pleasure, and pain. The performance will take place at 7pm on Friday May 19 at Artists Space, New York.
PROGRAMMING AT FRIEZE NEW YORK 2023
Artadia at Frieze New York: Jessica Vaughn is the recipient of the inaugural Frieze Artadia Prize. The new initiative, launched in partnership with the celebrated national non-profit Artadia, provides a New York-based artist with the opportunity to realize a major new work at Frieze New York. Titled The Internet of Things, Vaughn's commission draws on the US postal system to spotlight the organizational structures that underlie late-stage capitalism.
In addition to the new prize, Frieze New York will highlight Artadia as an emblematic non-profit organization by dedicating a wall on the second level of The Shed for a large-scale visual representation of its history and legacy of supporting artists since 1999. Executed in collaboration with artist Katy Fischer (2004 Chicago Awardee), the visual timeline will feature the nearly 400 artists the organization has supported over the past two decades.
Artist Plate Project will launch their new series of over 40 limited-edition plates designed by world renowned artists, including Virgil Abloh, Rashid Johnson, Takashi Murakami and Amy Sherald. Frieze New York will mark the first opportunity to purchase the new series, with 75 plates from each edition of 250 reserved for Frieze visitors, which will be on sale on Level 2.
Launched with the Coalition for the Homeless in 2020 at the peak of the pandemic, Artist Plate Project has to-date partnered with more than 90 world-renowned artists who have created limited-edition dinner plates produced by Prospect and available via Artware Editions. Funds raised will directly benefit the Coalition for the Homeless, providing food, crisis services, housing, and other critical aid to thousands of people experiencing homelessness and instability.
Vote.org and Frieze are engaged in a partnership combining art with the urgent need for civic participation. Since the launch of the PLAN YOUR VOTE initiative in 2020, Vote.org has been the leader connecting artists, institutions, and creativity with voter engagement. This year, Vote.org will be onsite at Frieze New York helping register voters.
Printed Matter, Inc. will return to Frieze New York with a broad and exciting presentation of artists' books, editions, and ephemera in the Level 1 bookshop area. Printed Matter will represent a full range of artists' publishing, from zines and small press publications, to rare and out of print material and exhibition catalogs. The pop-up will also feature a selection of books published by galleries participating in the fair, plus special signing events with these artists.
The fair takes place May 17-21, 2023. The invitation-only preview day will be held on Wednesday, May 17, 2023 The fair will be open to the public May 18-21, 2023. Tickets are now on sale at frieze.com
Categories
Tags