Born in Sacramento CA in 1986, Madeline Weste is the product of an environmental chemist and a Mormon religious fanatic turned astrologer. She found her way to Los Angeles via San Francisco, Cortona (Italy), Seattle & Brooklyn painting all the time and now after an uninterrupted year, she has a solo show at A Blank White Box.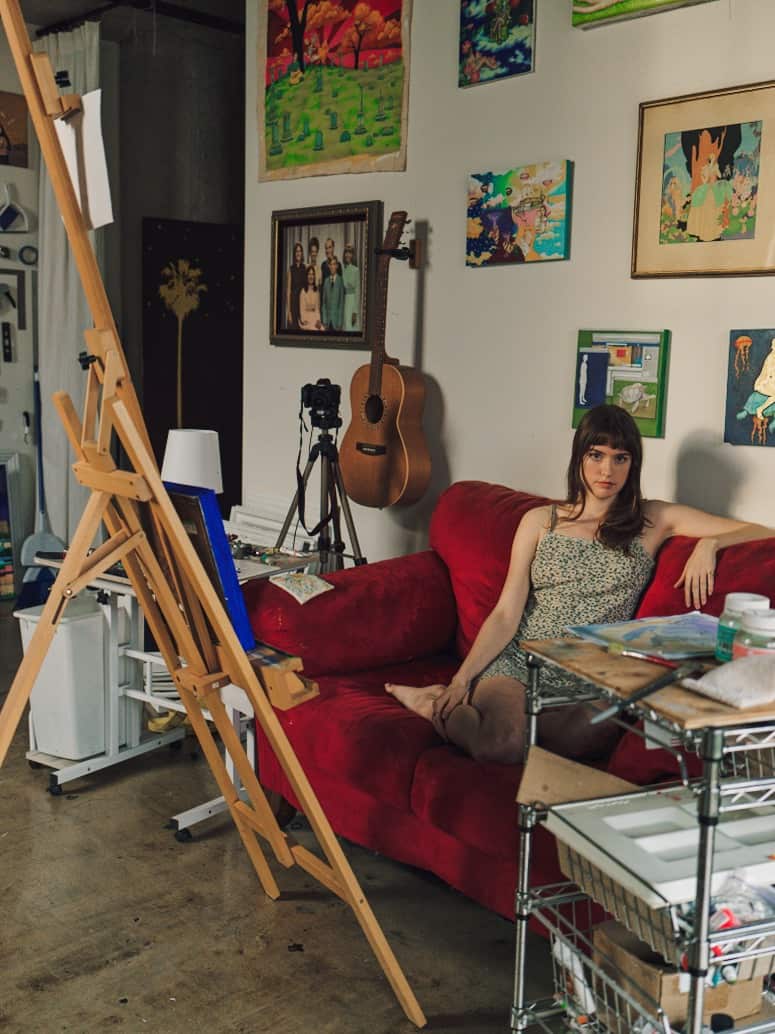 Can you tell us about your art practice?
I've been making art forever, always at home, pretty much every day. I like to play with how reality is kind of warped by internal expectations and emotions. The contrast between direct representation and added imaginative elements excites me. I like when you can see what everything is but through a filter of emotional drama. If you were to look at the sun with only sight, it's just a painfully bright white speck. But we all know it's much more than that. When it's hot outside, the sun feels like it is reaching out toward you, dominating every experience of that day. I try to show what that feels like, but with many things: people, situations, etc.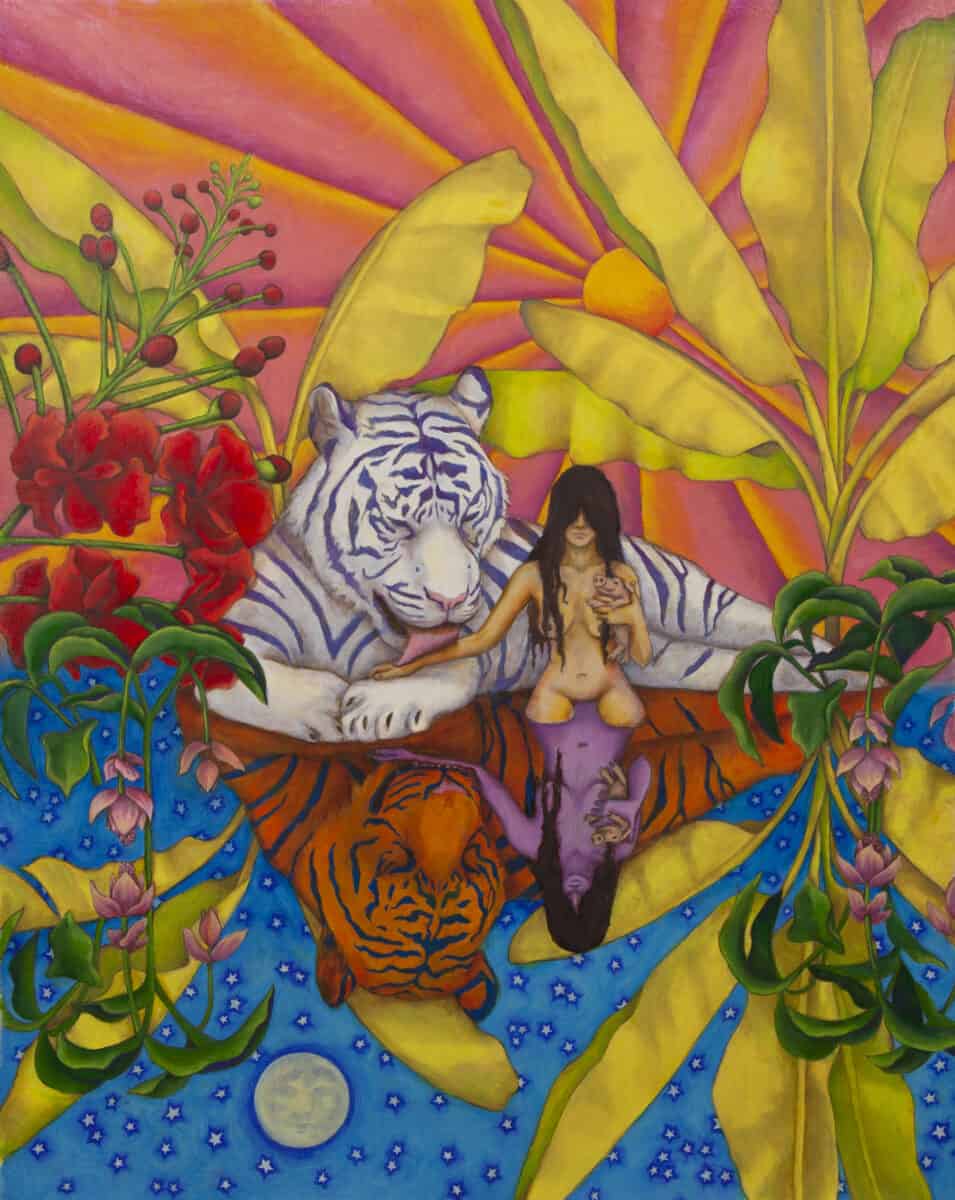 Can you tell us about this show?
The Show is at 7pm on April 8th at A Blank White Box in Highland Park, I host parties fairly often with my roommate, and I do use my walls at home to store my art. I was getting a lot of interest and questions about the work from people at my parties, so I thought it would be cool to throw an event where that was the main focus (and where I wasn't interrupting conversations to let people into my impossible-to-enter apartment building)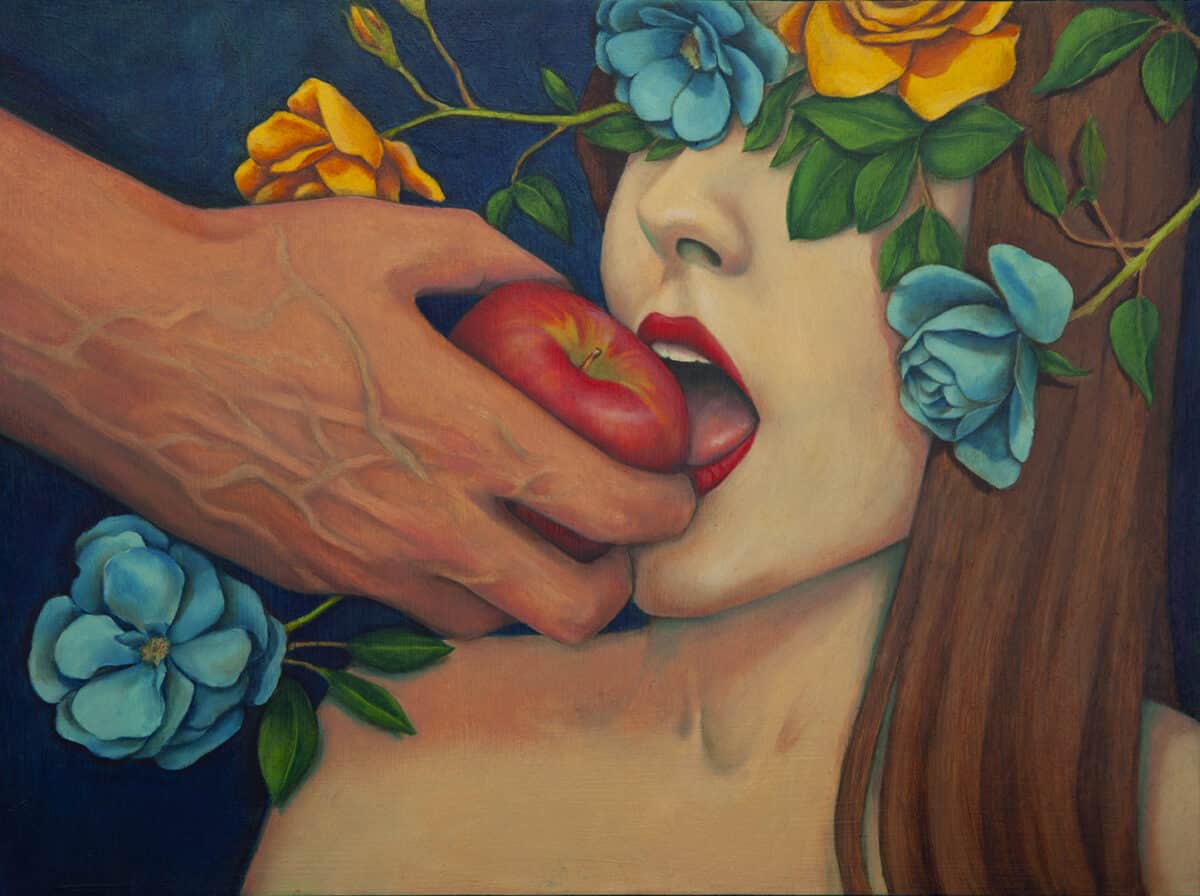 Can you tell us – What art is to you?
At first, I kind of used art only to process my own thoughts and feelings, but as I've shared it with people, I've come to think that pretty much any experience or feeling I've had has at least some element that is relatable to everyone. So it's kind of morphed into a kind of communication tool and a way to discover universal experiences.
How did you end up here in L.A.?
I'm just coming up on 2 years in LA. I had lived in New York City for 8 years until 2020, and I moved here in 2021 after the disastrous dissolution of a quarantine relationship with a man around San Diego. The New York in me wants to hate LA, but dammit, the people and the weather really are nice here.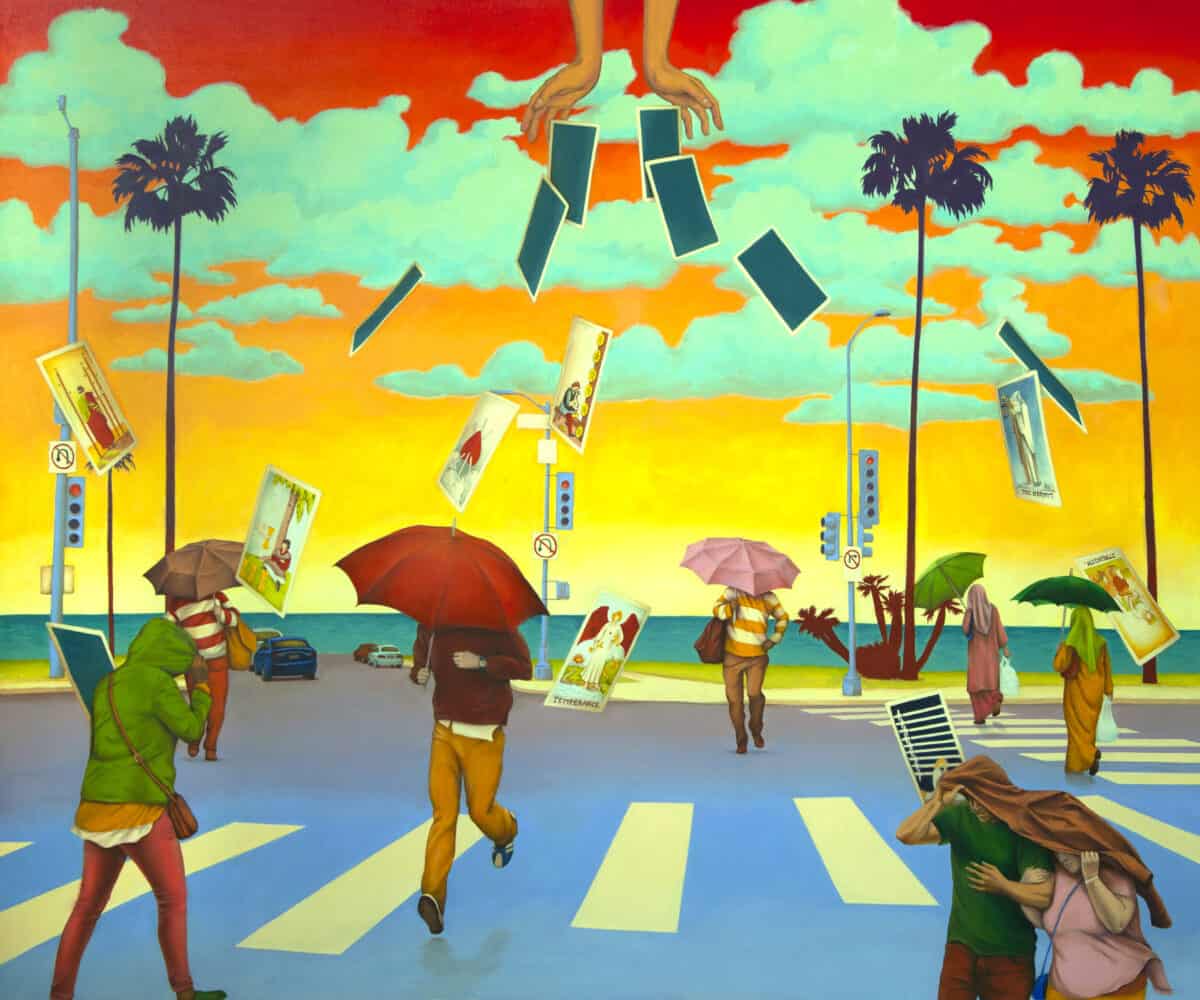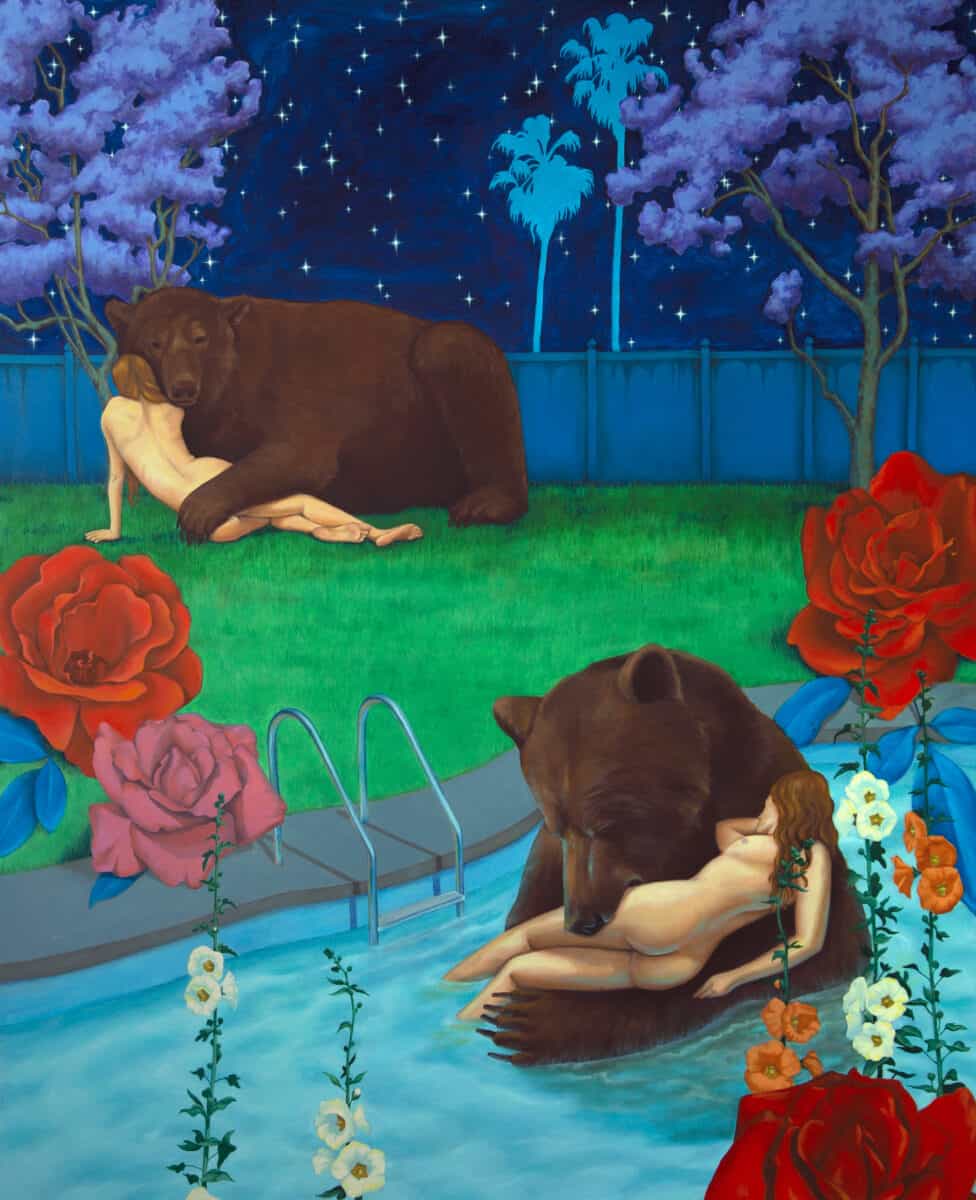 Are you excited?
Totally! I thought I would be more nervous and scared doing something like this but I just feel ready. A lot of people I know have offered to help me out
Madeline Weste, Art Show, Saturday 8th April from 7pm – 10pm, then continues Sunday 9th April 10am- 6pm, A Blank White Box, 6189 N Figueroa Street, Los Angeles
About the Artist
Born in Sacramento CA in 1986, Madeline Weste is the product of an environmental chemist and a Mormon religious fanatic turned astrologer. She was raised in a Waldorf school where she didn't learn to read until she was eight years old. In Madeline's teens, her mother took over a metaphysical bookstore in town, exposing the young, impressionable Madeline to psychics, astrologers, energy healers, tarot readers, palm readers, aura imaging technicians, people who claimed to make contact with aliens, astrocartographers, and aspiring breatharians. She also failed briefly as a teen fashion model for an agency in San Fransisco.
Madeline studied traditional oil painting at the University of Redlands, and in Cortona, Italy. After graduation, Madeline lived in Seattle, where she taught art, apprenticed with a master gilder, and illustrated a full color graphic novel in watercolor called The Adventures of Whaley and Birdface.
Madeline moved to Brooklyn in 2012 without having visited the East Coast but figured she was pretty adaptable so why not. She found work as lead artist's assistant to the sculptor Paul Villinski for nearly four years until she married a trust funder in 2015, and decided she could get away with just partying and painting in their baller Clinton Hill loft apartment. Upon discovering her husband's secret heroin addiction and the decimation of their finances, Madeline moved out and made a living in antique jewelry for a while, finally moving into making art full-time after being stranded at a tiny California coast surf pad for the first year of the coronavirus pandemic. She has since moved to Los Angeles where she paints constantly and is very good at living on next to nothing.
Categories
Tags