Renowned Austrian artist Erwin Wurm gets first UK Museum exhibition at Yorkshire Sculpture Park, Trap of the Truth 
Opening to the public on Saturday 10 June 2023, Trap of the Truth at Yorkshire Sculpture Park (YSP) features more than 100 works, including 55 sculptures indoors, 19 sculptures in the landscape, paintings, photographs, videos and drawings created over 30 years of the artist's career. Several works will be shown for the first time.
Erwin Wurm (b.1954) is one of Austria's most prominent artists, highly regarded for his 2017 Austrian Pavilion at the Venice Biennale. Over three decades he has challenged the rules of sculpture, the limitations of the human body, and its relationship to the spaces we inhabit. His work disrupts perceptions of the familiar and sensible and in a process that abounds with humour and experimentation, he frequently reimagines commonplace objects by giving them human characteristics. Wurm ponders what sculpture is and what it can be, stretching its boundaries, and calling into question the value and importance we place on everyday objects. He is both playful and political, using ludicrous scenarios to create work that addresses how we conform to society's demands and how sculpture can upend cultural beliefs.
Introducing us to Wurm's philosophical contemplation, the exhibition title Trap of the Truth refers to the thinking of influential 17th-century French philosopher René Descartes, who set out to interrogate the subjectivity of truth. This questioning of reality is immortalised in the phrase "I think, therefore I am".
 

 

View this post on Instagram

 
Outdoors, 19 sculptures will occupy YSP's heritage landscape, including new and never-before-seen works. Three sculptures from Wurm's Bags series explore consumer culture and objects of status. They include the five-metre-tall, pastel blue Big Step (2021), which takes the form of the Hermès Birkin bag, a contemporary symbol of prestige and wealth, and is personified with long elegant legs appearing to be walking purposefully. Dance (2021) and Trip (2021) – a briefcase and suitcase respectively – complete the series, with their long, dynamic legs giving a sense of human life within the landscape.In the Underground Gallery, a selection of over 50 sculptures unravels the complexities of Wurm's practice, alongside 60 two-dimensional works illustrating the artist's prolific drawing practice in pen, crayon, and watercolour.
This exhibition will be accompanied by a lively programme of engagement activity centred around play, exploration of materials and experimentation of making processes. An illustrated guide and catalogue featuring in-situ photography will accompany the exhibition.
Renowned Austrian artist Erwin Wurm gets first UK Museum exhibition at Yorkshire Sculpture Park, Erwin Wurm: Trap of the Truth, Underground Gallery & Outdoors, Yorkshire Sculpture Park,10th June 2023 – 28th April 2024
About the artist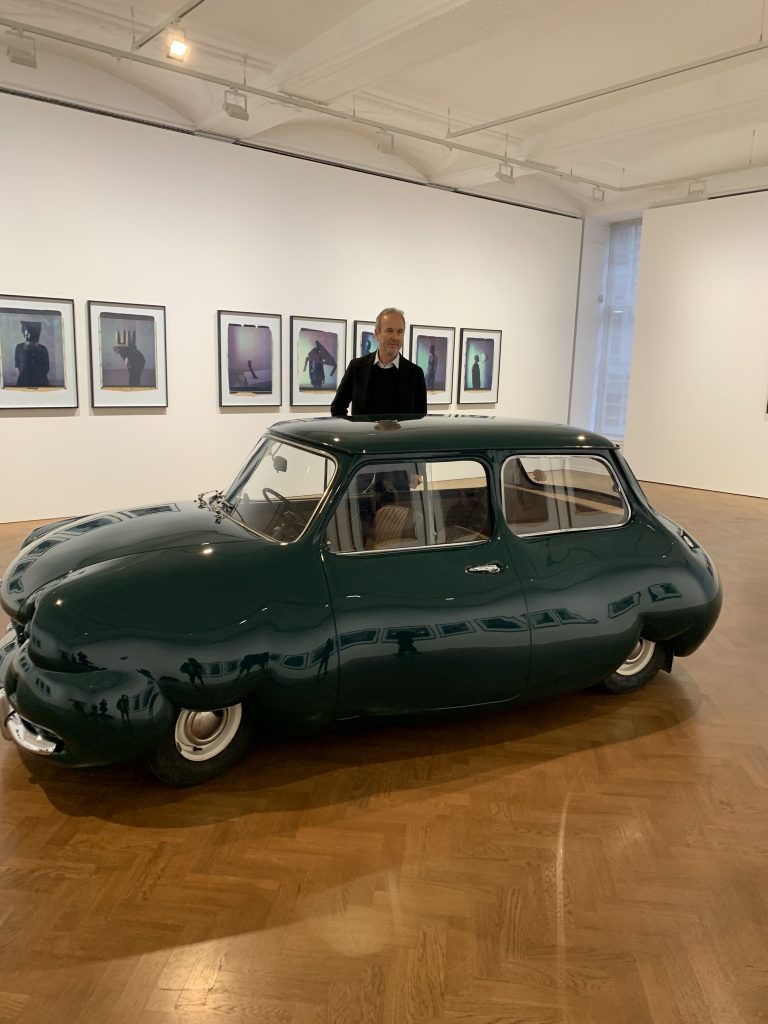 Over the course of his career, Erwin Wurm has radically expanded conceptions of sculpture, space and the human form. His sculptures straddle abstraction and representation, presenting familiar objects in a surprising and inventive way that prompts viewers to consider them in a new light. He often explores mundane, everyday decisions as well as existential questions in his works, focusing on the objects that help us cope with daily life and through which we ultimately define ourselves. These include the material objects that surround us – the clothes we wear, the cars we drive, the food we eat and the homes we live in.
With his One Minute Sculptures – in which, using simple props, the viewer becomes the artwork for a limited time – Wurm erases the boundary between sculpture and viewer. The static presence of the sculpture is reversed, becoming instead a participatory process that incorporates the viewer's own body. The ephemerality of these works subverts the permanence of traditional sculpture, with 'one minute' denoting the brevity of the action rather than a literal timeframe. There is often a contemplative or philosophical dimension to the One Minute Sculptures, which act as catalysts for a moment of introspection by placing the viewer in an awkward or paradoxical relationship to the prescribed objects.
Wurm lives and works in Vienna and Limberg, Austria. The artist has twice participated in the Venice Biennale: with his installation Narrow House at the Palazzo Cavalli-Franchetti in 2011 and when he represented Austria in 2017.
Recent solo museum exhibitions have been held at the Suwon Museum of Art, South Korea (2022); Taipei
Fine Arts Museum (2020); Musée Cantini, Marseille (2019); K11 MUSEA, Hong Kong (2019); Vancouver Art Gallery (2019); Albertina Museum, Vienna (2018); 21er Haus at the Belvedere, Vienna (2017); Leopold Museum, Vienna (2017); Centro Cultural Banco do Brasil, São Paulo (2017); and Berlinische Galerie, Berlin (2016).
Categories
Tags