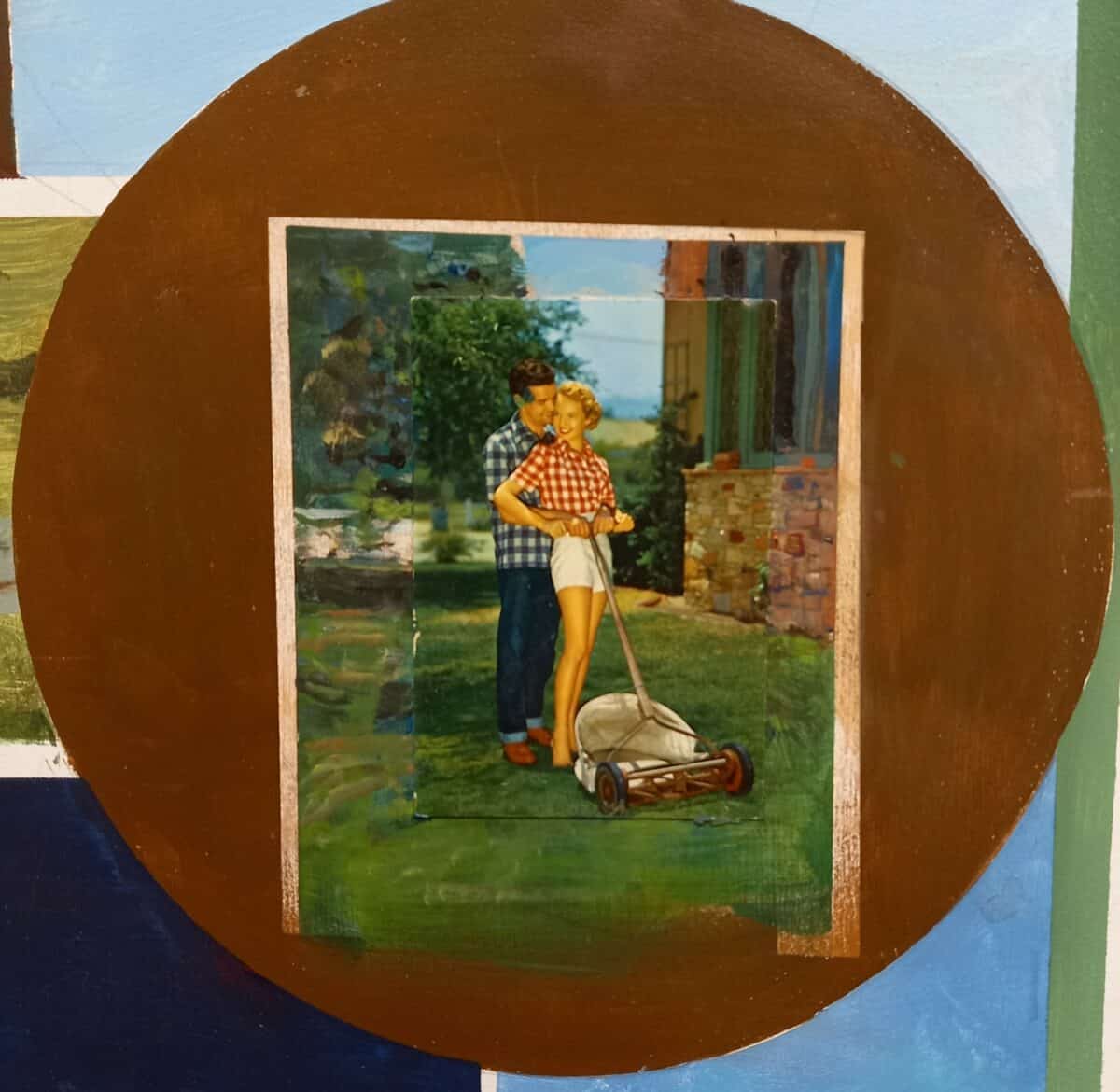 A Trip to TEFAF– Maastricht's TEFAF – that stands for The European Fine Art Foundation – is widely regarded as the world's premier wide-ranging art fair, with exceptional coverage of art of all eras and media, plus design, jewellery, clocks, books etc, across 270 stands. Recent editions have been marred by Covid and security problems, but all seems calm this year. The vetting is thorough, and once exhibitors' plans have been approved they get a three week build period to engineer often-elaborate displays. There are no gimmicks: the emphasis is all on the core museum-style offerings. It was unsurprisingly easy to find a selection of items which met the test of variety, quality and interest.
Pair of monumental Buddhist lions, 14th century at Littleton & Henessy Asian Art, London
This pair of glazed tile Ming dynasty lions, 1.3m high, were probably placed on the entrance gates to a grand house. The female suckles a cub, the male stands on a symbol of power. Neither are quite as we expect a lion to appear, the green adding to a slight dragonish aspect. That reflects the lack of observational opportunities in China – but adds to their latter-day charm.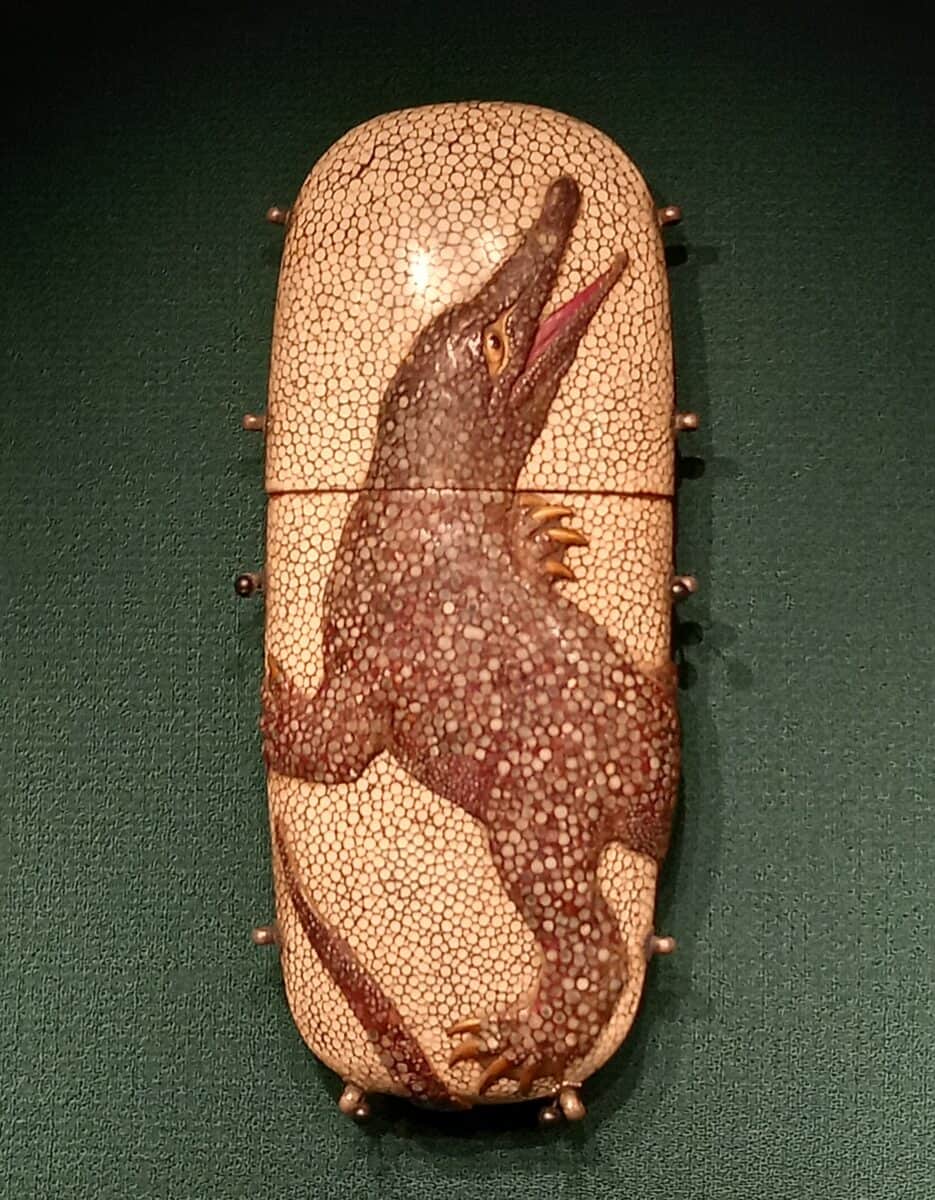 Nomura Choheisai: case for eye-glasses, late C18th – Sydney L. Moss Ltd, London
This decidedly early and spectacularly-decorated Japanese case for spectacles features a Komodo dragon, formed out of ray skin, lacquered and polished back to utilise the commonality of scales between fish and reptile. Own this, and you'd surely switch from worrying about losing your glasses to worrying about losing their case.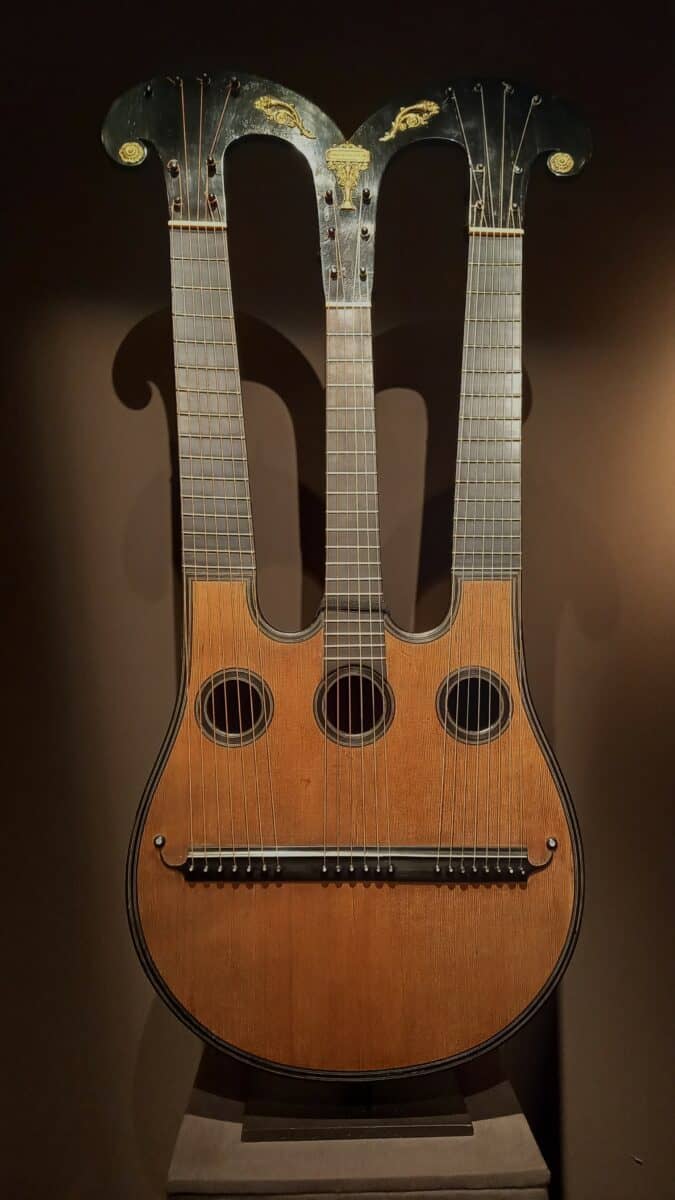 Jean-Francois Salomon: Harpolyre, c. 1829 at Jean Michel Renard: Le Salon de Musique – Bellenaves, France
It looks a complicated business to play this harpolyre, though you don't need three hands, as demonstrated here. It looks somewhat like the triple-necked  guitar made famous by Jimmy Page. There are 21 strings with unusual tunings and special harp-like effects produced by the diatonic neck, though the frets on the base neck are purely for decorative symmetry. From an impressive display of unusual instruments.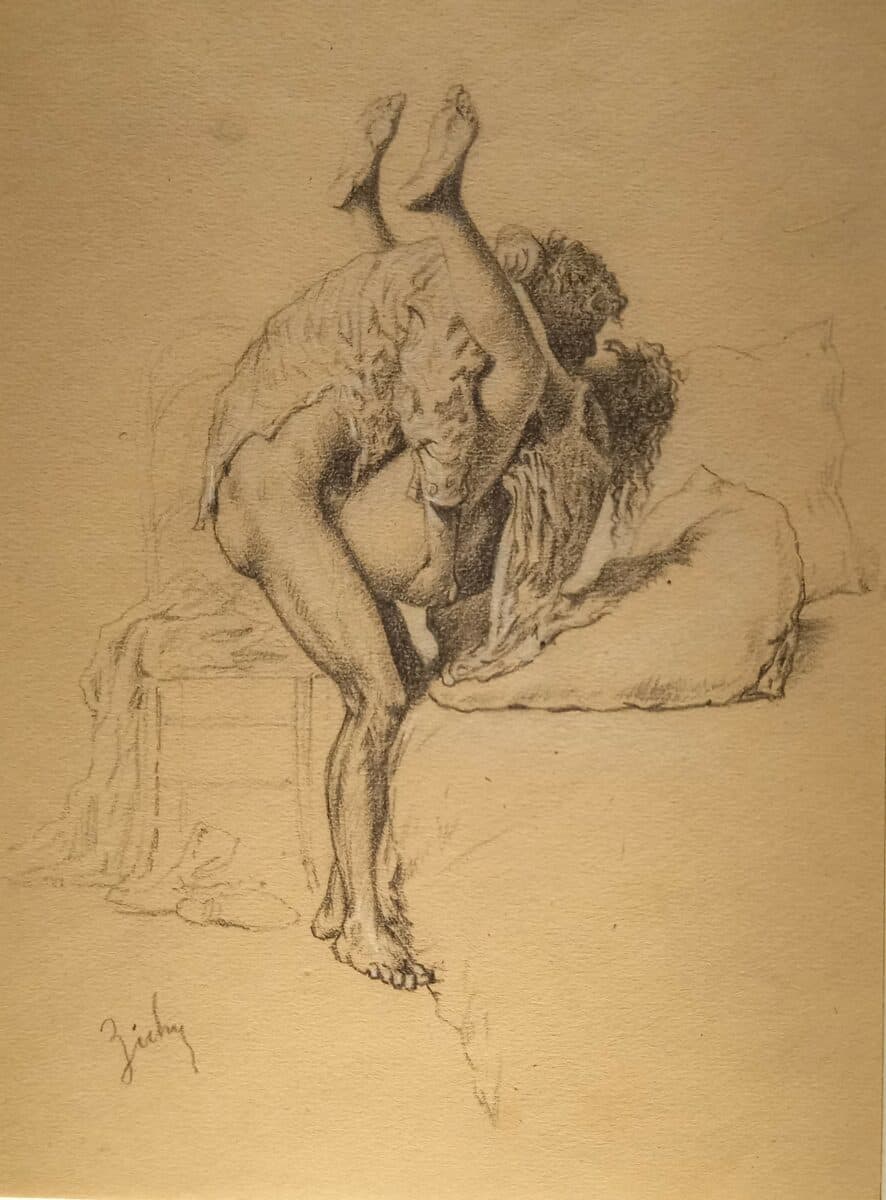 Mihaly von Zichy: 'Bons Souvenirs' – black pencil and white chalk –  Agnews on Paper, Brussels
TEFAF isn't the raciest of events, but there was room for this somewhat raunchy yet tenderly intimate drawing by the Hungarian artist Michael von Zichy, one of the originals for the 40 such prints collected in the erotic portfolio 'Liebe', published in Leipzig in 1911. Zichy was famous in his lifetime as a versatile court painter, illustrator and portraitist, but is now known mainly for those drawings – which became public only after he died in 1906, the details of their production unknown.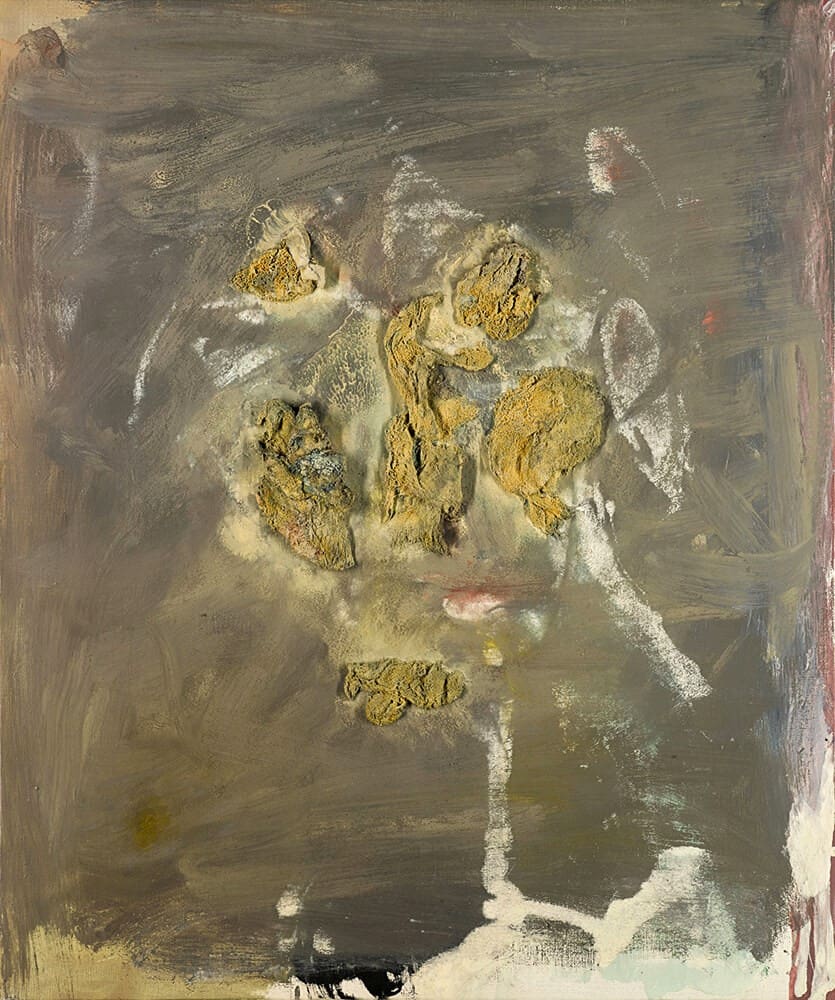 Pablo Picasso: 'Collages III (Materials)', 1965 – oil and dishcloths on canvas –  at Galerie  Thomas Salis, Salzburg
Curiously, this is a more abstract Picasso than any which featured in the big show 'Picasso & Abstraction', which I saw in Brussels a month ago. That said, it does make the face of a woman if you look closely, something the unknown subject of this unflattering portrayal may have been disinclined to do.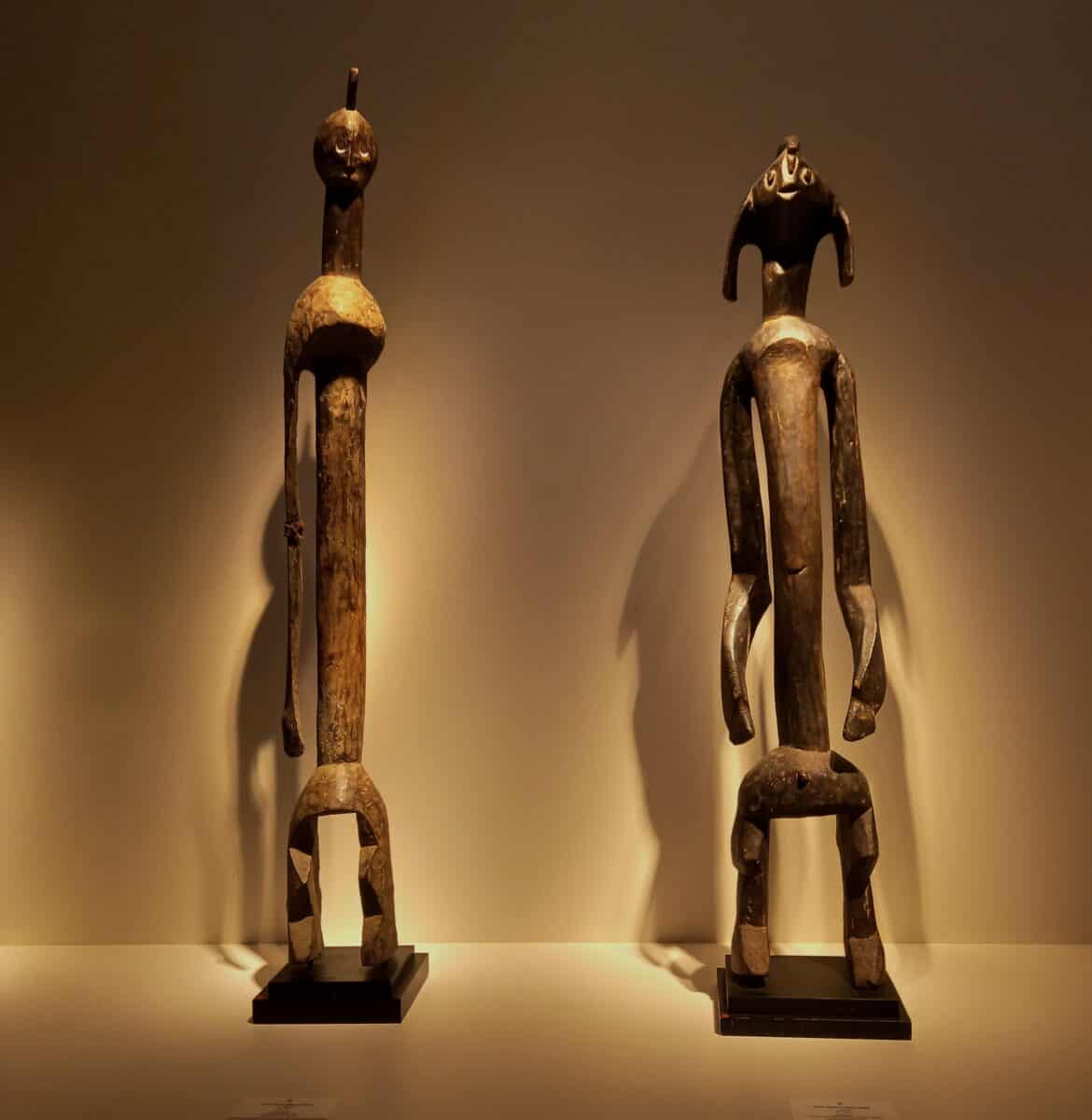 Mumuye figures, 1960's / 70's – wood – Bernard de Grunne Tribal Fine Arts, Brussels
Bernard de Grunne presented a dozen figures from the Mumuye region of Nigeria, an agricultural community of 400,000, together with a scholarly catalogue documenting 50 in detail and tracking back to their makers. The statues were used in divination, medicine and public activities. What remains unclear, though, is how or why the Mumuye arrived at such distinctively short legs and extremely elongated bodies.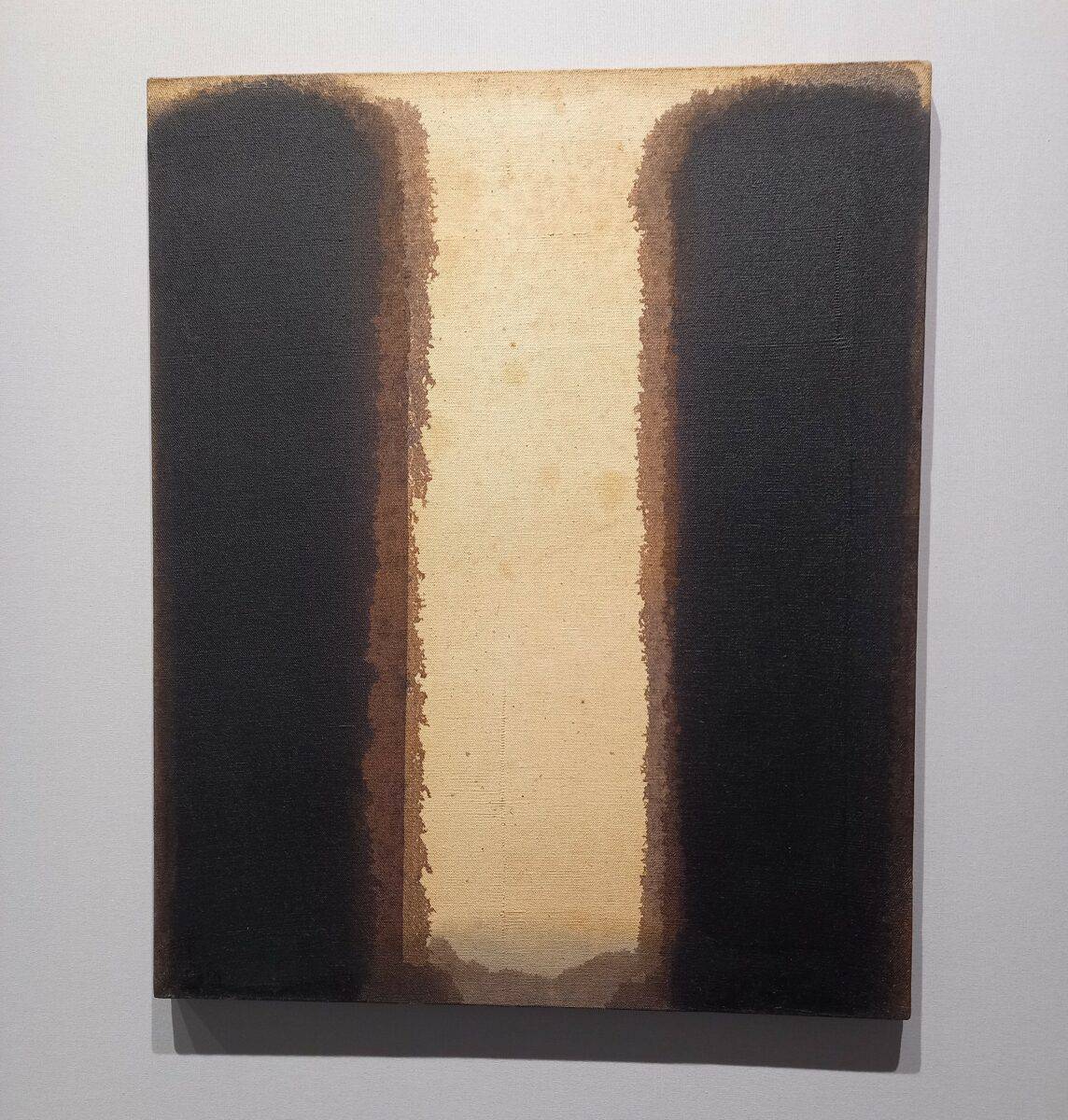 Yun Hyong-keun: 'Burnt Umber & Blue', 1976 at PKM Gallery, Seoul
What was my favourite genuine abstraction in the fair? Maybe Morris Louis at Yares, Donald Judd at Lisson or early Daniel Buren at Memour… or this contemplative painting by Yun Hyong-keun (1928-2007), spearhead of the Korean Dansaekhwa (literally 'monochrome') movement. It's typical of his long-running series using umber and ultramarine paints, which when mixed – as they largely are here – tend towards a deep brown, rather than a purple. Water and dirt are invoked through washes which bleed out at the edge of geometric forms, generating a trembling intensity due to the differential absorption of the various layers of thinned paint.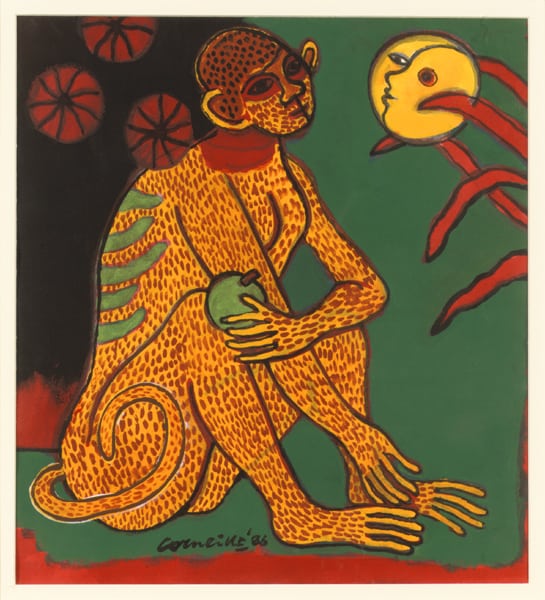 Corneille: 'The Mocking Monkey' – gouache,  1986 at Jaski, Amsterdam
We'd better have something Dutch from a fair in the Netherlands, and I liked this from Cornelis Guillaume van Beverloo, to give his full name. Corneille (1922-2010) – was one of the original Amsterdam members of the CoBrA movement – even if he did live in Paris after 1950… A primate with a rather humanoid face contemplates a comparably anthropomorphised moon. The charm is appropriate: it was painted as one of a dozen illustrations for a Swedish children's book.
Yayoi Kusama: 'Lemon Squash' 1992 – oil on canvas –  at Galerie Von Vertes, Zurich
Kusama's somewhat uncharacteristic series of glasses and cups economically maximise the obsessive patterning: here infinity net meets spots with a bonus of brick. Add the playfulness of using green – there is a yellow painting in the series, but it isn't of lemon squash – and I warm to this more than yet another pumpkin painting. Plus it's cheerful: tht glass is more than half-full.
William Wegman: 'Scenic Scenes', 2020 – oil and postcards on wood panel, and detail at top – galerie Vallois, Paris
William Wegman gave up painting in the late 60's, but returned to it after making his name through photographic collaborations with his dog, and has completed some 400 in the last 30-odd years. He also collects vintage postcards, and has frequently 'extended' those in painted collages, turning them into portals for the imagining of what lies beyond in space and time. And this large and complex example picks up a lot of abstract qualities along the narrative way…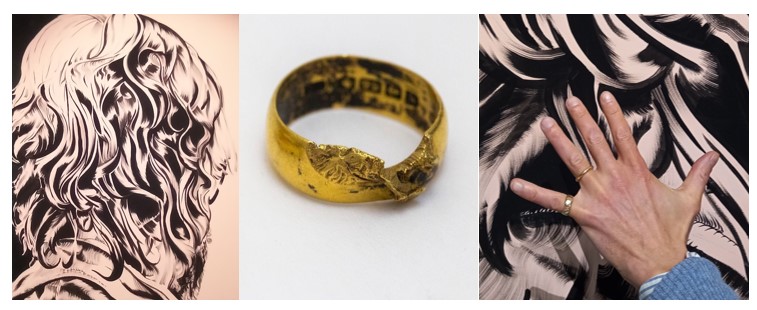 Richard Bevan: 'Untitled (rings)' – gold, 2022 – gold cast of an original damaged wedding ring at Hidde Van Seggelen, Hamburg
This might be described as a hidden artwork, as Richard Bevan instructed his gallerist, Hidde Van Seggelen, to wear the ring during the fair. It comes from Bevan's current show in Hamburg, which utilises items of personal significance – here his grandmother's wedding ring, lost until found part-melted in the grate of her hearth. Here Hidde – the chairman of TEFAF, incidentally – displays it in front of another work with an element of concealment: Pere Llobera's untitled 2021 self-portrait from the back, making the most of his flowing hair.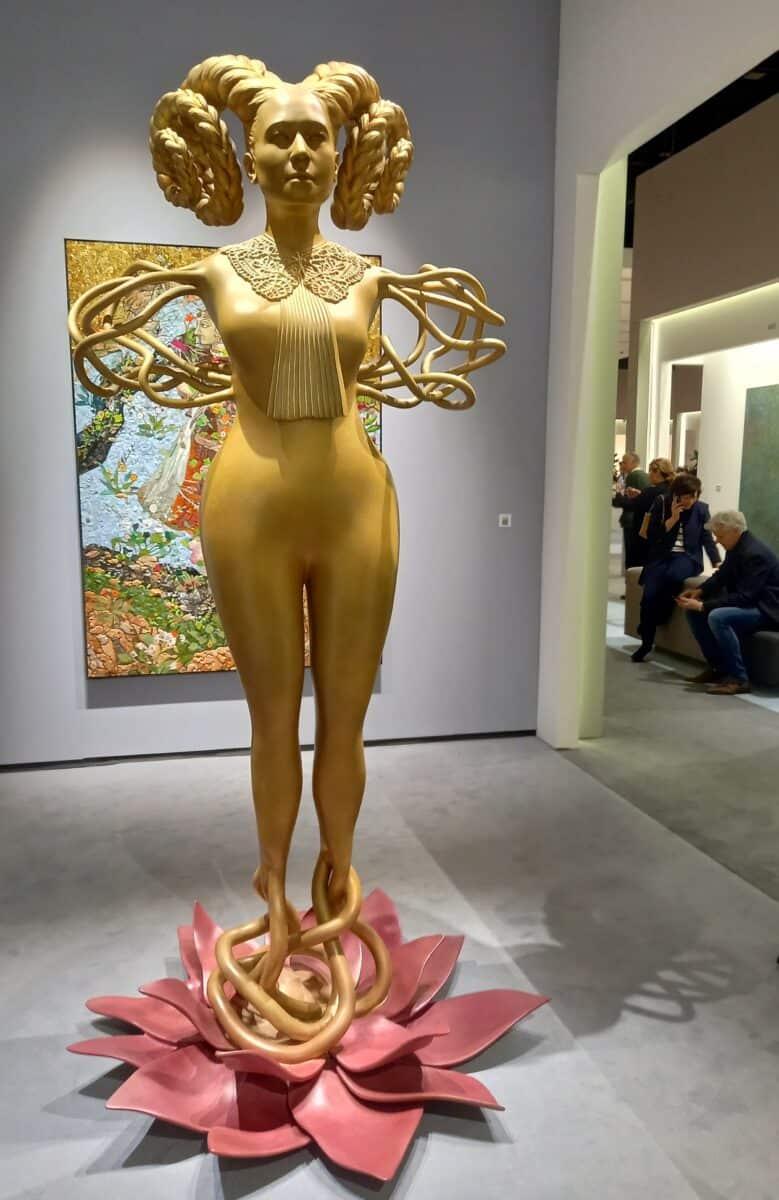 Shahzia  Sikander: 'Now' 2023 at Sean Kelly Gallery, New York
This bronze is from an edition derived from the Pakistani-American artist's ongoing occupation of the formerly empty tenth plinth at Manhattan Appellate Courthouse's rooftop: there she calls out the patriarchy of the legal profession by adding an eight-foot golden sculpture of a female figure to nine stone-carved men.  With tentacular roots for arms and hair twisted into spiralling ram horns as she steps from a lotus flower, the figure takes on a mystical power. Striking, for sure, but I was still surprised when Sean Kelly told me that both artist and gallery have received death threats on the grounds that evil forces are in play here.
TEFAF runs 11-19 March in Maastrict, Netherlands.
Paul Carey-Kent
Categories
Tags