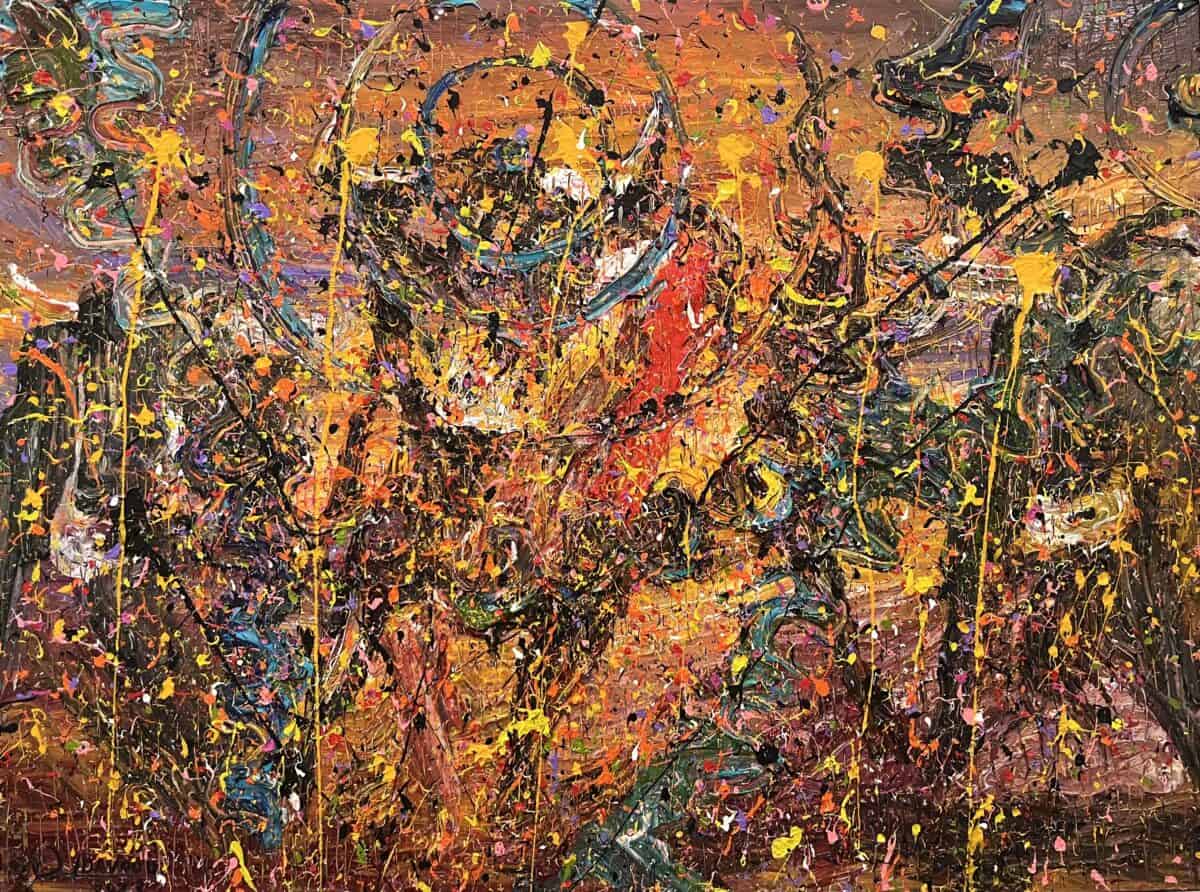 Los Angeles — home to glass marvels perched by the Hollywood sign, sprawling estates in Beverly Hills, and, hidden within an otherwise unassuming duplex in the Valley, an otherworldly paroxysm of color and texture, paintings stacked around the foyer leading to Davood Roostaei's studio. 
Canvases tower two stories behind that portal's front door, spanning two decades in Roostaei's career. He's always been at home working large, on frescoes and tankers. On each surface, abstractions obscure iconography culled from across eras, gestural expressionism atop a defined structural base painting each time. Roostaei's work lives in the homes of Paul McCartney, Hilary Clinton, and more.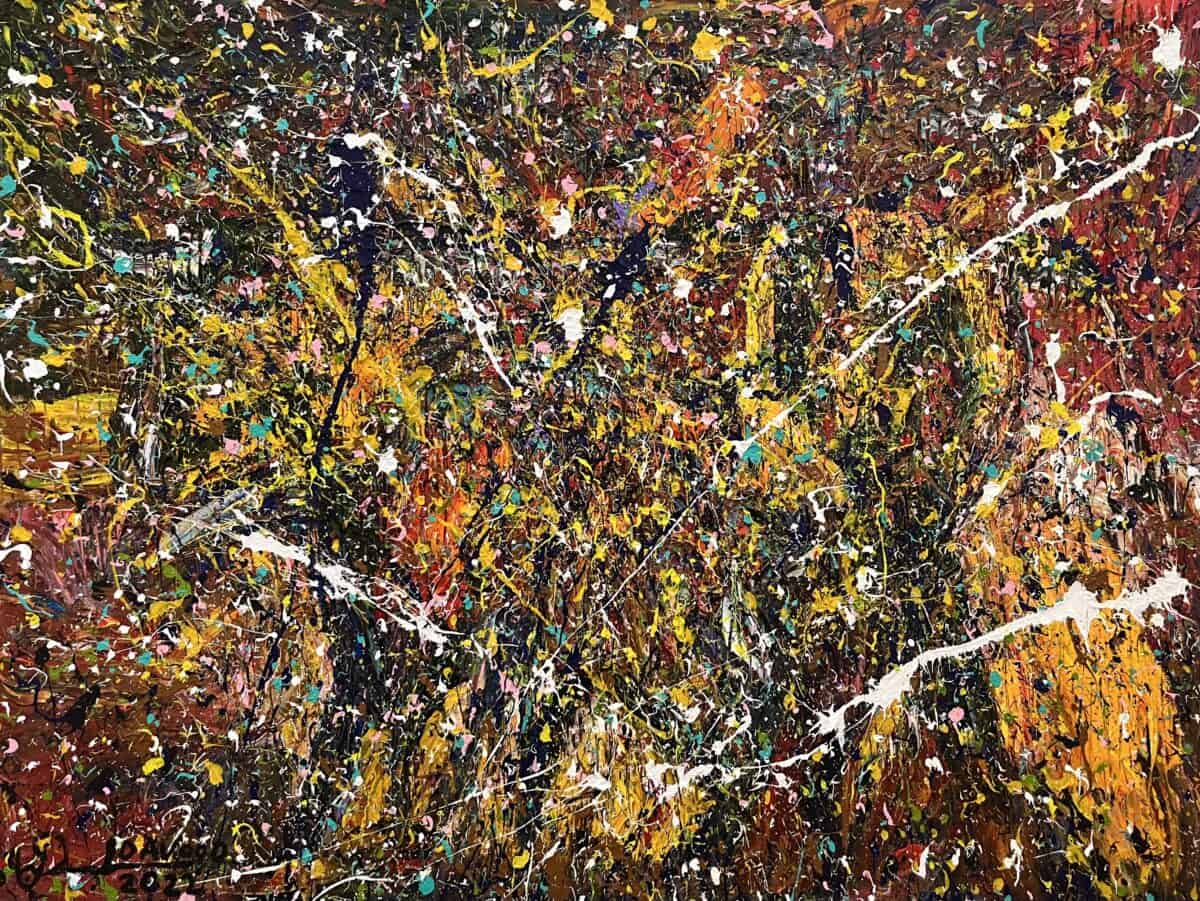 Born 1959 in the small Iranian city of Sarab, Roostaei's education at Tehran's Academy of Fine Arts was violently interrupted exactly 20 years later by none other than the Iranian revolution. In response, Roostaei pivoted from canvases to painting graffiti opposing the Khomeini regime on highways, streets, and oil refinery tanks. 
Roostaei's subversive interventions landed him in Iranian prison from 1981 until 1983. The following year, he secured asylum in Germany and moved to Hamburg. There, Roostaei restored frescoes to make ends meet while building his own practice — a hands-on art education through the canon, painting everything from still lives to Surrealism. In 1986 he began a 20 year string of weekly meetings with German art historian Hanns Theodor Flemming, a fan and confidant who responded to Roostaei's work by covering it.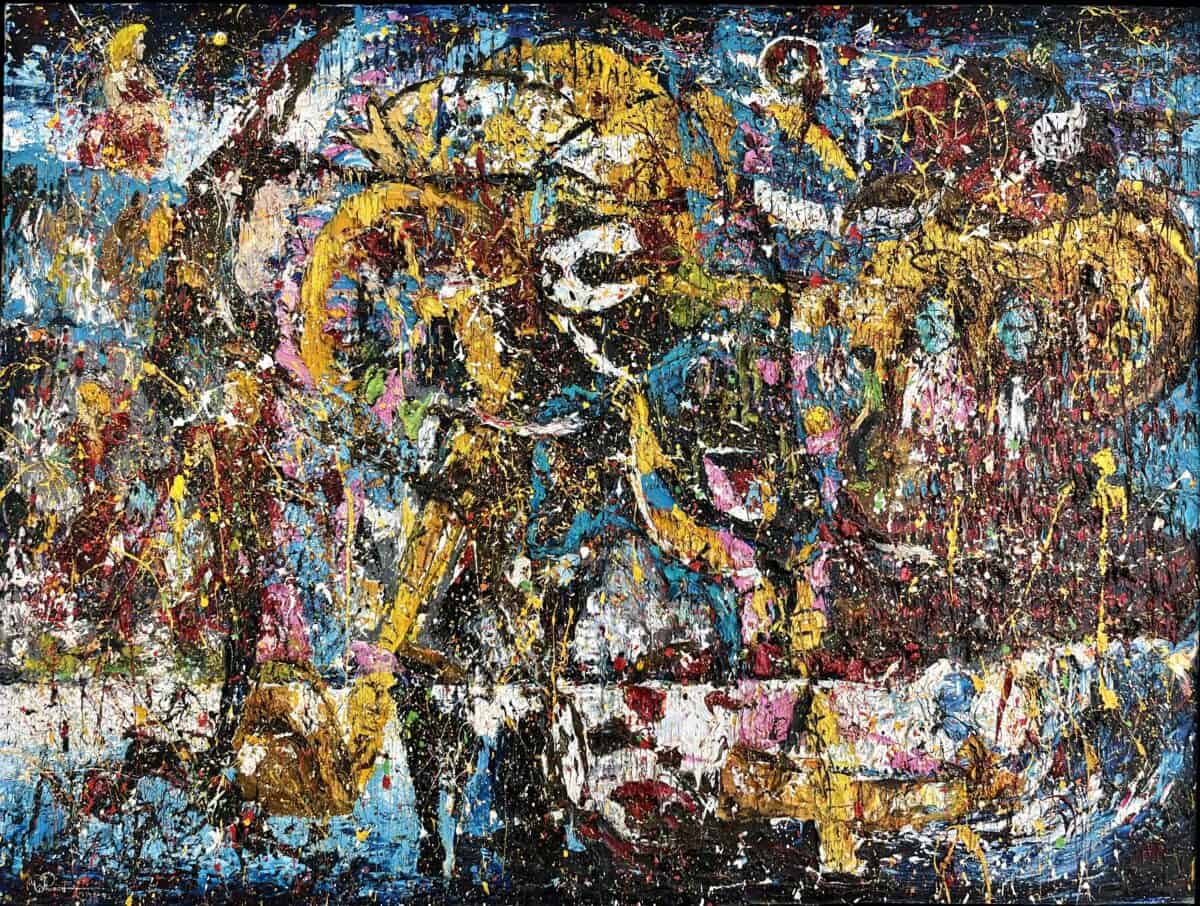 That same year Roostaei banished brushes to paint with his hands alone, seeking closer commune with his craft — and never looked back. That move produced Cryptorealism, his proprietary style (though that term taking from the Greek word for 'to hide' wouldn't be coined until 1990.) With Cryptorealism, Roostaei overlays levels of imagery and meaning with masterful drama — all finished with flourishes of action painting thrown through the air, one final obfuscation. 
As viewers work through the tangle of form and formless before them, Cryptorealism reveals remote insights that outright representation can't reach. Viewers build deeper, dynamic relationships with each work as return visits expose new angles, details. Synthesizing his lived and learned experiences, Roostaei has come to understand that the only way to communicate a truth too vast for imagery is by obscuring it with abstraction, and perhaps a little cacophony.
If you've ever been in a rock and roll show so loud that it suddenly felt silent, then you know what he's talking about.
"It is an art form of enigmatic expression having realistic motifs taken from a wide range of themes from antiquity to the present and future,"

Flemming once wrote.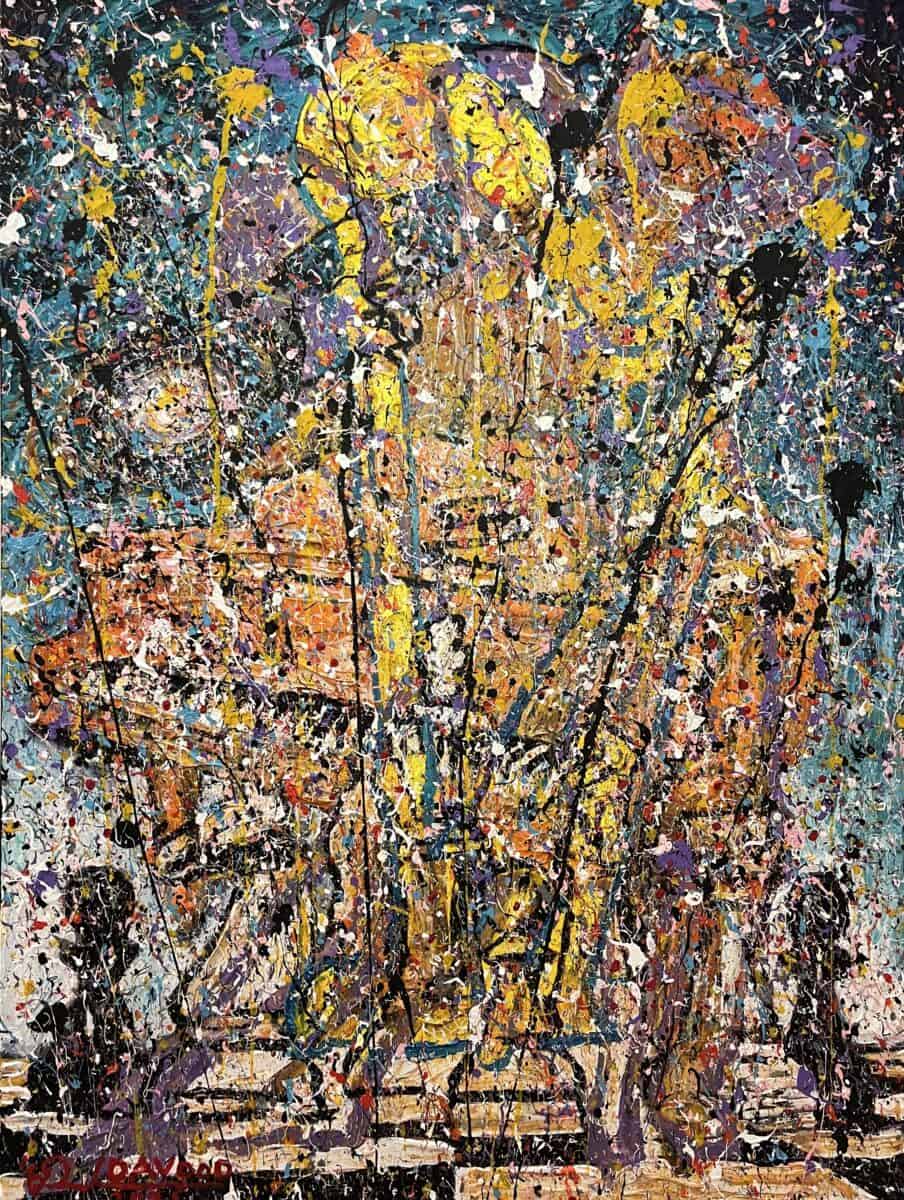 Roostaei's artwork has evolved in the decades since. He responded to the realities of communism in Germany with paintings in moody colorways evocative of the global moment. Some, like "Glasnost" (1988), predicted the Soviet Union's fall. Roostaei moved to L.A. in 2000. Benefiting from the city's sunshine and bright lights, his expressive hues grew more audacious. Figures came through with more clarity, like the harp and piano in "Instrumental Moves" or the man transformed into a robot via a meat grinder in "Metallica." In one work inspired by 9/11, the Twin Towers and an American flag burn side by side. Clear themes prevail amongst, beneath even, the illusions.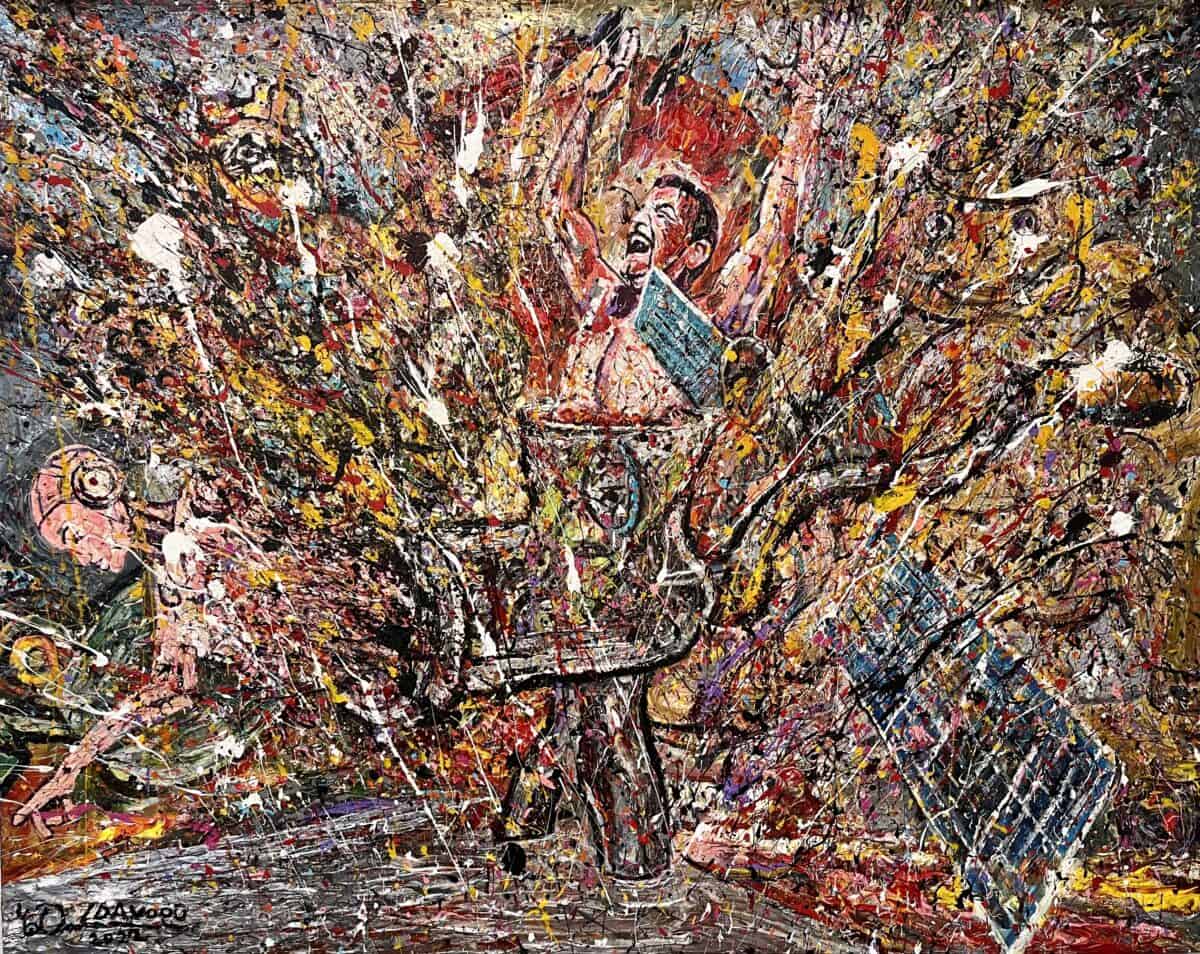 As time rolls on, Roostaei grows more adventurous with the precarious tensions in his practice. On one hand, he must maintain the physical discipline to stylize a streak of paint mid-air so it lands with just the right angle and accent. On the other, he needs the emotional discipline required to let chance take over. Dealing in dichotomies negates the meaning of Roostaei's art, though, loaded with symbols from disparate geographies and histories, pulling directly and generously from the collective consciousness. There's not two ends on a spectrum, but infinite points in between, all contradicting and coexisting at once like the flashes of orange and green on "Future Sightings."
Another artist once told me all you need is some third thing, but Roostaei goes above and beyond.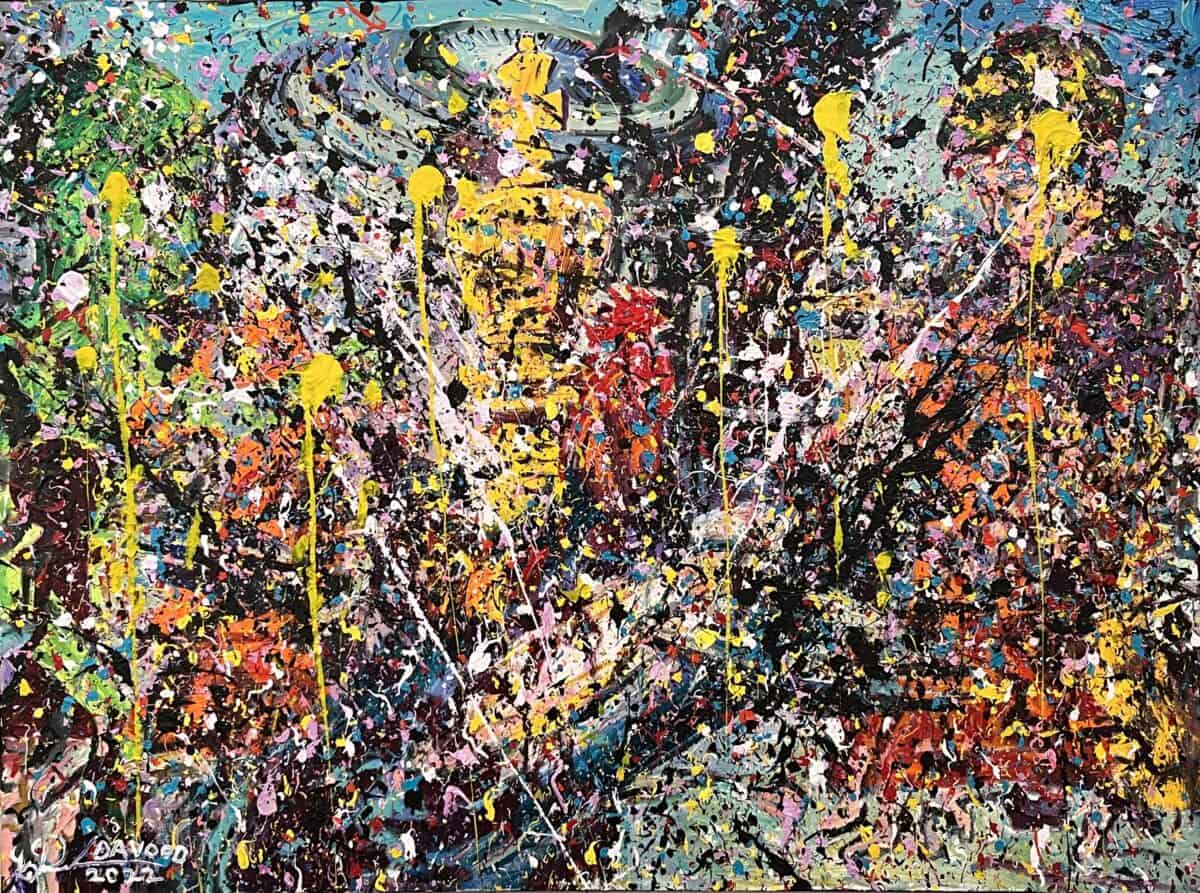 Instead, he's more interested in achieving visceral reactions from the viewer, whatever that means to them. A sudden moment of shock, adoration, intrigue — whatever sensation most arrests an individual's attention — that's his aim. Choosing symbolism from one milieu, or a color palette centered around a single hue, just creates limits. Maybe only an overwhelming amalgamation can stave off any disbelief long enough to foster that feeling. Discordance is trending because it works.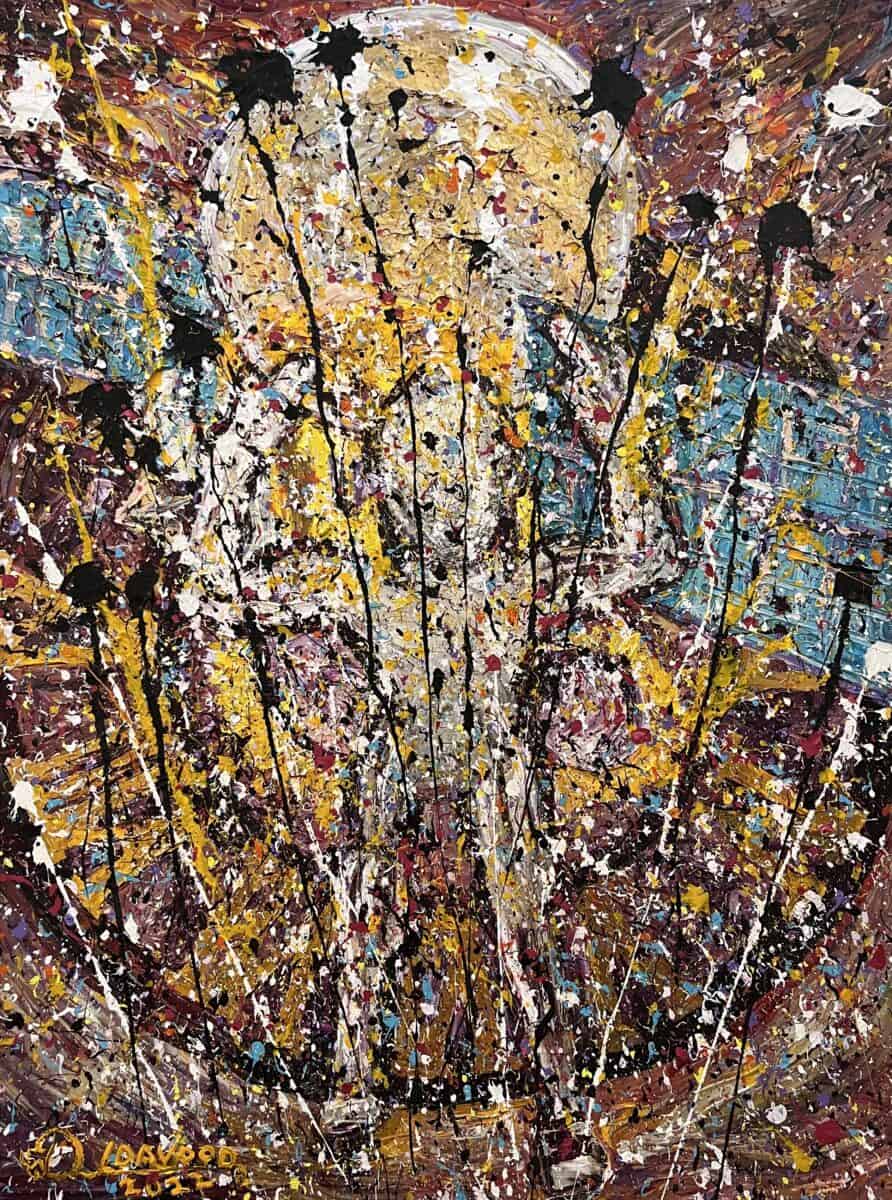 As such, history has as much a hand in the trajectory of Roostaei's work as the artist does himself. Through his own ten fingers, Roostaei continues conducting a duet where his own rich archive of lived experience dances through the score with greater human history — and the stark imagery we've come to understand it through — all emulsified by utterly brazen shades. If you want to know what's next for the legendary Davood Roostaei, all you have to watch is the world.
"While history repeats,"
Roostaei has mused
"we also seem to learn a little more each time it does."
Categories
Tags