The biggest event in the international craft calendar has once again returned to its recent new home to bring together some of the hottest names in contemporary applied art, and people have been going mad for it. Recent previews of the event have pointed out the notable appetite for glass art and alternative materials that can be witnessed. And whilst Collect 2023 evidences the ever-growing popularity of colourful glass, this year's show favours hyper decoration and gives equal weight to works of a mixed scale across all mediums.
View this post on Instagram
Returning after a small hiatus is the internationally renowned Galerie Marzee, whose curation of weird and wonderful art-jewellery has left us questioning 'who actually wears this stuff' as well as the usual 'can I touch it?' Stand out pieces include Christopher Thompson Royd's cast Quality Street necklace, Ring, A Ring, A Roses (2010), and Herman Hermsen's Eyes and Stones (2018). But it was the punctuated copper relief sculpture by Katharina Dettar entitled Tahitian Hanging Pearls I (2023) which really left its mark.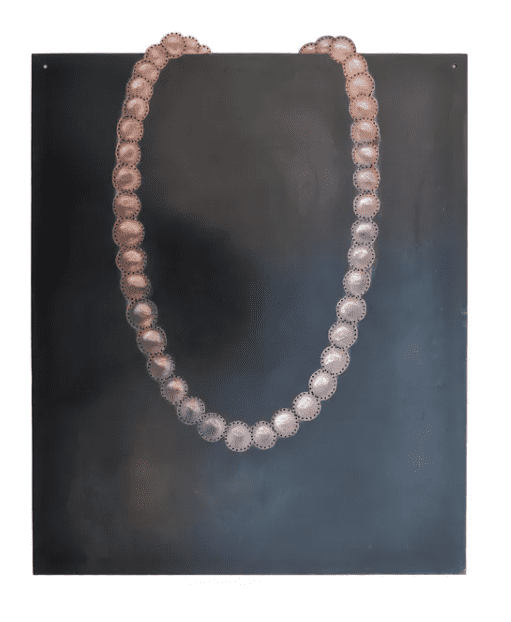 Through depicting a pearl necklace by representing its form out of a 2d sheet of pierced copper, Dettar's work encapsulates the celebration of adornment that darts across the show. Throughout, hoop earrings appear dangling from pot handles in the work of Karine Hilaire, larger than life wooden bangles fit for a giant by Iseabal Hendry appear over at Craft Scotland, and Xanthe Somers punctures her vessels with body modifications in an all frills, no spills approach that refuses to take itself seriously, and differentiates from the linen-clad, pine wood aesthetic that has had middle-class culture in a chokehold for the last couple of years.
Of course there's many of that Aesop-loving-Clapton-mum ephemera here too, present in the sumptuously paired back curation of New Craftsmen's wood filled booth (it's delicious), to the delicate ode to clay's materiality over at Flow Gallery. But ultimately it's colour, imperfection and unashamed stupidity that dominates Collect 2023 and makes us feel as if we're stepping into some sort of hyperactively curated fever dream.
Perhaps the most exciting artist on display is newcomer Xanthe Somers, whose collection of pierced and bejewelled urns form the centrepiece of Galerie REVEL's stand. Emblazoned in several Nike swooshes, with neon orange hands climbing from within its core is the work Don't Do It (2022), which fuses pottery and street symbolism. It's a combination that has been attempted many times before, but Somers executes it brilliantly, and brings her own fresh take on an otherwise over done concept. Her Woven Tales Stand Tall (2022) piece is definitely the most impressive work on display, and features multiple unfinished ceramic chains which loop their way through the many cavities that Somers has repeatedly cut from its body.
In a close second to Somers is the work of Joo Hyung Park, whose undulating wooden brooches bridge the gap between art to be looked at, and art to be worn. Diving between sculpture and jewellery, Park's work is proof that there need not be any differentiation between 'craft' and 'art', and includes blown up versions of her pulsating brooches in a selection of billowing sculptures that are exhibited within one space. To amplify the previous point, Siat Gallery have attached some of her brooches to the wall in order to show that jewellery need not be hidden away in a drawer but can be digested in a similar way to traditional sculpture and painting.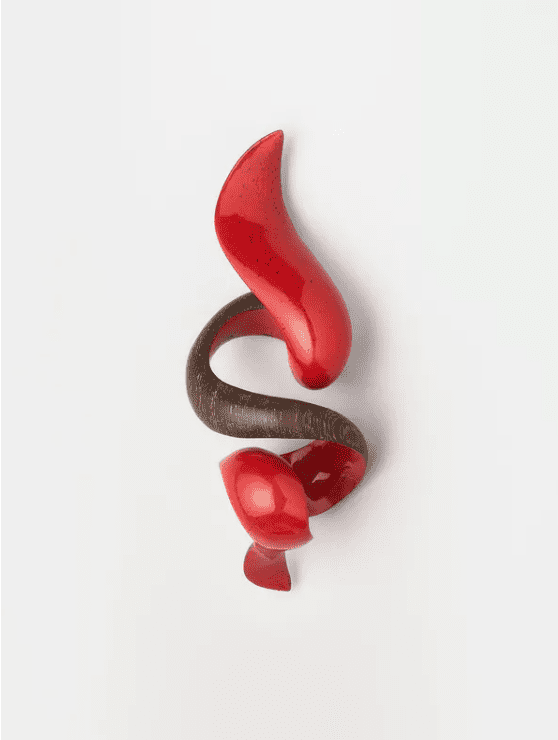 A show perhaps too often hidden away for a small community of craft-lovers, Collect really is one of the stand-out events in London's art calendar and continues to keep the capital on the map in terms of global contemporary craft. In many ways the utilitarian functionality of applied art and design is what allows it to remain accessible, as most displayed works include something we can all decipher and appreciate. It's therefore a shame to think that so many people don't even know that events like this exist, or on the flip-side, that they don't see them as ones which they are 'allowed' to attend. The craft (and art) world still has a long way to go in terms of reaching wider audiences, and with offerings that are as good as Collect 2023, I sure do hope that they succeed. @chars_words
Collect is open to the public on 3rd-5th March at Somerset House. Purchase your tickets here.
Categories
Tags