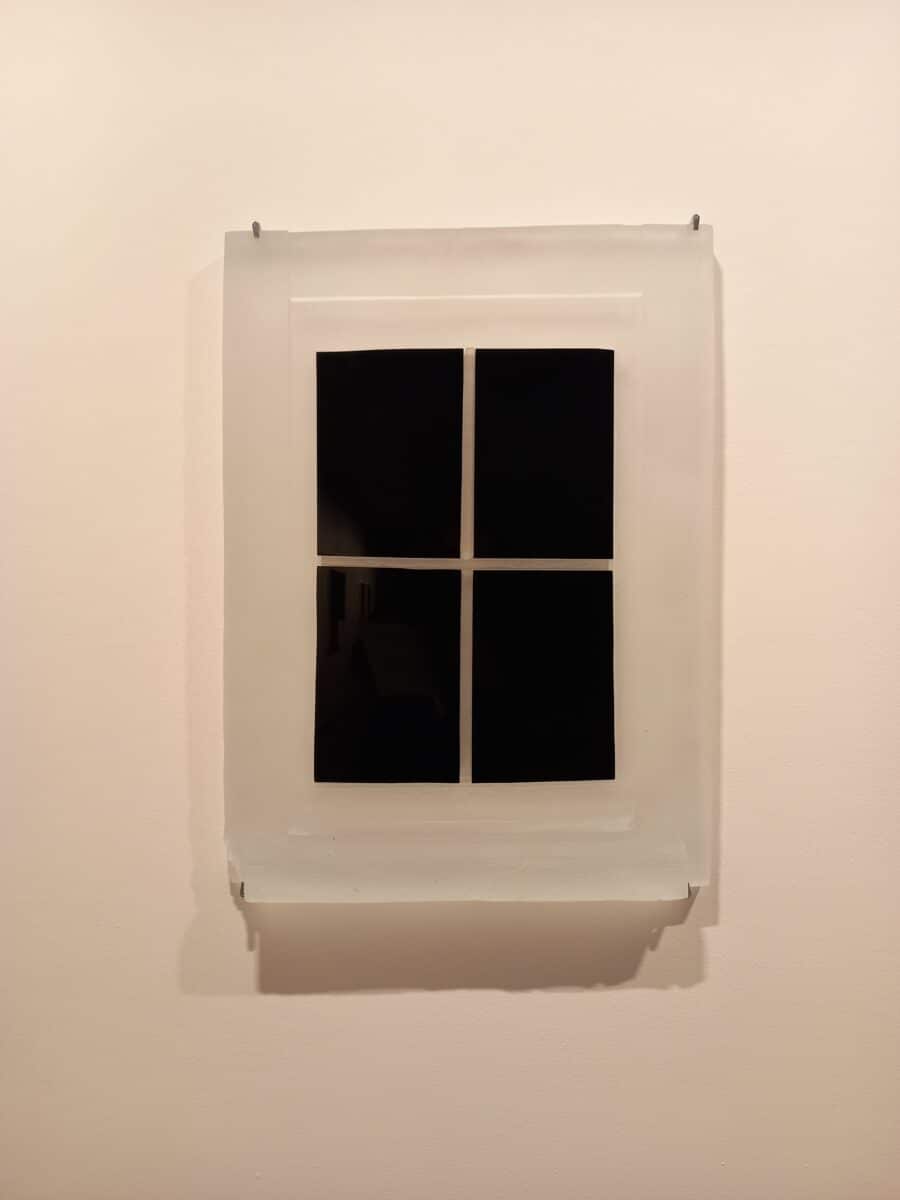 Cornelia Parker: Black Window, 2013 – Found window, cast in glass – 83 x 60 x 8 cm
Frith Street Gallery: 17–18 Golden Square, London W1F 9JJ
www.frithstreetgallery.com    Instagram @frithstreetgallery
Frith Street Gallery was founded in 1989 by Jane Hamlyn – daughter of the famous publisher Paul Hamlyn – originally in a Georgian townhouse at 60 Frith Street, just off Soho Square. Most shows are now at the purpose-built space on Golden Square to which the gallery moved in 2007, but the eponymous site remains in occasional use for supplementary exhibitions. Most of the gallery's artists are characterised by an elegant conceptualism one might call poetic. They span the media with more photography, film and sculpture than painting – despite the distinguished presences of Marlene Dumas, Callum Innes and Juan Uslé. 14 of their 21 represented artists are women – recent highlights have been shows by Tacita Dean and Cornelia Parker (probably the gallery's best-known British artists), Dorothy Cross, Dayanita Singh and Fiona Banner aka The Vanity Press (the most eccentrically named).
The exhibitions are certainly good – and Bridget Smith's current 'Field Recordings' is no exception – but it is worth mentioning that Frith Street has as much space downstairs as above and that usually hosts a significant selection of gallery artists. Just now, for example, it is worth descending to see 30-odd works including eight by Cornelia Parker which make up a concise survey. That features flattened silver-plated objects; the four-part 'Self Portrait as a Triangle, a Line, a Circle and a Square', 2015 – made with her own blood; a bronze puddle work;  blots made of brick dust from a house that fell off the White Cliffs of Dover; and the illustrated Duchamp-meets-Whiteread play of 'Black Window', 2013.
London's gallery scene is varied, from small artist-run spaces to major institutions and everything in between. Each week, art writer and curator Paul Carey-Kent gives a personal view of a space worth visiting.
Categories
Tags