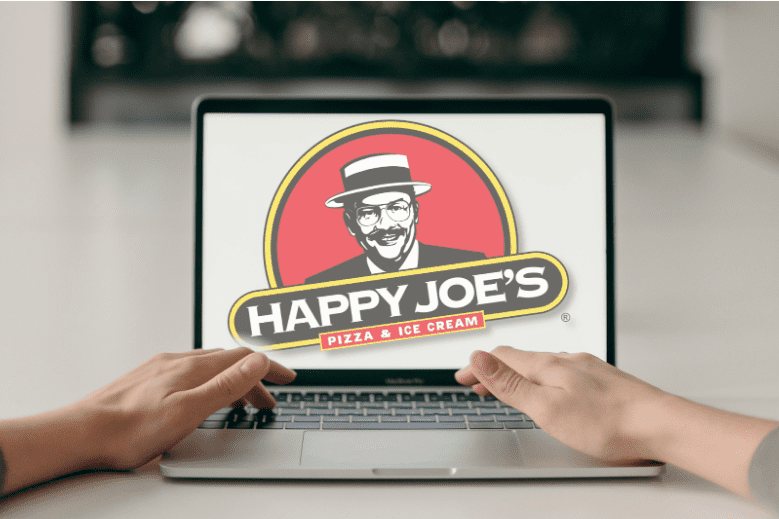 Happy Joe's Pizza & Ice Cream ended the year in a way most companies can only dream of. The beloved American chain was featured in a now-viral Twitter post with over 370,000 views on the popular social media platform. It was the icing on the cake for the brand after a year of new milestones and achievements.
Happy Joe's Pizza Goes Viral for the Holidays
Every year, the holiday season brings families together from far and wide, with children often visiting their parents. It's a time for family fun, memories — and lots of great food, in the case of the El Khatibs. For Dubuque, Iowa, resident Janet El Khatib, the holiday season means indulging in family-favorite foods and treats all week long.
After returning home for the season, her son Khalid posted her "Home for the Holidays" family email for the whole world to see on Twitter. The weeklong holiday schedule outlined a variety of family outings and treks to favorite spots around the Dubuque area, like the Hotel Julien. The star of the show, though? Her detailed list of family-favorite recipes to make and restaurants to visit — including Happy Joe's Pizza & Ice Cream.
After posting the initial tweet, Khalid noticed that it quickly drew a lot of attention, with many commenters wishing they could join in on the family fun. He began posting updates throughout the week and finally recorded a video with his mom to thank everyone for following along.
"OK everyone. It's Janet and I want to wish everyone a Merry Christmas. I'm not on Twitter. The only time I'm on is to follow my son and I'm not on Facebook," she explained. "I just had to say I hope you've enjoyed this week of interesting information as you've followed us on our food journey and our activities in Dubuque."
To finish off the week, the family celebrated Christmas with a famous family recipe, Janet's mushroom cheese bread. It's such a beloved recipe that Khalid said that he'd started making it for dinner parties after he moved away to New York.
And when he returned home to New York City, Khalid even got an extra surprise from Happy Joe's Pizza Chief Happiness Officer, CEO & President, Tom Sacco, tweeting, "Omg @HappyJoesPizza just surprised me with four frozen taco pizzas, their trademark taco chips, and a metric ton of taco sauce!!! I feel like how those people on the old Publishers Clearing House commercials felt when they opened their door to the huge check," and admonishing all the way from the Big Apple, "As someone who currently lives in the pizza capital of America I'm well-positioned to say @HappyJoesPizza is the best pizza in the country. And to anyone about to reply to tell me lettuce & tortilla chips don't belong on pizza: I've heard it before, and you're wrong."
Speaking to Radio Iowa, Janet expressed her gratitude for everyone following their holiday traditions. "We've had fun. I hope you've had fun. I hope you've developed your own traditions. I hope you've had a wonderful holiday, so Merry Christmas. Happy New Year," she said. "Happy Holidays to everyone else who celebrates in different ways. Merry, merry Christmas."
Khalid closed out the video with praise for his mom. "That was good," Khalid told her. "Merry Christmas."
Along with receiving love from viewers across the internet, the family was featured on the Today show, with host Hoda Kotb spotlighting them. It was a magical ending to a Christmas season the El Khatibs won't soon forget. And for Happy Joe's Pizza, it was just another testament to their fan-favorite status among families across the country. After a year of reaching new milestone after new milestone, it was an incredible way to end the year doing what they love most: providing great pizza and lots of smiles to their customers.
A Year of Wins for the Beloved Quick-Service Chain
It's an understatement to say that 2022 was a big year for the brand. Along with celebrating its 50th anniversary, Happy Joe's Pizza was able to return to some of the company's biggest events, including an annual conference and holiday party. But how did the pizza chain known for unique spins on classic pies get here? It all starts with founder "Happy Joe" Whitty and his commitment to quality recipes and kindness.
The original Happy Joe's Pizza & Ice Cream opened in 1972 in Bettendorf, Iowa. After working as a manager at a local Shakey's Pizza, Joe Whitty wanted to create a new restaurant concept that would combine his two passions: serving great food and bringing families together in a fun, celebratory environment. Unsurprisingly, it was a hit. Now 50 years later, the quick-service pizza chain is a beloved breakfast, lunch, and dinner spot for pizza lovers like the El Khatibs and so many more.
A commitment to service, philanthropy, and community building sets the company apart from the competition. Events like its annual holiday parties for children with special needs are the backbone of the service-oriented company, with franchisees from all locations participating in charitable giving and events. Currently, Happy Joe's fans can find the eateries across the Midwest, Texas and Florida. The company has also recently opened international spots in Egypt and plans to expand further into the Middle East and India soon.
Chief Happiness Officer and CEO Tom Sacco says that this commitment to excellence has been the key to the company's resilience. Despite setbacks from the pandemic, the chain has been able to move from strength to strength in 2022, thanks to its ability to bring "consistently excellent food, great value for the dollar, [and] creating magical memories for children." Sacco also notes that the most successful franchises are those that are "heavily involved" in their local communities. These locations "operate with a servant's heart, a warrior spirit, and are passionate about their business," a winning combination that's helped cement the brand as a beloved one-stop shop for all things pizza and ice cream.
The larger restaurant world certainly took notice of Happy Joe's successes in 2022, with leading industry voice QSR Magazine naming the brand among its Top 50 Contenders for 2022. The pioneer of the taco pizza came in at No. 39 on the list, alongside 49 of the most successful and innovative quick-service and fast-casual restaurants in the country. And after industry-altering 2020 and 2021 seasons, it's a well-earned honor for the iconic pizza brand. During the pandemic, many quick-service restaurants were forced to adapt quickly or die, with some once-popular chains not faring well as the health crisis wore on. The continued success of Happy Joe's only proved that a commitment to innovation and great service will never go out of style in the restaurant industry. And with big plans in 2023 and beyond, making QSR's list is a green flag urging the company forward.
Sacco was thrilled to see the brand recognized alongside its peers. "We're honored to be named a QSR Top 50 contender, and it's motivation to keep working toward being the top pizza brand in the country," he said. "We've heavily invested in our digital efforts to better deliver our one-of-kind, gourmet menu to guests across the country, and we're glad to see it paying off with this type of recognition. Fifty years of blood, sweat, and tears have gotten our brand to this point, and we aren't stopping any time soon as we continue to ramp up our expansion efforts in Arizona, Florida, Texas, and more. We're on a mission to be the preeminent experiential pizza brand that creates emotional connections with families as we build our 'Happy Places' across our beloved country."
In addition to being honored by QSR Magazine, Happy Joe's Pizza was named to Pizza Marketplace's Pizza Hall of Fame. Other honors include the company's recognition as a FastCasual Top 200 concept, a Franchise Times Top 400 business, and a Nation's Restaurant News Top 500 restaurant.
With so many milestones achieved, 2023 is shaping up to be the biggest year ever for Happy Joe's Pizza & Ice Cream.
Categories
Tags