Last weekend, Brooklyn-based art writer Vittoria Benzine braved New York City's only truly cold day this winter — and several outside-in brain freezes — to catch a slew of buzzed-about gallery shows set to close soon. Here's her selections for the Top 5 to see before this weekend's up. Each comes with a concise review to help decide whether it's for you. If you're looking for more art adventures, all of her Top 5 Exhibitions to see in the city are on view through later in February.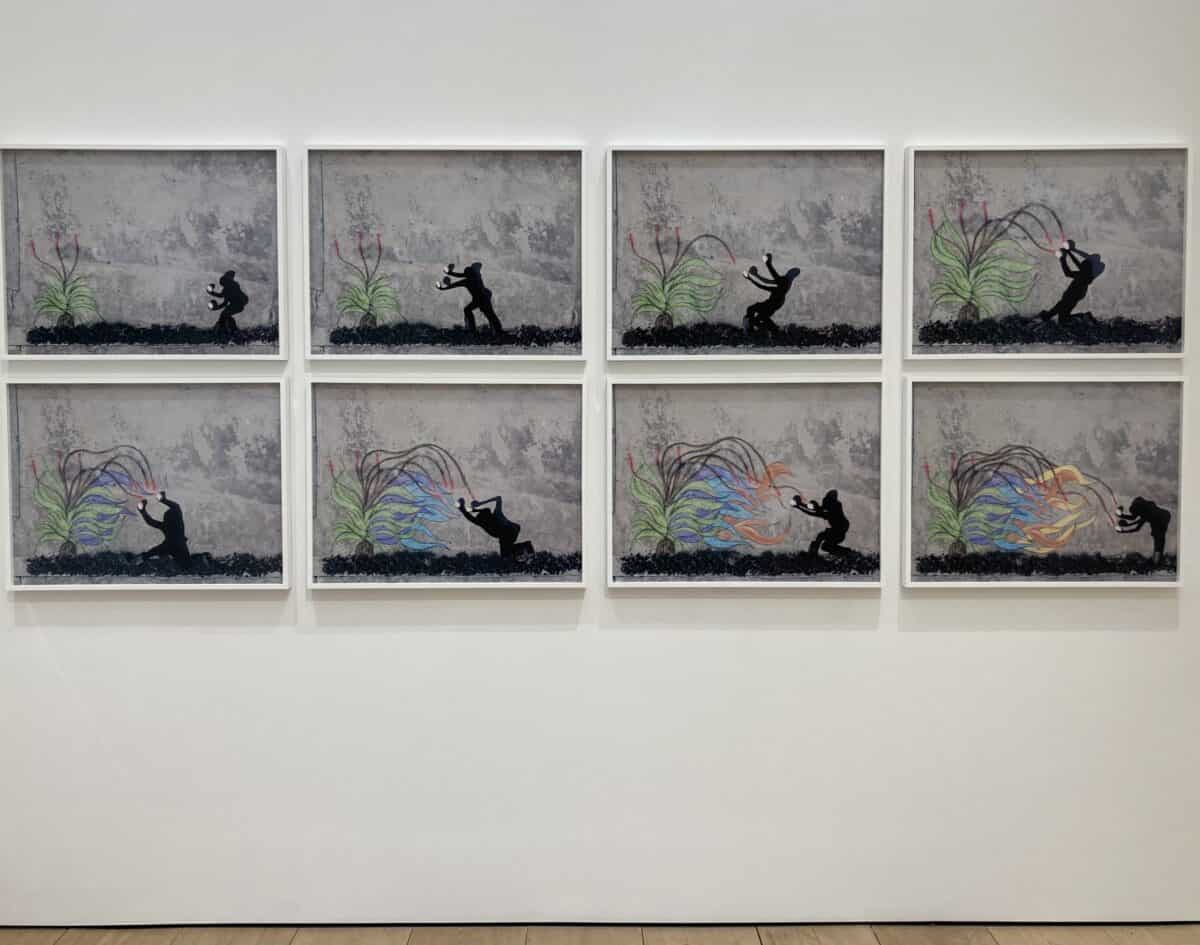 Spectacle abounds at Berlin-based Robin Rhode's latest multiroom mega gallery show — from standing human silhouettes built out of mollusks to feather-plumed bicycles. Still, the comparatively simple series of new photos that anchor the exhibition could stand on their own. Born-and-raised in South Africa, the multidisciplinary Rhode has taken up an "extensive research into visual and oral traditions of storytelling," Lehmann Maupin says. Each photo starts with a bright, geometric public mural that Rhodes painted in Johannesburg, then activated by an energetic, silhouetted performer immortalized under the artist's lens. Referencing ancient rock paintings, each image transcends time, linking eras and eliciting deep examination. Until February 11.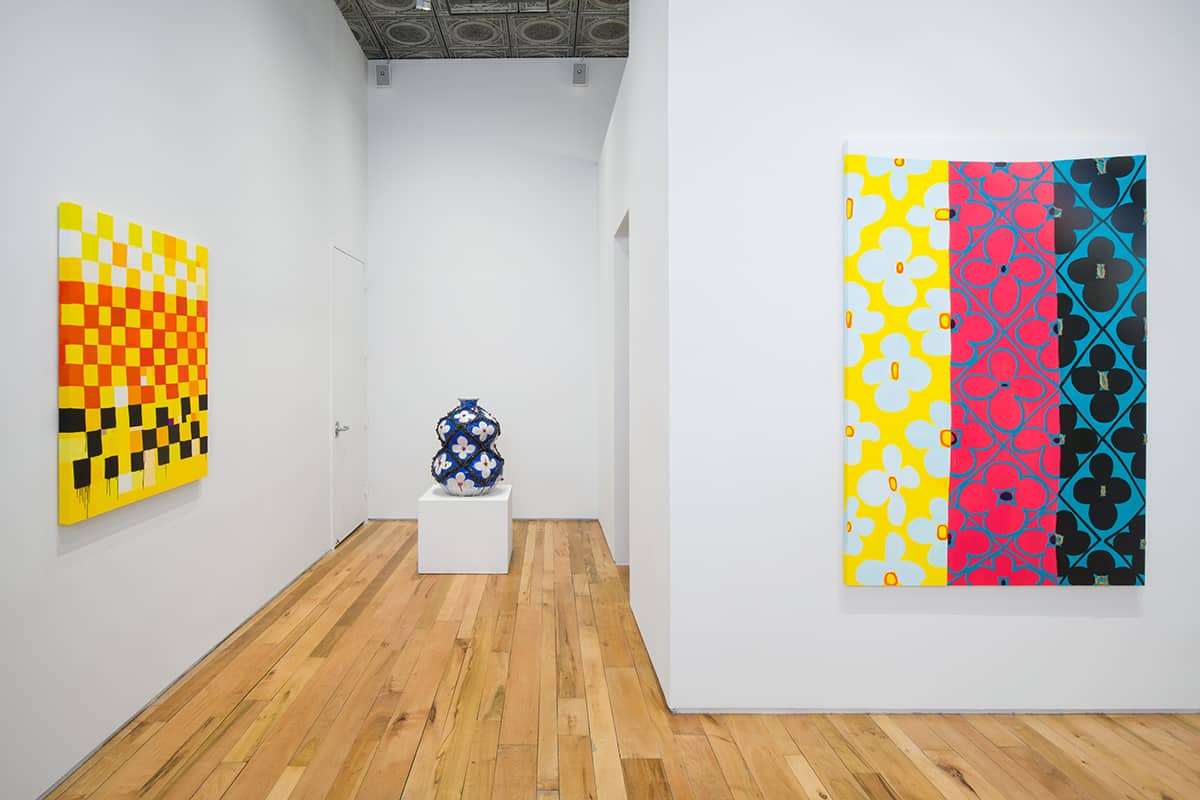 These floral portals to brighter days are monumental in more ways than one. Sunny marks Chicago-based Judy Ledgerwood's first return to the NYC gallery scene in some years with a cohesive series of large paintings she started in January 2021. One or two paintings in the show echo its sole sculpture with impasto oil enthusiastically accenting the picture plane. Still more command physicality by mimicking tapestry — clever white gaps at the top create a rudimentary trompe l'oeil where flat works look like hanging cloths. At the opening, Ledgerwood said she's exploring patterns by breaking them, too, through her own human hand's natural imperfections. Until February 11.
 

 

View this post on Instagram

 
This show sets out to prove that drawing is far more than just a preparatory process. The page offers a playground unhampered by the laws of time and space, where sculptors have historically pushed concepts past impossible bounds. Sculptor Carl D'Alvia has helped arrange an impressive array of over 80 drawings from legends like Christo, Claes Oldenburg, and Kiki Smith that enthrall in their diversity, tactility, and playfulness. Some are veritable sculptures on their own, from manila folders rendered in resin to frames crafted from apparent countertops and even the odd note to self, worth searching for in one way or another across this super rich spread. Until February 11.
It's the season of the survey! Another massive swathe of artists has convened on the winding walls at D.C. Moore, where Come a Little Closer eschews grandiose scales for works measuring 15 inches or less by a star-studded roster of over 70 contemporary artists like Elizabeth Glaessner and Odili Donald Odita. Each piece, the gallery clarifies, was intended to be this size in finality. That novel premise alone necessitates a visit, but my exercise here was to document every single work I wanted for my own wall. Maybe a small scale really does simply build more intimacy, but I left with a whopping 25 photos. There could have been far more. Play along, count yours! Until February 11.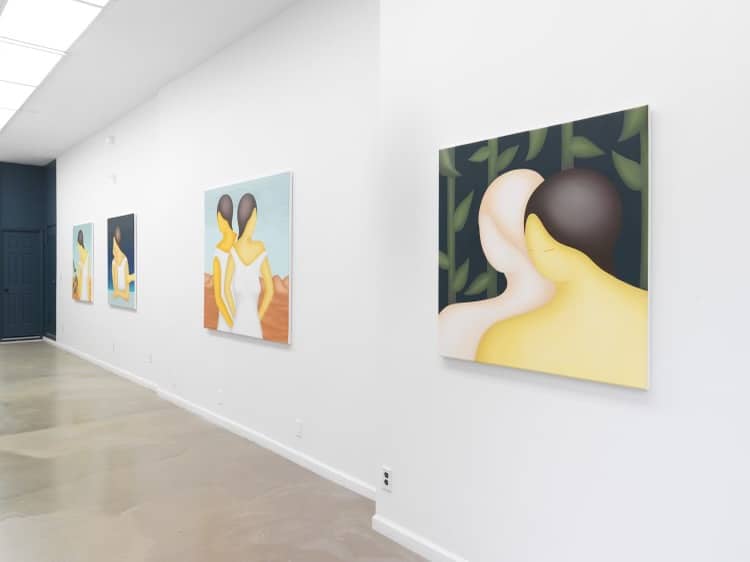 Slovenian painter Anaja Hvastija Gaia celebrates her first U.S. solo show on Two Bridges' trendy art hub Henry Street with this series of soft, meditative paintings composed with subliminal zen and maximal universality. Figures here err feminine, and many sport a pale tangerine pallor that evokes the universal emoji hue — especially when paired with the artist's decision to forego facial features for simple, downturned eyes. In the few scenes where two figures do appear, the pairs remains pensive, arranged in a peaceful harmony which begs the question whether there's really two distinct characters in view, or if it's just one being's natural duality. Until February 12.
Categories
Tags