Project for Empty Space to open SEARCHING a solo exhibition by 2022 Artist in Residence Damien Davis.
Set within the confines of a darkened gallery, Davis' solo project probes the multiple social connotations of "searching." These interpretations include notions of collective exploration, from universal questioning to the intimacy of personal and interior probing. Created from cascading laser-cut fluorescent acrylic, the works in the exhibition physically and conceptually layer experiences pertinent to the Black and QTPOC
American experience. The artist's labyrinthine reflections on the implications of police surveillance/home invasion/'security', intimacy/sex/queerness/Black precarity, and loneliness/darkness/violence/harm are embedded within each work.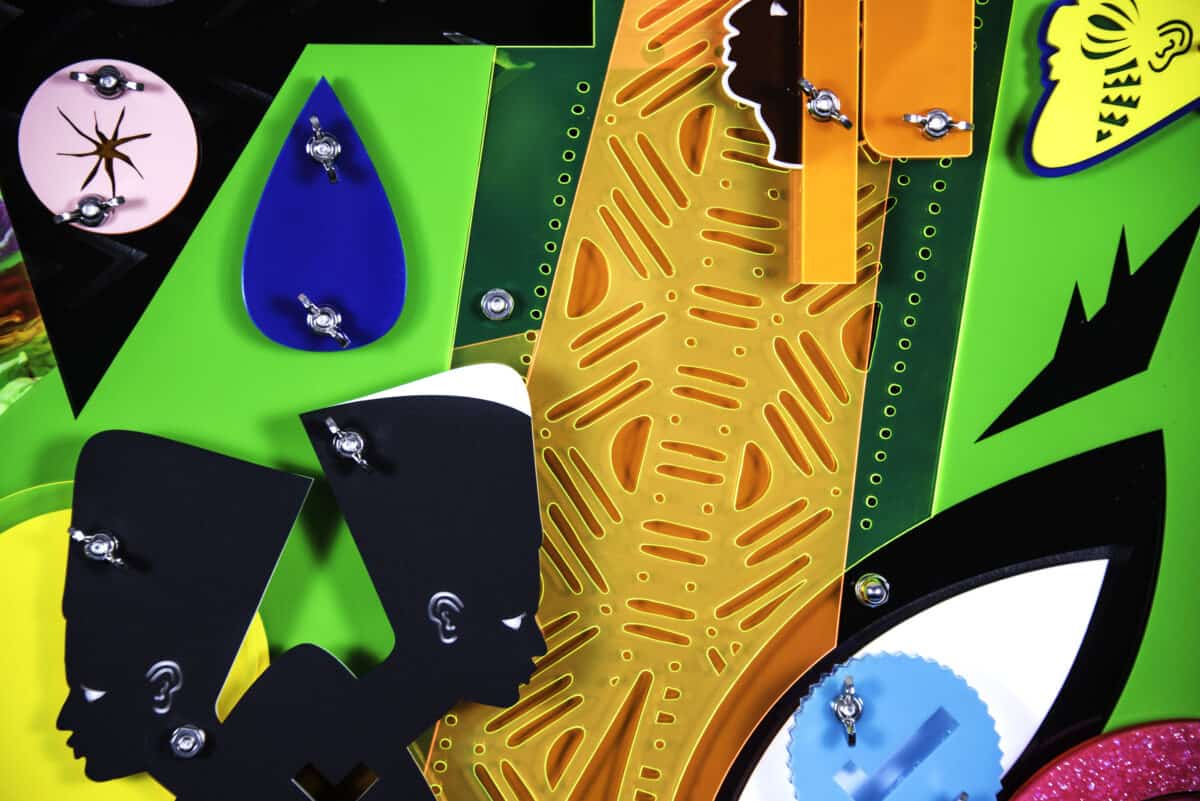 Shrouded in a cocoon of the blacked-out gallery, the pieces in SEARCHING. possess a quiet glow that requires the audience's participation to illuminate. Upon entering the eerily silent arena where the works are hung, viewers are given a flashlight to navigate the space with. As they conduct their own "forensic search" by blacklight artworks emerge, floating in the isolation of [B]lack space—beautiful, stoic, and somehow lonely. Inspired by the long history of police searches in Black homes and domestic spaces, the artist invites the viewer to conduct their own "forensic search". Blooming under the transformative glare of the blacklights, colors and shapes radiate and pulsate with neon life, an effect both beckoning and toxic.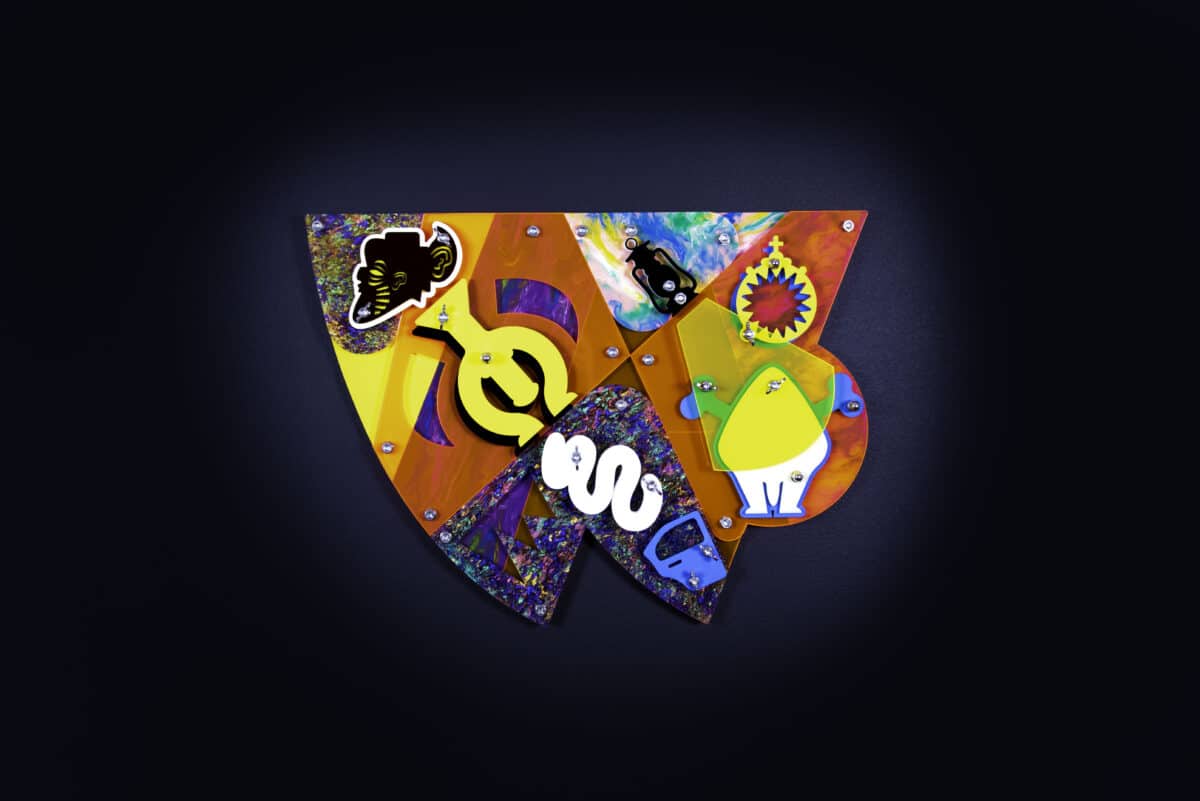 SEARCHING. maintains Davis' practice of incorporating humor and innocuousness. His works contain familiar motifs including, but not limited to, afropicks, figures in profile wearing cap crowns, watch gears, rocket ships, butt plugs, dildos, and West African masks. Multiple entendres are embedded within his playfulness: fear, loathing, anxiety, and desire. Revealed under the ultraviolet glow of the blacklight, his
shapes are satisfyingly clean-cut, bright, and tactile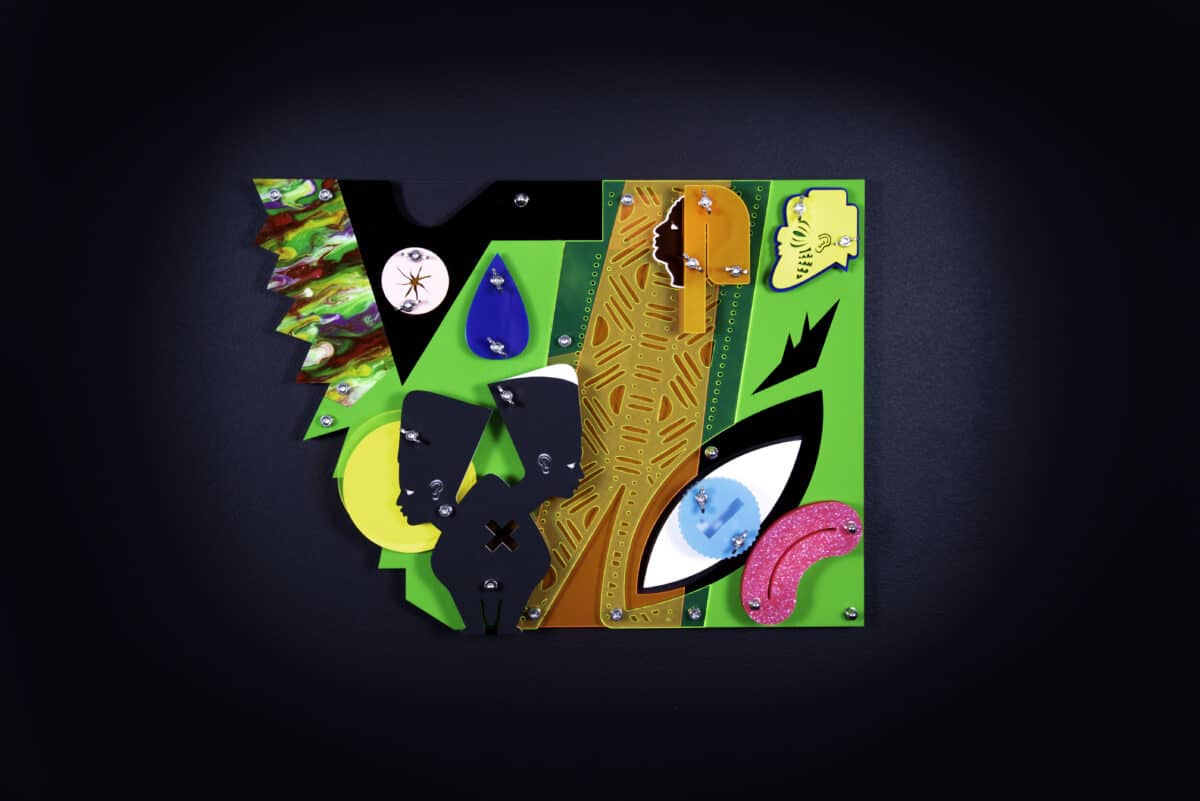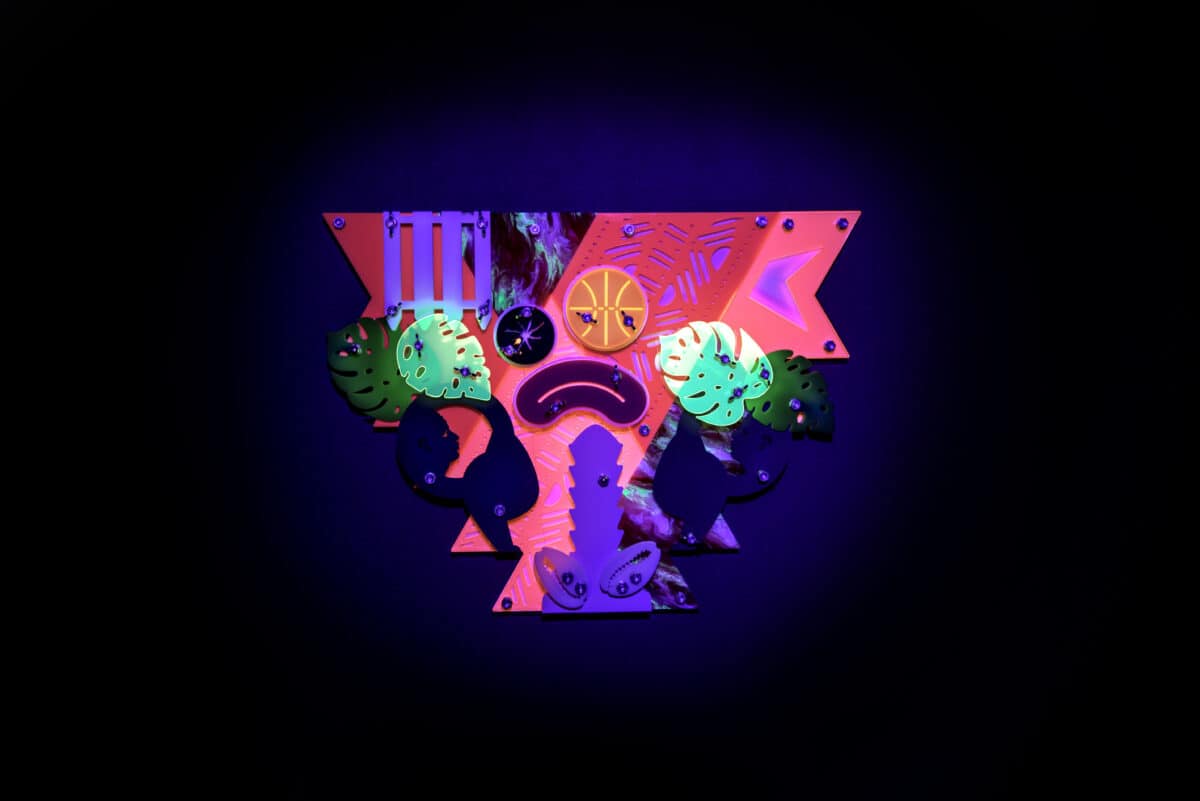 Project for Empty Space Presents Damien Davis: SEARCHING. Project for Empty Space | 800 Broad Street, Newark, On View February 4th-April 8th 2023, Art Opening February 4th, 2023 | 4-6PM
Project for Empty Space is open from Wednesday – Saturday, and by appointment.
About the artist
Damien Davis (b. 1984, Cowley, LA) is a Brooklyn-based artist who was raised in Phoenix, Arizona. His practice explores historical representations of Blackness by unpacking the visual language of various cultures, questioning how societies code/decode/recode representations of race through craft, design, and digital modes of production. His work has appeared at The Whitney Museum of American Art, Museum of Modern Art, Museum of Arts and Design, and various galleries across the country. He is the recipient of the Rema Hort Mann Foundation Community Engagement Grant. He has been awarded residencies with Dieu Donné, Triangle Arts Association, the Museum of Arts and Design, Lower Manhattan Cultural Council, Pilchuck Glass School, and Sugar Hill Children's Museum of Art and Storytelling.
Mr. Davis is also a former fellow and current advisor for the Art & Law Program in New York City and a board member for the Fire Island Artist Residency. His work has been mentioned in the New York Times, Frieze Magazine, The Guardian, Hyperallergic, Vulture Magazine and NYLON. He is currently a Visiting Assistant Professor of Sculpture at Purchase College (SUNY) and holds a BFA in Studio Art and an MA in
Visual Arts Administration from New York University.
About Project Empty Space
Project for Empty Space (PES) is a multifaceted arts organization in downtown Newark. PES is a woman-run, femme-powered, People of the Global Majority/BIPOC, Queer, and unapologetically radical ecosystem for creatives. Today, PES provides safe, equitable spaces for artistic innovation and complex public engagement by supporting artists whose work is oriented toward social discourse. Our programs lean towards discourses that have been historically and systemically erased such as marginality, in-equity, and visibility. Today, in our efforts to support socially-oriented artists, we maintain a commitment to holding space for radical future-making.
These programs include the Artists In Residence program, Feminist Incubator, Gallery Exhibitions and Programs, PES STUDIOS subsidized studio program, Newark Artist Accelerator (NAA) regranting program, the Newark Artists Database, and Public Art. In addition to fulfilling this mission in Newark, PES will also add an exhibition and hybridized residency program in New York City's Lower East Side, where
the organization originally began in 2010. This space will not only broaden the visibility of efforts in Newark, but also create a wider geographical reach for discourses around liberation, radicality, and social change. Intersectionality is holistically embedded in this mission across both the current Newark space and our future New York City space; our programs are created to fulfill this aspiration. PES will open a
second space in downtown Manhattan in the Fall of 2023.
Categories
Tags