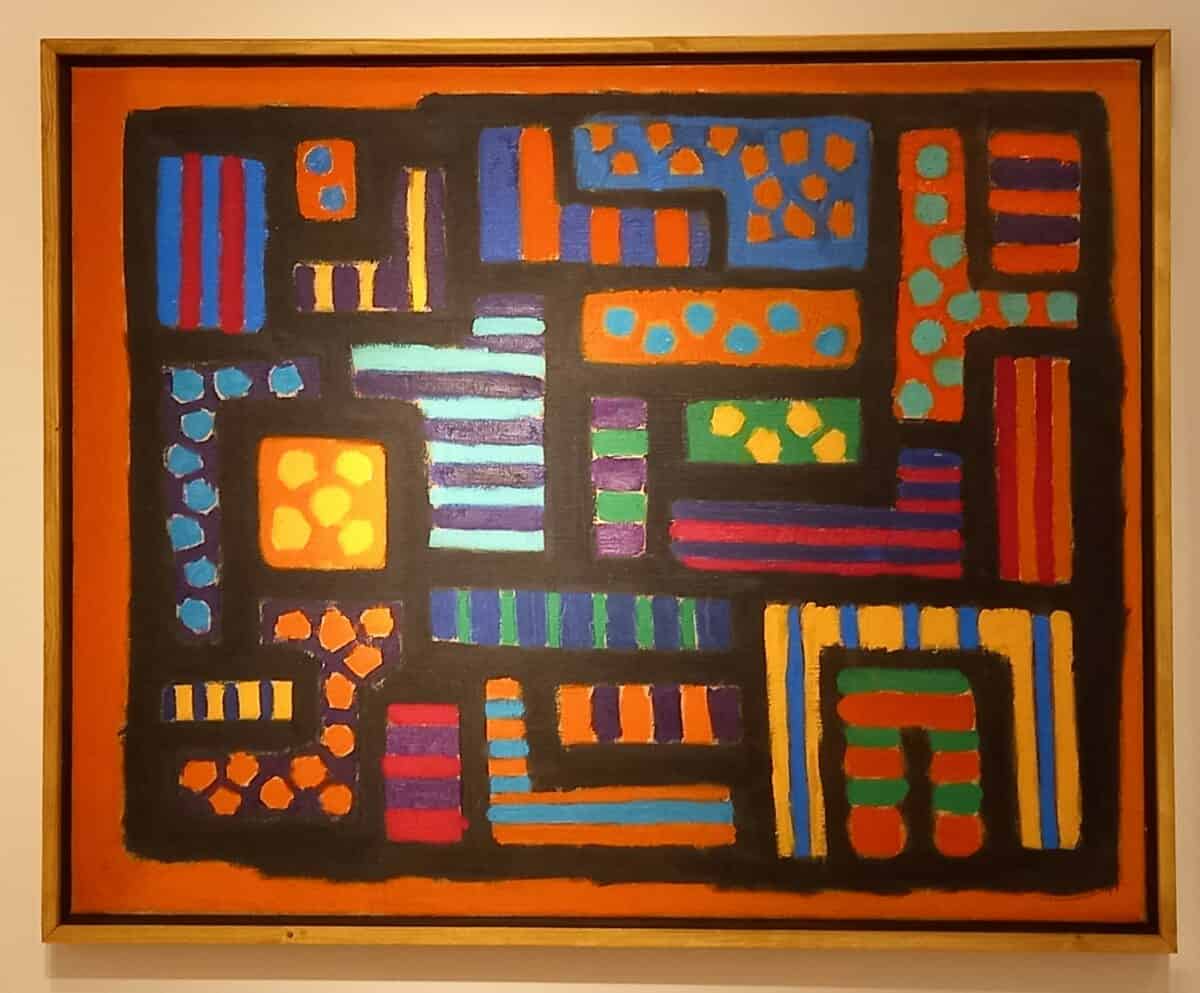 The Brussels Antiques & Fine Arts Fair – BRAFA  was founded it 1956, making it the longest-running such event. This year BRAFA 2023's- 130 exhibitors (28 Jan – 5 Feb) range eclectically across ancient and modern, and art and design, with a local core but a significant international presence. In what is admittedly one of the least inspiring straplines one could coin, it claims to be 'one of the most inspiring fairs in the world'. One test of that might be whether one could find something of fresh interest and top quality across the various categories displayed, Sticking to art, I chose a dozen items covering ancient, classical, 19th century, modern and contemporary; and painting, drawing, sculpture, tapestry, ceramics and photography (there's hardly any film). That test, I believe, was passed. In historical order: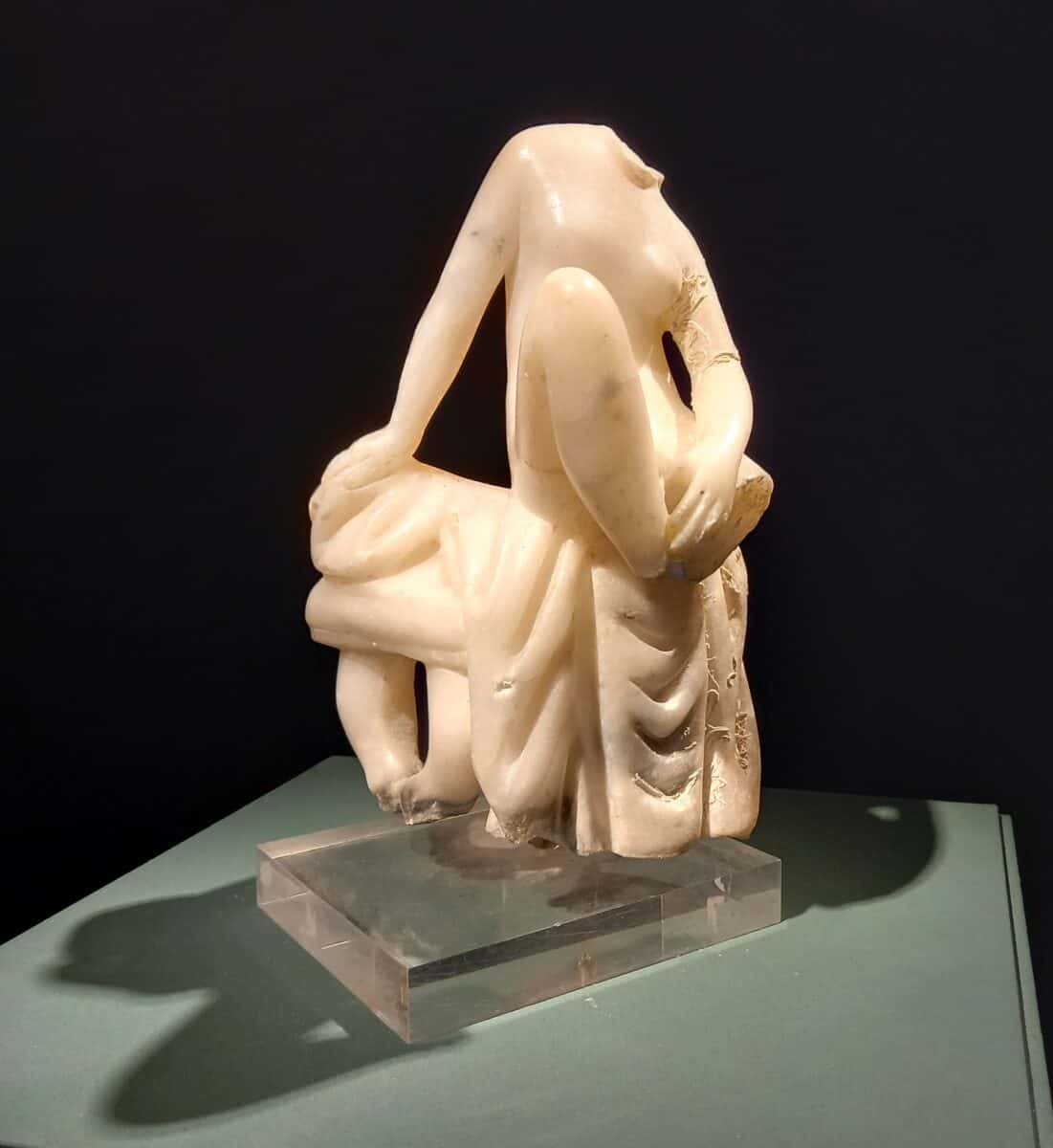 As the goddess of love and sex in an ideal form, Venus was an unsurprisingly popular Hellenistic subject, often shown effectively naked as she removed her clothes – on the bench here – or sandals. This version, having lost head and soon-to-be-sandal-free foot (should it have been titled 'Seated Venus without Sandal'?), trades more on the modern appreciation of fragment as form. That stops the truncated woman being disturbing in the way it might be in a new work of art.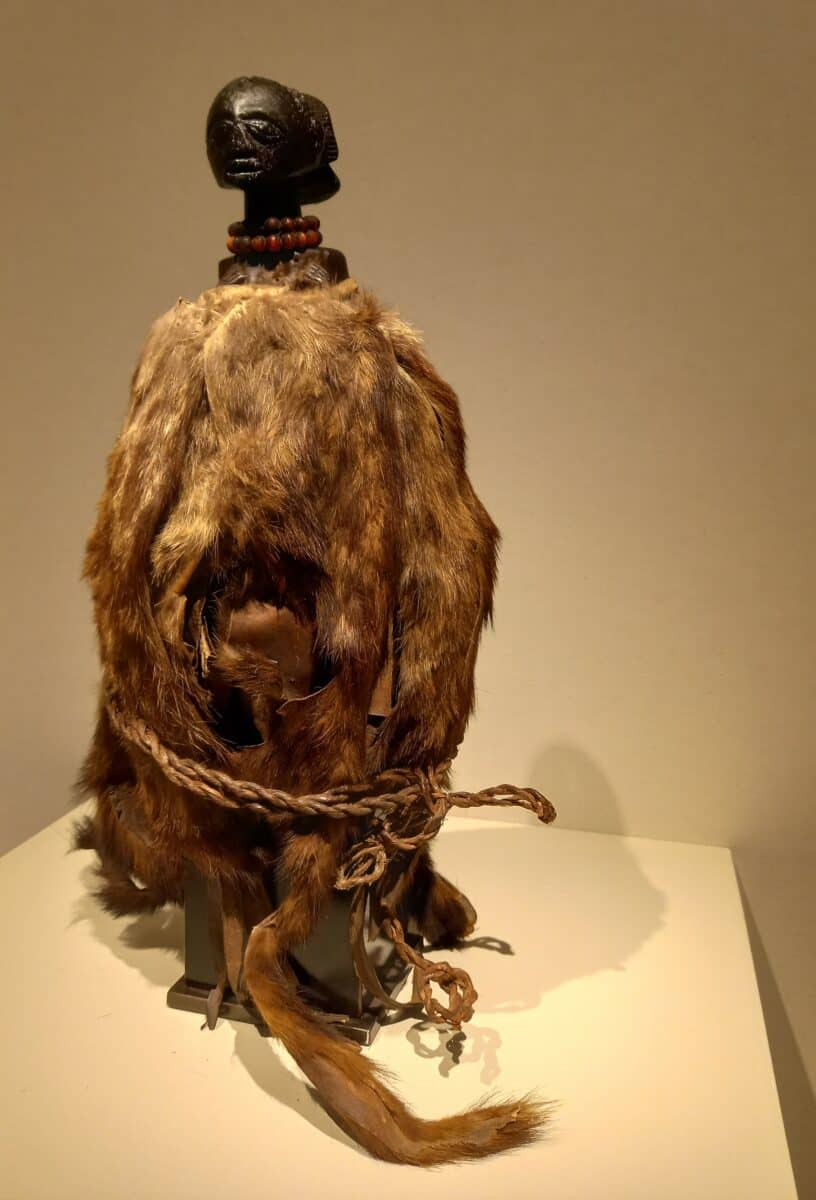 This doesn't represent a cloaked figure so much show that such figures are commonly used in ceremonies. If it seems unusual, that's because the plant fibres and animal skin tend to get separated or fail to survive. The Luba Shankadi people's rich cultural history comes from the grasslands of the current Democratic Republic of the Congo.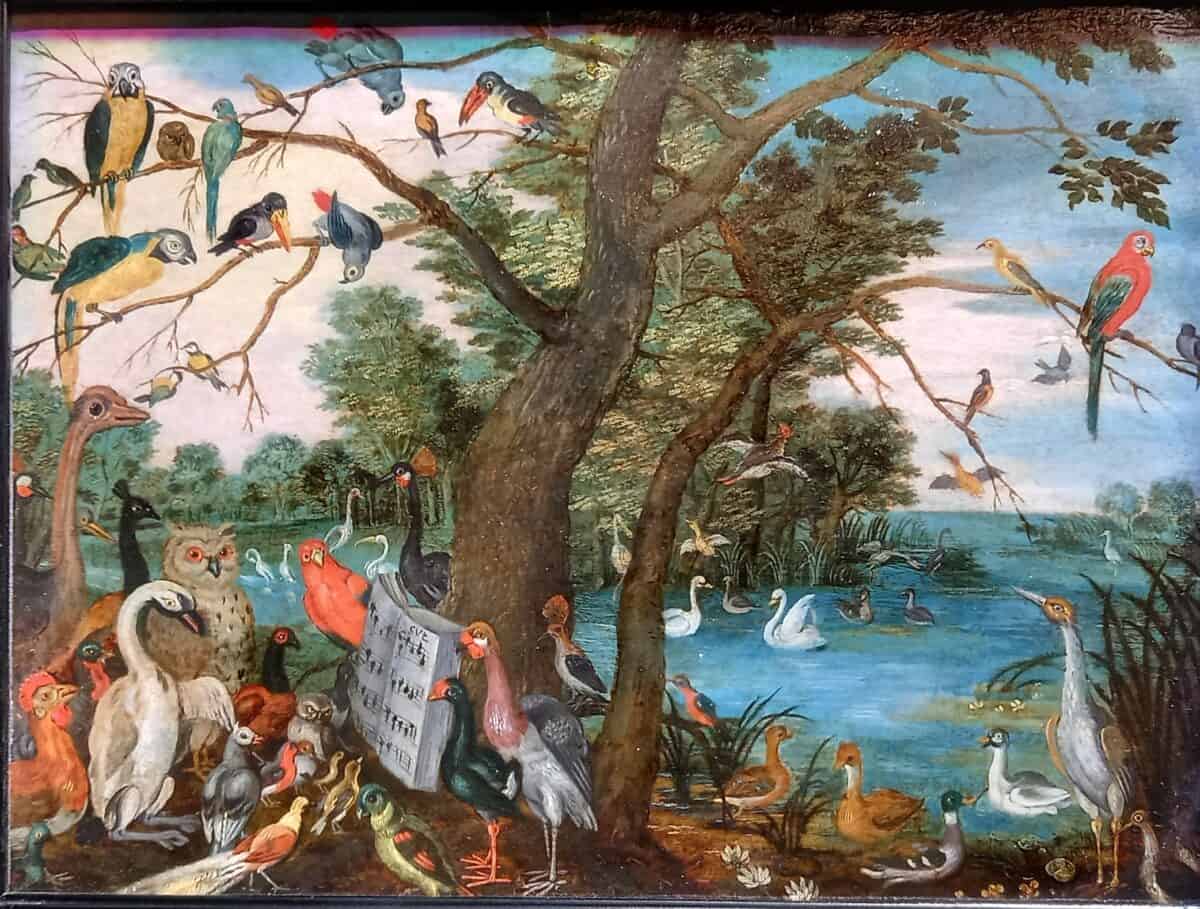 Such groupings of birds on tress, implying the musical polyphony of their calls, were an established trope of 17th century Flemish painting. The Bruegel- influenced Jacob Boutatts (1660 – 1718), active in Antwerp from 1700, provides a lively example of the genre, featuring birds clever enough to read the score before launching into song.
Muybridge (1830 – 1904) was born in Britain, emigrating to the USA at 20, where he began his famous motion sequences in 1872, after being asked to help settle a wager as to whether a horse in trot has all four legs off the ground at some points. He went on to explore movement through 100,000 images in the first-of-its-kind scientific study using photography. One of the more eccentric investigations shows how a naked mother might smack her baby. Muybridge was christened Edward, incidentally, but switched to that weard spelling in 1882, believing it to be the original Anglo-Saxon form of his name.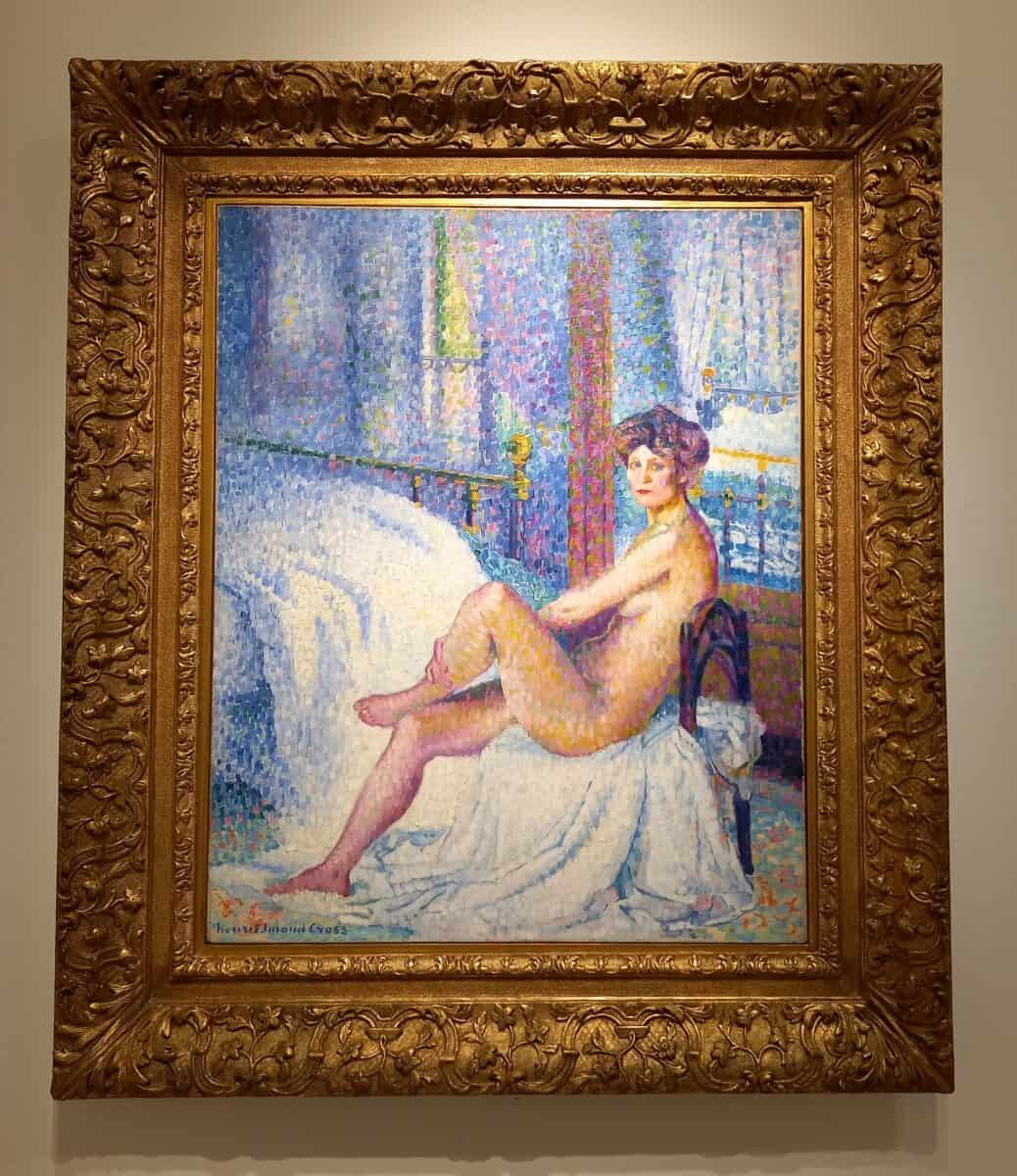 Sticking with altered names, Henri-Edmond-Joseph Delacroix (1856-1910) shortened his in 1881, anglicising its 'croix' to arrive at Henri-Edmond Cross – so distinguishing himself fully from Eugène Delacroix.  As such, Cross co-founded the Société des Artistes Indépendants with Georges Seurat in 1884. This museum-quality work sees him in transition between Pointillism and Fauvism – the dots have become larger and the colours freer. He depicts his model in a pose more characteristically adopted by men than by women, suggesting an exploration of the dynamics of power somewhat ahead of his time.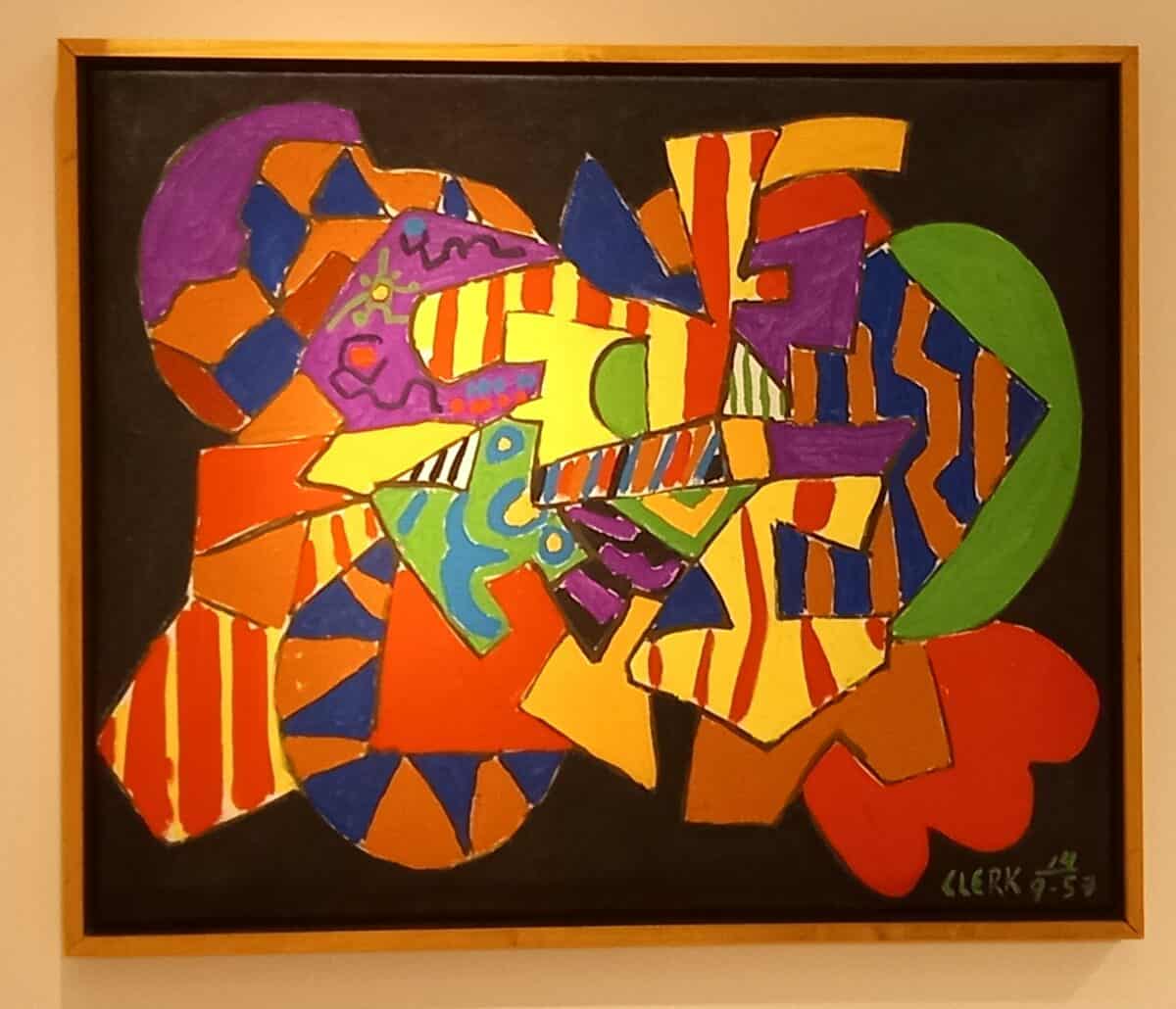 I was pleased to discover 94 year old Pierre Clerk's lively paintings from the 1950's, sort of Matisse meets Gottlieb. He was then an active and well-known presence on the American scene, being one of the three artists featured in MOMA's New Talent Exhibition of 1956. Clerk has carried on working in harder-edged painting and – sometimes monumental – sculpture, but has fallen somewhat out of view. Francis Maere's extensive presentation of what looks to me to be his best period came straight from Clerk's studio in south-west France.
The Roman celebrity artist Andrea Spadini (1912-89) was best known for working in ceramics and precious metals for Tiffany & Co, his New York displays leading to a commission in 1965 to animate the Central Park musical clock with bronze animals, and on to his becoming a favourite of Hollywood stars as well as the Italian nobility. Obelisks feature frequently and playfully in what the gallery calls 'the extreme happiness of his non-conformism… heedless of the logic of the avant-garde, untroubled by anxieties of modernism'.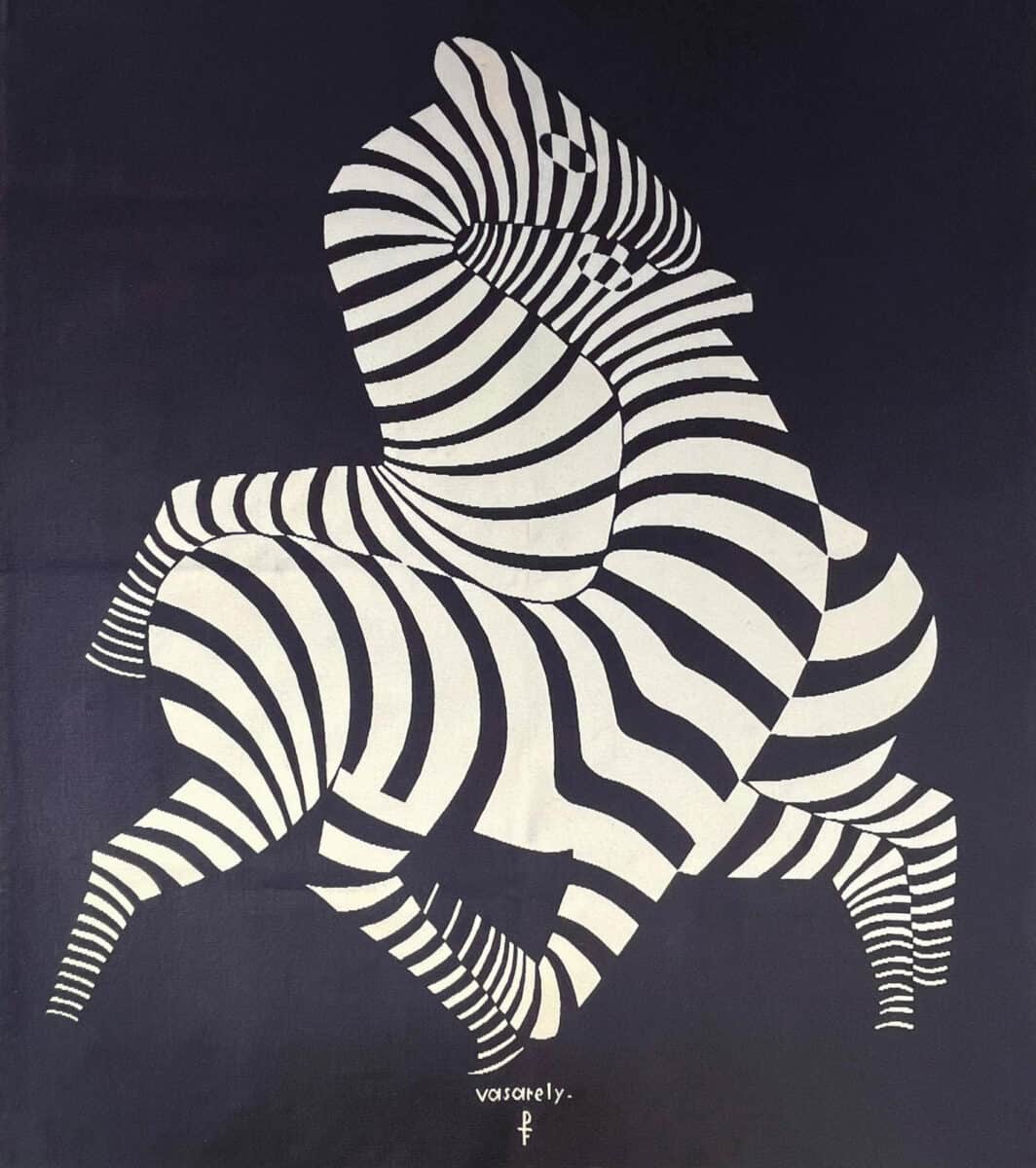 Figurative motifs aren't common in the work of Victor Vasarely (1906-1997) but tapestry specialists De Wit brought this 1.5m high pair of zebras woven in wool in an edition of six by the Pinton workshop in Aubusson, France. It's one of several  designs of interlocking zebras which Vasarely realised collaboratively as tapestries, based on the paintings of the 1930's – showing early signs of the Op Art direction he was to take.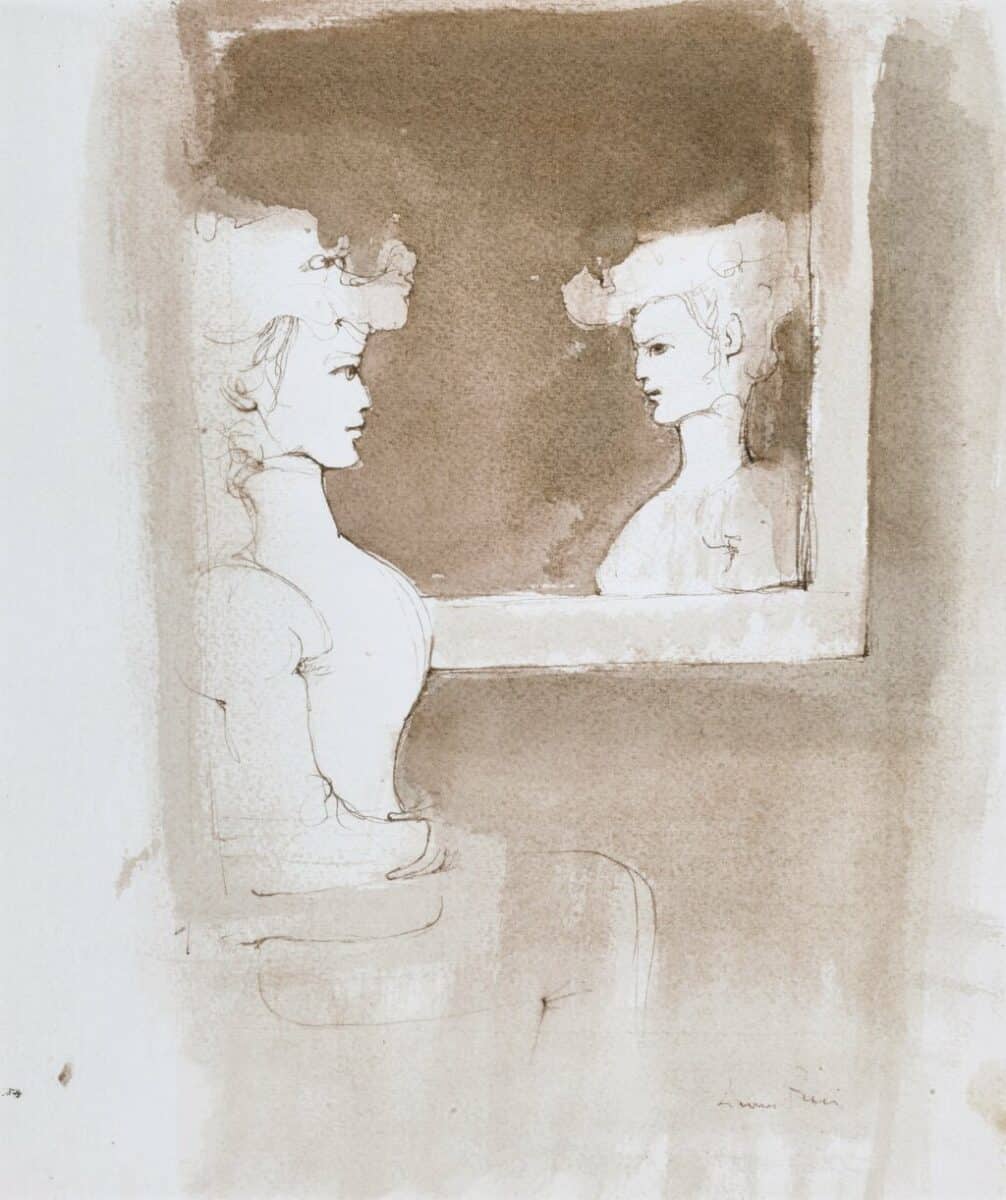 Argentinian-born Italian painter, designer, illustrator, and author Leonor Fini (1907-96) grew up in Trieste but lived in Paris from 1932. She was a sensational character – bisexual and polyamorous – in Surrealist circles, though she never considered herself to belong to the movement. The femme fatale is at the heart of her increasingly well-regarded practice: perhaps this woman, as elegantly drawn as she is elegant, is of that number.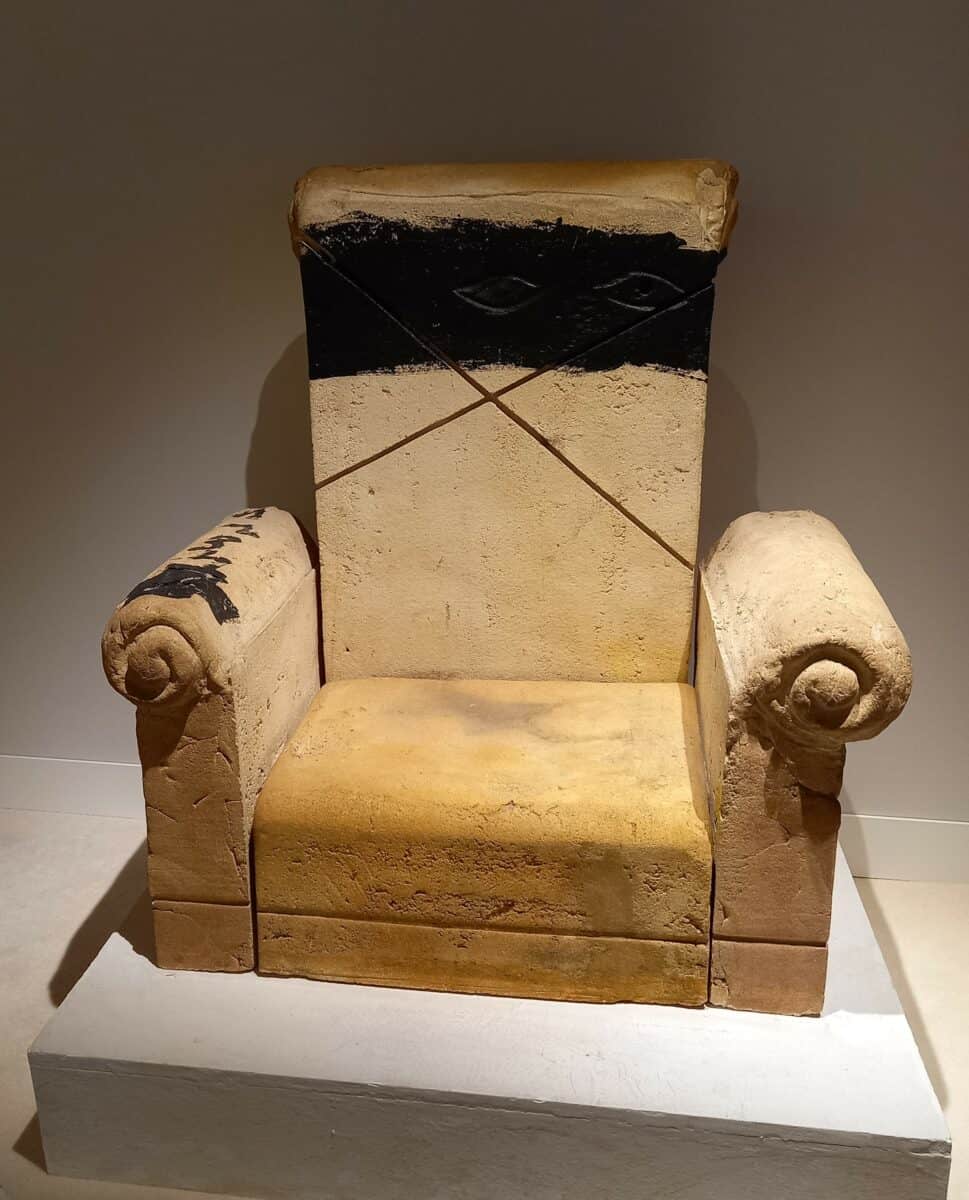 This comes from a series of fire-clay sculptures in which the great Catalan artist (1923 – 2012) examined such everyday objects as a shirt, bowl and shoe, giving concrete form to their ideal as he saw it – making this a Platonic armchair. It turns out to be more a sculpture than a place to sit on. It's scarred and painted with typical Tàpies motifs suggesting both cave art and protest graffiti – originating in his opposition to the Franco regime of 1939-75. The eyes in the black headrest anthropomorphise the chair and suggest the need for ongoing vigilance.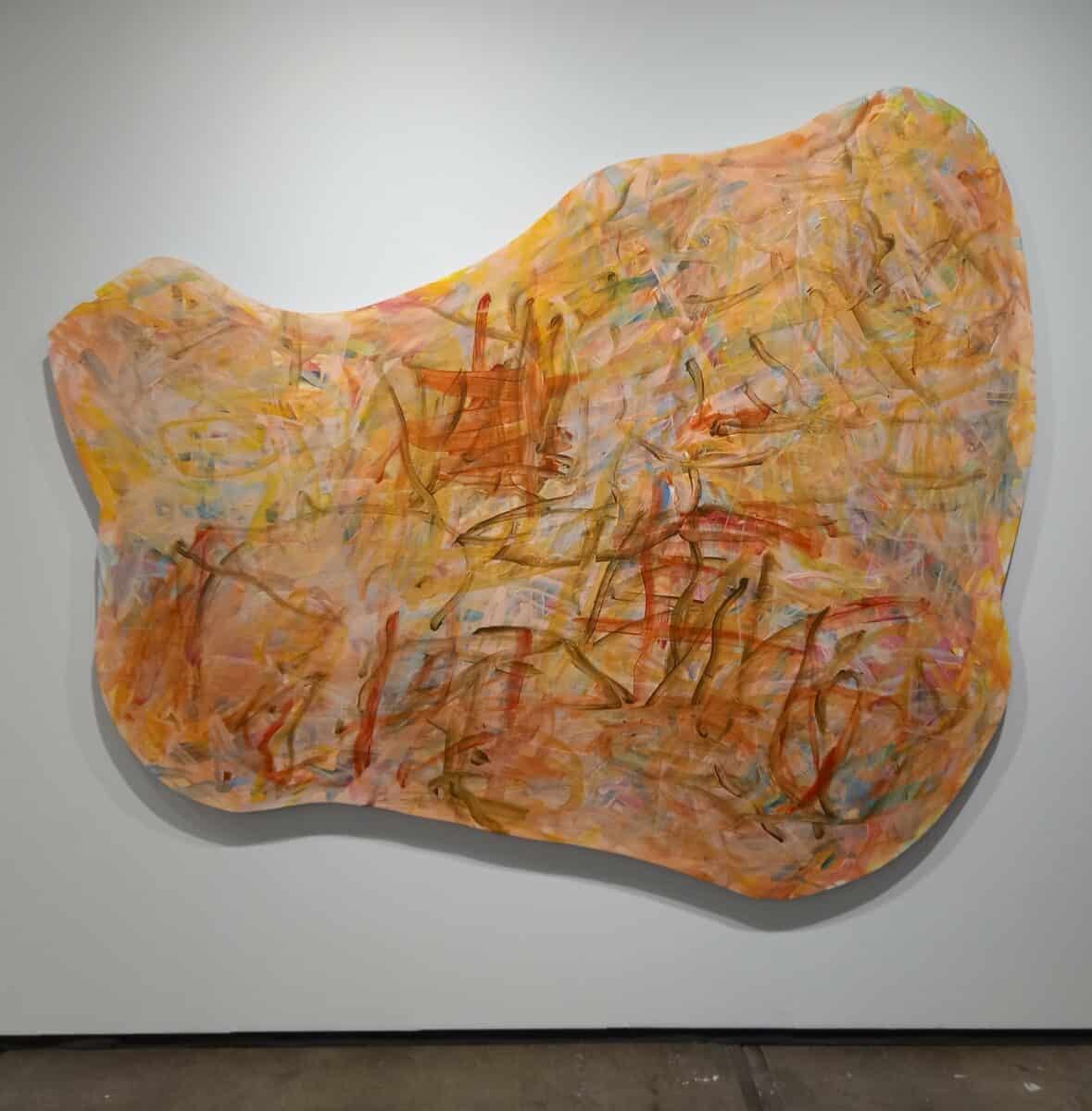 Imi Knoebel has moved some way in recent years from the minimalist hybrids of painting and sculpture which made him famous. He's still exploring the relationships between colour, structure, form and material, but with shaped canvases and a more gestural language. In this stream of works, he scissors the shape out of paper, then sends it away to be scaled up in aluminium. Assistants hang the template on a wall, and paint the metal white before Knoebel takes over in acrylic colour.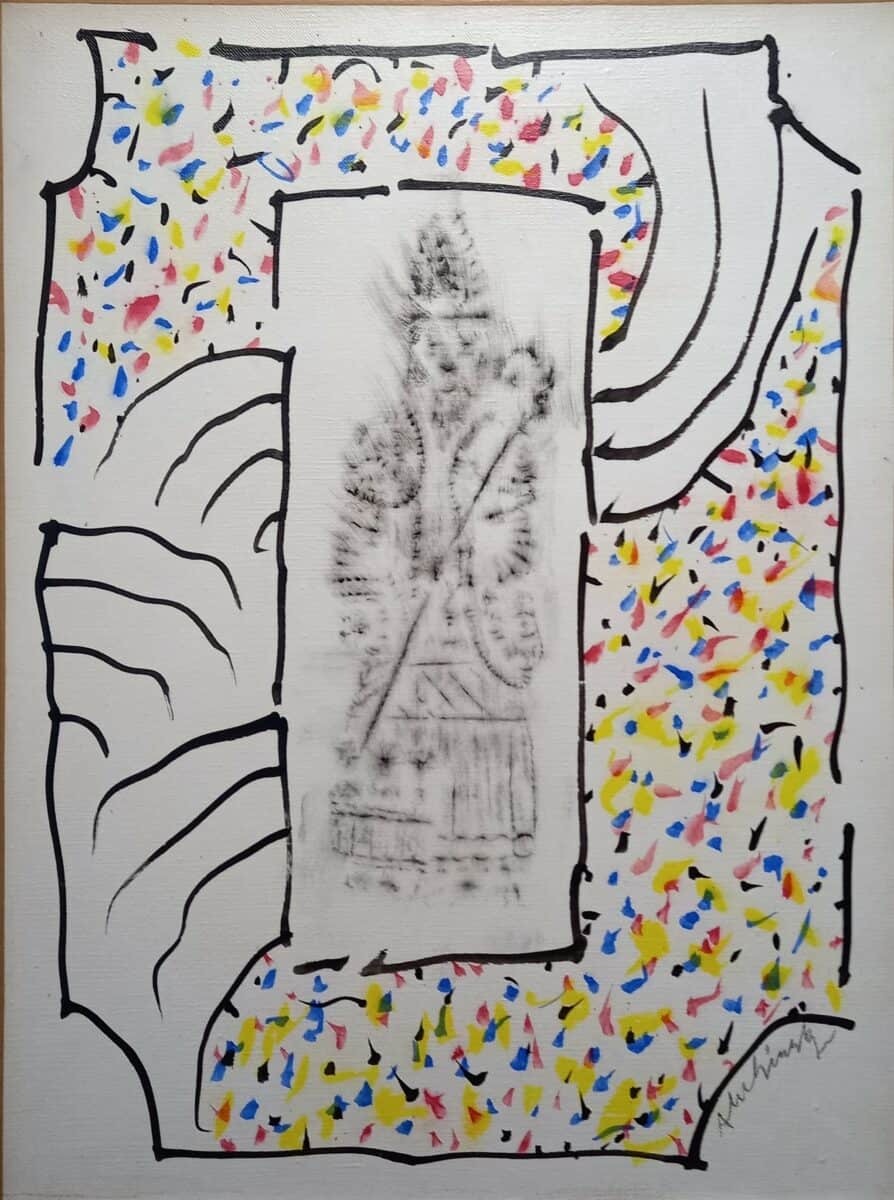 The COBRA group of artists are prominent at the fair, the highlight being a solo stand surveying the career of the 95 year old Belgian Pierre Alechinsky. This is from a recent series which features St Nicholas as he appears on the traditional 'speculoo' Belgian Christmas cookies. The central image is printed not from the biscuit itself but by applying acrylic to the wooden signs – some 40 cm high – which bakers use to advertise them. That is then subsumed in Alechinsky's typical framing within the picture, adding interest which covers a greater area than what is framed.
Categories
Tags