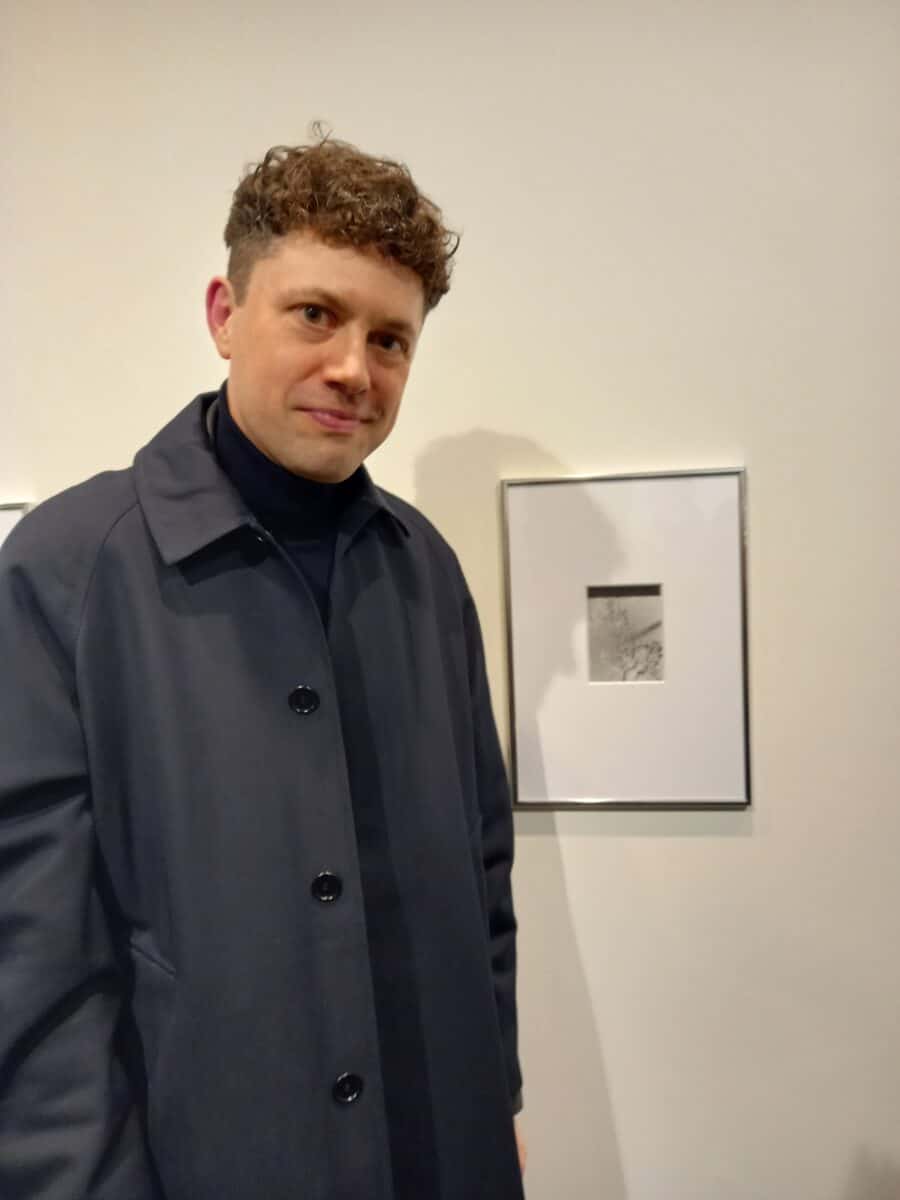 Toby Christian at his opening at Belmacz
Belmacz,  45 Davies Street, London W1K 4LX
belmacz.com  Instagram: @belmaczlondon
Julia Muggenburg founded Belmacz – close to Bond Street underground station – in 2000 as a means of hosting a critically engaged exhibition program alongside her sculptural jewels and objects. Also rather distinctive is the chance in its lower space to look at the jewellery cabinets from the comfort of a swing. The idiosyncratic approach carries through into a programme that supports the free expression of interesting artists – among favourites of mine whom Julia has consistently supported are Camilla Løw, Paul Housley and Paul Kindersley – alongside quirky group shows on subjects such as artist's studio ashtrays, the centenary of Joyce's Ulysses, the history of fans and the musician Prince.
'Belmacz' is a composite name: combining the male adjective 'bel' (from the French for beautiful, but also sneaking in a reference to the iconic 20th century jeweller Suzanne Belperron), 'maximum,' and 'cz' (from the Slavic alphabet). Julia is a force of nature, and I wasn't surprised to find she was rushing between meetings and visits during the opening of Toby Christian's 'no odonata', so she didn't make my picture. The show is well worth catching: and the titular embargo on dragonflies and damselflies is not so fanciful an exclusion as it sounds, for Christian has made small giclée prints of de-toned colour photographs taken while looking in through the window of his  studio-garage and stone carving workshop in Lewisham, many of which bear the traces of the movements of other arthropods trapped behind the dusty glass.
London's gallery scene is varied, from small artist-run spaces to major institutions and everything in between. Each week, art writer and curator Paul Carey-Kent gives a personal view of a space worth visiting.
Categories
Tags