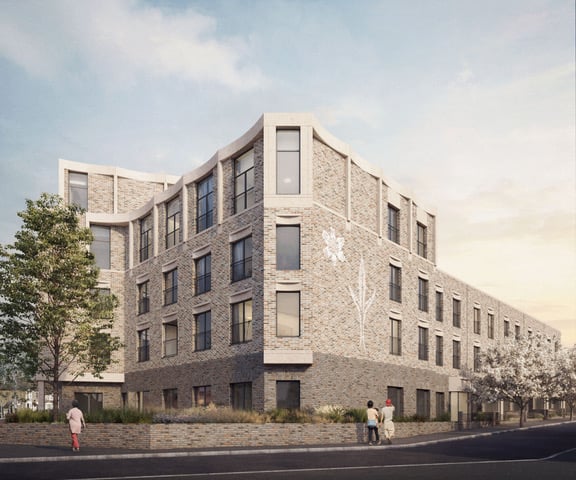 Pocket Living & Hive Curates will be commissioning two artist murals at 458 Forest Road; Pocket's second scheme in the borough of Waltham Forest. Located 0.6 miles from Walthamstow station and opposite the William Morris Gallery and Lloyd Park, the building will provide 90 new homes, a communal central courtyard space and roof terraces for future residents. As part of the planning permission, these murals seek to transform the building's elevations, offering the opportunity to involve local communities in choosing a final artwork.
There are two mural opportunities at 458 Forest Rd; one will be visible from Gaywood Road and the second from an internal courtyard for prospective residents. We are looking for an artist to submit an artwork proposal for one or both murals. The artist fee is (£4,000 per mural design or £8,000 to deliver both) * please note: this fee does not include access or installation.
The designs need to celebrate the creativity and innovation in Walthamstow and the wider borough. The artwork should characterize the identity of the area and offer a chance to bring local communities together positively. The proposal could highlight surrounding landmarks, heritage, untold stories and the embedded culture that makes Walthamstow a distinct and creative place to live in.
The artwork proposal should be inclusive in design (i.e non-political / non-figurative or religious). We would also encourage avoiding representative depictions of William Morris motifs. If you have any clarification questions please send an email to Hive Curates no later than Friday 10th February.
GUIDELINES
Artwork must stay within the designated boundaries. We are looking for artwork designs that playfully use negative space to create dynamic compositions. More information, images and elevations are
supplied in the wider open call pack.
• Gaywood Road elevation: 6 x 4 meters
• Internal Courtyard elevation: 5.5 x 5.5 meters
The appointed artist(s) must work with the local community to design an artwork, with final designs going to a public vote. The proposals should specify how they intend to deliver community engagement.
Hive Curates will facilitate the venue and liaise with local stakeholders to assist the artist in this process.
Who Can Apply?
Applications from visual artists and collectives that have a connection to Walthamstow or are based in the borough of Waltham Forest are welcomed. Artwork proposals need to draw inspiration from the surrounding areas, offering a chance to celebrate the untold stories and diasporic cultures of Walthamstow. The mural(s) should reflect the wider borough's heritage of innovation in music, film and arts. It is hoped this will be an opportunity to create a new landmark that the community will be proud of.
How to Make an Application
In order to apply you will need to send your proposal to hello@artisthivestudios.com by midday Thursday 16th February 2023 (any submissions after this time will not be considered).
In your proposal, you need to make clear whether you are applying for one or both opportunities.
Please express clearly which you are applying for – Gaywood Road or the Internal Courtyard.
Your proposal should consist of no more than five A4 pages. Each concept should articulate community engagement and how the design celebrates the local area. You can include up to x5 images or links of previous works.
Presentations are only accepted in PDF format and all files will need to be under 10MB.
Please email any clarification questions by 5pm Friday 10th February 2023. hello@artisthivestudios.com
Please ensure you have also received the following:
• The brief
• Site images
• Architectural elevations
• Design and access statement
• Weighting and evaluation criteria
About
Pocket Living was founded in 2005 with an idea to help millions of middle-earning Londoners who contribute to their city in so many ways, buy their first home. Pocket homes are discounted by 20% to the
local market and are exclusively for local first time buyers. They help those that earn too much to qualify for social housing, but not enough to buy on the open market, get their foot on the housing ladder and own a piece of the city they love.
Pocket Living believes in supporting the city makers – the people who make London tick. They've chosen this great city as the place to build a career, meet friends and partners and experience a vibrant urban lifestyle. A 'city maker', a member of the dynamic force powering the capital's vitality and creativity.
pocketliving.com

Hive Curates is an art organisation specialising in arts and placemaking. Operating across two sites in North London, they provide creative workspaces for visual artists across different disciplines. Hive believe in the importance of creativity and how it can help to transform everyday environments. Through their cultural programming, they interweave audio, performance, poetry and visual arts to bring people together celebrating heritage, storytelling and communities. hivecurates.com
Categories
Tags