In a presentation organized in collaboration with the artist, Gerhard Richter's >> mood << (2022), an edition of thirty-one photographic prints, will be on view at the Gagosian Shop in London's historic Burlington Arcade. Installed upstairs on the first floor, the group documents a set of original small-format abstract works on paper exploring the controlled operation of chance and the relationship between image and reproduction. The project, which reflects Richter's ongoing commitment to editioned works, was first exhibited alongside the paintings themselves at Fondation Beyeler, Riehen/Basel, Switzerland, in 2022.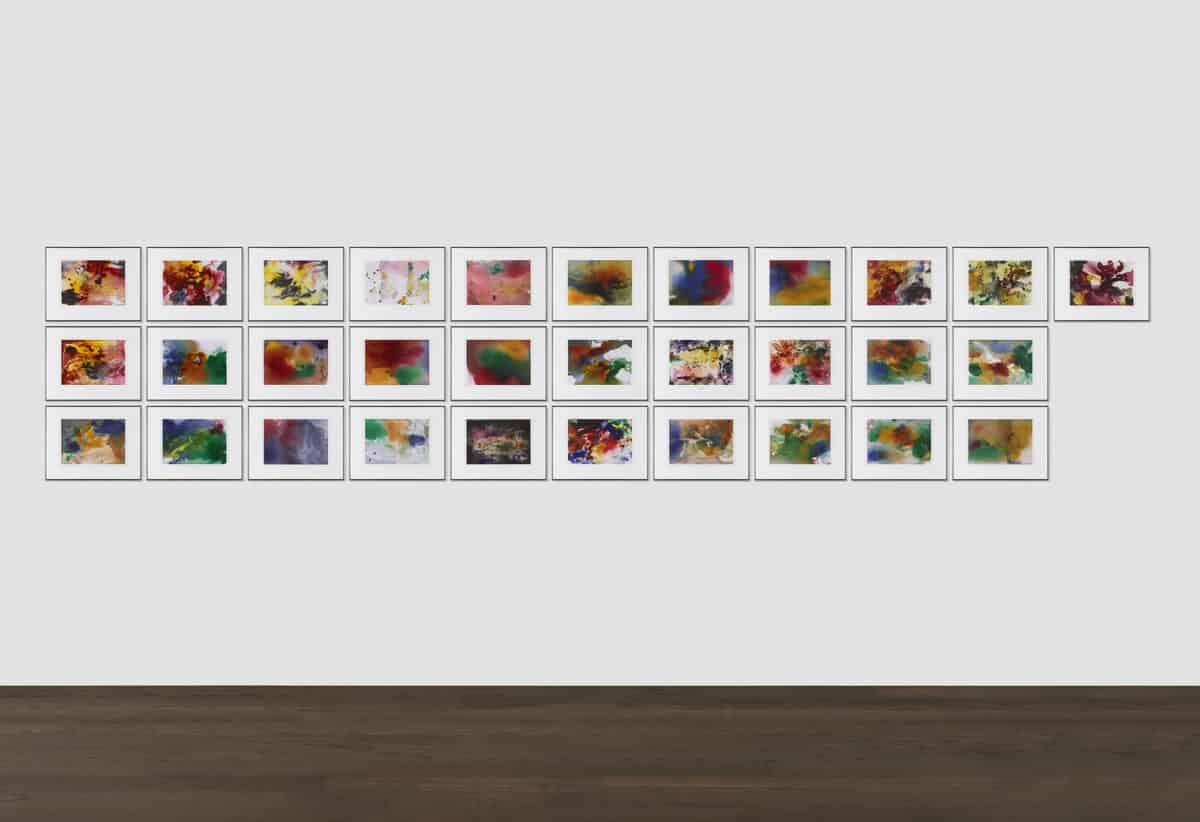 On view on the ground floor is an artist's book about the mood series published by Verlag der Buchhandlung Walther und Franz König in a limited edition of 950 copies. This landscape-format volume reproduces the works on paper alongside a series of short aphorisms by the artist in English and German. Other publications by and on the artist will also be available.
Gerhard Richter, New series of 31 photographic prints documenting the artist's first use of glass paint on show in the UK for the first time, 10th January – 11th February 11, 2023, Gagosian Shop, Burlington Arcade, London
About the artist
Gerhard Richter was born in 1932 in Dresden, Germany, and lives and works in Cologne, Germany. Collections include the British Museum, London; Städel Museum, Frankfurt-am-Main, Germany; Barcelona Museum of Contemporary Art; Museum of Contemporary Art, Porto, Portugal; Tel Aviv Museum of Art; Metropolitan Museum of Art, New York; Museum of Modern Art, New York; Art Institute of Chicago; Los Angeles County Museum of Art; and National Gallery of Canada, Ottawa, Canada. Exhibitions include Paintings 1962–1985, Neue Nationalgalerie, Staatliche Museen Preußischer Kulturbesitz, Berlin (1986); Paintings, Hirshhorn Museum and Sculpture Garden, Smithsonian Institution, Washington, DC (1988–89); Tate, London (1991–92); Paintings, Israel Museum, Jerusalem (1995); 40 Years of Painting, Museum of Modern Art, New York (2002); Survey, Ludwig Museum, Budapest (2005); Panorama, Musée national d'art moderne, Centre Georges Pompidou, Paris (2012); and National Museum of Modern Art, Tokyo (2022). In 1972, Richter represented Germany at the 36th Bienniale di Venezia; he has also participated in documenta, Kassel, Germany, more times than any other artist (1972, 1977, 1982, 1987, 1992, 1997, 2007, and 2017). Awards include the Oskar-Kokoschka-Preis, Vienna (1985); Golden Lion, 47th Biennale di Venezia (1997); Praemium Imperiale Award, Tokyo (1997); and Foreign Honorary Membership of the American Academy of Arts and Letters, New York (1998). In 2007, Richter received an honorary citizenship of Cologne, Germany.
Categories
Tags