We caught up with Isaac Simon who runs South Parade at Sadie Coles HQ's shop where they had a group exhibition featuring Zoë Carlon, James Fuller, Tom Hardwick-Allan, Kin-Ting Li, Kenneth Winterschladen & Thea Yabut.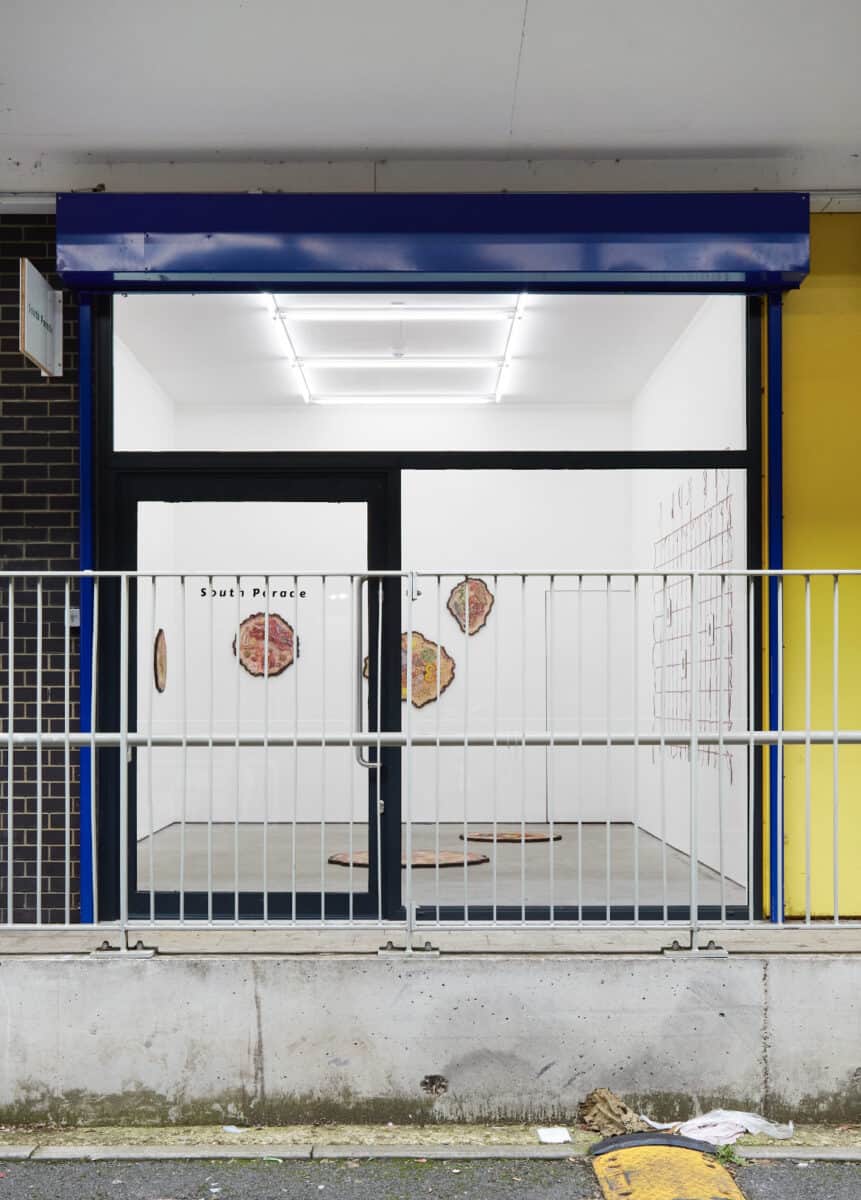 You worked in a non-art related field before entering the art world has that been an advantage or hindrance?
Perhaps both? I was an insurance broker for about 6 years (and spent almost everyday in the Richard Roger's Lloyds building). While my work discussions are now centred around art rather than earthquakes or hurricanes, the principles of the two industries are not that dissimilar – both involve speaking and listening to people most of the time.
Gaining experience at a gallery would have been advantageous to some degree, not having done so enables me to follow my instinct more, and work things out as I go, which is no bad thing.
You spent time in Mexico do you feel this gives you a unique perspective of the London art scene?
Not unique necessarily, more of a complementary perspective. Up until my return (2020), I was not part of the London art scene per se (I would go to shows, but that's about it). However, my time in Mexico City was invaluable for clarifying my thoughts. I was fortunate to direct an artist residency on behalf of Brooke Benington. I found the proximity to artists and the studio very stimulating and on returning to London I wanted to continue to collaborate and work with artists. So I looked to the possibility of opening a gallery.
You are based in Deptford any reason you choose that area?
I had seen shows in these spaces and thought this would be an interesting place to start. Deptford has proved to be the perfect place to initiate and develop an exhibition programme without having an enormous financial burden of needing to find huge sums of rent.
You started during lockdown, how did that frame the gallery's development?
It certainly slowed down the gallery's development! The inaugural exhibition opened on 3 December and by the end of the year the second lockdown had started and the gallery was shut until the following May (2021). It is so important to me to see art in person, face to face and so this forced closure was unfortunate.
Can you tell us about your current exhibition?
There are currently two exhibitions running concurrently.
The first in Deptford – a solo exhibition of paintings by Ned Armstrong, a wonderfully versatile painter who avoids labels or categories, running until 21 January 2023.
The second is a group show hosted by Sadie Coles HQ (in their 'Shop' space on Kingly Street). Titled Material Poetics, the exhibition explores texture, gesture, surface and touch – bringing together work that celebrates materiality and the material experience. For those not familiar with the gallery, I see it very much as a show that captures the spirit of the entire South Parade exhibition programme in feel and form; featuring Zoë Carlon, James Fuller, Tom Hardwick-Allan, Kin-Ting Li, Kenneth Winterschladen & Thea Yabut. The exhibition closes on Saturday 17 December.
You have participated in some art fairs recently how did that go & do you plan to do more?
Our first fairs were Art-O-Rama (Marseille) and Art Athina (Athens). In Marseille, there was a solo booth by Athens based artist James Fuller and in Athens, a group booth with Anna Gonzalez, Ellie Pratt & Kenneth Winterschladen. I enjoyed introducing these artists to a wider continental audience and in Marseille, the booth was much bigger than the gallery and posed new and interesting challenges.
Looking ahead to 2023; in February I'll be participating at Material (Mexico City) with Wakefield based painter Zoë Carlon. In April, I will be at miart (Milan), showing work by Ellie Pratt and Guendalina Cerutti in a shared booth with Ginny on Frederick (worth visiting).
Which other new galleries would you recommend visiting?
Our close neighbours in Deptford – Xxijra Hii & Collective Ending are doing exciting things – and it's great that one can visit Deptford (which is 7 minutes from London Bridge) and see 5 or 6 good and varied shows.
I also enjoy following Rose Easton, who also started an 'early and emerging gallery' WhatsApp group, exemplifying the collaborative and collective nature of young galleries in London. Overseas, among others, I appreciate the shows at Chris Sharp Gallery in Los Angeles. 
Ned Armstrong Wake – 21st January 2023 at South Parade Enclave 9, 50 Resolution Way, Deptford, London, SE8 4AL
South Parade at The Shop at Sadie Coles Material Poetics Zoë Carlon, James Fuller, Tom Hardwick-Allan, Kin-ting Li, Kenneth Winterschladen & Thea Yabut – 17th December 2022
Categories
Tags