Phillips New Now sale is tomorrow Thursday 8th December in London. The New Now sale is comprised of 196 lots and to help you navigate Charlotte Gibbs, Associate Specialist, Head of New Now, selects her five top picks.
Pam Evelyn, this is the first work by rising star Pam Evelyn to come to auction. Executed in energetic and highly gestural strokes of vermillion, turquoise, and terracotta tones counterpointed by deeper eddies of midnight blue, Evening Rain is a strikingly atmospheric work by one of the most exciting emerging artists working in Britain today. Embracing the unpredictable and the mercurial, Pam Evelyn's non-representational and highly intuitive compositions draw productively on the shifting patterns and raw power of the natural world while liberating themselves from any single fixed meaning.
Günther Förg, painted in 2007, Untitled is a highlight of one of the last series created by German artist Günther Förg. Coming to auction with exceptional provenance, this work was once held as part of The Essl Collection in Austria, one of the most important collections of contemporary art in Europe. In a manner highly characteristic of his Spot Paintings, Förg here positions the viewer in front of a large off-white background filled with linear 'spots' almost rhythmically applied to the canvas and enhanced by a diverse colour palette. The rhythmic application allows for a brief sense of structure while leaving room for a deceptive simplicity that is once again executed thoughtfully and purposefully by the artist.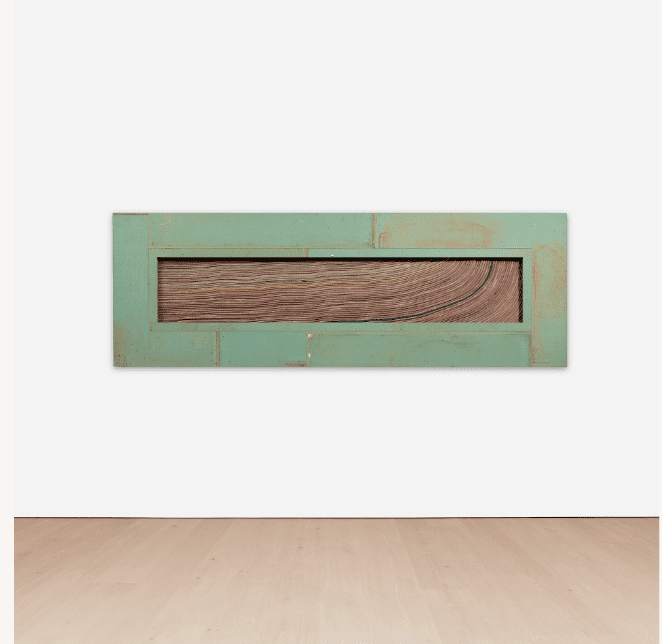 Theaster Gates, it is hard not to be mesmerised by Theaster Gates' wall sculpture, Topological Study with Hose. Executed on a large scale, the work is made up of stained wooden panels, framing a central section comprised of time-worn fire hoses stacked on top of one another. The decommissioned fire hose piping used in the present work was sourced from Pell City, Alabama in a direct reference to the 1963 Birmingham Campaign. This was a civil rights protest led by Dr. Martin Luther King Jr., acting in response to the deep-rooted segregation and disparities in all aspects of lived experienced by African Americans in Birmingham. During these highly publicised demonstrations, non-violent protestors were brutally attacked by police forces using high-pressure fire hoses; Gates' work demonstrates how simple everyday objects, with their historical contexts, can resonate so powerfully.
Caroline Walker, depicting a lone woman standing in a hotel room in the middle of the night, Overnighter by celebrated Scottish artist Caroline Walker immediately transports the viewer into an interior and somewhat transitory space pervaded by an atmosphere of quiet solitude. Asked to adopt an insider gaze, the spectator is drawn into this silent moment suspended in time, while Walker maintains a palpable sense of narrative tension through the more cinematic qualities of her composition. Positioned just off-centre with her arms crossed over her chest to maintain the warmth of a robe as her blank gaze wanders toward the bed, the female protagonist here leaves enough ambiguity and psychological space for intruders such as us to imagine multiple scenarios and outcomes to the scene. Equally engaging in its scale, the painting leaves the impression that one could almost step into the microcosm.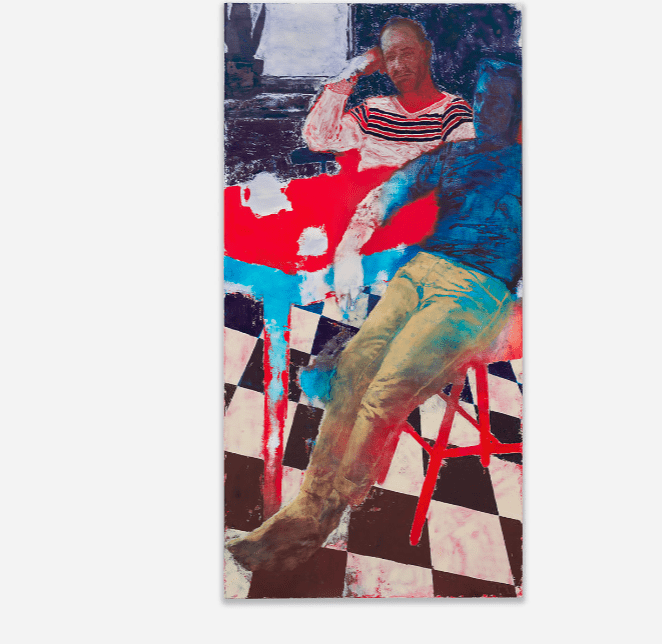 Doron Langberg, two seated figures occupy the interior scene of Doron Langberg's large-scale composition Mark and Aubrey. Bold colours, contrasting patterns, and a scraped texture make this piece a prime example of the artist's signature figurative style, in which he finds a communion between colour, pattern, and form to explore new ways of describing intimacy. As seen in many of his paintings, the present work encapsulates an emotional human event; two men occupy a space together both psychologically and physically. Although they do not hold each other's gaze, the synergy of the canvas creates an ambience which communicates the pair's physical and emotional closeness on a more intuitive level. The extreme flattening of perspective here allows their bodies to overlap, and the viewer is invited to not only instinctively understand the atmosphere of the space, but also the internal worlds of the figures and their shared state of being.
New Now, 8th December 2022, 30 Berkeley Square, London preview.phillips.com/auction/UK010822
Categories
Tags