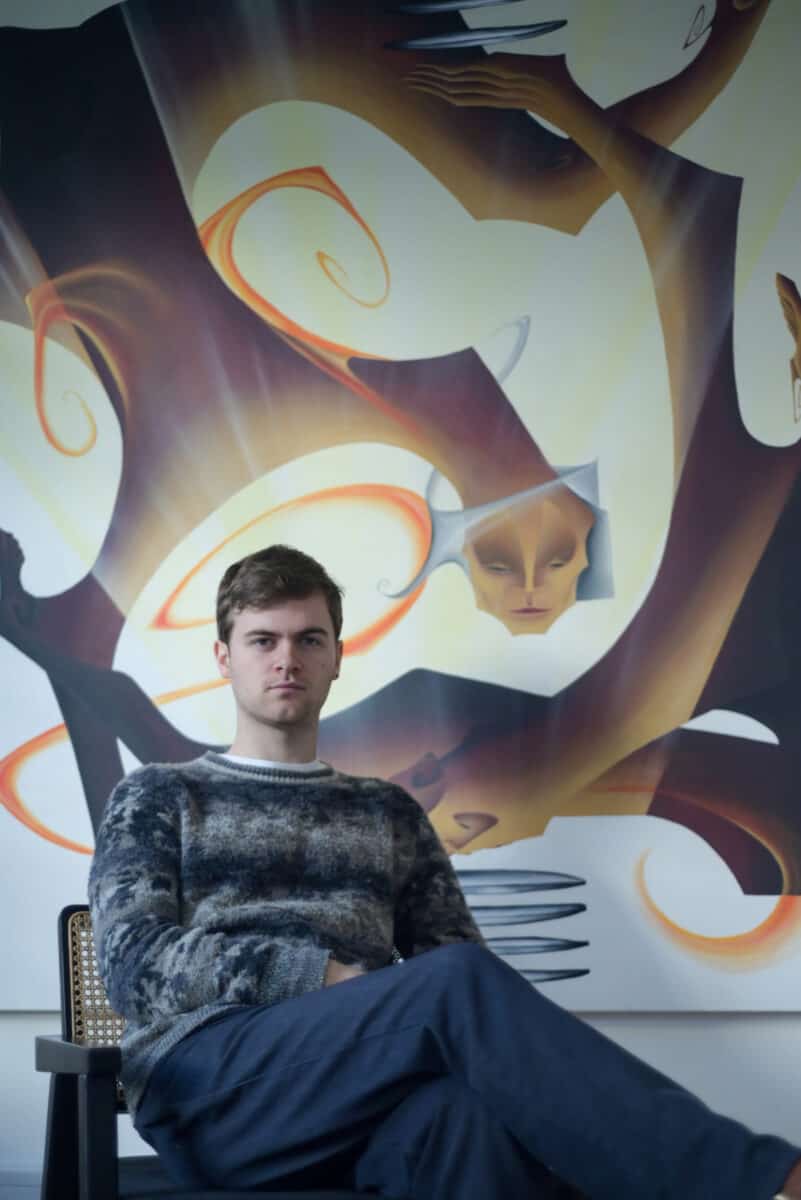 Following in the footsteps of art platforms such as Avant Arte, Strike Art was also born from a love of sharing art through Instagram – now with over 400k+ followers. Initially, a hobby for the 20-year-old founder Johnny Straker, giving him something extra to do while completing his Art History degree it grew so fast Straker never completed the degree.
We managed to grab a few moments with Straker in between him growing the platform, staffing up and getting ready for his first real-world exhibition featuring six up & coming artists.
How did you get into art?
My grandmother used to lecture at the Wallace Collection. I remember going with my parents when I was a child. I could pick up bits of what she said but not a whole lot more. I suppose it made me feel comfortable around art and in museums. From then my interest grew naturally.
How did Strike Art form? What was your motivation behind it?
It was very organic. I started it in early 2020 in the first UK lockdown when I was 20. There were no jobs available and I didn't find university fulfilling. I started Strike Art as a magazine which had an Instagram accompanying it. It was a means by which I could engage my interest in art and create a platform that could reach other like-minded people. On Instagram I posted art and videos I liked and it gained momentum of its own. Initially, I didn't think it would develop into what it is now but when I saw its growth I realised that I had created something that people liked and engaged with. That was a really good feeling. In 2021 I wanted to take a more active role in art, so I started collaborating with artists I admired and helped them sell their works to young collectors. From there, our team grew from one to two to four. We now have several upcoming exhibitions where we will have the opportunity to showcase the great artists we work with. We aim to help artists in the early stages of their careers and connect them with collectors who can become part of each artist's story.
Your focus is on emerging artists. How do you see your role in relation to up-and-coming creative
talents?
The artist comes first. They are the creative impetus behind everything. We work to help facilitate their vision and their career. We are very diligent when deciding whom we work with and take great care in working closely with the artist. The stages early in their career are difficult to navigate and a lot of great art can get lost in the noise. With the platform we have on social media combined with hard work behind the scenes we can expose their art to the world and place works with collectors who have an interest in fostering emerging talents. Our team is around the same age as all the artists we work with. The idea is that we get to grow alongside the artists and help them establish their careers. Working on a collaborative basis and seeing artists develop gives us great satisfaction.
How does your gallery fit into the contemporary London art scene?
We operate nomadically. So in brick-and-mortar terms, it's hard to say. There are many other galleries and people in London that promote young artists and we work with them whenever the opportunity arises and it suits both parties. My experience of young people in the art world is very positive. A lot of people are willing to help and work together which is good and not entirely what I expected. But I think there is a recognition that everyone can help each other in some way. This is a way in which the artists come first. If it works for them it works for us.
What separates you from other galleries in London?
We focus on young and emerging artists but so do many other galleries in London. Our focus on a small group of artists with the aim of a long-term relationship would be one way we are different. Also, Strike Art was the product of social media. For this reason, we have a great reach globally through Instagram and other platforms. Social media has become an inextricable part of our lives and we see this as integral to showcasing new talents to a wider audience. We have a foot in the old way and one in the new. Combining the more personal touch of exhibitions and events with social media exposure is a great way to reach art lovers everywhere.
Are there any artists right now that you are particularly excited about?
I've been following the work of Alfie Rouy for a while and I think his works are great. We also work closely with Darren Lynde Mann. I find him extremely exciting. He is completely self-taught and paints these powerfully visceral characters. To me, his work lies somewhere between Rauschenberg's White Paintings and Renaissance paintings. It is something that I haven't seen before.
Have you seen more interest from collectors recently in emerging artists?
Absolutely. There's been a lot of interest in supporting younger artists financially and creatively. For more established collectors it is appealing to have access to up-and-coming artists so early in their careers. For new collectors, the same applies and it also provides more accessible works than those from blue-chip
artists. It's great working with collectors who are passionate about supporting emerging talents and fostering the next generation of artists.
Strike Art's first exhibition IRL Through the Turnstiles brings together six young up & coming artists. opening on Thursday 19th of January 2023 at Gallery 46 in Whitechapel. @strike.art
Categories
Tags