Woolwich Contemporary Print Fair opens this week together with its online edition, form Europe's largest art fair dedicated to highly collectible print works. Each year, WCPF showcases the very best of contemporary print in a unique hybrid exhibition including a curated selection of independent artists chosen through an international open call, many well-known names, and specialist gallery booths at London's historic Royal Arsenal. This year, the Fair is reachable from Central London in just 15 mins, via the recently opened Elizabeth Line. 
One of this year's highlights, Jealous Gallery are pleased to announce that they are releasing a new David Shrigley edition 'Ignore The Ghosts' in conjunction with Woolwich Contemporary Print Fair. The print will be released exclusively at the VIP opening of the fair on Wednesday 2 November from 4pm. Jealous will be taking purchases for the edition in the foyer of the fair. Sales are limited to one print per person and will be available on a first come first service basis with no pre-sales or reservations permitted.
New for 2022, the Prints & Multiples department at Bonhams auction house will present a showroom at the Fair. They will showcase a selection of works by renowned contemporary artists including The Connor Brothers, Harland Miller, David Shrigley and Tracey Emin.
The Fair offers an innovative wider programme of curated exhibitions, immersive installations and tailored artist projects, including artwork by Paula Rego, James Turrell, Mat Collishaw, Julian Opie, Sir Michael Craig Martin, Gary Hume, Yinka Shonibare, Tom Hammick, Gavin Turk, and Grayson Perry. It brings together independent emerging voices with established galleries and specialists in the medium, with something for everyone to explore and enjoy, and new avenues from which to discover it.
Accessibility and originality are at the heart of WCPF's ethos. The Fair creates a welcoming environment for both aspiring collectors and seasoned art world professionals. Prints by emerging practitioners sit alongside pieces by household names, with prices starting at just £100. Galleries and institutions such as Anise Gallery, Atelier JI, Atelier Rose & Gray, Blue Shop Cottage, Brocket Gallery, Bonhams, Eames Fine Art, East London Printmakers, Jealous, Julian Page Gallery, Meakin & Parsons, Oliver Projects, Paupers Press, Pratt Contemporary, Rhodes Editions, TAG Fine Arts, Thames Side Studios, Zuleika Gallery are mainstays of the annual programme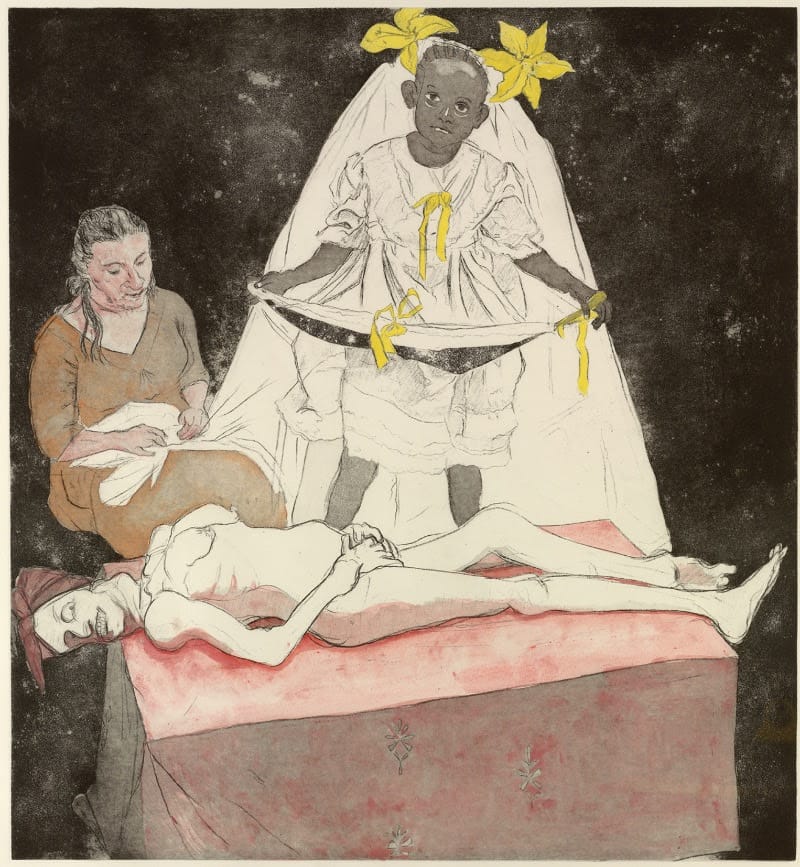 Paupers Press will bring work by Paula Rego, James Turrell, Jake & Dinos Chapman, Mat Collishaw, Hughie O'Donoghue, Sam Bassett, Charles Avery, Mai-Thu Perret, Sarah Ball and Bob & Roberta Smith. 
TAG Fine Arts will present Stephen Walter, Kristjana S Williams, Tobias Till, Yanko Tihov, David Spiller, Ed Hodgkinson, Ewan David Eason, and Guy Gee. Meakin + Parsons are bringing pieces by Anna Liber Lewis, Dominic Beattie, Charley Peters, Graeme Hughes, Lydia Moraitis, Ann-marie James, Tom Willmot, and Eleanor May Watson. 
Meanwhile, Atelier Rose & Gray will present work by Sir Michael Craig Martin, Rhodes Editions will showcase the work of Tellas, Nick Smith, Tavar Zawacki, Jess Cochrane, Jan Kalab, Lino Lago, Stephen Ormandy, Anoushka Mirchandani, and Andy Welland.
By bringing together both independent artists and gallery led booths, WCPF offers an entirely unique and exciting art fair experience. The annual Curated Hang is comprised of artwork by successful applications from the International Artist Open Call. It brings high quality new and unexpected work into the Fair, while platforming independent, up-and-coming, global artists. To keep the selection completely democratic and fresh for each edition, the selection panel of industry experts changes annually, and the works are carefully reviewed individually and anonymously on a piece-by-piece basis.
Woolwich Contemporary Print Fair opens this week (WCPF), NEW COLLECTORS EVENING Thursday 3rd November, 6-10pm Thursday 3rd November, 12 – 6pm | 6 – 10pm, Friday 4th- Sunday 6th November, 12 – 6pm Woolwich Works, The Fireworks Factory, No.1 Street, Royal Arsenal, Woolwich, London, SE18 6HD
*Get there by Uber Boat by Thames Clippers
Categories
Tags