The Royal College of Art (RCA) has announced a significant new scholarship endowment that will award six annual scholarships of £35,000 each year over the next two decades – the Märit Rausing Scholarships in Ceramics & Glass – enabled by Julia and Hans Rausing.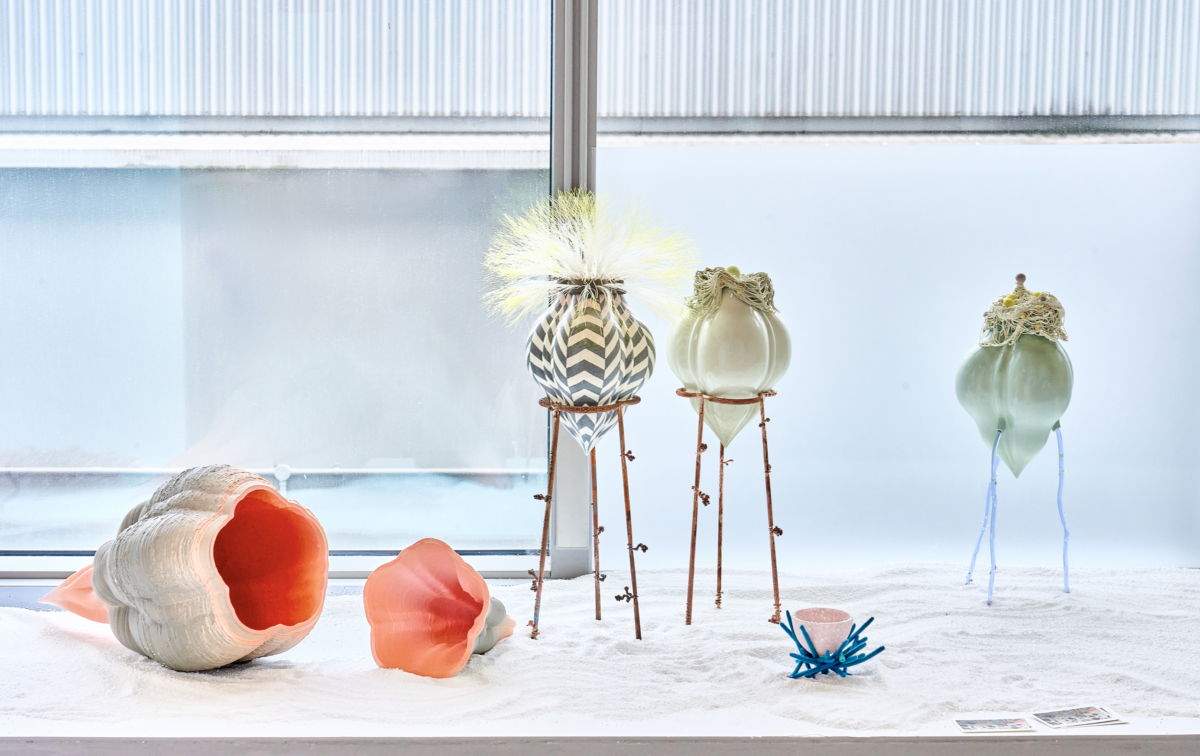 The Märit Rausing Scholarships in Ceramics & Glass will make an incredible difference to our students, as well as to the fields of ceramics and glass, which has been under real pressure from course closures and loss of facilities in recent years. We are very grateful to Julia and Hans Rausing for this generous gift.

Financial circumstances should not be a barrier to world-class education and these scholarships will enable us to offer more places to gifted individuals whose passion and skill lie in Ceramics & Glass.

Vice-Chancellor of the RCA, Dr Paul Thompson
The scholarships will be open for the next academic year and will be for suitably qualified UK students who apply to study MA Ceramics & Glass at the RCA – a one year, 45 week course. They will cover full fees, as well as contribute towards living expenses and materials, opening up higher level study in this area to people from a wide range of financial backgrounds.
The scholarships have been made possible by a generous donation of £6.1m from Julia and Hans Rausing, in honour of Hans' mother Märit – motivated by a desire to support and enhance the great tradition of British ceramics training at the Royal College of Art. The donation, the largest scholarship gift made to the RCA, forms part of the Generation RCA campaign, which has now raised over £80 million to support people, places and projects at the RCA.
Ceramics and glass are some of the most tactile and expressive materials available to the artist and the MA at the RCA allows students to fully develop their skills, share ideas and to find their own voices in a beautiful artform.

We are pleased to collaborate with the RCA and launch this new scholarship programme at one of the finest art institutions in the world. In the words of the RCA, the MA looks to launch a new generation of artists and designers to enrich our world in imaginative and meaningful ways.

We hope recipients of the scholarships over the next two decades will go on to join the enviable list of former RCA students who have enjoyed flourishing careers in a discipline loved by Märit.

Julia and Hans Rausing
The Ceramics & Glass MA at the RCA provides a creative interface where personal concerns and global perspectives intersect – questioning, examining and responding to social, cultural and material challenges. The areas of research of both staff and students are diverse, arise from the broad scope of the two disciplines, and inform what is taught on the programme. Advances in technology are explored, while traditional methodologies are challenged to create new and unique approaches. The programme develops an approach which focuses on the transformative power of material thinking, research, and making, enabling new generations of artists and designers to enrich our world in imaginative and meaningful ways.
Alumni of the course include Dame Magdalene Odundo DBE, world-famous ceramic artist and Chancellor of the University of Creative Arts; Phoebe Cummings, winner of the British Ceramics Biennial Award and the inaugural Woman's Hour Craft Prize; Ashraf Hanna, artist and Best In Show winner at the British Glass Biennale; Hitomi Hosono, former Artist in Residence at Wedgewood; and Irina Razumovskaya, winner of the NASPA Ceramic Talent Award, the Biennal de ceramics d'Esplugues Angelina Alos, the International Triennial of Silicate Ar, and the Carter Preston Award, as well as being awarded the D'A Special Award, Silver Medal at the 59th Faenza Prize Ceramic Competition.
As part of its commitment to making postgraduate study open to people from all backgrounds, the number of scholarships available to RCA students experiencing financial hardship is set to increase. For the academic year 2023/24, more than 180 scholarships, awards and prizes will be available to RCA students, with an overall value of approximately £4 million. Other scholarships include:
The Sir Frank Bowling Scholarship, which supports 24 UK MA and MRes students and one PhD student every year from Black African and Caribbean diaspora heritage, or mixed Black African and Caribbean diaspora heritage.
The Burberry Design Scholarship, which targets UK students on a broad range of courses, to enable them to unlock their potential regardless of financial circumstances, with preference given to students from underrepresented communities.
The RCA Logitech Scholarships, which provide scholarships for students on any course from underrepresented communities and facing financial hardship.
The Leverhulme Trust Scholarships, which support students experiencing financial hardship from MA Sculpture, MA Painting, MA Contemporary Art Practice, MA Print and MA Photography.
The Tony Snowdon Scholarship, which supports students from any programme with a physical or sensory disability.
Ceramics & Glass MA at the Royal College of Art more info: rca.ac.uk/ceramics-glass-ma/
Scholarships at the Royal College of Art visit more info: rca.ac.uk/rca-scholarships-and-awards/
Categories
Tags