"I am an image-maker, but I've become a painter."

-Gina Birch, 2022
Artist and musician Gina Birch is among the extraordinary women to come out of England's original punk movement. But while she is perhaps best known as one of the founding members of the post-punk band The Raincoats, like many other musicians in this era her interest in music emerged with her visual art studies and practice. Birch's exhibition at Gallery 46 references, layers, and analyzes all these influences as they have variously crept and exploded into her creative life, but which she reels off today in the order she first encountered them:
Like many creative young people, Birch was drawn to the vibrant, anything-goes possibilities of UK art schools in the 1970s, and pursued foundation studies in her hometown of Nottingham, relocating to London to continue her studies at Hornsey College of Art. As Birch's fellow Hornsey alumna Viv Albertine put it, by the mid-1970s Britons of their generation simply knew: "It's just what you do if you're into music, you go to art school." Albertine was also quite famously the guitarist and a songwriter for The Slits, London punk's first and most audacious all-woman band, and Birch recalls encountering one of their early, effervescently shambolic performances after arriving at Hornsey:
"As soon as I saw them, I knew that's what I had to do. And it's bizarre, the way that these things just unleashed a freedom in you that you hadn't recognized before."
After Birch founded The Raincoats with Ana da Silva in 1977, The Slits' drummer Paloma "Palmolive" Romero eventually joined, turning the experimental, formerly mixed-gender unit into an all-woman group that, once feminist activist Vicky Aspinall was added on violin, grew to recognize its own political potential. As Birch says,
"She came and joined The Raincoats and said, 'Well, you may not think it's feminism, you may not call it feminism, but it's what it is.'"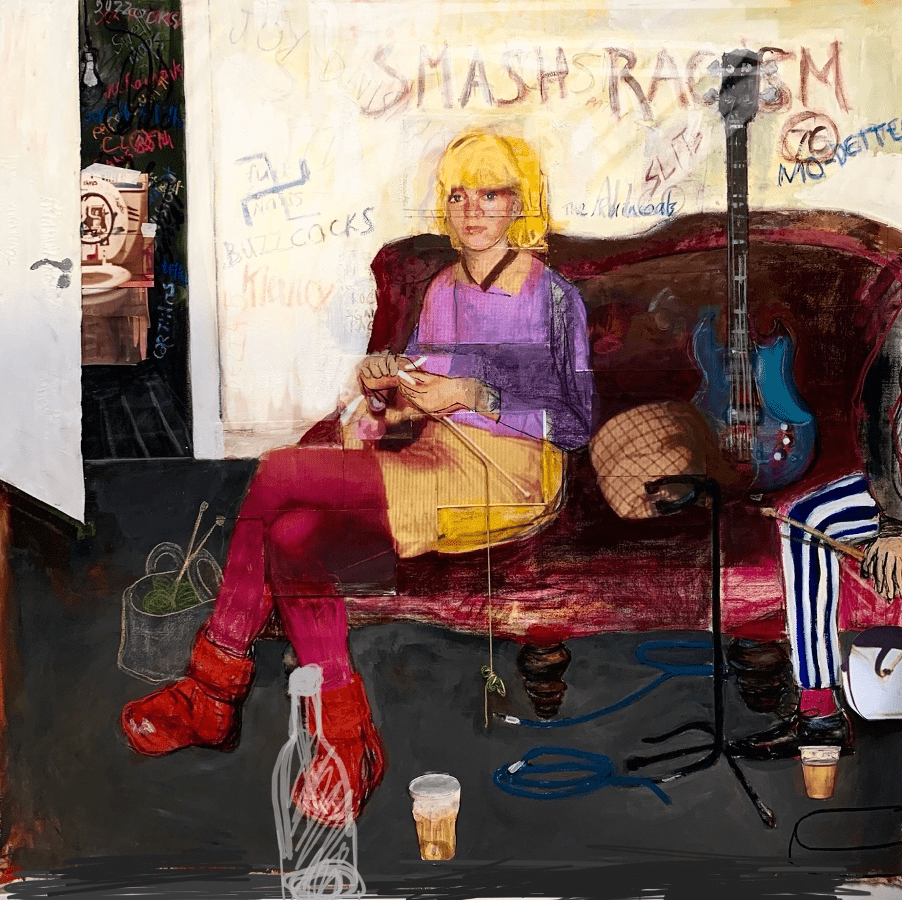 Looking back at everything from the bands' defiantly un-"punk," winding and organic sound to lyrics that mumbled and chanted the joys and indignities of young women's' lives, it is abundantly clear how Aspinall saw more than just the band's make-up as feminist. Of this familiar awakening, Birch recounts:
"I think once you discover feminism, it's hard to put it back to bed. It's like Sleeping Beauty: You wake up, and you can't be put back down again."
Equally enlightening was her discovery of Jarman, who came to Hornsey and screened his Super-8 films to her cohort at the college. Besides the sheer freakiness of this often-psychedelic series—double-exposed or screened in dreamy layers—his films romanticized both the extraordinary queer community from which he came and ordinary, inexpensive media available to anyone. As punk-era journalist Jon Savage recently wrote of these films' powerful effect on his and Birch's generation, Jarman suggested "the magic to be found in everyday life, the magic of landscape and nature, of love and friendship, of a time when personal and social transformation seemed possible."
Following Jarman's visit, Birch immediately purchased and began experimenting with a Super-8 camera, particularly interested in exploring the limits of its cartridges' roughly three-minute recording time. Besides toying with short dramas about young women characters, she also produced confrontational duration pieces, filling the frame with her face and screaming until the film ran out: what she calls a "mournful period where feminism seemed quite heavy—heavy on the heart and the soul." These also coincided with Birch negotiating the realities of the London squat scene in which she was living that, while providing young people with housing and tremendous freedoms, could also be quite lonely and dangerous, especially for women living in these often-unsafe spaces of the city's neglected and abandoned neighborhoods.
Out of these experiments, for the next two decades Birch chose to explore filmic media and languages as both a creative and professional outlet. While she continuously made music—with The Raincoats as well as other bands, such as Mayo Thompson's Red Krayola and her Cindy Sherman-inspired pop duo with Aspinall, Dorothy—she also returned to school for a degree in film production at the Royal College of Art. But after working on both music videos and dramas, and raising her daughters Honey and Lei-Lei, Birch found herself returning to the more direct, messy, hands-on nature of the foundation work that began her journey as a creative, and she enrolled in the freewheeling, painting-focused independent study program founded by the Turps Banana collective. In the process, she fell "hook, line, and sinker for paint. Suddenly," she realized, "I could make my world out of paint," which returned her to the subjects and politics of her past with new verve.
The works in her Gallery 46 exhibition all come from this recent, exceedingly productive period in Birch's career, even as they loop back around to the concerns, narratives, and specific works from earlier in her life. While her unabashed joy over the surfaces and textures of her rediscovered medium is evident in the paintings' swooping, gestural strokes and built-up surfaces, the subjects and compositions pointedly return Birch to her past—not just in terms of the autobiographical narratives of her childhood and adolescence, or reframed images and memories now viewed through the perspective-shifting lens of time, but also, more subtly, through the return of her fundamental influences in how she lives and works today.
This subtle approach is evident in Birch's uses of layers and reflections—suggestive of veils, screens, insights, and connections—that wind through the varied works in this exhibition. Her "communion girls" encounter art-historical Christ simultaneously through their sheltered innocence and future lustiness; the twenty-something, screaming feminist Birch from her Jarman-inspired films collides with the unspoken loneliness that sixty-something Birch recognizes today as that young woman's inability to care for herself in the dingy squats she was working out of; and Jarman is juxtaposed with the artist herself, as Birch paints herself returning to his 1977 Super-8 film Jordan's Dance on her laptop, where both she and her (much comfier, but still claustrophobic) domestic "squat" during Covid lockdown are reflected on the screen.
In all these works, Birch seems to contemplate the past and present simultaneously. But, at the same time, her evident delight in having "become a painter" decades after she began her creative practice additionally documents her future unfolding in this marvellous new act of her life.
Words Maria Elena Buszek, Professor of Art History, The University of Colorado Denver
GINA BIRCH 'IN MY FUCKING ROOM' a solo painting show curated by Sean McLusky, Martin Green & James Lawler Private View Friday 14th Oct 6pm – 10pm Artist tours & talks Sat 15th Oct 1pm – 5pm Show runs OCT 14th – NOV 3rd 2022 GALLERY46 46 Ashfield Street London E1 2AJ
Categories
Tags