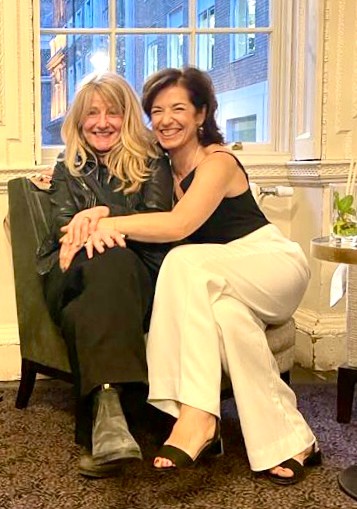 Tart Gallery London is a new gallery in London committed to supporting female artists and their artwork. The gender imbalance in how artists are represented is stark, with 70% of artists represented by London galleries being men. Tart Gallery London is a bold, exciting approach to art that seeks to provide a space for innovative female voices, both established and emerging.
It is Tart's personal mission to underline the lack of equality and representation for female artists in this industry and to help women artists to reach their full potential. We truly believe that until each and every Artist is equally represented based on their talent and not their sex orientation, we as a society are missing out.

Teresa Díaz, Founder Tart Gallery
The creative powerhouse behind Tart Gallery London is Founder Teresa Díaz, whose passion for a level playing field in the art world drove her to act and to make a difference. Tart Gallery London's aim is not only to show the work of female creatives but also to provide support and to keep them active in today's art world. Teresa has over twenty years of experience in dealing with some of the biggest names in art and is now focusing her vast experience to provide a platform for female artists.
We caught up with Teresa and three of the artists from Tart Gallery's ongoing exhibition at The House of St Barnabas which has only just been extended to the end of November because of its ongoing success
Teresa, can you tell us a bit about yourself and why you felt the need to create Tart Gallery?
I founded Tart Gallery London a year ago. For 20 years I have been working in the art industry close to artists the majority of whom were male artists. The art world is extremely competitive for all artists, however, the demands on female artists place an additional strain.
Maternity is seen as an "indicator" of women's lack of commitment to their practice, and ageing is viewed in a completely different way for men and women. While a man's age is looked upon as an indicator of professionalism and experience, sadly we do not see the same happening for female artists in the art world. We have seen countless examples of female artists losing out by their mid-thirties.
More women study in art schools than men yet more men make it to the top galleries later on. This is not an opinion, it's a fact. The simple truth is that women are perceived as less profitable in the art world, hence they are less represented by galleries. My sense of fairness made it impossible for me not to act.
Tart Gallery was born from my passion for Art and equality, in equal measure.
Have you always been interested in creativity and ideas?
I never thought I would open an art gallery but I've always believed that no matter how small a contribution, a cause that you believe in, is worth your effort. I enjoy art, from male and female artists equally. All art is important to me however I take pride in representing women as they are underrepresented.
What are your hopes for Tart? What would success look like?
My hope for Tart Gallery is to keep growing and representing amazing talented artists. To work consistently and embrace every opportunity that comes my way. In regards to success, that's a very subjective word, for me, the fact of doing what I'm passionate about and meeting so many amazing people, is already a great outcome but of course, in a business sense, success will be seeing artists being appreciated for their talent and selling their artwork. There is no better way to support artists.
You have a show on at the moment at House of St Barnabas – can you tell us about the show and also how it has been working and showing work at HOSB.
I am very proud of our exhibition at The House of St. Barnabas. It's been wonderful working in such an incredible place and we've heard great feedback from art enthusiasts and artists alike. We have donated a percentage of all sales to the House of St. Barnabas and their mission to break the cycle of homelessness which made the exhibition even more of a positive experience.
How did you find your artists?
I look at hundreds of images weekly, either from portfolios I get sent to my email or from instagram. I also visit as many exhibitions as possible. When I see a piece that talks to me, I contact the artist and visit their studio, we have a chat, and we take it from there. It's important for me to have good chemistry with the artist. I believe that a good relationship between the artists and gallery is imperative as we are working together towards the same objective.
How has it been working with artists on a group exhibition?
To work with different artists at the same time has, of course, been challenging but so far so good. All the people I've worked with have taught me something new. We laughed and sometimes even cried together but I wouldn't change a thing. I can't thank them enough for being part of Tart's journey.
Teresa Díaz's gallery is all about the artists and all about promoting and supporting their art practices so below we have three of the artists exhibiting with Tart Gallery giving us a brief input into the show and their art practices. Other artists exhibiting: Alexis Soul-Gray, Fiona G. Roberts, Juliette Losq, Karen Thomas, Mahali O'Hare, Mia Wilkinson, and Miyon Yi.
Geraldine, can you tell us a bit about your art practice?
I am a figurative painter, mostly small work in enamel on aluminium, although I'm currently testing out a few new media and am working on a larger scale.
I use a lot of old photos, and found images for my source material, and am interested in what could be described as quite marginal people, the overlooked, or strange.
The paint I use is very lustrous and I like the surface of my work to appear slightly jewel-like.
Can you tell us about the work/s you are showing with Tart Gallery?
The work I've shown with Tart Gallery has been personal to me, and about the kind of subjects that other galleries might have swerved. The ethos of the Tart Gallery is very much about showing work by females, with unapologetically strong concerns, so the work I've chosen has had to do with sadness and coercion for example.
However there's always an aspect of picking pieces with care so that they will work aesthetically in a given space, so that was also a factor when choosing for St Barnabas.
How did you like being part of an all-female exhibition?
I love it. And I love the other artists. It's a great line up. It doesn't feel apologetic or niche. It more a good survey of the kind of concerns that get over looked a lot in painting, motherhood and female coercion for example.
Has it been fun to be at the beginning of a new gallery?
It has, and that is down to Theresa, because she is totally into the work and (crucially) the artists. There's no hubris or vanity with this gallery, just passion. It's wonderful to be around and she makes artists feel valued. It's been a delight to contribute something to that.
What plans do you have for the rest of 2022?
I've been learning new skills, in glass for example, and I'm hoping to get time to continue to experiment with an expanded painting practice in the next months; more decorative, and more weird!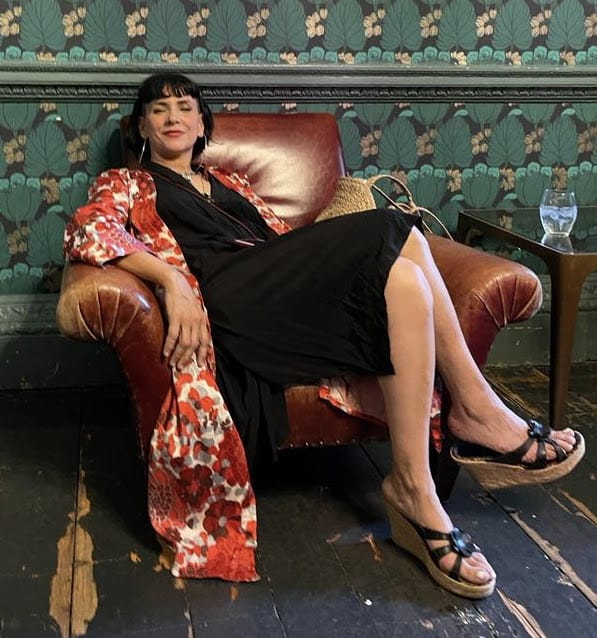 Renata can you tell us a bit about your art practice?
I'm a multidisciplinary artist that focuses on issues about immigration, notions of territory, identity and displacement through my exploration of the genre of inhabited landscape. My artistic expressions are large format or very intimate bi-dimensional works, digital animated collaborations, installations and immersive pieces that incorporate drawing, painting, set design and sculpture.
I'm very invested in hand-intensive processes and drawn to emphasise the inherent materiality of my works, in continuous material exploration and experimentation, as I'm always looking to develop my sculptural possibilities.
My carvings follow a very different approach to my painting, in the sense that they are not dealing with any notion regarding the idea of landscapes but they are more the result of direct interaction with the material. As such my carvings are the result of the limitations imposed by the wood and my playful nature. My sculptural influences are Marisol Escobar (1930 – 2016 ) – but also the influence of polychrome wood religious Venezuelan colonial figures and folk art (also cited as some of Marisol's influences).
Can you tell us about the work/s you are showing with Tart Gallery?
I'm showing 4 very recent polycromated wood carvings. They all share a taking of the woman's body, which seems to deal with notions of woman's body objectification but washed with a great deal of dark sense of humour. All carvings have castor wheels adding a strange sense of radicality on these pieces of the body, like a torso-like piece is shown on a base that allows for the piece to turn on an axle, like ribs on a brassiere.
How did you like being part of an all-female exhibition?
A novelty! A very positive experience and a convivial one in every sense.
Has it been fun to be at the beginning of a new gallery?
It's been amazing working with Tart Gallery. I'm very happy to be a part of the beginning of such an exciting gallery.
What plans do you have for the rest of 2022?
I have a group show in Edinburg, with Spilt Milk Gallery, showing a large drawing project. I am also looking forward to a couple of artists residencies in London, that are linked to art social projects, or community-based large public works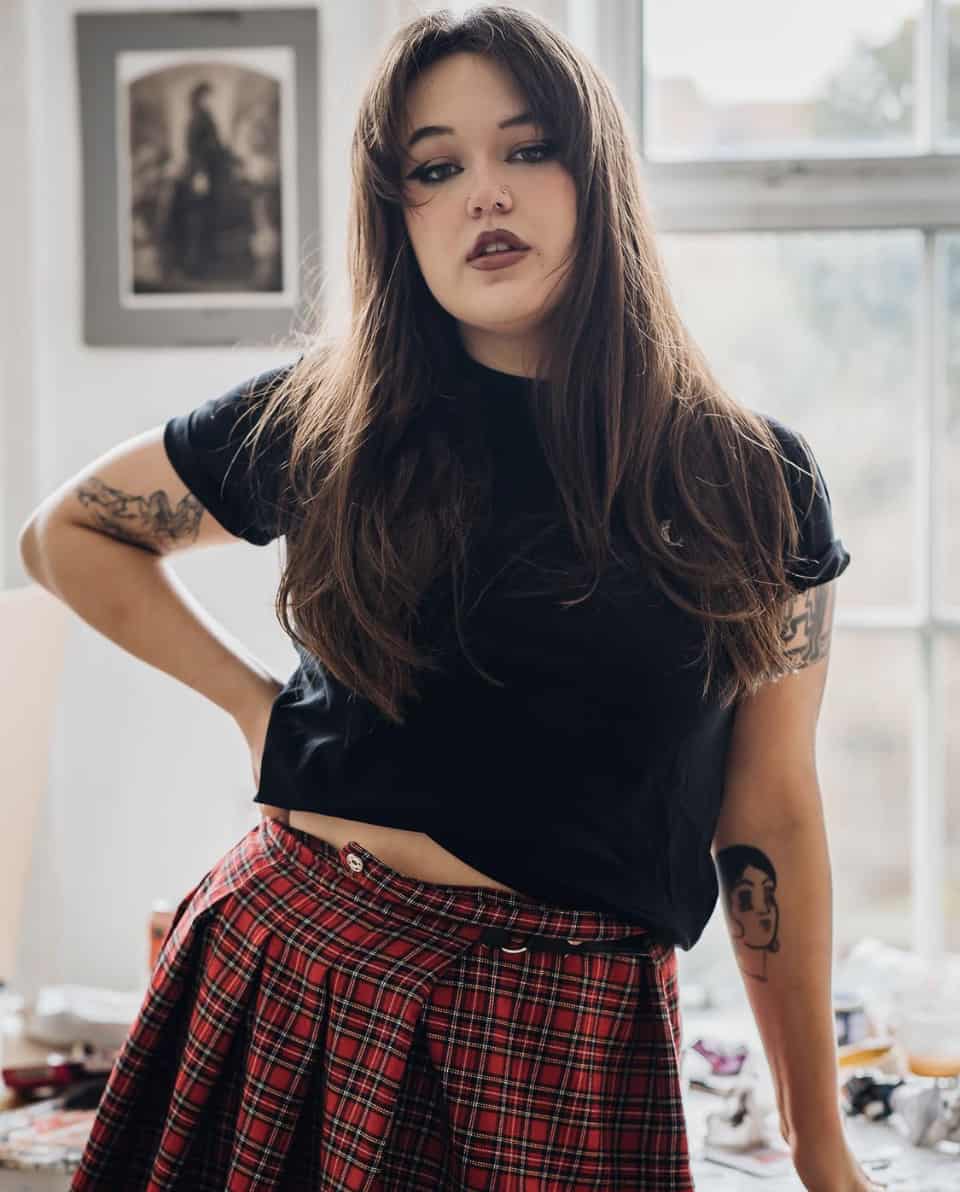 Eleanor, can you tell us a bit about your art practice?
I am primarily an oil painter, focusing on the relationship between the viewer of the painting and the depicted subject in the painting. I focus on portraiture and contemporary still life, focusing on themes such as British female identity, the dynamics of lesbian relationships, and drinking culture.
Can you tell us about the work/s you are showing with Tart Gallery?
Both of my pieces for Tart Gallery are looking at stereotypes that people prescribe woman to put them down and humiliate them, such as mindless gossiping and the hysterical woman in her rollers, but twisting them into signs of power and community. Both pieces are based on my personal relationship with womanhood and how I feel it within myself. The paintings are named after songs by beautiful female songwriters who write about the simultaneous agony and ecstasy of girlhood.
How did you like being part of an all-female exhibition?
Being part of an all female exhibition allows for my work to be read in a context that enriches its intended meaning. It's also exciting for me to work with all women, and to meet new talented female artists to inspire me.
Has it been fun to be at the beginning of a new gallery?
I am at the start of my career too so it feels like we get to learn and grow together. I was in the first exhibition that Tart put on, which was my second exhibition out of university. It's been a fantastic and very enriching opportunity.
What plans do you have for the rest of 2022?
I have been shortlisted for the stART X Martin millers gin emerging art prize which will be held at Saatchi Gallery. I am also in the process of applying for my masters.
You can still catch the Tart Gallery's exhibition Two Doors at The House of St Barnabas running until 30th November email enquiries@tartgallerylondon.com to book a slot
Categories
Tags