Laurence Watchorn is a young painter from South London who recently graduated from The Slade School of Art in 2022. He is also the c-founder of OOZ, a music collective based in South-East London.
I'm interested in the allegory of a dead-end woodland stroll to discuss the act of picture-making. A reflexive, veering path leading into the unknown thick of things. Instead of an immediate confrontation with resolution, it's a path often turning back on itself which values the nature, rather than the meaning of things. The destination is thus subordinated to the present moment, with all its eventualities. An expression of humanities true place in nature – not controlling toward preconceived ends but instead allowing life, or the picture, to happen as an animistic and inconsequential element of natures balance.

Laurence Watchorn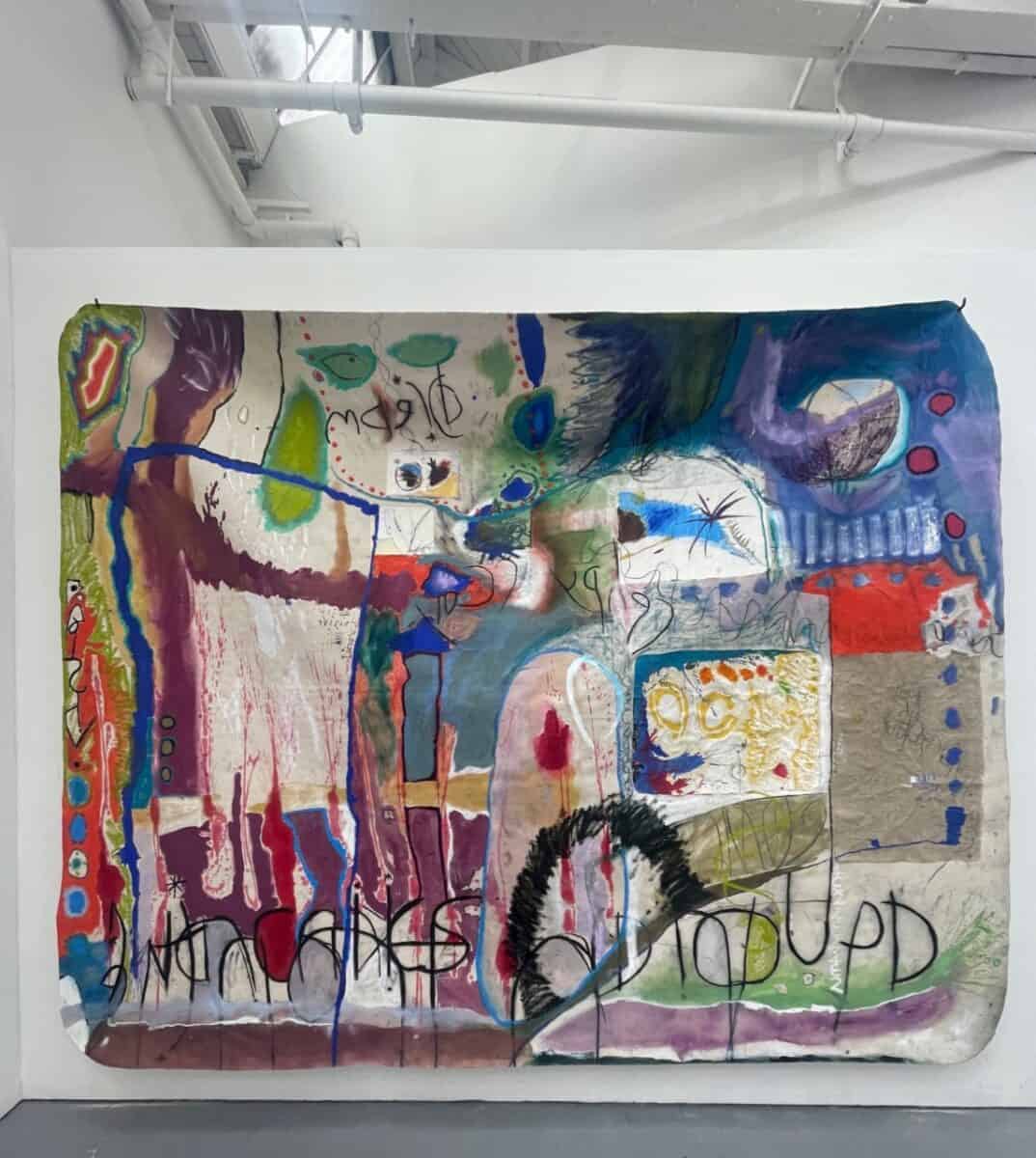 His first solo exhibition is composed of a series of large-scale abstract paintings that are unstretched and hung away from the gallery walls. 'Skin Crawl', the title of the show, comes from the artist's holistic approach to painting, which is characterised by the belief that the work and the artist become one entity. This intimate connection with his work enables him to attribute skin-like qualities to his canvases on which he can incise his soul and express innermost feeling.
This approach has been honed while on a residency programme at The Bomb Factory Art Foundation and investigates picture-making as a synthesis of spiritual inquiry.
In his large-scale abstracted paintings, there is a lightness of touch and spontaneity. The artist employs an automatic drawing style that deliberately allows chance and accident to create marks.
Archaic imagery, philosophies and musical landscapes are hinted at within his work with signs, words and symbols eluding to ancient scripts or stone tablets and sonic elements made visual.
This particular style of drawing to a large extent is freed from rational control and may be attributed to the artist's subconscious.
The repetition of shapes and signs in the paintings appear like the words of an unknown language. These symbols appear alongside bright washes of colour, which the artist splashes and drips over the raw canvases that are worked unstretched on the floor with rough edges and rounded corners.
Moving away from a traditional mode of painting is a deliberate shift by the artist from the heavy connotations that come with the western canon of painting, allowing the works to exist in a state of flux.
This act of making, for Laurence, is an expression of the human spirit and how we as spiritual beings exist symbiotically within the natural world. His images are allowed to happen and are neither ordered nor controlled toward preconceived ideas.
He sees his work as offering questions in regard to his place within his environment and embodying offerings for moments and experiences. It is an expression of his life in balance somewhere between the spiritual and the organic with each thing he produces existing as something animistic and vital.
Laurence Watchorn, Skin Crawl 7th-29th October at The Bomb Factory Art Foundation
Art Opening, Thursday, 6th October 6-9PM.
Categories
Tags