The importance of Text to Speech has gone up over time. This can take the content to a wider crowd. It can be anyone, a person with literacy issues or a person with learning disabilities; the audience around the world can conveniently access digital information. This provides global connectivity to your content.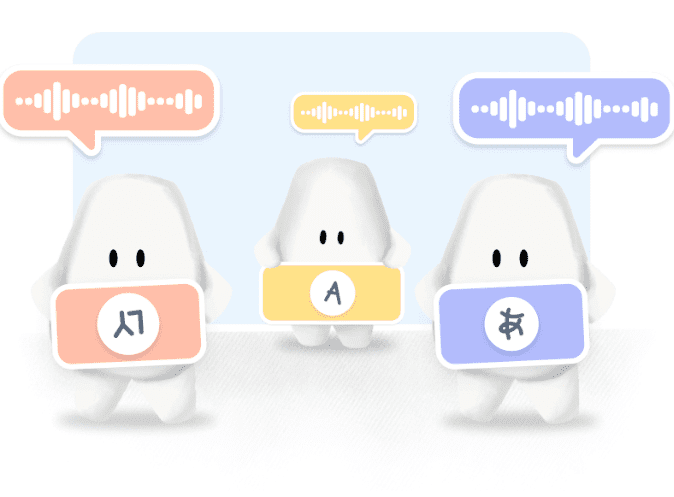 Did you know that around 15-20% of the world's population suffers from a language-based learning disability? That's why making your online content according to your audience's preference will help them to understand the text better. The reader can simply follow along because the material is read and highlighted concurrently.
Because of text to speech technology, people can listen to a news or blog article, a PDF document, or an e-book on the go. Text to speech has a significant impact on how content producers create videos. Whether it's a product pitch, an explanatory video, or even an educational video, the latest 100% human-sounding neural text to speech technology has enabled us to generate professional-grade voiceovers for business without recording or recording audio processing. Recording voice overs saves them thousands of dollars and hours of waiting.
Start creating voice overs on the go
You just need a script, that's it. That's all you need to add voice over video content. No recording is necessary, no background noise. You can choose from 120+ curated natural-sounding text to speech voices. The voices support customisation options like pitch, speed variation, and emphasis addition.
The five-step process with Murf Text to speech converter
1. Create scripts for the voiceover
Type or paste the voiceover script into Murf's text editor, which has a user-friendly interface similar to Microsoft Word and may be used to modify text. Alternatively, you can select one of the studio's pre-designed templates based on your requirements.
2. Choose an AI Voice from 120+ Voices
Choose an AI voice based on your content and target audience. The text to speech voice generator delivers a wide range of voice styles, tonalities, and emotions, ranging from friendly, conversational, and relatable to authoritative, compassionate, and inspirational. Voiceovers have never been easier because of the personalisation choices.
3. Customise the Voice
With Murf's unique capabilities, you may vary the pitch and pace of your voiceover, change the volume, add pauses, and accent key lines in your script. You can also utilise the 'Pronunciation' function to select a certain word's pronunciation using a different spelling or specific phonemes.
4. Add Final Touches with free media
Add royalty-free background music from Murf's music library to further enhance your narration. You can also incorporate other audio material into your voiceover as well.
5. Create your Authentic & Natural sounding speech
Once everything is finalised, simply click on the 'Build Audio' button, and render your voiceover instantly.
What makes Murf's AI voices different?
Affordability: Save time and money by not having to record pricey voiceovers. Paying for a voiceover artist, studio, recording equipment, post-production, and other expenses is normal when creating high-quality voice overs. With the help of realistic Text to speech, you can produce professional-sounding voice overs with a minimum amount of money.
Simplicity: Voiceover editing is as straightforward as text editing. Simply cut, paste, and render. Processing and editing are two of the most difficult aspects of recording voice overs. On the other hand, text to speech technology makes editing word documents simple. You can complete all the editing processes by clicking a button. There is no additional cost or time spent re-recording.
Personalised customer interaction: Maintain consistent branding in the voice throughout all consumer interactions. For premium users, text to speech enables brands to develop unique individualised client interactions with a bespoke voice for a consistent customer experience. Professional voices are available for brands to choose from, or they can develop their distinctive voice.
Connectivity: With the multilingual AI voices, you can successfully communicate with worldwide customers.
You can enhance the quality of your content with Murf's engaging, nuanced, and natural-sounding text to speech that mimics the human voice's intricacies.
With features like Emphasis, Pronunciation, Speed, and more, you can fine-tune your voiceover narration and give an AI voice more personality! We have AI voices that span
numerous intonations and moods, from inviting and conversational to eager and loud to compassionate and authoritative.
You can also utilise text to speech software to add background audio or music to your material. It has, in fact, a curated selection of royalty-free music in its gallery from which the customer can select background music for their audio. You can also submit your audio recordings or import them from external video websites.
The text to sound includes a voice changer tool that allows you to upload an existing tape and instantly replace it with a professional AI voice. You may convert your speech into an AI voice in three easy actions: transcribe the audio, select an AI voice, and regenerate the audio in a new voice.
Categories
Tags