The group exhibition Extension brings together the recent works of six interdisciplinary artists that play with the theme of extension. Extension is demonstrated through the act of extending and the state of that which has been extended. It is an expansion that can increase space, time, influence and function.
Extension also allows for transformation and elevation through an exploration between tensions. One way that this exhibition explores this tension is the integrated layer of a virtual landscape, created through an Instagram effect filter.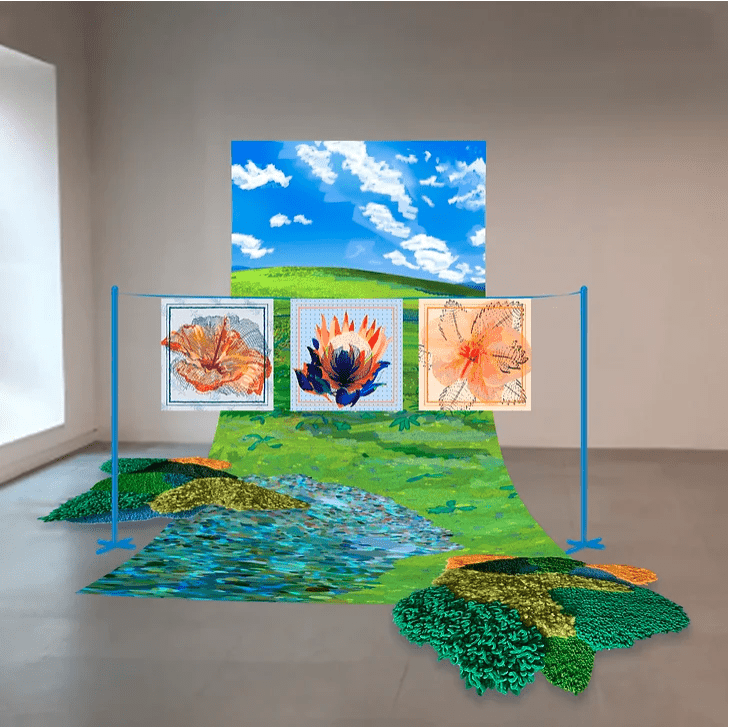 The works included intend to redefine and challenge typical framing restrictions and expand beyond their physical reality. The virtual realm acts as a central tree that interconnects the pieces through its roots, seeding and sustaining its surrounding landscape.
Juls Gabs and Kamila Szymkiewicz' installation provides a virtual component that augments the reality of the given space, where hidden layers of the artworks interact playfully with each other. Gabriela Giroletti's work Still Waters has an elongated configuration that contrasts her usual compositions which appear to lengthen her strokes and markings. Chris Rabbit's work stretches the properties of the canvas and plays with its sculptural potentialities. Andras Nagy- Sandor's work is adaptable to each new space allowing for expansion and experimentation with scale through site-specific placement and the unfurling of limbs. Stevie Lou Field's collaboration as curator can be seen as an extension of her practice which is typically more performance focused. Her poetry that stretches across the windows encourages an expanded view for the reader as the words engage with both the external and internal landscape.
Exhibition Text by Stevie Lou Field, Curator & Performer
Featuring the artists: Andras Nagy-Sandor / Stevie Lou Field / Juls Gabs / Kamila Szymkiewicz / Chris Rabbit / Gabriela Giroletti
Ex_xTension, 16th – 25th September 2022 V.O Curation, 3 Angel Square, EC1V 1NY London Preview: Thursday  15th September (5-9pm)
About the artists
With her work, Gabriela Giroletti explores the relationship between the painted image (the meaning, the immaterial, the metaphor, the mind) and the material presence in the painting (the corporeal, the touch, the physical presence, the body). Deliberately ambiguous, the paintings fluctuate between their crude materiality and their metaphysical aspect, encouraging the viewer to formulate peculiar connections with our tangible surroundings as well as with individual and unique lived experiences.
Gabriela received an MFA in Painting from The Slade School of Fine Art in 2018 and a BA in Fine Art from Middlesex University in 2015. Giroletti has several awards including the Desiree Painting Prize in 2018. In the same year, she was the runner up for the Chadwell Award and was shortlisted for the Elephant x Griffin Prize and the Young Contemporary Talent Purchase Prize by the Ingram Collection of Modern British Art. Giroletti is a 2019 Bloomberg New Contemporaries artist and in 2019/2020 she held a position of Research Associate at the Slade School of Fine Art. Gabriela currently has a solo exhibition at Kristin Hjellegjerde Gallery in London.
Chris Rabbit is a London based artist predominantly working in painting and mixed media. His practice currently explores the elevation of painted images to find their sculptural potentiality.
Through painting, he interplays the dynamics between abstract markings and an array of representational imagery, often derived from cultural and historical references. He is particularly interested in how one informs the other and how the abstract receives meaning when paired with the recognisable.
Chris Rabbit completed a BA in Fine Art from Middlesex University in 2014. After graduating, he studied classical painting techniques and printmaking in Florence which revolutionised his practice going forward. Chris has also been heavily involved in the creation of sets/props and ephemera for numerous performance artists and theatre-makers. He has taken part in multiple groups shows including; Rubix at Copeland Gallery (April 2018) and Themselves warehouse festival in Peckham (April 2019). 
Since 2017, Chris has been working full time as a Senior Artist Assistant for a prominent British artist.
Juls Gabs is a London based artist with a multidisciplinary approach that includes Crypto Experience, Painting, Augmented Reality,  Social Media art, and NFT. Her practice is working toward Celebrating Diversity & Telling the story of migration. Creating paintings with hidden QR codes that when you scan them transport you to a VR deeper version of the painting's concept. The paintings propose alternative urban landscapes that coexist with nature, raising awareness of the impact of climate change and taking action to support carbon reduction. ?
Kamila Szymkiewicz is a London-based artist, designer, curator and creative director. In her practice, she combines the fields of art, design, fashion, architecture and technology. Contemporary culture together with conceptual theories make up her interdisciplinary practice. Working primarily across the mediums of film, photography, sculpture and cyberspace, Kamila's work is a response to today's modern world and social changes. 
In 2019, Kamila received a BA degree in Fine Art at The School of Art, Architecture and Design, London Metropolitan University. She received the Owen Rowley Prize for her installation work 'Digital Fragments in Physical Space' in 2019 – same year she published her academic research which explores the notion of identity in contemporary image and sound. Her most recent project "Reimagine Newham" was sponsored by Westfield Stratford City and made its way to a billboard on Goldhawk Road, West London – thanks to a partnership with Buildhollywood. 
The main focus of Andras Nagy-Sandor's practice is unpicking the aspirations and ambivalences within his masculinity through the symbolism of armours as a link between painterly, emotional and conceptual dichotomies. The aesthetic of Andras' armours are narrative, in some cases pseudo-folkloric, however they do not need to be read as armours as they are the results of an intuitive design process, an embodied sensemaking approach that is based on Andras' imagination and memories. They are gestures, edges, shapes, colours, patterns, paint, materials with a conscience enveloping figurative moments, interactions between body parts, characters, groups, anthropomorphic multiheaded beings that float between cultures and identities, folklore and sci-fi.
?Andras has recently had his first solo exhibition at Fest; Tisztit Gallery in Budapest, Hungary and is the co-runner of ongoing initiative "project hu", which created a collaborative residency, artist talks and a touring exhibition over the past four years.

Stevie Lou Field is a London based Goan-Portuguese and English performance & installation curator/artist and poet. 
Central to Stevie's work is the exploration and deconstruction of lore. This includes ancient/ contemporary mythologies, belief systems, superstitions, & sacred/ secular rituals.  Stevie's focus is predominantly on experimental, audience-centric performance and she is constantly exploring new styles that often end up influencing her methodology. She uses these themes as a lens through which to reflect on her inner world and her experiences to inspire her poetry. Stevie is also currently working on her first anthology of poems called; "Miniature Labyrinths". 
Stevie graduated in 2019 from a two-year MA in Performance, Design & Practice from Central Saint Martins. In 2018, she led a large site-specific project on a placement to Athens, at the disused train station, Stathmos Athinon Peloponnisou. During her time in Athens, she was involved in devising performance fragments for Yanis Varoufakis' Athenian launch of his pan-European political movement; Diem 25. Prior to her Masters, Stevie has been involved in the curation of student work and as a performance director. She has gained professional experience in performance, puppetry and most recently cabaret.  She graduated in 2014 with a 3 year BA at Rose Bruford College in European Theatre Arts and shortly after that, went on to study the masks of Commedia dell'Arte in Florence. She has performed in Sweden, Estonia, Italy and Greece.
Stevie has also gained experience assisting on live performance work. Most recently, at Tate Modern, where she has assisted the curators with the activation of Lee Mingwei's Our Labyrinth (May- June 2022), Trisha Brown's SET/RESET (March 2022) for the Dance Reflections Festival and also SET/RESET/UNSET (April- August 2022) and in 2019 assisted with the activation of Allora and Calzadilla's Balance of Power.
Categories
Tags