Body Politics is much more than an overdue retrospective and is a must-see not just for existing fans of Carolee Schneemann. With a career spanning six decades, Schneemann has been a major influence on generations of artists, making a lasting mark in particular with ground-breaking performances that ensured her position within the feminist art canon.
The rooms are curated loosely chronological, starting with painting and other wall-based works in the upstairs galleries. Schneemann understood herself primarily as a painter whereas the show's curator Lotte Johnson positions Schneemann's practice as an extended form of collage and a "juxtaposition of unlike realities to create a new reality"
Few of her paintings are confined to flat surfaces or to marks made by brushstrokes alone. Everyday objects are integrated in works that become increasingly sculptural as the show progresses. Photographs and newspaper clippings, as well as fragments of deconstructed works, are reassembled; materials ranging from glass shards and mirrors to textiles (spot the men's underpants!) and taxidermy are presented in boxes reminiscent of dolls' houses, some including light elements or moving parts – a whirring 'fur wheel' one of the most memorable works in the show, not least because of a request not to share this on social media.
Schneemann's works are a direct response to the artist's environment and reflect defining world events. We are taken on a journey from New York to Paris and London, and back again. The stages in the artist's life are illustrated with detailed archive material that is presented in cabinets throughout the show. The faded flyers, typed programmes and handwritten instructions feel rather old-fashioned, nostalgic even, or outdated depending on your own age, in contrast to the immersive installations that fill the main display area on the lower floor.
A key premise of feminist art is that you lose its essence the moment you put it into an institutional context. This rings partly true here. Using her body as material and applying female sensuality to address the objectification of women in society, her live performances paved the way for later artists like Marina Abramovic or Cindy Sherman. The impact of the actions and happenings can't really be transmitted in photographs. The original Interior Scrolls preserved since 1975 and 1977, now laminated and protected by perspex casing, come closest to retaining some of the original shock value – just imagine witnessing a naked woman reading from a scroll as she pulls it from her vagina.
Viewing early feminist work can be quite embarrassing in hindsight, especially from an intersectional perspective. Body Politics illustrates that Schneemann was aware of the privileges she enjoyed – as a thin white woman she embodied the American beauty ideal of her time – and the development of her political consciousness as anti-war and anti-imperialist is evident throughout the exhibition. 
With her political art she comments on the cost of conflict, in terms of human suffering and environmental destruction. Many of her later works reflect on global events from the Vietnam War to 9/11, with imagery based on news and TV coverage. It doesn't come as a surprise that she was part of the New York art scene at the same time as Andy Warhol and Yoko Ono. Learning that during her time in London she performed alongside Allen Ginsberg and Black Panther activist Stokeley Carmichael further helps with placing her practice into art historical context.
Carolee Schneemann died in 2019, twenty years after a diagnosis with cancer, a multimedia installation based on this final personal experience forms the closing chapter of Body Politics.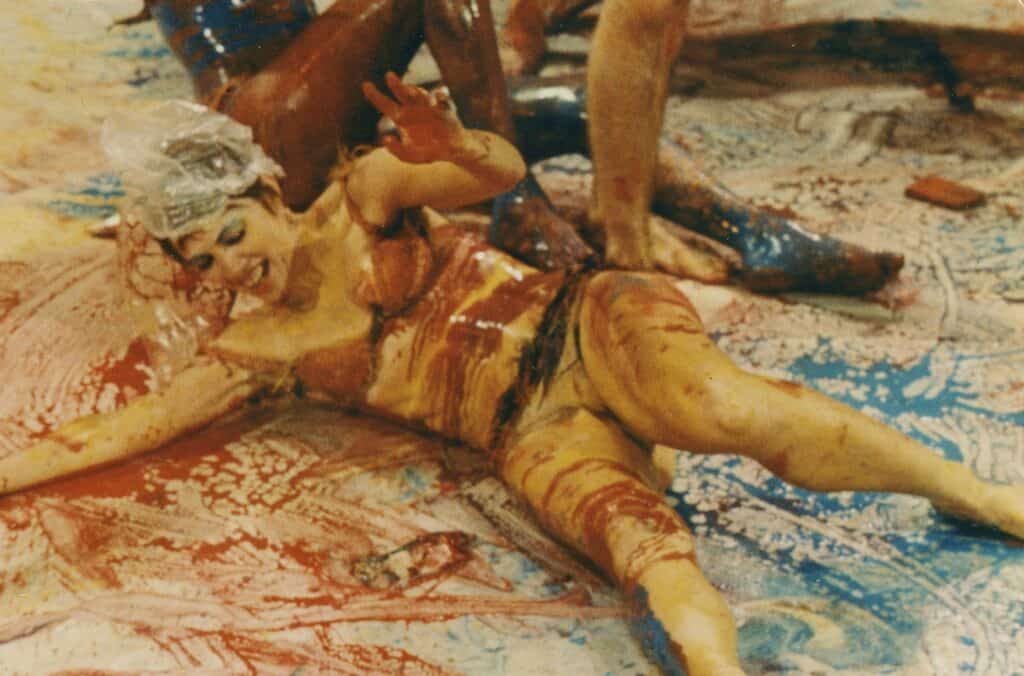 Carolee Schneemann: Body Politics, Barbican Art Gallery, through to 8th January 2023 @barbicancentre #caroleeschneemann 
Categories
Tags