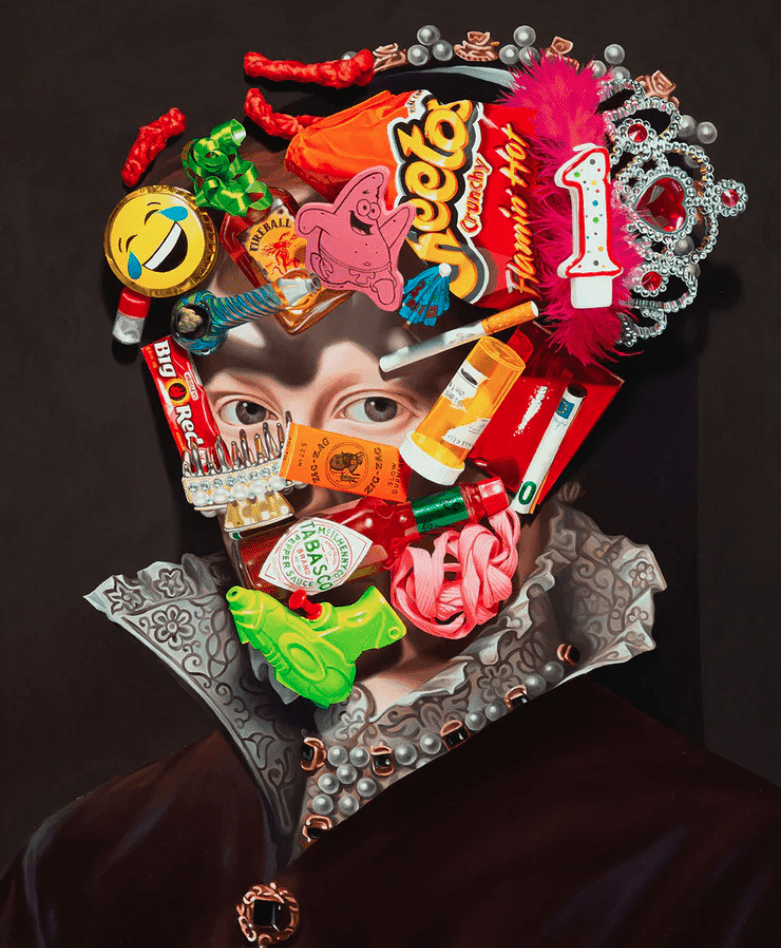 SPRING/BREAK Art Show returns to New York City during Armory Arts Week, running September 7th – 12th, 2022 at its location of three years at 625 Madison Avenue in Midtown East. Once again, the fair will program two floors of checkerboard former-Ralph Lauren offices with over 110 exhibits from 100+ curators addressing the theme of NAKED LUNCH.
Notably, 2022 marks the 10-year anniversary of SPRING/BREAK's annual NYC fair. What began as a scrappy showcase among friends at the St. Patrick's Old School in Soho in 2012 has grown into a major event that features 800+ artists and welcomes 35,000+ visitors annually between two coasts. Then and now, SPRING/BREAKS's driving mission has been to challenge the traditional cultural landscape by activating underused, atypical, and historic locations and giving no-cost exhibition space to curators.
New this year will be a collection of formally boundary-pushing narrative short films presented in a section of the fair entitled SPRING/BREAK Cinema. The initiative, a collaboration with iv gallery/Digital Nativ principal Vincent Harrison, will use blockchain technology to allow filmmakers employing the "seventh art" to offer their works in limited edition collections curated by the SPRING/BREAK team.
Says Co-Founder Andrew Gori,
"The so-called 'plastic art' of traditional cinema, as identified by theorists like Andre Bazin, is a central part of both mass and niche culture all over the world. We're therefore excited to bring it officially into the fold of SPRING/BREAK Art Show, finding ways to do for independent, aesthetically rigorous filmmakers what we do for artists: connecting them to collectors and forging new in-roads for them to support their tireless commitment to their form."
The 2022 theme NAKED LUNCH follows last year's nod to Neo-Medievalism in the world around us, and draws from its natural art-historical successor of the Italian Renaissance. Curators proposed exhibitions that speak to the sense of conflicted arcadia gripping our present era.
Quoting Orson Welles from 'The Third Man' (1949) in the call for submissions:
In Italy for thirty years under the Borgias they had warfare, terror, murder, and bloodshed, but they produced Michelangelo, Leonardo da Vinci, and the Renaissance. In Switzerland, they had brotherly love, they had five hundred years of democracy and peace, and what did that produce? The cuckoo clock.
SPRING/BREAK Art Show, September 7th – 12th 625 Madison Avenue in Midtown East
CURATORS FOR SPRING/BREAK 2022 EXHIBITION 'NAKED LUNCH' include:
532 Gallery, Abby Cheney + Casey Baden, Abigail Oglivy Gallery, Aelfie Oudghiri, Alexandra Evans + Anna Souvorov, Amy Hughes, Andrea Bell, Anna Berghuis + Reza Farshid, Anna Kustera, Anna Zorina Gallery, Anne-Laure Lemaitre, Ashley Ouderkirk, Aya Goshen, BA Contemporary Art, Bianca Abdi-Boragi + Jamie Martinez, Brian Whitely, Buket Savci + Caitlin McCormack, Caroline Heffron, Chris Lucius, Christopher Stout, Coco Dolle + Micol Ap, Craven Contemporary, Cynthia Wormersley, Dan Halm, Daniel Aycock + Kathleen Vance, David White + Duo Lin, David Alexander + Dasha Bazanova, David B. Frye, Deep Space Gallery, DJ Hellerman, Eden Airlines, Elise Thompson, elizabet elliot, Ella Blanchon, Emily McElwreath, F.Y. Eye, Filippo Fossati + Jennifer Bacon, Filo Sofi Arts, Francesca Pessarelli + Chiara Mannarino, Gabe Zetter + Gabriel Chalfin-Piney, Gentle Giant Projects, Giovanni Aloi + Erica Criss, Heinz Patatzki, iv gallery, Jacob Rhodes + Kris Racaniello, Jargonist, Jason Patrick Voegele, Jennifer Larsen, Jess Bass, Jillian Mackintosh, Joanne Tucker, Julia Maranto + Kat Ryals, Karolina Ziulkovski, Kat Ryals + Cara Sheffler, Katrina Majkut, Ketta Ioannidou + Eun Young Choi + Daniela Kostova, Kishka Gallery & Library, Knight-Webb Gallery, Kourosh Mahboubian Fine Art, Kristen Chiacchia, Lauren Hirshfield, Let's Talk Menopause, Lingfei Ren, Lisa Levy, Lizzie Reid, Maison Masor Art, Maria Petrovskaya, Marianna Peragallo + Hanna Washburn, Markel Fine Arts, Maureen Sullivan, Melinda Wang, Michael Moskowitz, Michele Jaslow, Milly Cai + Gemma Cirignano + Madi Shenk, Naomi Huth + Margret Kelly, NAVA Contemporary, New Art Projects, Noah Hornik, Nora Boyd, Olivia Swider, Patrick Bell, Queenie Wong, Rae Zhang, Rowynn Dumont, Sara Driver, Sarah Grass + Vanessa Albury + Rachel Frank, Serra Victoria Bothwell Fels + Adam White, Shane Darwent, Shelter, Shona McAndrew, SoMad, take care, Tara de la Garza, Ted Riederer, The Camp Gallery, The Locker Room Gallery, Todd Kelly, Tomato Mouse, UniX Gallery, Yen Yen + Rachel Gisela Cohen & more.
Categories
Tags