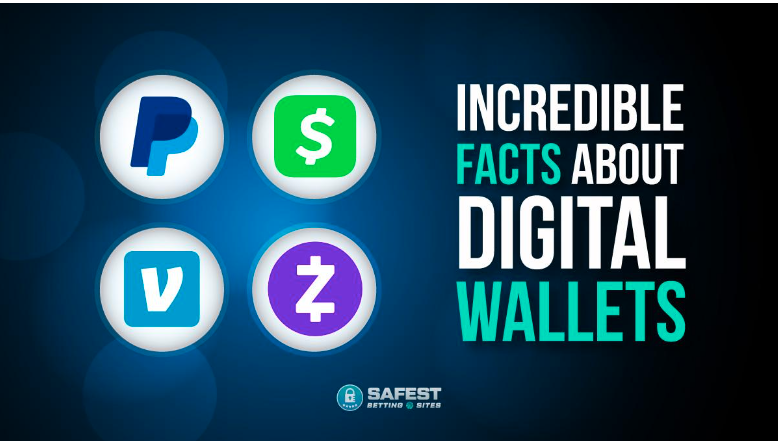 The advent of digital wallets revolutionized the payment process, making it faster and more secure. So what is a digital wallet or e-wallet? Simply put, it's a virtual version of a physical wallet in your pocket. Users can top up the digital wallet by linking it with their bank account, credit card, or debit card. Besides, it enables you to send and receive money from any traditional banking source.
Do you know what percentage of people use digital wallets? According to reports, 82 percent of Americans now prefer transactions through digital payment methods. One more survey shows the revenue of digital wallets in North America can grow to more than $80bn by 2026. Undoubtedly, e-payments are the new normal.
Let's know what are the benefits of digital wallets by delving into some intriguing facts and features.
Extensive Range of Options
When anyone asks what is the most used digital wallet, you'll name the industry giants PayPal, GPay, Amazon Pay, and Apple Pay. However, the market nowadays is brimming with various e-wallet apps that ensure an equally seamless and secure payment process. That said,
e-wallet apps like Samsung Pay, Cash App, and Venmo are also substantially making a breakthrough in the online shopping industry.
Not Limited to Funds Transfer
The e-wallet apps allow a wide range of online conveniences. Check out what are the five most important functions of a digital wallet other than transferring funds to your family or friends:
Pay university tuition fees, rents, and energy bills
Book and store movie, flight, train, or bus tickets
Purchase financial products
Send gift cards
Check payment history or account balance
Beyond Smartphones
Digital wallets are no more just about making payments from your smartphone. Nowadays, you can also use smartwatches, rings, or physical plastic card versions of e-wallets for transactions. Some market players are Coin, Wocket, PureWrist, and Plastc. These smart devices allow you to initiate the payment via a Bluetooth-enabled scanner or card swiping into a mobile card reader.
However, the cost and privacy concerns will play an integral role in the widespread adoption of these wearable payment options.
Drives More Sale
The seamless checkout process improves the shopping experience for the customers. Since mobile wallets make the buying process hassle-free, it will reduce cart abandonment issues for e-commerce sites. Ultimately, it will help enhance the revenue for the retailers as shoppers can quickly complete their payments.
This outstanding feature clears why digital wallets are important for online retailers.
Earn Coupons, Cashback, and Rewards
Another highlight of mobile wallets is that you get a chance to earn extra rewards based on your chosen wallet service provider. They offer cashback and promo coupons on shopping with select merchants online.
You can activate the coupons to get an additional discount on your further purchase with a specific brand. Besides, it is again a good strategy for online retailers to boost consumer base and sales alike.
Accessible for Online Gambling
If you like to wager on the go, digital wallets can cater to your needs. You will find several advanced online casinos that take Cash App, PayPal, Skrill, and Venmo, amongst others, for payments. The instant deposit and cash-out process provide mobile players a convenient gambling experience.
Utility Bill Alerts
Sometimes, you may miss the due date to pay utility bills with life's hustle-bustle. But not if you start paying your bills via e-wallet apps. A digital wallet will automatically send you a notification whenever your next bill payment date is near.
Further, you can initiate auto payments by activating the auto-pay feature in an e-wallet app. So live life stress-free!
Cost-effective Solution
Funds transferring fees on these free-to-download mobile wallet apps are not high contrary to common belief. Charges on digital payment wallets are similar to credit or debit card transfers. Besides, some service providers even waive the fee for using a standard transaction option.
Enhanced Security
If you constantly fear how secure is a digital wallet, drop this concern right now! With payment verification features, like fingerprint, PIN, and pattern, e-wallets ensure users an added layer of protection.
Besides, a digital wallet uses a tokenization system that produces a unique identification number when you pay a merchant. This process encodes your personal information, which reduces the risk of fraudulent purchases. Hence, this contactless payment mode is more secure than physical wallets, debit, and credit cards.
Bill Sharing Option
Are you eating out on a shared budget with your friends? If your contacts are available on the same digital payment app, you can split the bill with them with just one tap on your phone. These apps even allow tracking the payment status made by contacts.
Final Words
So no need to lug your wallets with cash, debit, or credit cards anymore. Digital wallets can serve the same purpose for you but more safely and smartly. Moreover, it will be interesting to explore what can a digital wallet be used for in the future with the emergence of IoT-powered e-wallets and super wallets.
Categories
Tags