ART-O-RAMA is produced by Fræme, in co-production with La Friche la Belle de Mai. After a successful 2021 edition, Art-o-rama returns with 60+ galleries and publishers plus a special programme of free screenings and conversations during the Art Fair. It's the perfect way to re-enter the art season and get ready for September till the end of the year. Below FAD magazine has selected five galleries you need to see at Art-o-rama, Marseille.
Sissi Club, Marseille, Inès Di Folco
Sissi Club will present a solo presentation of Ines Di Folco. Inspired by her trip to Cairo, the artist invokes here the practice of "Fayoum portraits" and delivers a set of works like icons, gazing towards the beyond. On walls coated in black, this hanging is an invitation to enter the languor of the evening, at the tipping point from the real to the spiritual.
Suspended in the heart of space, Three Sisters and an Angel is an ode to the night. In a game of balance between the brilliance of the stars and the dresses and the darkness of the water and the sky, the vegetation and the flowers proliferate, the ocher reddens, the mothers enthroned and the ancestors watch.
Eight paintings around continue the evocation of peregrinations like a dream. Colorful sparkles stand out against the dark backgrounds and prolong the joy, the exhilaration of the trip. The works play with effects of transparency, experiment with the superposition of pigments, the encounters of materials and textures.
SISSI is a curatorial entity created by Elise POITEVIN and Anne VIMEUX in April 2018 with the graphic complicity of Tomas DI GIOVANNI. It gave rise to the opening, in April 2019, of SISSI club, a project space and a non-profit gallery dedicated to the emerging creation in Marseilles.
The program revolves around three axes: first personal exhibition, curatorial research projects and event formats in the INVITE.E.X.S program imagined by Anne VIMEUX. SISSI was notably at the initiative of the exhibition LOVE YOU TO DEATH with Neïla CZERMAK ICHTI and Ibrahim MEÏTÉ SIKELY in collaboration with Anne Barrault gallery, of BRUISSE L'EAU, Camille BERNARD's first personal exhibition with the support of Cnap, and of the collective exhibition TURN THE TIDE #1 for Les Parallèles du Sud of Manifesta 13. SISSI also participated at the Paris Internationale event in Paris in 2020 as well as in the Salon de Normandy.
Bosse and Baum, London, Luke Burton: The Sun Writ Large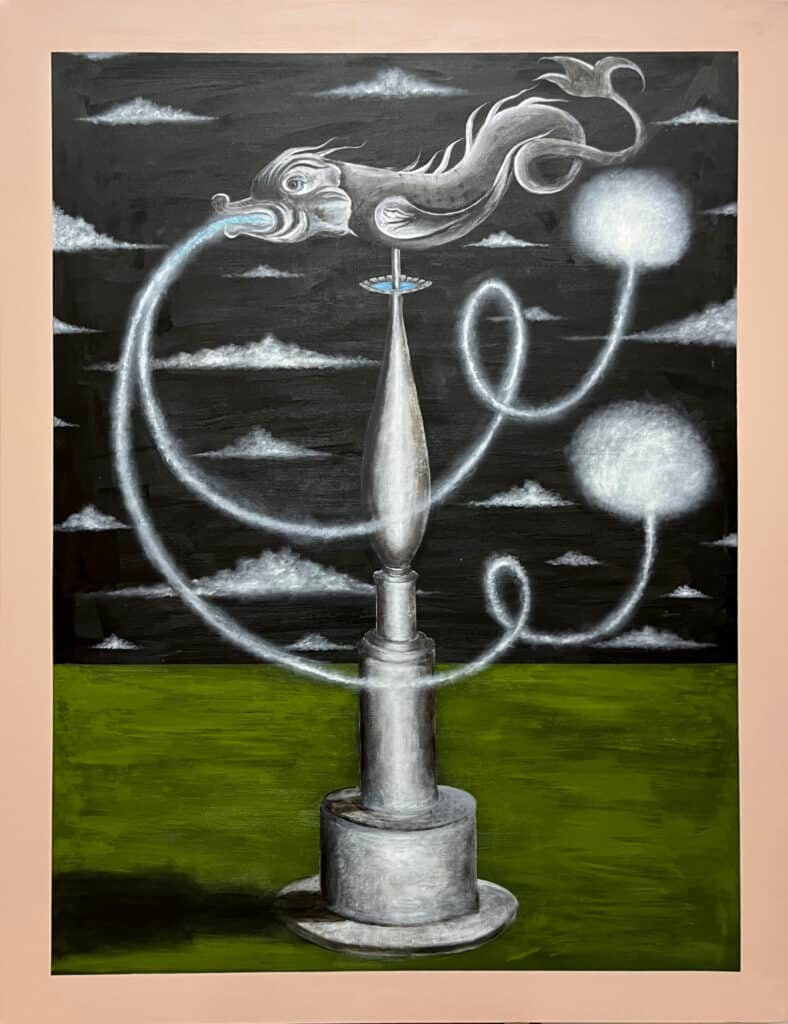 Bosse and Baum will present a solo presentation of Luke Burton. The title of the presentation is 'The Sun Writ Large'. This will be an installation of a new series of paintings surrounded with vitreous enamel works. These five oil and acrylic paintings each depict a Baroque fountain in a field at night, and are exemplary of Luke's research interests in visual culture.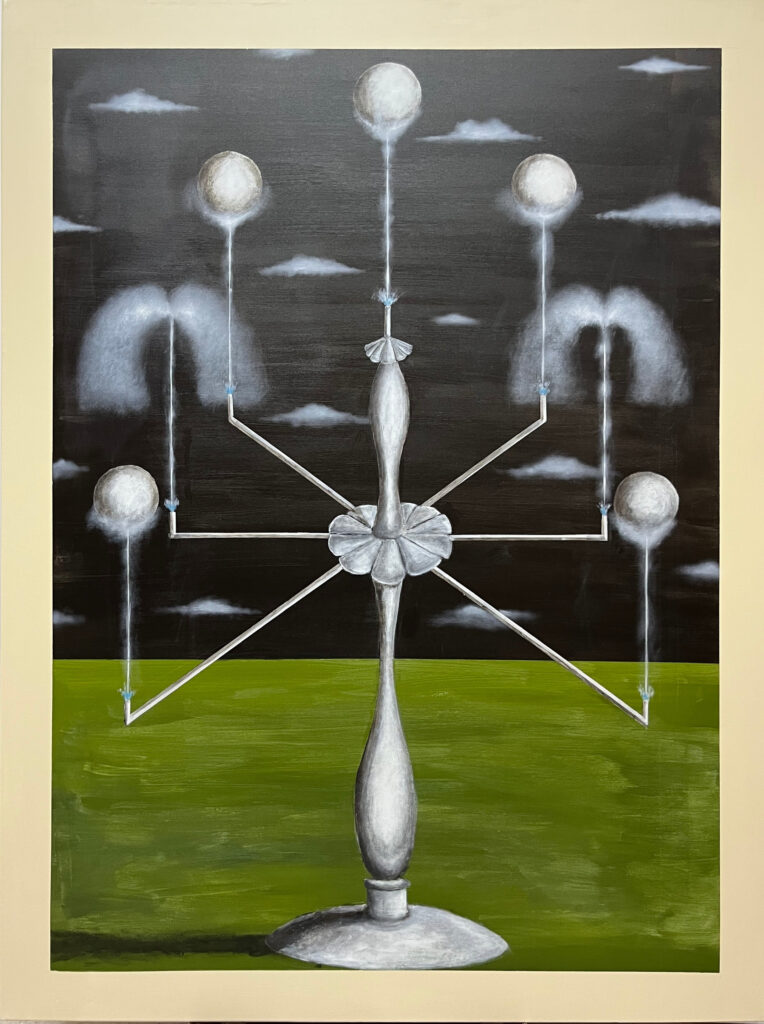 Luke Burton (b.1983, London) lives and works in London. He has an ongoing interest in how symbolism operates across decorative visual culture and questions the relationship between craft, ornament and fine art in relation to taste, objecthood and materiality within painting. In addition to more conventional modes of painting, Burton is also interested in seeing painting as an expanded field, specifically in his use of seemingly anachronistic media such as folding screens or vitreous enamels. These contrasting modes also show Burton's interest in the idea of scale in relation to painting: the scale of architecture, the human scale, and the scale of the miniature or handheld. They ask how these various scales create a physical and psychic space for intimacy, alienation, empathy and privilege.
Nicoletti Contemporary, London, Pierre Unal-Brunet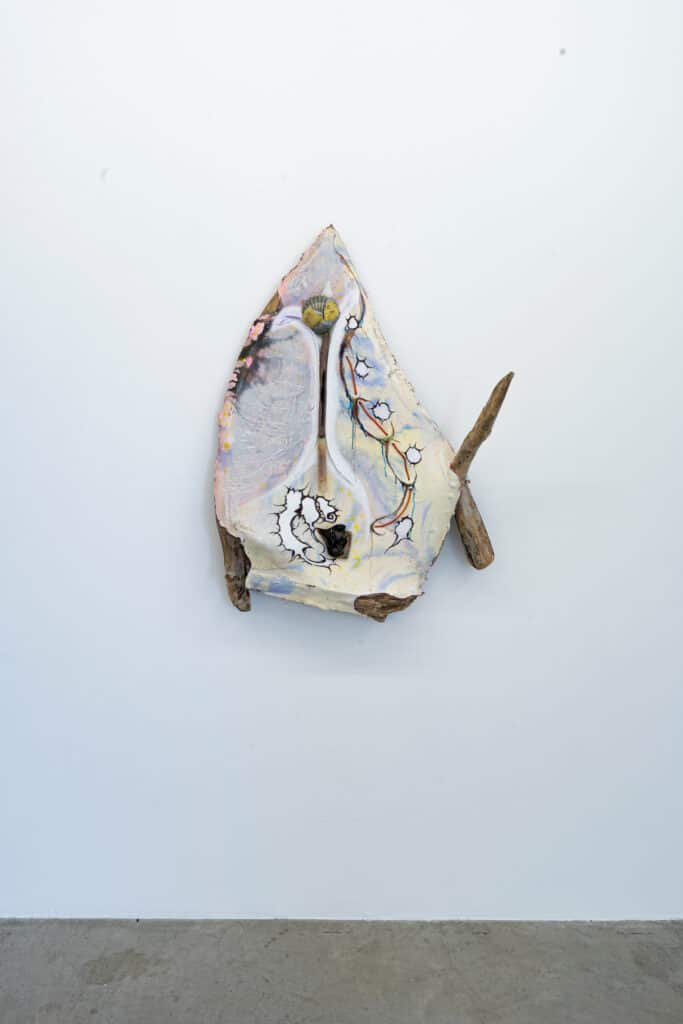 NiCOLETTi will present a solo presentation of French artist Pierre Unal-Brunet, titled Shakin'Guanine. Living in Sète, Unal-Brunet develops an idiosyncratic practice inspired by his passion for fishing, whereby he conducts meticulous investigations into the organisms populating the natural environment. In his paintings and sculptures, the artist employs the methodology of speculative biology – a field of science that makes hypotheses on the evolution of life – to conjure up an array of exuberant beings emulating the biomorphic forms and lustrous colours of fishing lures.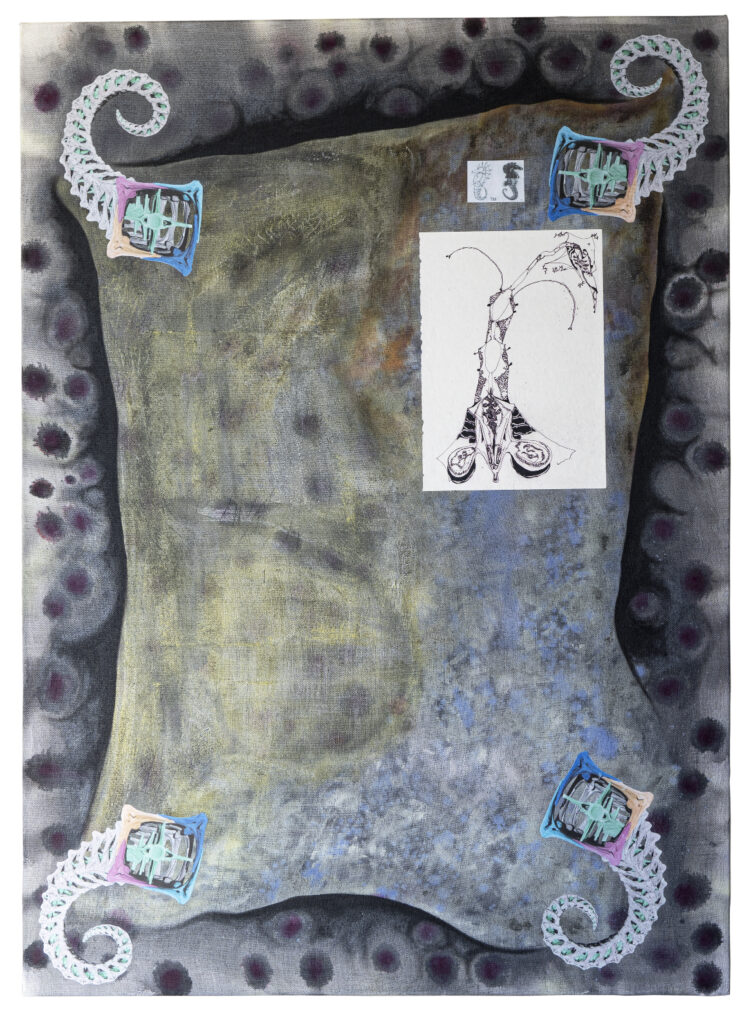 Presenting paintings, a series of assemblages combining acrylic, oil and spray paint with sketches, texts and photographs pinned across the canvas. Articulating transversal narratives at the crossroad of scientific inquiry and science-fiction, these paintings reveal hybrid creatures to which the artist then gives birth through sculptures made of materials scavenged on beaches and swamps.
Pierre Unal-Brunet (b. 1993, Lyon, FR) lives and works in Sète, France. He is a graduate from the Ecole Supérieure d'Art et Design in Saint-Etienne, FR (2019). He works with sculpture and painting in a way that is both experimental and radical, seeing his practice as that of an artisan or a fisherman, elaborating ecological fictions through minute studies of ancestral gestures and natural materials, defining himself as a 'grotesque surgeon' who creates 'fads made of transplants'. The opulent compositions and extravagant forms of life emerging from this process reflect the artist's passion for abandoned and overlooked places – peri-urban zones, swamps, contaminated ecosystems – which he investigates in a manner that evoke survivalist modes of resistance and ecological activism
South Parade, London, James Fuller
South Parade will present a solo presentation of the British artist James Fuller (b. 1988 UK) who lives and works in Athens, Greece. Entitled 'Sealed from the inside', Fuller will present new, specifically made floor and wall based sculptures – a series of laser cut fabric panels (mattress wadding) which combine found imagery of expired patents on powder-coated steel frames, rotationally moulded sculptures (the same method one would make easter eggs or canoes for example) and electroplated nickel panels.
Speculatively dealing in the currency of real world surfaces, his work is a spontaneous archive of relations, a skim—of a skin—of a plate. A world built back from patterns of repeat behaviour, subtle gestures, and small beginnings on a journey of assemblage, alchemy and failure—to produce hollow, chimerical non human volumes where our interactions are felt but not faithfully represented. It is a place where discarded and wasted energies come to thrive. These works incorporate ideas of ritual, labour and are situated in a space between craft objects and digitally manufactured goods. Unreal objects of contradictory emotions — where details dissolve and melt, and reform back into newly stitched surfaces, constantly slipping between malleability and fixed states. Marseille will sit temporarily at the centre of our cross border collaboration. The city serves as a natural meeting point between northern Europe (where the gallery is based) and Southern Europe (where Fuller's practice navigates the expansive industrial infrastructure of Athens).
Public Gallery, London, Marlon Kroll and Li Hei Di
Public Gallery will present a duo presentation of new works by German/Canadian artist Marlon Kroll and Chinese artist Li Hei Di. Conceived by the artists as a holistic installation, the immersive display is envisaged as a site of gestation and transmutation; a former cocoon now opened like a seed pod, husk, molt of a spider or crab shell with its inhabitants renewed and reborn.
Composed of oilskin on paper over oil paint on canvas, Kroll's central sculpture takes the form of an unfolded, sliced house inspired by the womb-like structures found in the ritualistic experiments of the Liber Vaccae – a Latin translation of a late ninth-century Arabic magical-alchemical work. Displayed on the walls and Kroll's structure itself, Li Hei Di's paintings are visible through openings as if enacting a game of hide and seek with the viewer. Her compositions allow human organ-like forms to play out a similar game amidst ambiguous spaces that reference the colour palette and freeze frames of Chinese cinema––specifically films that depict Chinese myths and strange tales of transcendence.
Li Hei Di (b. 1997, Shenyang, China) lives and works in London, UK. She completed her BFA (Hons) at University of the Arts London, Chelsea College of Arts, in 2020, and received her MA in Painting at the Royal College of Art, in 2022. She was the recipient of the Distinguished International Student Award from the Maryland Institute College of Art (2018). Recent exhibitions include In Defense of Secrets, Downs & Ross, New York (2022); Phantasmata, Public Gallery, London (2022); Self-Dismiss, Gallery Vacancy, Shanghai (2022); A/D D/A, Zéruì, London (2022); 4 Solos, Linseed Projects, Shanghai (2021); and The Glass Bead Game, Mamoth, London (2021).
Marlon Kroll (b. 1992, Hamburg, Germany) lives and works in Montreal, Canada. He holds a BFA in Ceramics from Concordia University and is one of nine laureates of the Darling Foundry's 2019-2022 Montreal Studio Program. He was the 2020 recipient of the William and Meredith Saunderson Prize for Emerging Artists. Recent exhibitions include Trees That Worry, Projet Pangée, Montreal (2022); Nesting, Foundation Phi, Montreal (2022); Stress Tested, Public Gallery, London (2021); A Chronique Fear, Marvin Gardens, New York (2021); Rifts, hovels, a sighing tide, Afternoon Projects, Vancouver (2021); La machine qui enseignait des airs aux oiseaux, Musée d'art Contemporain de Montréal (2020); At the center of my ironic faith, Cassandra Cassandra, Toronto (2020); Red Sky at Morning, Interstate Projects, Brooklyn, New York (2019); and Thirsty Things, Clint Roenisch, Toronto (2019).
Categories
Tags