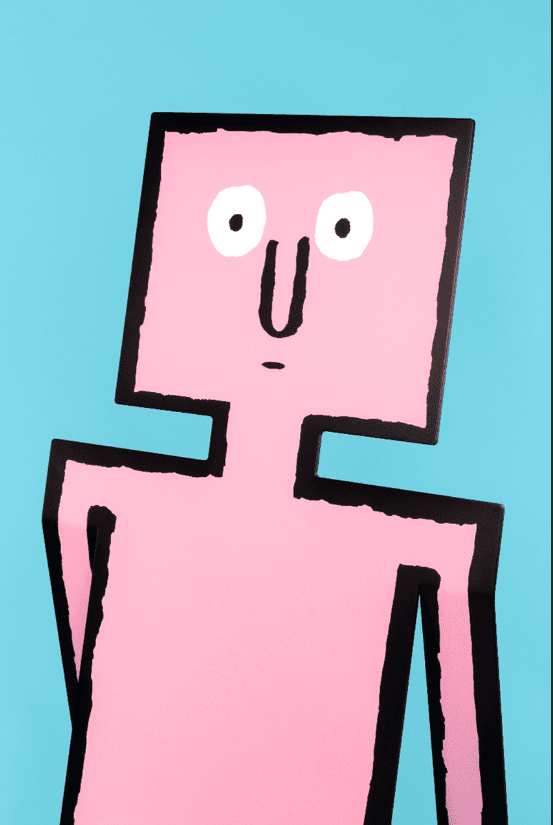 We love Jean Jullien & Case Studyo new collaboration 'Antoine and Charles 'The Cousins'.
Reimagining the everyday world and creating a whimsical universe one deliberate brushstroke at a time, Jean Jullien sets out to actively participate in people's lives by introducing a little creativity and fun to their daily environment. The artist's 2016 exhibition 'Flat Out' saw the introduction of his signature "paper people" sculptures, which have since become an integral part of Jullien's body of work, having evolved in many iterations over the years from paper to steel.
With this edition, it is the first time we see them as functional seating objects. In true Jean Jullien fashion, the seemingly simple characters succeed in conveying a spectrum of emotions. With a couple of expressive brushstrokes, the artist is able to instil each sculpture with a distinctive personality that is sure to conjure up a smile on the viewer's face. These flat characters invite you to sit on their lap, relax and unwind.
The Cousins, 2022 Aluminium, Automotive paint, matte finish Charles edition of 10 + 2 AP's, Antoine edition of 10 + 2 AP's Signed and numbered on the chair + certificate of Authenticity available to purchase at Case Studyo.
About the artist
Jean Jullien is a French graphic artist living and working in Paris. 
Originally from Nantes, Jean completed a graphic design degree in Quimper before moving to London. He has since graduated from Central Saint Martins (2008) and from the Royal College of Art (2010). His practice ranges from painting and illustration to photography, video, costume, installations, books, posters and clothing to create a coherent yet eclectic body of work. 
Jean has shown work around the world with museums and galleries in Paris, London, Brussels, Los Angeles, New York, San Francisco, Berlin, Tokyo, Seoul, Singapore and beyond.  
He has worked with hundreds of clients including  New York Times ,  New Yorker ,  The Guardian , Beams, RCA Records, The Connaught, Colette,  SZ Magazin,  National Geographic,  Le Grand Palais, Le Center Pompidou, Amnesty International,  Esquire , Le Coq Sportif , Jardin des Plantes (Nantes), Mr. Porter, Hotel Amour, Champion USA, Salomon, Petit Bateau, Vogue  and many more.
Jean has also published numerous books with acclaimed houses including Phaidon, Walker Books, Comme des Géants and Hato Press. In 2016, he published his first monograph with teNeues. He is represented in the UK by the Wylie Agency.
In 2011, Jean and his brother founded Nico Jullien Brothers, a duo specialized in moving image. For more information, go to: jullienbrothers.com
In 2012, he created News of the Times with Yann Le Bec and Gwendal Le Bec.
In 2016, Jean launched Nounou with Jae Huh, a Korea-based label producing a wide range of items including clothing, graphic objects, rugs and dolls. For more information on the latest collection, go to: nanny.kr
Categories
Tags