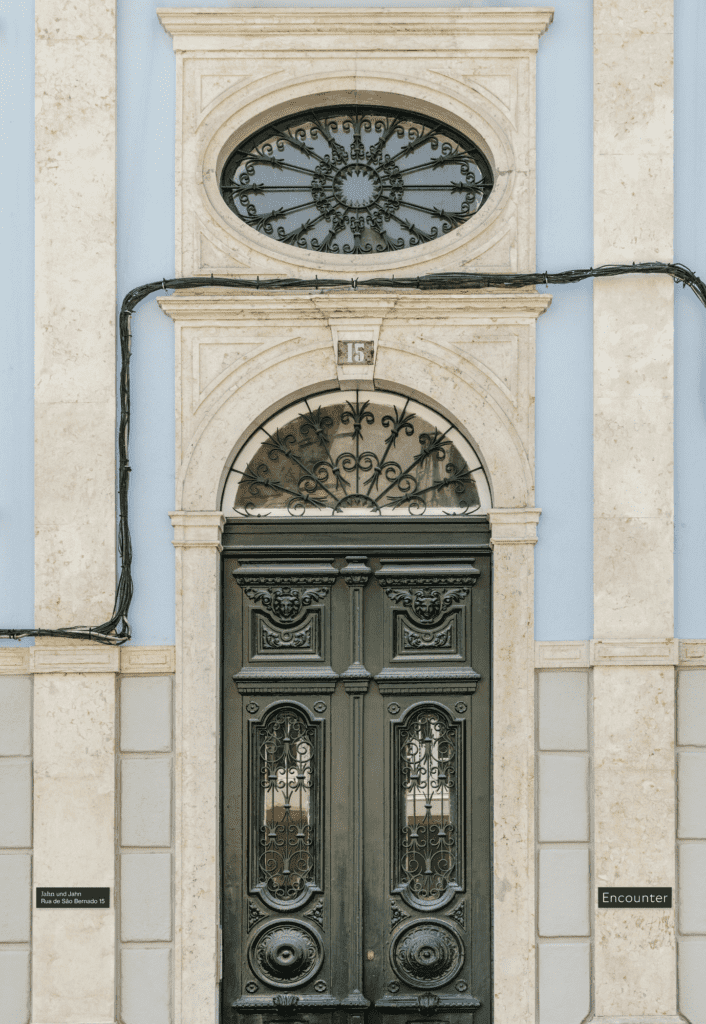 Encounter and Jahn und Jahn are pleased to announce the opening of a new shared gallery space in Lisbon on  September 22, 2022. This exciting collaboration marks a significant international addition to the Lisbon art scene and is an extension of both galleries' programs from the UK and Germany respectively. The gallery, comprised of seven exhibition rooms, two viewing rooms and a sculpture garden, will be located in a large 19th Century apartment on  Rua de São Bernardo next to Jardim da Estrela and The British Embassy. The space has the ability to host several different exhibitions simultaneously which makes it an excellent venue for a dynamic gallery share model of this type. 
For Jahn und Jahn, the new gallery space in Lisbon represents the first European extension of the established Munich-based gallery. Originally founded by Fred Jahn in 1978, the close collaboration with artists mainly from Europe and the US, as well as a thorough understanding of forms of artistic expression, have been central to the identity of the gallery for decades. In 2017, the galleries of Fred Jahn and of his son Matthias Jahn merged to form Galerie Jahn und  Jahn. Over the years, a large number of books have been published by both galleries, accompanying more than 500  exhibitions. Tim Geissler, partner at Jahn and Jahn since 2018, commented: "The possibility of making a gallery in  Lisbon accessible to the public is a great opportunity for us. We see the possibility to expand our programmatic approach and to link it with a local community. The aim of this project is to bring in and experience new impulses.  We are looking forward to the exchange, a wider network and hope to open up new perspectives in Lisbon." Jahn und  Jahn Lisbon will be led by Carolina Trigueiros. In her professional career, she has built up an extensive network with numerous projects in Portugal. In her function as the new Director of Jahn und Jahn Lisbon, she supports the gallery with her knowledge and great experience. 
For Encounter, the gallery in Lisbon will be their first permanent space, building on the acclaimed exhibition program that they have run in London since 2014. Encounter has always strived to deliver ambitious and academically rigorous curatorial projects in close collaboration with a diverse group of institutionally acclaimed international artists.  Alexander Caspari, Founder and Director commented: "We have been looking for the right space to extend  Encounter's program for several years and were delighted to find the new gallery which has such a unique character and great potential. I am certain that this timely expansion will catalyze new opportunities for creative collaboration  and critical engagement for both a local and global audience of artists and collectors." 
Encounter will launch with solo presentations of leading international artists Antony Cairns (London, 1980) and  Vanessa Da Silva (São Paulo, 1976). Taking the city and urban landscape as its ostensible subject, Cairns' work engages deeply with the history of photographic reproduction, experimental printing methods and the aesthetics of abstraction. The show will coincide with his major solo exhibition at The Maison Européenne de la Photographie  (Paris) in Autumn 2022 and build on the abstracted images of the metropolis notably included in Shape of Light: 100  Years of Photography and Abstract Art at Tate Modern (London) in 2018. Vanessa da Silva´s interdisciplinary process-based practice combines sculpture, installation and performance and focuses on issues of identity formation,  migration and displacement. Her 'Muamba Grove' sculptures will be exhibited across the sculpture garden, coinciding with a presentation of several monumental works from the same series launching this September at Yorkshire  Sculpture Park (UK). 
Jahn und Jahn will open with a group exhibition featuring Heinz Butz (Dillingen, 1925), Fernanda Fragateiro (Montijo,  1962), Imi Knoebel (Dessau, 1940) and Kirsten Ortwed (Copenhagen, 1948). Throughout the exhibition space, a  careful selection of works unravels echoes of extensive and precise artistic practices. From sculpture to works on paper and installation, there is a desire to revisit different contexts and modes of experimentation explored throughout the years. Alongside this presentation, an installation by Navid Nuur (Tehran, 1976) will be launched in the sculpture garden, working as an ongoing dialogue with the international program of Jahn und Jahn Munich. 
Categories
Tags