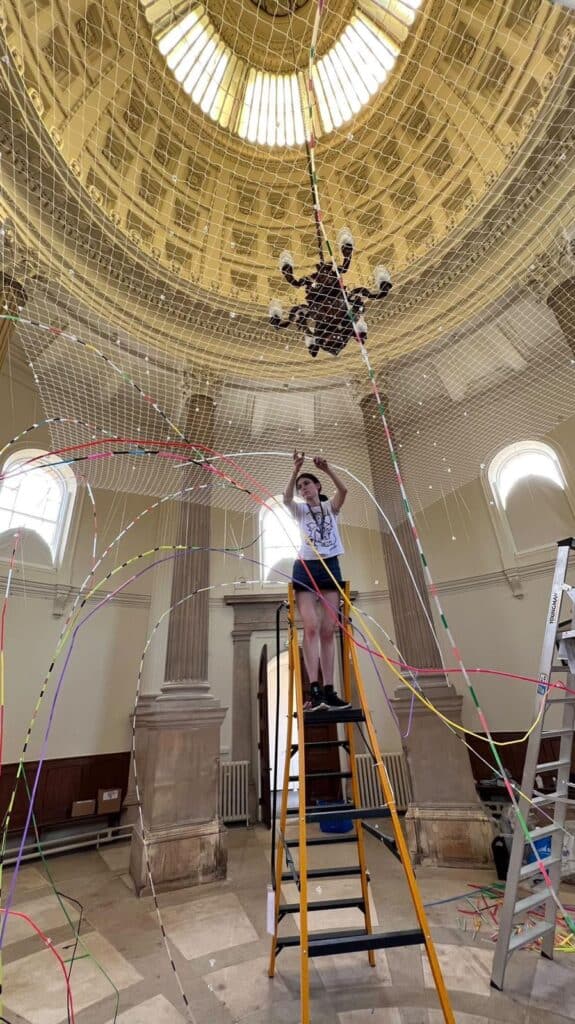 'Roller Coaster' by Lise Bouissiere is on show at the Brompton Cemetary, inspired by London's cityscape and the cranes constantly overhanging the city like giant insects, the sculpture is made of reused straws that have been collected in the city's bars, clubs, coffee shops and tea houses; these plastic pieces of rubbish, which nature cannot digest, are transformed into blooming sculptures.
Added to this architectural inspiration, the composition suggests a wide range of other interpretations. From shape and colour harmonies to the reuse of material and the evolution that the straw is going through today, as a result of the environmentally-related discussion.
Mark Westall: 'Roller Coaster' It's going to be in a chapel, it's made of straws, do you count how many straws you use?
Lise Bouissiere : thousand of them.
If I wanted to know? Because the thing about writing interviews is people always like big numbers. Do you know when you make it?
I don't know. I need to form them individually, it's like a drawing. I do some plans with the shape and colour, but in the end, there is always improvisation, so some decisions I make on the spot.
How do you do the planning?
I do drawings, so I draw different sculptures. A little bit like architectural drawings it actually pays tribute to the architecture in London.
First, I put different structures, and then once I select the structure that I like, I just add the colour on it, and I do a variety of colours. Of course, it's like any composition. When you compose with the music, perfume, painting or here with the sculpture, you need to create movements and depth. The eyes need to be driven by the composition so I need to be careful with the colour and the shapes of it. I sometimes remove some lines, and I adjust colours to let the sculpture breathe.
Do you work with a machine to produce the final sculpture?
I do everything that I draw with my hands, so it's quite an artisanal approach. I don't use so much computer. I like this very down-to earth and elementary approach, and being able to create something almost surreal out of simple element is quite rewarding. The sculpture is held by a sparrow net and butterfly clips; its base is maintained by bamboo sticks that I fixed between the bath stone slabs, so "Roller Coaster" seems to have grown from the floor like a wild plant. The sculpture reacts to the light and the wind circulating in the chapel.–
After this, what are you going to do? How are you going to live? How's your practice going to carry on? Are you looking for a gallery? Are you looking to sell stuff online?
I will develop "Roller Coaster" in new spaces. I have diverse sculptures and installations I am working on at the same time.
Of course I would like to be represented by a gallery, but in the meantime, I have the freedom to explore opportunities and develop collaborations with diverse art institutions.
The next show will be in collaboration with the Boogie-Wall, it will consist in the creation of a forest of paintings. The exhibition named "floating forest" will take place on Piccadilly during the summer.
I'm very inspired by London. For me, it's the best place. I am constantly grateful to be able to develop my art now because after school I had a phase where I stopped, and then two years later suddenly I had a wave of energy, something happened to reinvigorate me and I've been riding that wave ever since.

Lise Bouissiere
Lise Bouissiere, Rollercoaster at Brompton Cemetery Pavilion, Fulham Rd., London SW10 9UG, UK Until 30th June (11 am to 5pm) kcaw.co.uk/Roller-Coaster
Listen to Lise talk to Gary Mansfield on Ministry of Arts Podcast
Roller Coaster has been exhibited in the Royal Society of Sculptors Summer Show (2021), The Smallest Gallery in Soho (2019), Gerald Moore Gallery (2020), Aora space (2022) and Venice art land (2019). Brompton Cemetery is one of Britain's oldest and most distinguished garden cemeteries. It combines historic monuments, trees and wildlife with the stories of the remarkable people buried here. This beautiful landscape is the only Cemetery in the country owned by the Crown and managed by The Royal Parks on behalf of the nation. 205,000 people from all walks of life are buried in Brompton Cemetery, from the suffragette Emmeline Pankhurst to military personnel and Chelsea Pensioners, artists, actors and founders of Chelsea Football Club.
About the artist
London-based artist Lise's practice focuses on the optimisation of space and the use of material through the specific construction of ideas she plays with to create minimalist and straightforward compositions.
A graduate of Central Saint Martins. Lise's constructions reveal a memory, a current state or a hidden side of a place with the elements that surround it. "In many cases, the place I construct my art is transformed like a mental space, offering to the viewer a large panel of interpretations"
London is an important source of inspiration to me: its dynamism and contrasts push me to intertwine the urban and natural universes. Therefore, I use construction work material to describe the snow, I collect used plastic straws to build sculptures that look like giant insects, I explore the shapes and colours of fallen leaves to extra their vitality. I often qualify my sculptures as ephemeral and infinite: the modular compositions made of salvaged materials I develop are open to endless variations.
This principle of modularity and collection of abandoned objects reflects a recurrent theme in Lise's work questioning the notion of disappearance, transformation and regeneration.
Lise Bouissiere, Rollercoaster is part of the KCAW Art Trail on view throughout the Summer
MORE: kcaw.co.uk/kcaw-art-trail
Categories
Tags