This morning, the Supreme Court overturned Roe v. Wade in a shocking decision that will end federal abortion rights. Nearly half of all states are expected to outlaw or significantly restrict access to abortion as a result.
Today, artist Jenny Holzer launches her first Foundation auction of the following artwork in response— a tweet by Gillian Branstetter from 2021 that draws attention to the similarities between a Tucker Carlson Tonight television segment and the artist's Truisms series: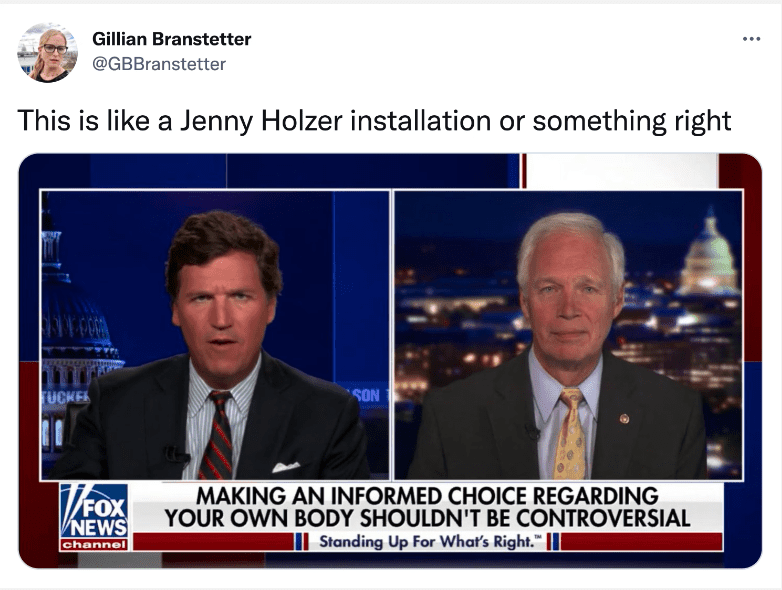 The chyron was meant to be read as an anti-vaccine pronouncement, but the words could be a pro-choice statement.
Jenny Holzer's Truisms, which first appeared on the streets of New York in 1977, include now-iconic and eerily prescient phrases such as ABUSE OF POWER COMES AS NO SURPRISE and, perhaps most appropriately, LISTEN WHEN YOUR BODY TALKS. They speak to the anxieties, banalities, tragedies, and contradictions of modern life, and they remain as urgent today as they were then.
This work is available by Jenny Holzer as an NFT on Foundation today: foundation.app/@jennyholzerstudio/ouch/1
"We must protect the rights of the individual that protect the health of society,"

said Jenny Holzer.
Join Jenny Holzer Studio in supporting these essential organizations: Planned Parenthood, Center for Reproductive Rights, and PAI, or one of your choice.
Categories
Tags