ven diptychs from Boris Mikhailov's latest photographic series Temptation of Death will be displayed prominently on billboards across the facades and entrances of cultural institutions in Basel as well as the City Hall. The public art project will be presented alongside a film program curated by Ksenia Malykh, Head of Research Platform PinchukArtCentre in Kyiv. Screened daily at Theater Basel, the program features work by Oleksandr Roitburd, a participant in the Ukrainian New Wave movement, as well as films by a younger generation of artists creating a fragmented portrait of Ukraine today.
Born in 1938, Boris Mikhailov grew up in Soviet Ukraine. His early work moved along the edges of the political and social norms testing the limits of what can be described as forbidden images in Soviet times. He witnessed the collapse of the Soviet Union and the rebirth of an independent Ukraine. Throughout his life, Mikhailov has dedicated himself to tracing the historical developments and their consequences. At his core, Mikhailov is a critical storyteller, allowing for an expanded and complex understanding of reality.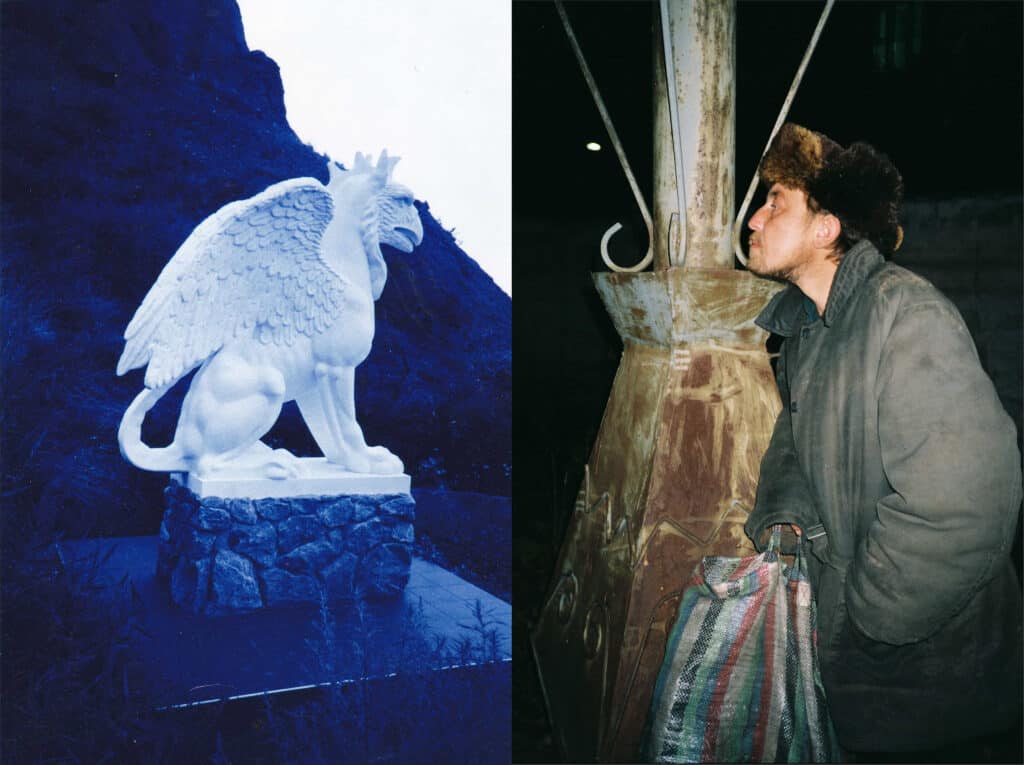 Temptation of Death (2017–2019) consists of more than 150 pairings of images, in which the artist combines his distinct autobiographical voice with a bleak social premonition. Ploughing through his archive of performative photography and traces of remnants of the Soviet Union, he creates a series of visual poems, staring his own life – and the death of the Soviet Union – in the eye. With his extensive photographic series Mikhailov, a flâneur in the sense of Walter Benjamin, a poet and ragpicker, has captured memories of a time gone by. This is all the more relevant today when Putin's war against Ukraine is also destroying the Soviet legacy as a part of the physical reality and psychological identity of Ukraine.

Curated by Björn Geldhof, Artistic Director at the PinchukArtCentre, Temptation of Death thus becomes a swan song to a bygone era. To some degree, this also applies to the historical video piece Psychedelic Invasion of the Battleship Potyomkin into Sergey Eisenstein's Tautological Hallucinations (1998) by Oleksandr Roitburd, bringing together the past and present, the classic and the contemporary, which will be on view at Theater Basel. But what is an endpoint is also a new beginning, embodied by four video pieces by young Ukrainian artists Dana Kavelina, Yarema Malashchuk and Roman Khimei; Daniil Revkovskiy and Andriy Rachinskiy; and the collective Open Group. In fragments, the artists create a collective portrait of today's Ukraine, studying it through their own body, trauma and imagination.
The President of the Government of the Canton of Basel-Stadt Beat Jans says: "The Government of the Canton Basel-Stadt welcomes the initiative to give Ukrainian artists a highly visible platform during Art Basel. It sends an important signal so that we do not forget the ongoing war and the associated suffering of Ukrainian society."
Björn Geldhof, Artistic Director at the PinchukArtCentre says: "Ukrainians have systematically chosen freedom and have systematically chosen values that we all hold dear. Art and Ukrainian artists have been of the forefront of this choice. From the early critical and subversive photographer Boris Mikhailov to the youngest generation of film-makers. Their work is part of Ukraine today, a Ukraine that is fighting for its survival, and the survival of our common values."
The project is a collaboration between PinchukArtCentre; Canton of Basel-Stadt; Art Basel; Fondation Beyeler; Theater Basel; Kunstmuseum Basel; Kunsthalle Basel; Kaserne Basel; Kunsthaus Baselland; Haus der Elektronischen Künste; Liste; I Never Read, Art Book Fair Basel.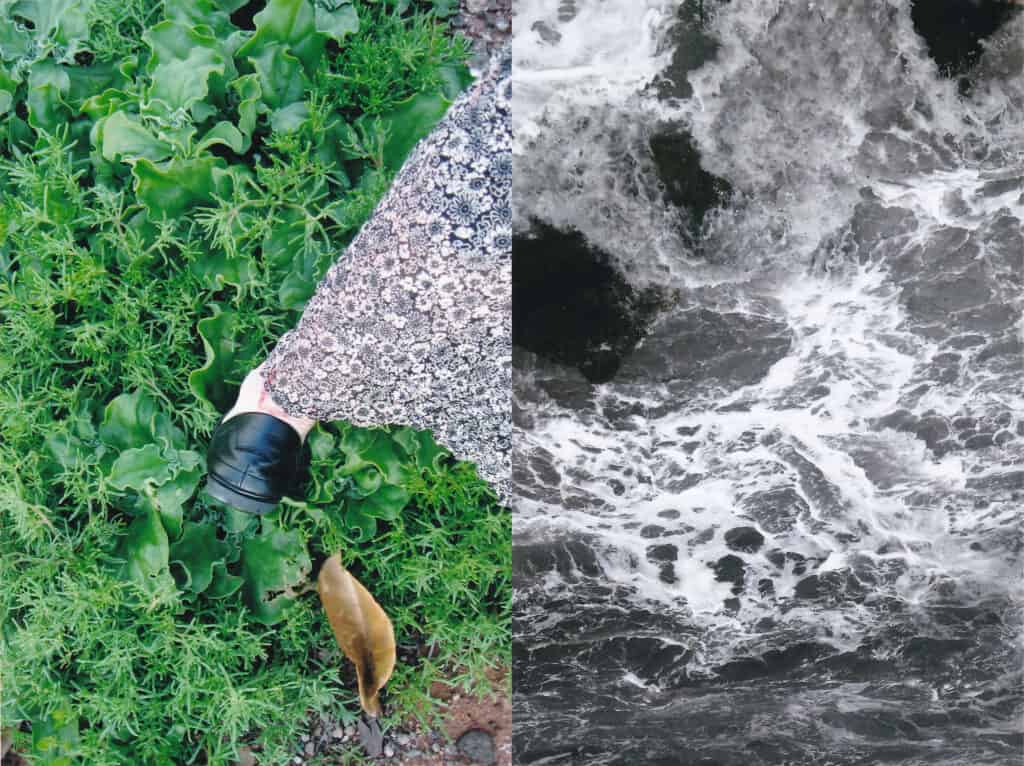 "The battleship and the catamaran" Film Program
The film program will be screened in a continuous loop in the Foyer of Theater Basel daily from 11am to 6pm from Tuesday, 14 June until Sunday, 19 June 2022. Access is free. No tickets required.
Oleksandr Roitburd, Psychedelic Invasion of the Battleship Potyomkin into Sergey Eisenstein's Tautological Hallucinations, 1998, 9'17"
Yarema Malashchuk and Roman Khimei, The Wanderer, 2022, 8'52"
Daniil Revkovskiy and Andriy Rachinskiy,Clanking, dispute, hammering and gurgling, 2020, 10'
Open Group, 1000-km View. Part 1, 2015, 23'36"
Dana Kavelina, We fought for six years, then it was covered with snow, and in the spring they erected a monument to the hero, 2020, 3'16"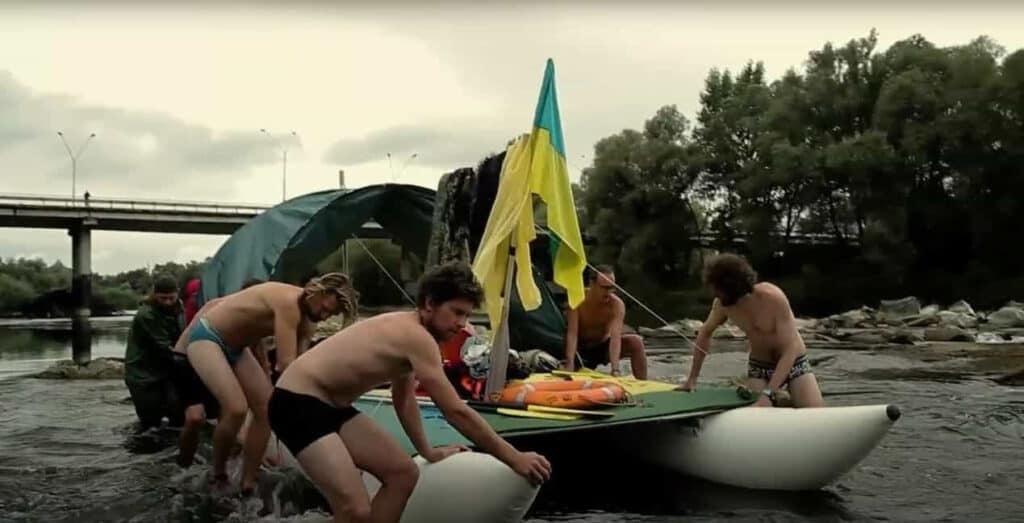 List of artists
Born 1938 in Kharkiv, Ukraine, Boris Mikhailov is one of the most important chroniclers of everyday life in a (post-) Soviet society. Mikhailov studied electrical engineering at a technical university and began work as an engineer. He taught himself photography in the late 1960s. Mikhailov's early series from the 1960s and 70s most frequently depicted personal images of the artist's friends, acquaintances, and female partners. The world he captures – scenes from everyday life, poverty, sexuality, despair, resignation, and the decline of a forgotten Eastern Europe – is consistently unvarnished and raw. Mikhailov has always focused on society's outsiders. His works have been shown around the world in countless solo and group exhibitions, at institutions including Sprengel Museum, Hanover (2013), Berlinische Galerie, Berlin (2012), Museum of Modern Art, New York (2011), Tate Modern, London (2010), Kunsthalle Wien, Vienna (2010) and in the Ukrainian Pavilion at the Biennale di Venezia (2007). Boris Mikhailov lives and works in Kharkiv and Berlin.
Oleksandr Roitburd (1961 – 2021) was a participant of the Ukrainian New Wave and co-founder of the theory of the Ukrainian Transavantgard. He worked as a painter and installation artist, among other things with video and photo projects. He belongs to the first wave of post-independence, post-Soviet, and post- traditional Ukrainian artists.
Based in Kolomyya, Ukraine, Yarema Malashchuk and Roman Khimei are working at the edge of visual art and cinema as artists, film directors and cinematographers. In their work, they are exploring the image of the crowd, as a separate character in history and culture. In 2018, they won a Special Prize and Main Prize (2020) at PinchukArtCentre Prize.
Born in 1995 in Melitopol, Dana Kavelina graduated in 2018 with a master's degree from the National Technical University of Ukraine at the Faculty of Book Graphics. She works with animation and video, as well as installation, painting and graphics. She mainly works on military violence, using a gender perspective, as well as collective trauma and memory. In 2018 the animated film About Mark Lvovich Tyulpanov, who spoke with flowers"won the Special Jury Prize at the OIFF, Odessa, Ukraine and the Grand Prix of the KROK festival, Moscow, Russia; in 2020 the film "Letter to the Dove" was included in the program "War and Cinema" of the magazine e-flux.
For an overview of all the locations of Temptation of Death, please visit: bit.ly/BorisMikhailov_Map
Categories
Tags