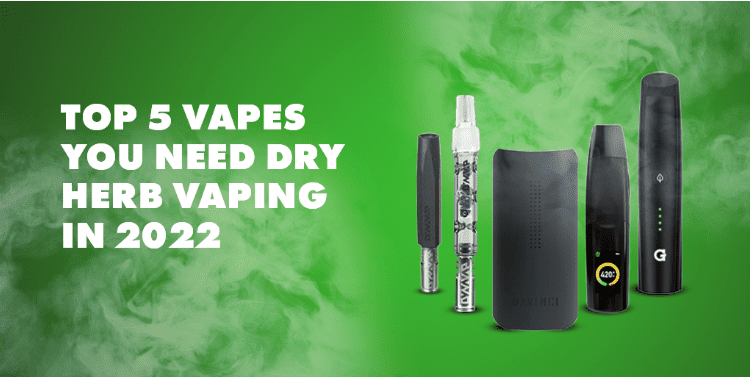 In recent years, we have seen vaping transform into a lifestyle. 2022 has brought in several new vapes purely dedicated to herb enthusiasts.
If you are a novice in the smoking community, maybe someone trying to quit traditional lights and switch to vapes or an aficionado of this sensational product? This article will be your guidebook for choosing the best dry herb vapes available in the market.
What are Vapes?
For all the novices, Vapes are e-cigarettes, meaning that instead of smoke that contains several toxic chemicals, you inhale vapours to disperse nicotine, CBD, flavourings, and other chemicals directly into the system. Since vapour is the main component of an e-cigarette, the benevolent use the term Vapes while referring to it.
Vapes run on batteries and heat nicotine, flavourings, and other chemicals. They turn them into a vapour you can breathe in. The versatility of this product is the reason for its widespread popularity.
Regarding the harmful effects, since there is no tobacco burnt in e-cigarettes, two of the most toxic elements of Tobacco Smoke, i.e. tar and Carbon Monoxide, are also eliminated, making Vapes a safer alternative for your urges.
For all the traditional smokers who have been relentlessly trying to quit smoking but failed every time, scientific studies regarding the use of vaping suggest that it can help manage the nicotine cravings and quit cigarettes for good.
The popularity of Vapes is rapidly growing in the smoking community. Various models of vapes are available in the market. Consequently, dodgy products that come in cheap are also making their way into the market in abundance. These inferior products use low-quality e-liquid, lack quality checks, and could seriously affect health.
1. DynaVap OmniVap XL
The DynaVap OminiVap XL has some impressive features! This Omni vape XL is an original pen model vaporizer. Its overall body is manufactured with an indestructible and extraordinarily light Titanium alloy except for the stainless steel DynaCap. The additional length of the XL model makes the draw shift and more relaxed when it reaches your lips.
The condenser assembly of Dynavap makes airflow completely adjustable with a simple twist of the mouthpiece, conveniently allowing you to either have thick clouds of vapours or a cool tipsy hit.
The DynapVap Omnivap XL model is a manually heated Vape, making this Vape an ideal companion for camping, treks, parties, and road trips. All you need is lighter, and you are good to go. The temperature control of this model is also quite exemplary. You can heat the Vape between 300° F to 450° F, stopping when you hear the click. This Vape is a perfect choice for vapers looking for robust and compact devices for smoking dry herbs.
2. G PEN ELITE II VAPORIZER
This device has an elegant design and user-friendly technology. The Innovative dual heating and the air-path system have redefined the standards of herbal vaporisation. You can choose from various app integrated modes as per your liking and vaping preferences.
With every dose, G- Pen elite II delivers a euphoric hit through its fully ceramic heating chamber and personalised temperature control ranging between 200° F to 430° F. The long vapour path through the water cools your hits before reaching your lips.
It also has a borosilicate glass hydro tube, a toughened Quartz tank, and a massive 2100mAh rechargeable lithium-ion battery; The G-Pen Elite II is stylishly compact and encased in a sturdy Zinc-alloy shell. These features make it perfect for beginners and experts alike.
3. DAVINCI IQ VAPORISER
The DAVINCI IQ Vaporizer is perfect for those who desire pure and clean vapour. The manufacturer explicitly highlights the "Purest Vaping Experience" as their USP. The Ceramic Zirconia used throughout the vaporizer is very high in quality and enhances the feel of vaping with this device. The 360 conduction heating used in it allows the extract or herb to cook evenly and have a smoother taste. The temperature can range from 250° F to 430° F, and it heats up to 300° F in just 30sec, ensuring that the wait is worthwhile.
Vaping with the sleek DaVinci IQ provides an exceptional feel. This Vape belongs to the higher range segment because of its durable build, incredible performance, app integration, and ceramic zirconia build.
The device comes with an additional 10-year warranty emphasising the device's build.
4. DynaVap VapCap NonaVonG – Blackwood
This Vapouriser is perfectly sized, easy to load, and built for dry herbs. The robust body is ideal for rugged use. The 14 mm taper built into the mid-section makes DynaVap VapCap NonaVonG Blackwood compatible with any water filtration device. And the Titanium tip of this sturdy Vape is perfect for inhaling water-cooled liquid.
Blackwood has an extremely easy-to-use design. It uses manual heating to disperse the vapours and is equipped with an adjustable titanium oven that holds between 0.25 and 0.40 grams of the stuff. So when you start heating the Vape and it reaches a temperature of 300-450°F, a "click" sound pops up, indicating that the Vape is ready to use.
5. PAX 3 Vaporizer
Subtle but stylish is the best way to describe the Pax 3. The PAX 3 is a revolutionary multi-use herbal vaporizer built to work with both dry flavours and concentrates. Vape Conssonniuers consider PAX 3 as one of the most reliable vaporizers in the market.
The PAX 3 has a very efficient heating speed and can reach up to 420 F in around 30 seconds. It also has three more temperature presets – 360° F, 380° F 400 ° F. Each preset disperses a unique flavour of vapours.
The PAX 3 also has excellent quality and puts out some very dense, high-quality vapour. This vaporiser comes with a 3500 mAh battery that lasts for an average of 90 minutes on a single charge. The oven can hold up to one-third of a gram, drawing out between 15-25 hits in one go.The PAX 3 is a durable sleek vape with an outer shell of Anodized Aluminium. It is an ideal choice for experts.
In conclusion, these five vapes are the most amazing product on the market. You can find these wonderful products at a very reasonable price over reliable online headshop like Olivastu. You find a complete range of vaping accessories delivered at your doorstep with an easy return policy. This online headshop also has a very fascinating eco-friendly operational policy in which they will plant one tree for every purchase you make with them. Hurrah to the Go Green Initiative!
Categories
Tags