Lee Sharrock talks to artist Nooka Shepherd for the latest instalment of 'The Upcoming', a platform for new and emerging artists who are making waves on the contemporary art scene. Nooka Shepherd's magical paintings and sculpture are featured in the group exhibition 'Once Upon a Time…', an exhibition curated by Flora Fairbairn and Katie Heller which explores the inner and outer lands of myths, folklore and fairytales.
Nooka won the Thomas Epsley painting prize in 2017 and graduated from the Slade School of Art in 2020 with a BFA in painting. Nooka's artistic practice is multi-faceted, veering between watercolour, oils, ceramics and embroidery with artful alchemy. Her ethereal work explores the interface between the physical and metaphysical, and the inner and outer psyche, with influences from fairytales, myths and legends. Nooka creates imagined worlds that forge a path between past and future, inhabited by gender-fluid figures and human-animal hybrids, infused with elements of Symbolism and Surrealism.
Lee Sharrock: You're exhibiting in 'Once Upon a Time', a group exhibition exploring folklore, myths & fairytales, until 25th May. Did you create new work for the exhibition, and how did you respond to the theme?
Nooka Shepherd: I did create a small body of watercolour paintings for the exhibition proposal, but only ended up putting one of these in, the rest are all pieces between two years and a year old. The realm of myth, folklore and fairytales is one my work has always been concerned with, so it wasn't too hard to find older work that felt fitting! In terms of the newer paintings created for the proposal, I have been very drawn to the mythic/monstrous feminine and the place of giantesses, hybrids such as sphinxes and harpies and demonesses in stories and the cultural psyche. A lot of my recent work has also to do with ancestry, particularly matrilineal ancestry. Painting these, I could then imagine the stories, secrets and private folklores passed from grandmother to granddaughter from time immemorial.
LS: The exhibition features some big names from the contemporary art world, including David Hockney, Kiki Smith and Dinos Chapman, how does it affect your career as a young artist to be featured in a group show with such well-known names?
NS: It's hugely exciting, and a bit scary! I think it's really helped me to give myself a nice little nudge, letting myself know that I'm at least pointing in the right direction, and to keep going and to keep making. In terms of career, I'm so very grateful for the opportunity. It's really positive, especially as a recent graduate, which can be a very unsettling place to be. I do feel though that it's the continuing on and making the work that's the real crux of moving forwards as a young artist, which this exhibition has certainly encouraged me to do! I suppose it's felt very affirming.
LS: Can you tell me a bit about your artistic practice, inspirations and materials you use? For example, do you work in a studio, do you paint from life or memory?
NS: Absolutely! Currently, it's somewhat eclectic. Painting was my first love and will always be my truest, within this oils and watercolours are my very favourite mediums. Both hold a translucency and luminescence that I don't find with other paints. With watercolours, I'm enchanted by their ability to be both loose and tight. The medium can be quite chaotic but that's part of its power, working alongside that with more considered, controlled marks create a very beautiful tension. With oils, I love that part of the construction of a painting is its deconstruction. I find that as a medium oil responds very well to being wiped back, scratched away at and generally played (or sometimes fought) with. I particularly love when you can see the ghosts of old paintings through the resolved work. I also dabble with embroidery, which for me has profound magical significance and ceramics. Though most of what I create is 2D, I very much enjoy the tactile and the creation of objects. There's something very beautiful about making something that can be held in the palm of the hand or worn on the body. Much of the inspiration that feeds my work are subjects such as animism, ecology, folklore, alchemical theory, deep time, faery and re-enchantment.
As to studio space, I hope to have one soon! Currently, my studio space is my bedroom floor, which is less than ideal as it's fairly limiting. To answer the last question, I paint a lot from photographs and imagination. I love compiling collections of visual images to work from, usually, photographs, and these are often of friends and family.
LS: What was the path you took to become an artist, and can you give a brief summary of your work and the meaning behind it?
NS: It has always felt like the thing that I need to be doing. I suppose like falling in love, "when you know, you know", and it is a love that has never faded and I trust never will. I remember having a 'eureka' moment when I was about 13, working with oil paint for the first time and again, like falling in love, knew immediately and certainly that I wanted this to be a major part of my life for as long as this life lasts. I am also very lucky to have had a creatively supportive home life as a child, and even though the English state school system isn't entirely sympathetic towards an artistic career, I was very fortunate to have one incredible and encouraging art teacher who I remember very fondly and gratefully! As soon as I left school I went straight into art education, starting with a foundation diploma and ending with a degree.
As I mentioned before, my work is a mixture of images and objects principally concerned with animism, ecology and folklore. Themes that seem to be ever-present are the merging of outer and inner landscapes, the interplay between the physical and metaphysical, places and beings of overlap and in-between and feminine archetypes both beautiful and monstrous. To be quite honest I think a lot of it is an attempt to make sense of a very peculiar, twisting and ever-shifting world.
LS: At the Venice Biennale there are more women artists featured in 'Il Latte dei Sogni' (The Milk of Dreams) the central Arsenale exhibition – curated by Cecilia Alemani – than male artists, for the first time in the history of the Biennale. As a woman artist from an emerging generation, do you feel that the older generation of women artists such as Tracey Emin, Kiki Smith and Marina Abramovic, have paved the way for younger women to make more of a noise in the art world?
NS: That's incredible, I didn't know that! I am myself non-binary, but being female and comfortable in presenting in a feminine way I understand that much of what affects women artists will also be relevant to me. I think it's indisputable that these artists have performed a great feat in carving a path for women and trans femmes in the sometimes frightening art world. It's very exciting for me to imagine what the next wave of artists will bring, and how this legacy will be carried forward as the world changes shape, hopefully for the better!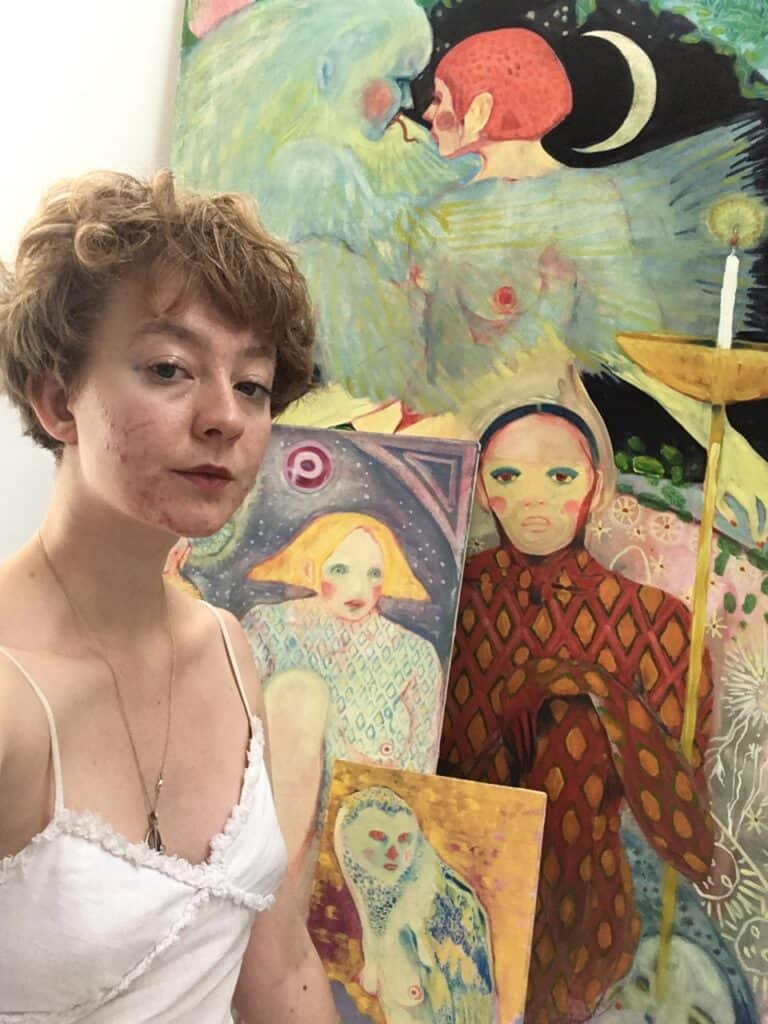 LS: Your style is very dreamy and ethereal, and reminds me of Viennese Successionist artists such as Gustav Klimt. Is he an influence on your work, and who would you cite as your main influences?
NS: Oh thank you, what a compliment! He is indeed. The Successionists and Symbolists occupy a large area of my imagination. I've always had a very active and populated inner world, I think most of the figures I paint and sculpt are occupants of that place. That interior landscape has been very much formed by artists such as Hieronymus Bosch, Leonora Carrington, Patrick Woodroffe, Brian Froud, Solange Knopf, William Blake and Tove Jansson as well as the authors Mervyn Peake, Thomas Hardy, Ursula Guinn, Angela Carter and Robert MacFarlane.
LS: You won the Thomas Epsley Painting Prize in 2017 while you were at the Slade School of Art. Did the prize give you more exposure as an artist?
NS: Quite honestly at the time, no. I was a far more interior creature than I am now and didn't quite know yet how to rise to opportunities, I think I was a little scared too. What it did do however was to affirm that I was at least doing something right, and to keep on going and chasing in that direction.
'Once Upon a Time…' is at 23-25 Chiltern Street, London W1U 7PU, until 25th May: florafairbairn.com
Categories
Tags