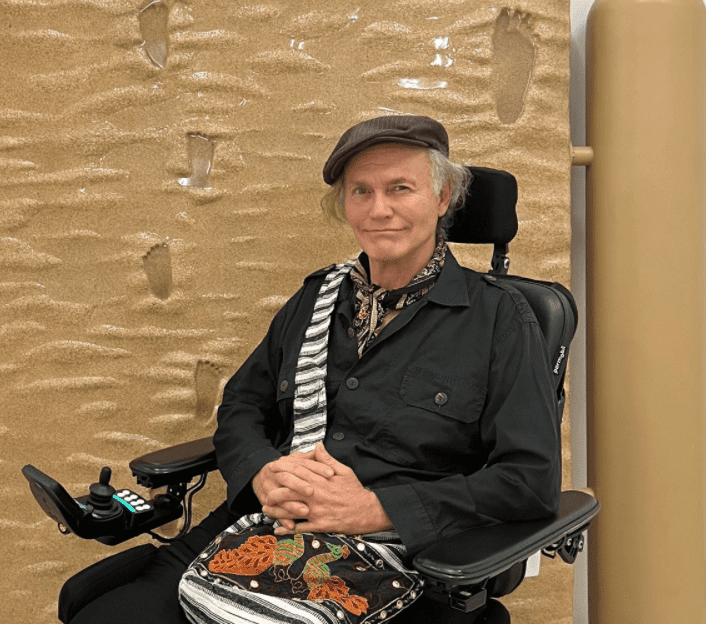 Gagosian has announced the gallery's representation of Ashley Bickerton. The artist's first solo exhibition is scheduled for 2023 at Gagosian New York.
Originally identified with the Neo-Geo tendency of the late-1980s scene in New York, Bickerton made his name with ironic, abstracted constructions focused on ideas of consumerism, identity, and value. Establishing his own personal (and pointedly "feminine") brand, Susie, he produced a succession of slickly manufactured "self-portraits" that juxtapose his imaginary company's logo with familiar real-world examples, including those of Bayer, Marlboro, and Renault. The works' corporate-industrial aesthetic is further enhanced by their steel, leather, and rubber sculptural façades. Bickerton also produced "still lives" incorporating digital screens that display the work's fluctuating market value—a satire of art as the object of commercial speculation.
When Bickerton relocated permanently to the Indonesian island of Bali in 1993, his work took a self-consciously "exotic" turn. Its tongue-in-cheek feel and ornate, crafted look contrast sharply with the conceptual detachment of his previous output, though a slippage between mediums, genres, and subjects remained. Employing polished figuration to parody Western fantasies of a hypersexualized expat life, Bickerton depicts himself, his family, and his friends in lurid colors, introducing the grotesque "blue man" character as an archetypal European male in an "othered" tropical setting.
"I consider him an escapee from the grand canons of the nineteenth and twentieth centuries, but now lost and adrift in an alien twenty-first century, awash in a whole other set of sociocultural and psychological metrics—ones that he is clearly unable to grasp."

Ashley Bickerton
Over the past few years, Bickerton has brought his practice full circle, synthesizing its heterogeneous modes and gestures into an all-encompassing visual language. In the Ocean Chunk series, originally conceived of in New York shortly before his move to Bali, he uses resin and fiberglass to create the impression of shimmering water, while in the mixed-media Flotsam paintings, he employs the framing devices of his earlier work to recontextualize objects—such as ocean-borne waste and assorted marine gear—in a way that contradicts their natural milieux. The industrial trappings of his 1980s and '90s output also find their way into the Vector series, in which various forms of hardware appear alongside logos that recall his early works' self-consciously detached focus on commerce. However, far from trumpeting a reductive opposition between nature and technology, the series navigates our exploitation of natural resources while implying that the planet will outlast humanity's disruptive impact.
Ashley Bickerton was born in 1959 in Barbados, West Indies, and lives and works in Uluwatu, Bali, Indonesia. He received his BFA from the California Institute of the Arts, Santa Clarita, in 1982 and graduated from the Independent Study Program of the Whitney Museum of American Art, New York, in 1985. His work is represented in numerous international public collections including those of the Museum of Modern Art, New York; Whitney Museum of American Art, New York; Museum of Contemporary Art Chicago; Walker Art Center, Minneapolis; Museum of Contemporary Art, Los Angeles; Vancouver Art Gallery, Canada; Tate Britain, London; Stedelijk Museum Amsterdam; and Hara Museum of Contemporary Art, Tokyo. Recent solo exhibitions include …just this, Singapore Tyler Print Institute (2006); Ornamental Hysteria, Newport Street Gallery, London (2017); and FLAG Art Foundation, New York (2017). Major group exhibitions include The Living Years: Art after 1989, Walker Art Center, Minneapolis (2012–13); In the Dust of this Planet, San Antonio Museum of Art, TX (2016); Brand New: Art and Commodity in the 1980s, Hirshhorn Museum and Sculpture Garden, Washington, DC (2018); and The Greek Gift, DESTE Foundation Project Space, Slaughterhouse, Hydra, Greece (2021).
Categories
Tags