Gagosian is opening three exhibitions in New York in early May first up opening on May 5th is an exhibition of new and recent photographs by Andreas Gursky, his first at the gallery in New York since 2016. Second opening on May 10th is Richard Prince with Hoods the first exhibition dedicated to this body of work. Hoods will feature more than thirty works made over the span of twenty-five years, from 1988 through 2013, and all personally selected by Prince for this exhibition. Finally opening on May 11th will be Takashi Murakami with An Arrow through History.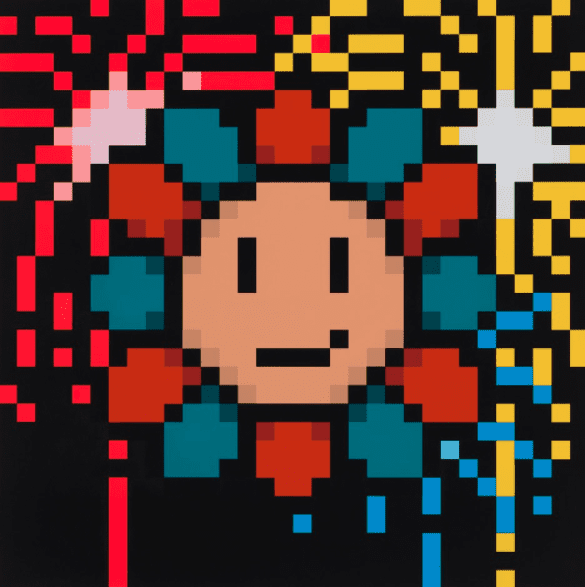 In three simultaneous presentations spanning two of Gagosian's New York galleries, at 976 and 980 Madison Avenue, Murakami bridges the physical and digital realms. An Arrow through History incorporates Gagosian's first use of virtual reality, featuring a digital rendering of the 976 and 980 Madison Avenue galleries. The immersive viewing experience, created by RTFKT and Oncyber, is accessible online via gagosian.com or through a VR headset and allows access to the entire exhibition from anywhere in the world. In addition, visitors on-site can activate numerous custom Snapchat filters to view augmented-reality animations in each gallery and on the building's exterior. This will be Murakami's first exhibition at Gagosian in New York since 2014 and represents his return to 980 Madison Avenue, where he had his inaugural exhibition with the gallery in 2007.
Murakami's presentation at 976 Madison Avenue consists of works based on the Clone X NFT initiative (2021), which he developed in collaboration with RTFKT Studios. Clone X is a series of NFT avatars conceived as three-dimensional figures bearing the artist's distinctive motifs. The works at Gagosian translate the digitally modelled NFTs into meticulously detailed, hand-painted portraits and full-scale figurative sculptures—physical manifestations of art created for the metaverse.
As Murakami explains:
"When I work on a creative production, I make no distinction between digital and analog. I'm always working in the context of contemporary art, and that context is all about whether I can be involved in events that manage to trigger a cognitive revolution."
The fifth floor of 980 Madison Avenue is devoted to paintings related to the Murakami.Flowers NFT project (2021–22), including pink-and-white works based on his initial designs for the series, along with others that translate selections from their final, multihued iterations into paintings. The artist's newest interpretation of his iconic flower motif, Murakami/Flowers combines his influential Superflat aesthetic with a style that evokes nostalgia for the pixelated graphics of 1980s video games, especially those played on the Nintendo Famicon console. This body of work was conceived in multiple permutations with a base of 108 flowers, corresponding with the number associated with the Buddhist principle of bonn?, or earthly temptations.
The sixth floor of 980 Madison Avenue is dedicated to new paintings inspired by the fish motif depicted on a Qinghua blue-and-white porcelain vase—a masterpiece from China's Yuan dynasty (c. 1279–1368)—from the Museum of Oriental Ceramics in Osaka, Japan, and by Murakami's childhood memories of riverside journeys with his father, during which he observed anglers fishing for carp. To make these works on circular canvases, he translated the single brushstrokes used to decorate ceramics into subtly coloured, multilayered paintings of the fish, an auspicious symbol of abundance that also establishes a link to the past.
Gagosian will also accept cryptocurrency. Through a partnership with Coinbase, payments will be accepted in Bitcoin (BTC), Ether (ETH), and USD Coin (USDC).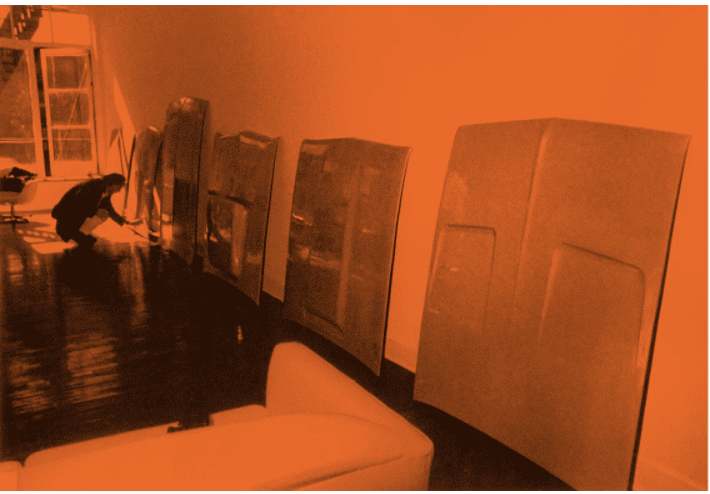 Richard Prince: Hoods, will showcase loans from major institutions and private collections, including the Brant Foundation, New York and Greenwich, Connecticut; the Broad, Los Angeles; Colección Jumex, Mexico City; Glenstone, Potomac, Maryland; Museum of Contemporary Art, Los Angeles; Pinault Collection, Paris; and Solomon R. Guggenheim Museum, New York; as well as from the collection of the artist.
To make Hoods, Prince acquired hoods from 1960s and '70s muscle cars, at first ordering them primarily from advertisements in automotive magazines—a continuation of the strategic appropriation, collecting, and détournement of mass-media sources that are central to his practice. Initially, Prince hired body shops to prep and paint the hoods; later, he began applying the automotive body filler Bondo, sanding, and painting them himself by hand. Surfaces and palettes vary considerably across the series, with the matte tones of Bondo and saturated hues of paint used as compositional elements. The resulting Hoods relate to two postwar American trends: DIY car culture and avant-garde art in their exploration of abstraction and the readymade. The works' wall mounting emphasizes the distinctive bulges, scoops, and other design features that made the era's cars iconic. Also on display are works from the related series Pedestal Hoods (2004–07), which returns the hoods to a horizontal plane as wholly sculptural forms. Both series were exhibited in Richard Prince: Spiritual America, a major survey organized in 2007 by the Solomon R. Guggenheim Museum. Following that retrospective, Prince returned to the series, incorporating new approaches and materials in a workshop he calls the Body Shop on his studio complex in Rensselaerville, New York.
Andreas Gursky's large-scale photographs evoke the global flow of information, the chaos of contemporary life competing with the classical desire for order. He portrays the visual extremes of the present moment with an objective eye, capturing built and natural environments on a grand scale in richly detailed images of autobahns and cruise ships, mountains and waterfalls. While comparable in their scope to early nineteenth-century landscape paintings, Gursky's works retain the precision of photography. Many have been digitally manipulated, and often reveal a sensitivity to the damaging effects of human systems on the natural world.
Several of the images in the exhibition hinge on references to Gursky's previous works. Rhein III (2018), which represents the titular river as an abstracted strip, recalls the artist's earlier Rhein II (1999); while the setting and proportions of the two images are almost identical, the subject is shown, in the former, to have suffered from that summer's drought. Gursky's concern with ecology is also evident in Streif (2021), which depicts a downhill ski slope in Kitzbühel, Austria, in January 2020. While the site is recognizable, and features the colored boundary markings common to such tracks, the panoramic shot is in part a digital construction. This visual artifice echoes the unnatural character of the slope itself, which is maintained by using environmentally damaging snow cannons.
The monumental Eisläufer (2021), which was taken during a cold snap in the winter of 2020, depicts frozen flood waters in Düsseldorf, Germany, recording their temporary transformation into a spot where locals gathered to walk, skate, and play hockey. In its timeless subject and composition, again engineered in part through extensive digital manipulation, the work evokes the paintings of Pieter Brueghel the Elder and harks back to the visual language of Dutch landscape painting. The fact that the skaters are wearing masks and practising social distancing, however, also roots it firmly in the era of COVID-19.
In Salinas (2021), Gursky presents an image of the setting sun at Las Salinas salt flats in Ibiza, Spain, where seawater is channelled into fields before evaporating to produce salt. This process was brought to the island by the Phoenicians and has produced a landscape that is at once ancient and artificial. To the radiant sky above the site, the striking colouration of which evokes Éric Rohmer's film Le Rayon vert (The Green Ray, 1986), Gursky has added the linear cloud formation generated by a passing airliner—a subtle reminder of recent international conflicts.
ANDREAS GURSKY May 5th–June 18th, 2022 Gagosian 541 West 24th Street, New York Opening reception: Thursday, May 5, 6–8pm
RICHARD PRINCE Hoods May 10th–June 25th, 2022 Gagosian West 21st Street, New York Opening reception: Tuesday, May 10th, 6–8pm
TAKASHI MURAKAMI An Arrow through History May 11th–June 25th, 2022 Gagosian 980 Madison Avenue, New York
Opening reception: Wednesday, May 11th, 4–8pm
Categories
Tags