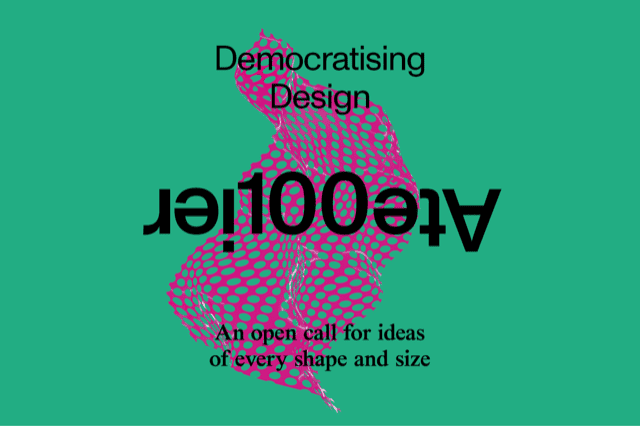 Backed by H&M & Ingka Group (the largest IKEA franchisee), Atelier100 is a brand new funding, mentorship and networking platform. Creatives, makers and manufacturers living in a 100km radius of London are invited to apply for their place on the Atelier100 programme between the 7th and 24th of April, with successful applicants receiving expert mentorship and up to £10,000 in funding to help them bring their ideas to life.
Atelier100 – An open call for ideas of every shape and size
Atelier100 is a joint venture between H&M & Ingka Group (the largest IKEA franchisee), aimed at finding and nurturing up-and-coming creatives in a location based and local environment. The platform launches this week with an 'open call' for ideas of every shape and size from creatives, makers and manufacturers located within 100km of central London that would like to be involved.
Inspiring a new sustainable retail reality to tackle climate change
At its heart, Atelier100 is about opening up new possibilities for creatives, exploring how we can develop exciting products and services for the future. It represents a new sustainable and hyper-local approach to retail, with all products made using locally sourced materials, by manufacturers based within 100km of Trafalgar Square.
The desire is for creatives to inspire each other, grow their businesses through mentorship from industry leaders and create innovative, sustainable products which will then go on sale at the new Atelier100 store, opening in Livat Hammersmith this May. While the programme is launching in and around London, the aim is to establish a number of Atelier100 communities across the world in the coming years.
Funding and industry-leading mentorship
Successful applicants will receive funding of up to £10,000 to help them bring their creative concepts to life. They'll also receive encouragement and advice along the way from key industry players including Marcus Engman, Chief Creative Officer at Ingka Group | IKEA, and Camilla Henriksson, Global Brand Innovation Manager at H&M, both of whom will also sit on the judging panel.
Who can apply?
Atelier100 is open to anyone with an original concept or making facility within a 100km radius of central London. All types of creatives are welcome to apply, whether they specialise in clothing or candles, ceramics or photographic prints, limited edition vinyl records or jewellery, accessories or textiles.

Why the 100km radius rule?
By keeping the scale of the Atelier100 platform compact, the creative community can comfortably work together during the prototype phase, retain those relationships and go on to build successful and sustainable businesses together in the future.
Applications close at midnight on the 24th of April. Those who are interested in learning more about Atelier100 and the application process should visit atelier100.com.
Categories
Tags