In the latest edition of Lee Sharrock's column featuring emerging artists, Lee talks to Emily Kirby.
The evocative, magical style and palette of Emily Kirby's figurative paintings reminds me of Michael Armitage, who had a solo exhibition at the Royal Academy of Arts last year. She uses a soft pastel ok palette that evokes hazy summer days and travel to faraway places, depicting wildlife and people in settings that are familiar yet hard to pinpoint geographically.  Intriguing narratives unfold on the canvas, evoking the freedom of wanderlust with a gift for storytelling with paint.  
Emily was born in Zambia into a family of artists, and has lived and travelled in Spain, New Zealand and the UK. She currently lives in Hove but regularly returns to Africa to travel, paint and exhibit. Sky Landscape and Portrait Artist of the Year host and Soho House curator, Kate Bryan, named Emily Kirby 'one to watch', and Stylist Magazine named her as 1 of 7 'trailblazing women making waves in the art world'. She has exhibited in London, Lusaka, Dubai, New York, Prague and Valladolid and is currently exhibiting at Paxton + Glew in Brighton.
Emily explains to Lee how her childhood in Zambia and peripatetic lifestyle has influenced her painting and palette, and talks about influences including Marlene Dumas, Peter Doig and David Hockney. Emily also underlines how, as a queer woman, she feels it's important to use her art as a vehicle to represent and make images of women that are celebratory of our place in the world.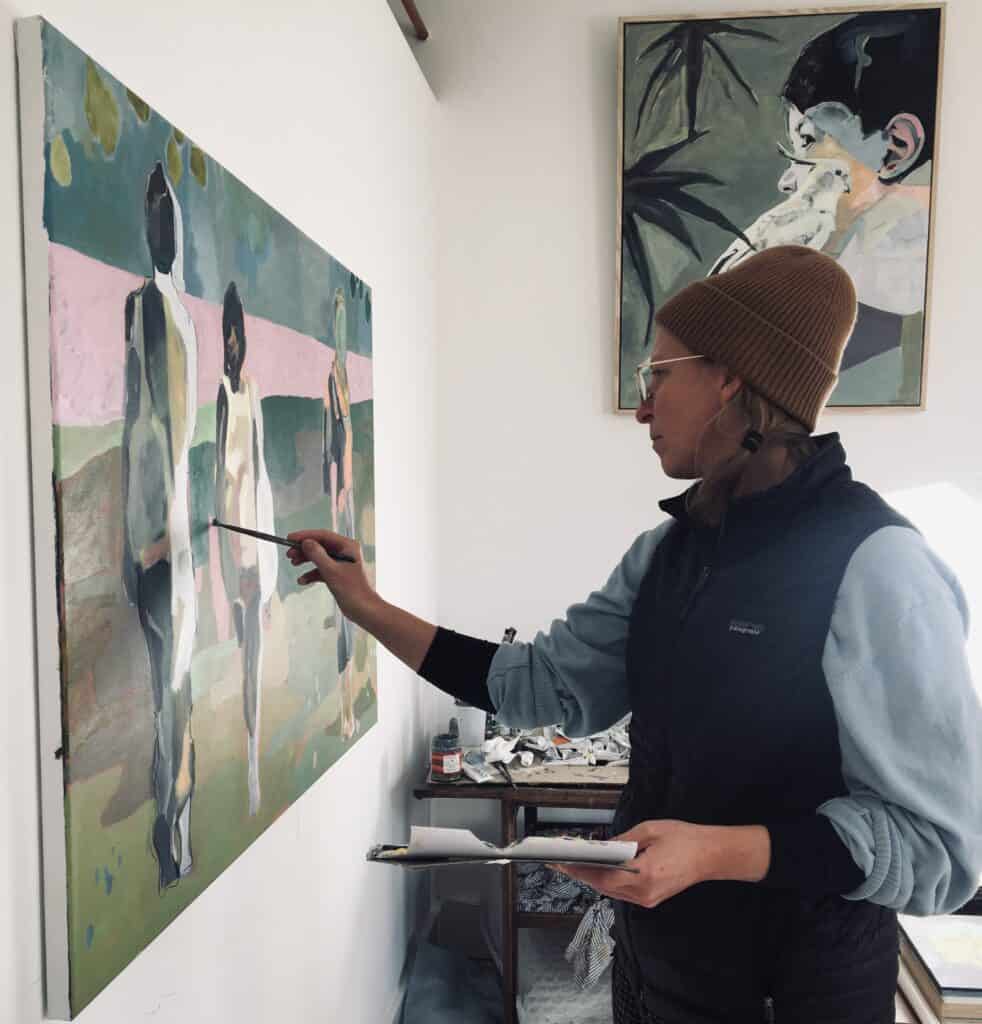 Lee Sharrock: Can you tell me a bit about your artistic practice, inspirations and materials you use? For example, do you work in a studio, do you paint from life or memory?
Emily Kirby: For me, my paintings are primarily an exploration into colour and form. Using figures in landscapes to revisit moments and memories, I like to reimagine a sense of place that has stayed with me. As a queer woman, I am aware that my paintings are infused with a need to represent and make images of women that are celebratory of our place in the world. The natural world has also be a big inspiration, so I also paint a lot of wildlife.
I always preferred to rent a studio and enjoy the community of other artists in a building, however I'm currently working from a studio at home and I seem to be far more productive. After working in oils for years, I transitioned back to acrylics, for a number of reasons partly to keep my practice fresh. I respond well to changing things up so, it's been a good transition I think. I work from a mixture of photographs and found images. My wife also stands in when I need a figure to help me complete a composition. She's a great muse and often appears in my work.
LS: What was the path you took to become an artist, and can you give a brief summary of your work and the meaning behind it?
EK: I was painting from a young age, my dad and grandmother were both painters on his side, and then my uncle on my mum's side was also a painter. They were all a big influence and inspired me take art seriously.
I studied up to Art Foundation level at Brighton and then wanted to get out and travel. After two years in Asia and New Zealand, I met my now wife Laura and we decided to head to Europe and Africa for another few years.
We got back and moved to London, when I decided to have a go at painting full time. Laura was so supportive and gave me the time to focus on building things up. I was also going back to Zambia regularly and painting and exhibiting there. I had a lot of support and was lucky to meet people that really believed in me and my work, including the 37d Gallery in Lusaka, who gave me some huge opportunities so show with some amazing artists fairly early on. I also have a stepmother who is a painter in Czech Republic who has been instrumental in showing how to make a life from painting full time. We've shown together in Prague, Dubai and Lusaka. For years I was heavily influenced by Zambia and painted a lot of large portraits and wildlife works. I think this really gave me time to work on my use of colour and hone by painting technique. In time though, I wanted to start to incorporate more narrative into my work and thought about reflecting more on my own life experience and things that make a painting more engaging to me.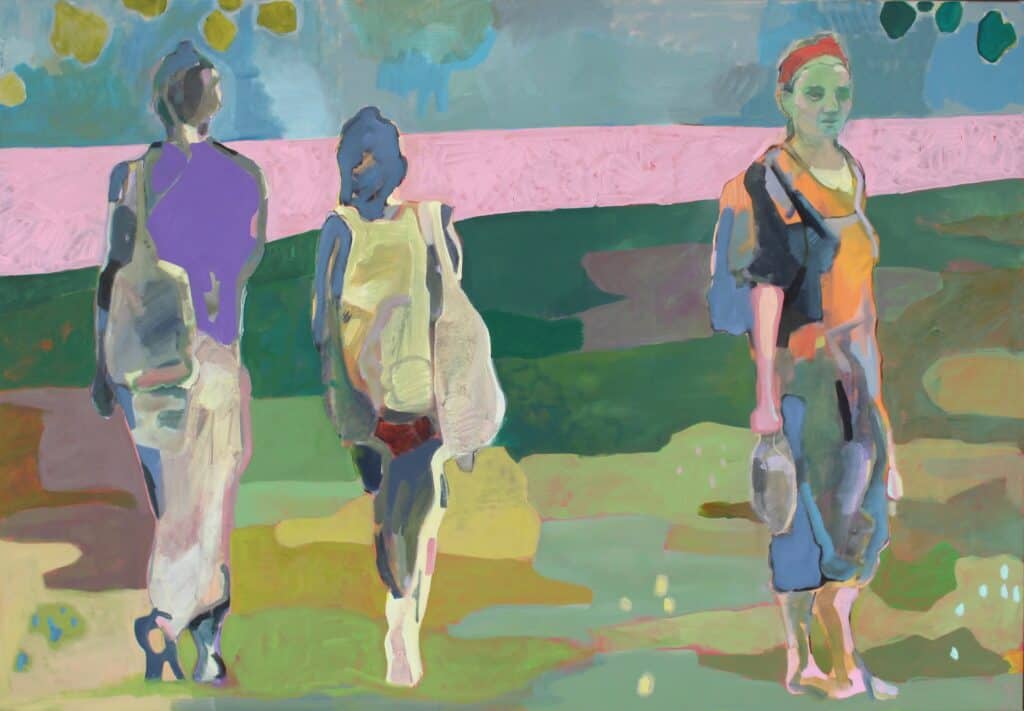 LS: You've had quite a peripatetic life, born in Zambia and living there and in Spain, New Zealand and the UK. How have your travels and experiences effected your art?
EK: I think as artists we are often drawing on our own experiences to really give life to what we paint. I am drawn to certain subjects and often through playing in my sketchbook I can explore my subconscious, scenes start to present themselves. I know my early years in Zambia have almost certainly influenced my colour palette. In Spain and New Zealand I was in my twenties and thirties, were I had some really rich experiences. I think reflecting on these times in my work has helped me to make some interesting paintings, I hope anyway.
LS: The paintings in your Paxton + Glew solo exhibition are intriguing as there is a sense of narrative and storytelling which makes you want to know more about the subjects of each painting. Are the scenes and people you depict memories of real-life experiences?
EK: A lot of the work in this show has been reflecting on my time in Spain. I spent a lot of time with really special people, in beautiful places. I have enjoyed reworking these memories through my paintings but without needing to be accurate, I'd say they are more suggestive. I think this had helped to the works to be new and stand up in their own right.
LS: Your style reminds me of Gauguin because of the exotic palette you use and the tropical scenery, and also of a more contemporary painter – Michael Armitage – who recently had an exhibition at the Royal Academy. Are either of these artists an influence, and what artists have been an influence your work?
EK: I have so many influences in my work, to name a few I'd say Marlene Dumas, Peter Doig and David Hockney. I have definitely been influenced by Gauguin, although I'm not a huge fan of him as a person, I have always loved his colour palette.
I went to see Michael Armitage's 'Paradise Edit' at the Royal Academy too. His work is incredibly powerful and I find his figures in landscapes so clever. It speaks well to the pitfalls of glossing over real life and projecting our own fantasies on places. I took a lot away from this show and am still processing it I think.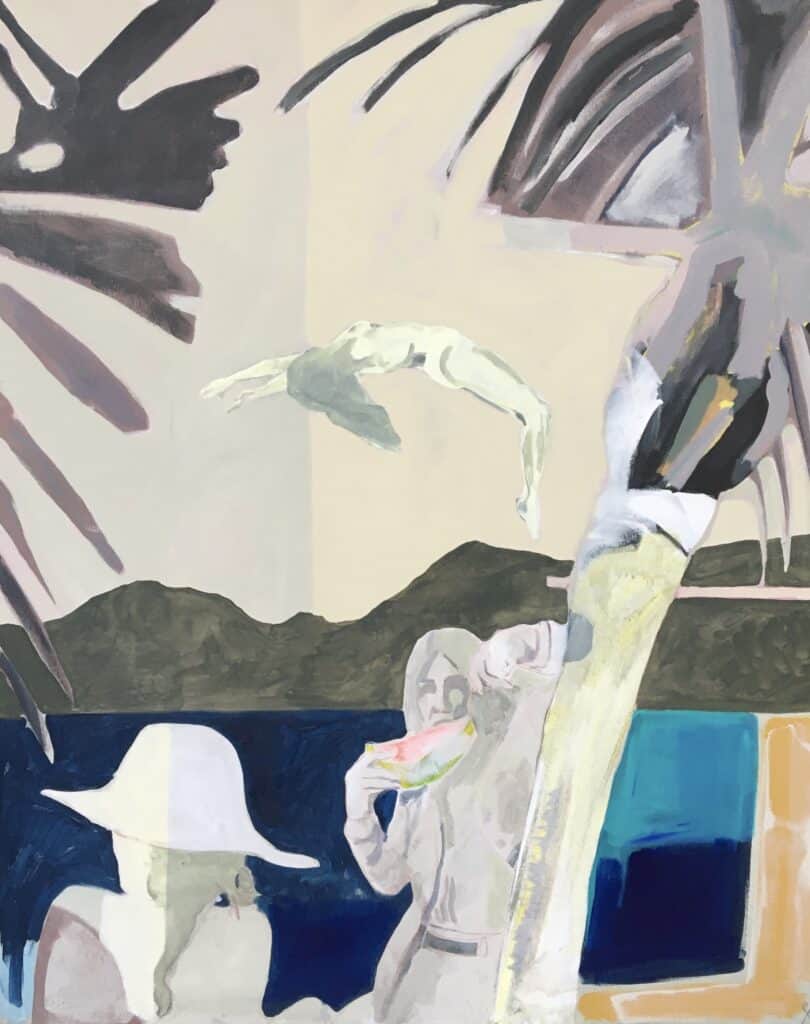 LS: You were named by Saatchi Art as 'One to Watch' in December 2019, and Stylist Magazine selected you as 1 of 7 'trailblazing women making waves in the art world'. How important are accolades like this in boosting your profile and moving your career forward?
EK: It is always nice to be noticed, especially as an emerging artist. It's feels like someone is patting you on the back and saying 'You're doing good', I really appreciate it. I'm sure it really helped to give others confidence in my work. I definitely gained a lot of new collectors from these write-ups.

LS: I first came across many of the artists that I've interviewed for 'The Upcoming' at The Other Art Fair. Have you found TOAF has boosted your career, and do you think the format of artist-led exhibitions where people can meet the artists directly, is better for you than a more traditional, gallery-led art fair format (like Frieze)?
EK: I have to say I like both formats for different reasons. I love The Other Art Fair, they are incredibly good at what they do, creating a unique experience for both artists and collectors. I think it's a great opportunity to build on your relationship with current collectors and be introduced to many new ones. I have also gained gallery representation from doing this fair, which has to be one of the best opportunities this format offers.
I also like being shown through galleries at the fairs of course. It's a very different experience for collectors and as an artist it's really helpful to have the gallery present your work and talk about it in a way that can be very informing for collectors.

LS: You said in the Stylist feature " It's refreshing to be part of a community that values you for your work and not your sex. This should be the norm but unfortunately I know of too many extremely talented and creative women that are asked to step aside for their male counterparts. It's a shame there is still such a long way to go but I'm optimistic things are changing." Have you encountered mysogony as a female artist or felt underrepresented, or do you feel like the tide is turning now that there are so many emerging female talents, and more women (like Tracey Emin and Louise Bourgois) are having museum shows?
EK: I do think things have changed for the better since I said that. The landscape for female artists is much more level. We are seeing far more equal representation today.
In the past, I have been in situations where men have enjoyed a certain automatic confidence placed in them and the opportunities that come with that. There are some deep-rooted patterns that will obviously take time to change. But I would say I haven't experienced mysogony directed at me, within the art scene, for a number of years now.

Emily Kirby is exhibition at Paxton + Glew gallery in Brighton until 1st May:
Categories
Tags