Having just received his first solo-show in London with Public Gallery, New York based painter Taylor Simmons is a name to know right now. His stunning, hazy and cinematic paintings are at once bold and eye-catching yet vulnerable and subtle. He depicts individuals glanced in forgotten moments, happened upon in chance encounters or even cherished as close friends, allowing both the quotidian and the deeply personal to enter the frame.
Working predominantly in a figurative style, fragmented stories appear as bodies melt into the hazy background scene or emerge from beneath one another. Ambiguous narratives seem to weave in and out of each canvas, looping together then becoming interrupted. For Simmons, there is not one story to be told but instead a series of moments open to the viewer's interpretation.
The combination of bright neon, tightly framed bodies and vibrantly rendered skin tones create an overall atmosphere of intensity, excess and anxiety but ultimately the feeling one is left with is that of intrigue. Off the back of his exhibition with Public Gallery, Everything All At Once I caught up with Taylor Simmons to learn more about his practice. 
First of all, tell us about the exhibition Everything All At Once at Public Gallery. What kind of work was on show? 
Everything All At Once is very much a reflection of my overall practice and personal outlook. Much of my work is figurative and partially cinematic. I work very intuitively and many of my paintings deal with perception and circumstance. Ultimately, I am often questioning the power and meaning a figure may hold and how things may be viewed or read differently by each viewer. 
A lot of what I am doing sparked from the making of the painting 'Unkillable', a portrait of a gang member that was initially read as a monk by a friend of mine. I figured that by painting in a way that was somewhat surreal and ambiguous, I would give the viewer room to fill in the blanks. In this way, the figures themselves have a sense of autonomy, beyond a strict narrative that I impose. 
Your choice of colour is very striking and compelling, neons flood the paintings along with a heavy use of red. Is your approach to colour symbolic? Are you instinctively drawn to certain shades? 
The colours of the skin tones tend to reflect the emotions an image or song made me feel at the time when I was creating the piece. My paintings are largely organic and unplanned therefore every colour choice or brushstroke happens in the moment and is reflective of that moment.
The neons are usually intended to create anxiety or, conversely a sense of calm. The brightness feels quite alarming and even anxiety-inducing, yet there is something calming about the idea of the humming of a neon sign resembling meditative chanting.
In regards to red, it's my favourite colour and always has been. It's so full of emotion and I think it is the most provocative colour – overall, for me, a successful painting is one that makes the viewer feel something no matter what that is. 
There is something hazy and faded that comes through in your brush work, as if painted from a distant memory or a fleeting moment. Does this resonate with you? Where do you draw imagery from?
I'm glad that this feeling is conveyed through my work. A lot of the colours and the brushwork are deliberately loose and hazy. I like the idea of an image being impressed with a sense of vagueness, so that it feels intimate and personal like a memory. I try to depict the figures with a level of tenderness that the viewer can share in. 
Many of the characters appear on the cusp of something, a sense of anxiety or proximity as well as both fear and strength. What kind of emotions are you interested in exploring and conveying through your work? 
Fear and strength tend to be tied to the types of figures I paint, but I hope to explore the "why" of it all. I am interested in the many lives or meanings these figures can have depending on the viewer. I like exploring the emotions of the viewer and giving them space to question their own perception of these figures and the paintings. 
Is there a narrative to your work, a story decipherable to your viewer? Or instead, is it something very open and imaginary, offering any possible tale to be weaved together? 
I pull the figures from references and like the idea of giving them the space and possibility to move forward and be handled by those viewing the work. The narrative ambiguity can create a vastness of possibility. 
You work in strikingly opposing scales, some paintings being very small and others rather monumental. Where does this come from? Is it connected to the kind of tone you want to covey? 
I like working small. I think small works are intimate, inviting and, if done right, can hold a strong presence. It's almost like having a keepsake reminiscent of the way people keep photos in their wallet. The scale is determined by the feeling of the moment. Sometimes it's a question "what can I do in this size?" or how a figure or a pose I'm interested in will relate to the space I make for them.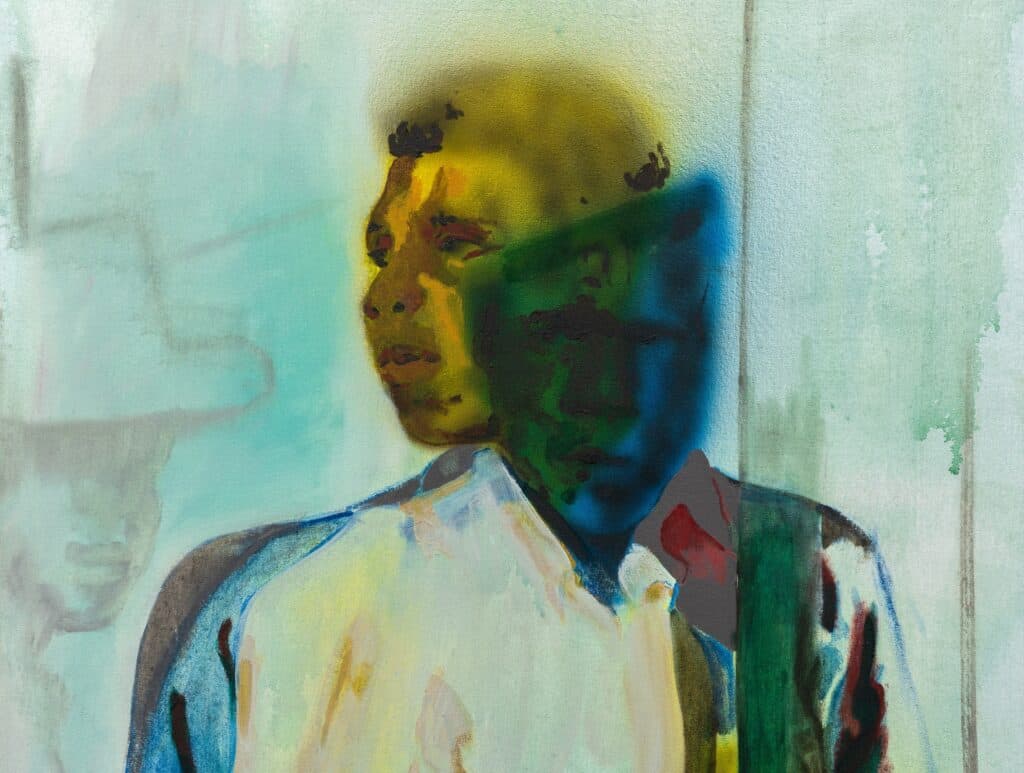 The small paintings feel very intimate, even voyeuristic – akin to peering through a small window. In particular the panting Ro in Red chimes with this kind of reading. Can you tell me more about this painting? Is Ro someone known to you or imaginary? 
Ro is a good friend of mine who I've known for years, and the photo was of her prepping for a Dancehall night with some of her friends and family. A lot of the figures in my work are taken from a period where my phone was my only source of connection to people. 
I've always liked this image because it was a celebration of culture and familial ties in a way that stands in stark contrast to the conservative southern views of family within which I was raised. I wanted to make this portrait of Ro dressed and ready for a night out, but I wanted to handle it in a very tender and kind of intimate way befitting of the moment. 
You grew up in Atlanta, a city known for its musical heritage, do you think creativity in the form of music resonates with you. Perhaps this process of cutting up, reassembling and joining together fragments is mirrored in musical production? Are there any musicians whose work impacts the way you paint and create? 
I equate making a painting to a musical performance. Every painting is a record of my movement and feelings at that moment. For me, it's less important for things to be perfect and refined than it is for the viewer to feel my hand and my humanness in the work. It is very much how a musician performing a song live may not hit a note perfectly or stutter, and these moments bring them down to earth and invite a deeper emotional connection with the viewer. There is something more honest about imperfection. 
I love Coltrane. A Love Supreme is one of my favourite albums of all time. The way he handles the sax is how I hope to paint – using expression and improvisation as a means of origination, then using skill to refine the feelings and thoughts you discover while doing so. 
This is your first show in the UK right, how do you think your work will be received here? Do you think it might differ to your home audience back in New York? 
To be honest, lord knows. Some of my work holds very deep cuts for my Atlanta friends, and some has references to the BK neighbourhood I live in now…but I try to paint figures that can be understood within a greater cultural consciousness. 
About Taylor Simmons
Taylor Simmons (b. 1990, Atlanta, GA, USA) lives and works in New York. His practice incorporates painting, printmaking and drawing to make predominantly figurative works. He studied printmaking at the Savannah College of Art and Design in Georgia, USA. His work has featured in group exhibitions including Friend Zone curated by Vaughn Spann at Half Gallery, New York, USA (2021) and Frieze New York (2021) with Half Gallery.
Find out more about his recent exhibition Everything All At Once: publicgallery.co
Follow @public__gallery | @taytheism
Categories
Tags