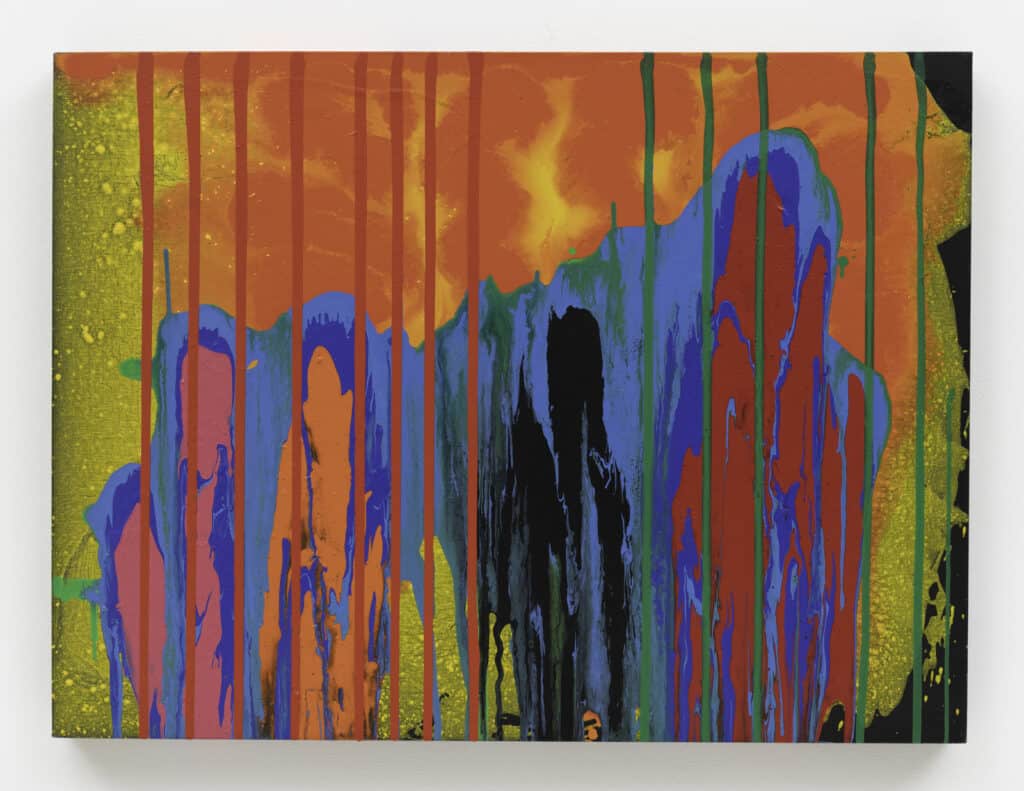 Painting is between the noise of the bells and running water, between bird and leaf, between the wind and the earth.

John Hoyland
Flames Like Rainbows a solo exhibition of works by John Hoyland. This debut show with Hales focuses on paintings from the mid-1990s to the early 2000s — a key period in Hoyland's oeuvre, marking a departure from pure abstraction, allowing the outside world to enter his art.
Hoyland was one of the most inventive and dynamic abstract painters of the post-war period. Over the span of more than a half-century his art and attitudes constantly evolved. A distinctive artistic personality emerged, concerned with colour, painterly drama, with both excess and control, with grandeur and above all, with the communication of feeling. For Hoyland's entire career he remained dedicated to painting — when discussing his work ethic, he noted 'I don't know if it's a Northern thing, from being born into poverty. But it's a driven thing.' He always pushed forwards, from the early works of the 60s and 70s — blocks of colour masterfully and geometrically arranged to later works that are defined as free flowing, intuitive and spontaneous. 
Hoyland was born to a working-class family in the 1930s, and at the age of five his father left home for the RAF in 1939. He came of age in the grey, industrial North of the 1950s, growing up in a soot-blackened terrace house in a much bombed, wartime Sheffield. An unforgiving, claustrophobic environment at that time, Hoyland recounted that he didn't recognise a season until he was 25. He remarked that it was 'all soot and pea soup fogs. I used to look longingly at the charabancs passing through Sheffield and I wanted to be going somewhere myself.' He wouldn't travel until his twenties — his first foray abroad was hitchhiking to Marseilles, France, where he could stay in return for helping out in the market at night. During his lifetime, Hoyland witnessed the birth of commercial air travel. The 1960s brought the golden age of flying, but it wasn't until the 1970s that air travel opened up to the masses. Travel would become a significant part of Hoyland's life, firing up his imagination and inspiring much of his work. The Caribbean became a favourite destination, first visiting in 1969 with his friend Anthony Caro. He then made many return trips to Jamaica with Beverley Heath-Hoyland, whom he met in the 1980s. 
Flames Like Rainbows exhibits paintings greatly influenced by his travels — the paintings were made after a pivotal stay in Bali at the end of 1994. Struck by the visual splendour of Bali, Hoyland's practice dramatically shifts — introducing direct references to the world. Previously, compositions had been made up of a central calligraphic shape, which is replaced by unmistakable forms, such as trees, flags and cascades of water. In 1997 he returned to Bali, 'recognising things already encountered in his imagination; Bali confirmed realities – of colour, pattern and movement – already known and illuminated by an interior light.' For the first time in decades he made figurative drawings. Drawings of 'doorways, of the wild sprawling wiring on the roof of a house, of a string of neon lights in a restaurant, or the bamboo wind chimes which hangs from trees.' The radiance and sheer beauty he experienced there made its way into the paintings. 'I came back with so many ideas, so many archetypal structures that I could try to hang my thoughts and feelings on.'  Alongside drawings and written thoughts in sketchbooks, he took rough Polaroids. These initial studies, combined with memory and his intuitive use of materials, created sensuous, magical works. 
The exhibition is full of life and experience, the paintings themselves becoming an event. In Wine Moon (1995) poured panels of paint suggest doors or curtains. A moon peeks out, glowing, suggesting a new kind of spatiality. Wine Moon and Spring (1997) display a reoccurring motif — a flag or pennant, which were found hanging all over Bali. Two 2001 works, Jump and Falls refer to high dives made by students from the cliffs at Negril in Jamaica that Hoyland watched from a nearby café. Hoyland captures the mood, heat and movement in the giant pours of paint. He communicates both power and powerlessness in the act of jumping/falling. 
Combining the personal, sensuous, and topographical, Flames Like Rainbows exhibits dynamic works which embody the experience of travel. In this period of painting Hoyland introduced a whole new range of possibilities, which he would continue to pursue up until his death in 2011. 
John Hoyland Flames Like Rainbows Opening reception: Thursday 31st March, 6 – 8pm
1st April – 15th May 2022 at Hales London
About the artist
Hoyland had many career highlights, including early career retrospective curated by Bryan Robertson was held at the Whitechapel Gallery in 1967. In 1969, alongside Anthony Caro, Hoyland represented Great Britain at the S?o Paulo Biennale in Brazil. In 1982 he won the John Moore Painting Prize. In 1991 he was elected a Royal Academician and in 1999, he was appointed Professor of Painting at the Royal Academy Schools. A solo exhibition at the Royal Academy in 1999 was followed in 2006 with a retrospective at Tate St Ives, and in 2015 a major survey inaugurated Damien Hirst's Newport Street Gallery.

Hoyland's work is in many collections, including the Royal Academy of Arts, UK; Tate, UK; National Galleries of Scotland, UK; National Museum of Wales, UK; National Museums of Northern Ireland, UK; The British Museum, UK; Victoria and Albert Museum, UK; The Hepworth, Wakefield, UK; Arts Council Collection, UK; Government Art Collection, UK; British Council, UK; Museum of Modern Art, NY, USA; Museum of Fine Arts, Boston, MA, USA; Virginia Museum of Fine Arts, VA, USA; Philadelphia Museum of Art, PA; Yale Centre for British Art, New Haven, CT, USA; Albright-Knox Art Gallery, NY, USA; Musée des beaux-arts de Montréal, Canada; Museum of Modern Art, Rio de Janeiro, Brazil; Museum Liaunig, Neuhaus, Austria;  Art Gallery of New South Wales, Australia; Art Gallery of South Australia, Adelaide; and Art Gallery of Western Australia. 
Categories
Tags