David Yarrow: Mankind, Yirol, South Sudan, 2015
Like almost everyone, I guess, I take lots of photos with my phone without worrying too much about how I do so. Might I benefit from a book of photographic instruction? David Yarrow, known for his stunning black and white wildlife shots, has just published 'How I Make Photographs'*, so here was a chance. He provides twenty bite-sized lessons, with anecdotes about how he arrived at his own images, which then form the illustrations in what can be viewed as simple a book of images. He has another potential audience: the photographer serious enough to choose their equipment according to what is required, rather than accept the automatic settings on their phone. They'll be catered for by the discussions of camera and lens choices and settings, though Yarrow opines that taking a strong image rarely has much to do with the camera – 'logistical considerations and the conception of ideas are more important'. He also considers printing and marketing. Yarrow tends to show animals somewhat anthropomorphically – his work isn't entirely to my taste – and consistent with that he advises that 'without emotion there's nothing in the picture'.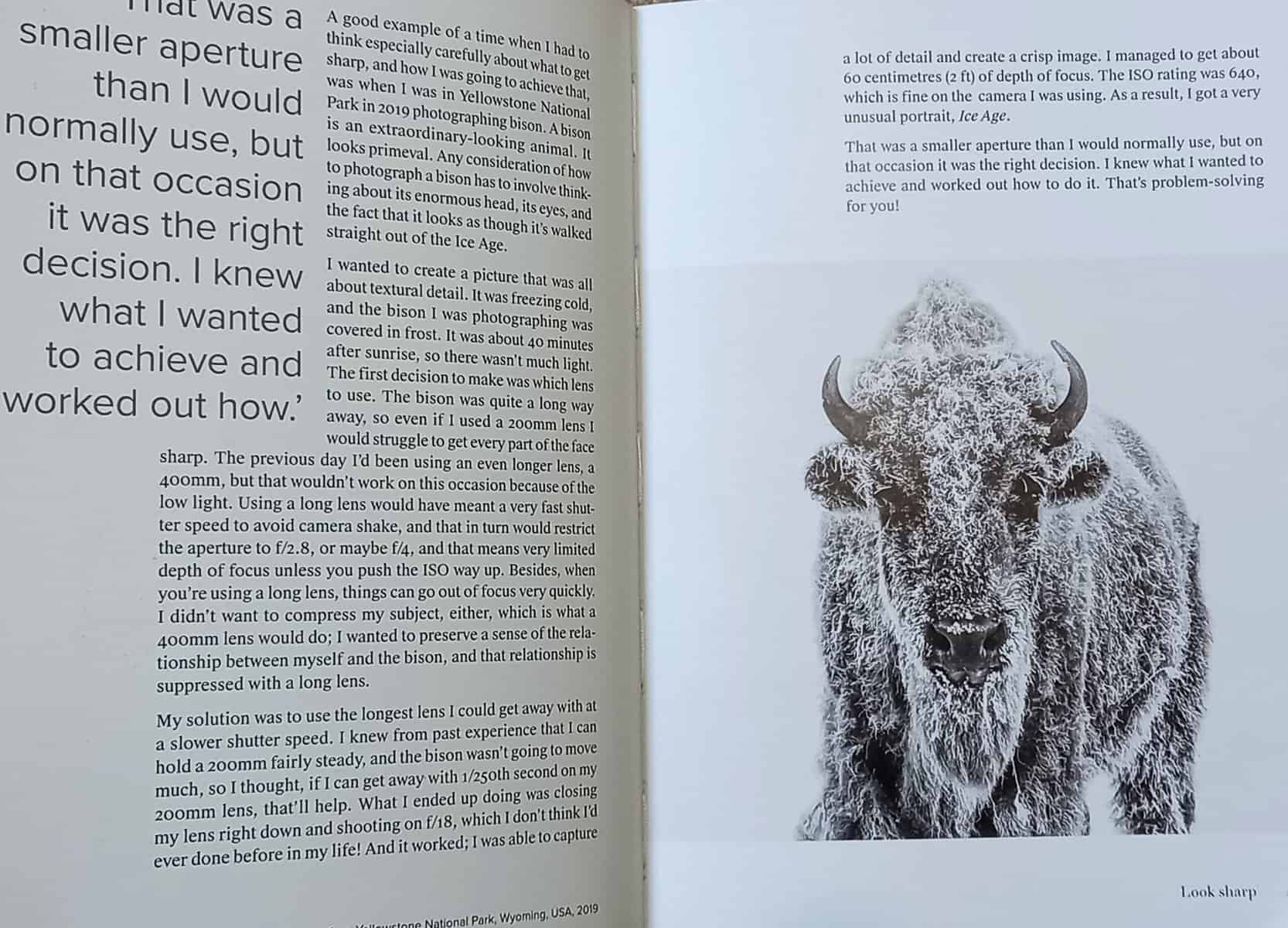 Page spread with David Yarrow: Ice Age, Yellowstone National Park, Wyoming, USA, 2019
Among the tips most relevant to a wide audience where I felt that his photographic examples added most were:
Think in advance about possible shots you can prepare: this is tellingly illustrated by the two photographs shown here. Yarrow cites his research prior to travelling to South Sudan, which led him to pack a ladder given the flatness of the landscape, although he normally favours a position close to the ground; and checking when bison were going to be covered in ice before travelling to Yellowstone National Park.
That preparation includes checking what shots have been taken previously of a subject, so you can aim to do something different from the norm. Yarrow advocates a risk-taking approach: 'roll the dice and go for the money shot rather than settle for a safety shot'.
Take up a 20 degree angle either side of the sun as your 'default' lighting position.
Get as close as possible – for example, to engage with the expression in an animal's eyes – including by triggering the shot at a distance from the camera, which Yarrow prefers to using a long lens.
Ruthlessly reject any shot which does not have pin-sharp focus other than where there is a deliberate reason for the effect.
Only show the world your very best pictures: Yarrow says he is happy to make four of those in a year.
Overall, then, it's an attractive and potentially useful book, though I suspect my own photographic habits won't change too much!
*  in the Laurence King 'Masters of Photography' series, paperback £14.99
Art writer and curator Paul Carey-Kent sees a lot of shows: we asked him to jot down whatever came into his head
Categories
Tags