David Zwirner has announced the joint representation with White Cube of the Kenyan-British artist Michael Armitage.
The drawings and paintings of Kenyan-British artist Michael Armitage have given shape to real and imagined histories of East Africa, constructing deeply rooted but nuanced impressions of the myriad sociopolitical and cultural contexts that affect contemporary daily life in the region. Armitage amasses research and initiates preparatory drawings in and around Nairobi, which he then translates into large-scale figurative paintings that take months or years to complete in his London studio. In an additive and subtractive process, he builds up and thins out layers of pigment on the highly textured surfaces of Ugandan Lubugo bark cloth, a material traditionally reserved for ritual purposes. Executed in a distinctive palette, these sweeping tableaux vividly combine images and motifs from recent events, the art-historical canon, his East African artistic milieu, and his own memories, among other references, generating space for the spiritual and the symbolic as well. Using painting as a means of processing and reappraising these untold histories, Armitage's practice subtly collapses its established formal considerations and creates lyrical visual accounts that expand the storytelling possibilities of the medium through an insistence on the lack of fixity of meaning. Ultimately, his compositions are the result of a series of carefully considered, formal decisions that bring together influences from these different strains of global art history, blending them seamlessly on the same picture plane and, in doing so, subverting the dominant narratives.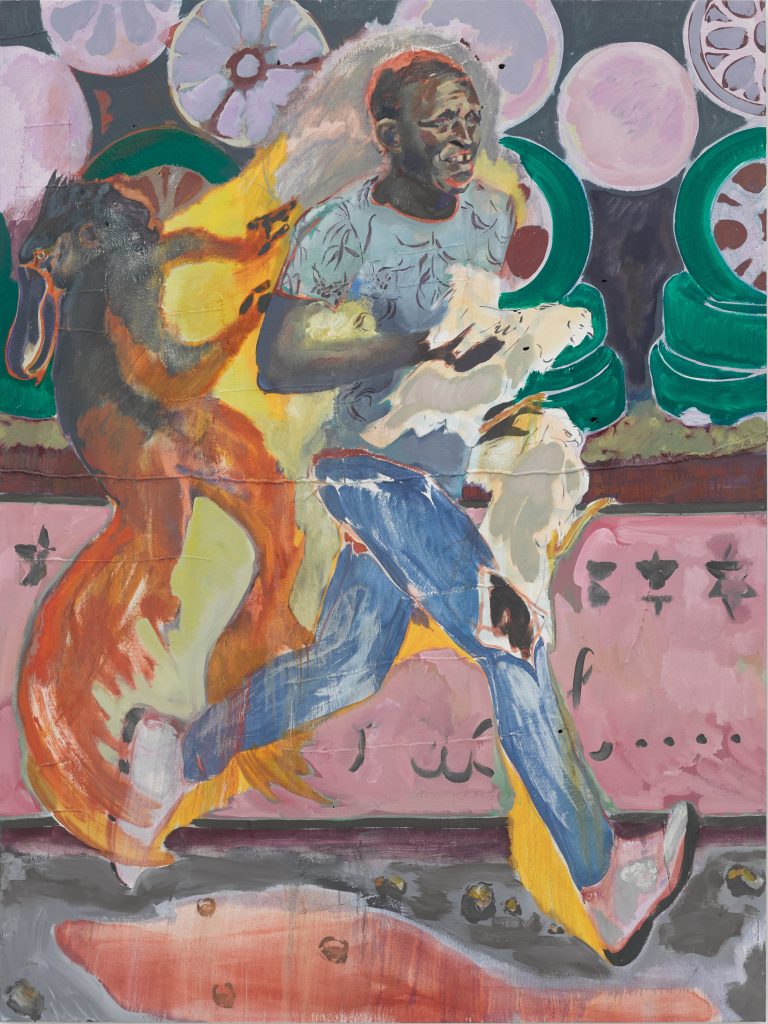 In the artist's words, 
"There is a poetic side of art that you cannot trust as a historical document, but it is the poetic side that can be moving and that can also provide a subtle, less political way of questioning a situation."
In 2020, Armitage founded the Nairobi Contemporary Art Institute (NCAI) to promote art by practitioners in East Africa. The groundbreaking nonprofit arts venue hosts exhibitions, curatorial research residencies, libraries, and archives, as well as other educational initiatives that enrich the discourse on contemporary creative practices in the region. In the future, NCAI has plans to develop a postgraduate fine arts program, among other wide-reaching resources.
Following on from Armitage's solo show at Kunsthalle Basel opening in May 2022, White Cube, which has represented the artist since 2015, will present an exhibition of his work this year in London. In New York, Armitage's work is currently on view in The Drawing Center's spring 2022 group exhibition, Drawing in the Continuous Present, which captures the scope of contemporary drawing practices across the globe. An exhibition of new drawings and paintings curated by Hans Ulrich Obrist and organized by the Fondazione Sandretto Re Rebaudengo, Turin, was on view at the Real Academia de Bellas Artes de San Fernando in Madrid earlier this year.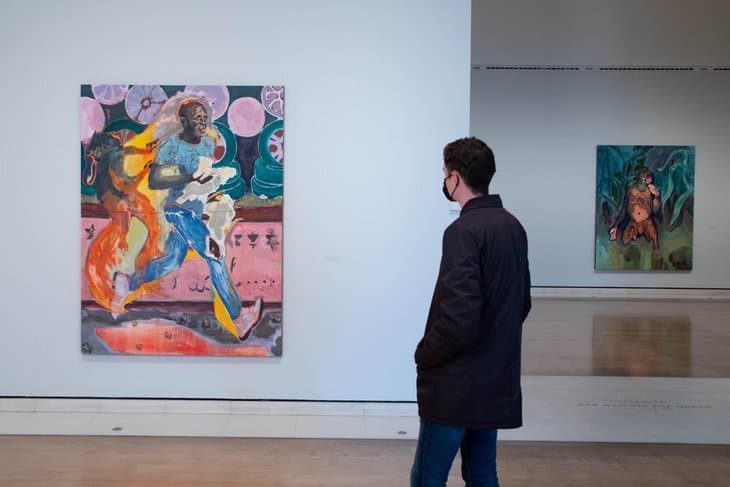 David Zwirner stated,
"It is an honor to welcome Michael Armitage, a singular voice in painting, to the gallery. I became a fan during Ralph Rugoff's 2019 Venice Biennale, where Michael's work was front and center and a true revelation to me. I then got to know Michael during his exhibition at MoMA, which was organized in collaboration with The Studio Museum in Harlem. Not only is he an extraordinary artist, but also a thoughtful and generous human being. His new arts institute, the Nairobi Contemporary Art Institute (NCAI), promises to be one of the most exciting spaces for contemporary art on the African continent, and I can't wait to visit it. I am especially excited to see Michael's new work at the Kunsthalle Basel this year and, of course, look forward to his first exhibition in New York in 2024. I am also looking forward to working collaboratively with Jay Jopling and White Cube, friends and colleagues who we have known so well since the early 1990s."
Michael Armitage was born in 1984 in Nairobi, Kenya, and currently lives and works in Nairobi and London. He received his BFA from the Slade School of Fine Art, London, in 2007, and a postgraduate diploma from the Royal Academy Schools, London, in 2010. The artist was elected a Royal Academician of Painting in December 2021. He was also the recipient of the Ruth Baumgarte Art Award in 2020.
In 2021, Michael Armitage: Account of an Illiterate Man was presented by Ny Carlsberg Glyptotek, Copenhagen. The solo exhibition Michael Armitage. Paradise Edict debuted in 2020 at Haus der Kunst, Munich, and traveled to the Royal Academy of Arts, London, in 2021.
Other monographic exhibitions have taken place at prominent venues internationally, such as the Norval Foundation, Cape Town (2020); Fondazione Sandretto Re Rebaudengo, Turin (2019); Museum of Contemporary Art Australia, Sydney (2019); The Museum of Modern Art, New York, in collaboration with The Studio Museum in Harlem, New York (2019); South London Gallery (2017); Turner Contemporary, Margate, United Kingdom (2017); and the Berkeley Art Museum and Pacific Film Archive, California (2016).
Work by the artist is included in the prestigious group exhibition British Art Show 9, organized by Hayward Gallery Touring, London, with plans to travel to several venues in the United Kingdom throughout 2022. Work by the artist is also included in Drawing in the Continuous Present, a group exhibition presented by The Drawing Center, New York, which opened in 2022. In 2019, the artist participated in the 58th Venice Biennale. Other notable group exhibitions that the artist has participated in have been presented at the Palais de Tokyo, Paris (2021); Whitechapel Gallery, London (2020); Museum of Contemporary Art Chicago (2020, 2019); Nasher Museum of Art at Duke University, Durham, North Carolina (2018); Scottish National Gallery of Modern Art, Edinburgh (2017); Palazzo Capris, Turin (2015); and the Yuan Museum, Beijing (2015), among others.
 
The artist's works are represented in distinguished public collections, including the Art Institute of Chicago; Astrup Fearnley Museet, Oslo; Dallas Museum of Art; Fondazione Sandretto Re Rebaudengo, Turin; The Metropolitan Museum of Art, New York; Museum of Contemporary Art Chicago; National Galleries of Scotland, Edinburgh; Norval Foundation, Cape Town; San Francisco Museum of Modern Art; Solomon R. Guggenheim Museum, New York; Tate, United Kingdom; and the Zabludowicz Collection, London.
Armitage will open a solo show at Kunsthalle Basel in May 2022, and in 2024 David Zwirner will present an exhibition of new work by the artist in New York.
Categories
Tags