Recently reconfigured from a bicycle repair shop and next to an old sequin factory, the new Confer Karnac centre in Spitalfields offers a newly designed space by Chris Dyson Architects,  dedicated to a bookshop and talks programme on psychoanalytic, relational and emotional processes. 
Whilst retaining the historic fabric of the building, its philosophy is to connect to the existing sense of community, to innovation and creativity in the field of psychotherapy and in the wider culture. Located in an area known for its 17th century Huguenot history and extended  East End creative quarter, Confer Karnac brings into the neighbourhood a new contemporary Art Space for relational, creative thinking.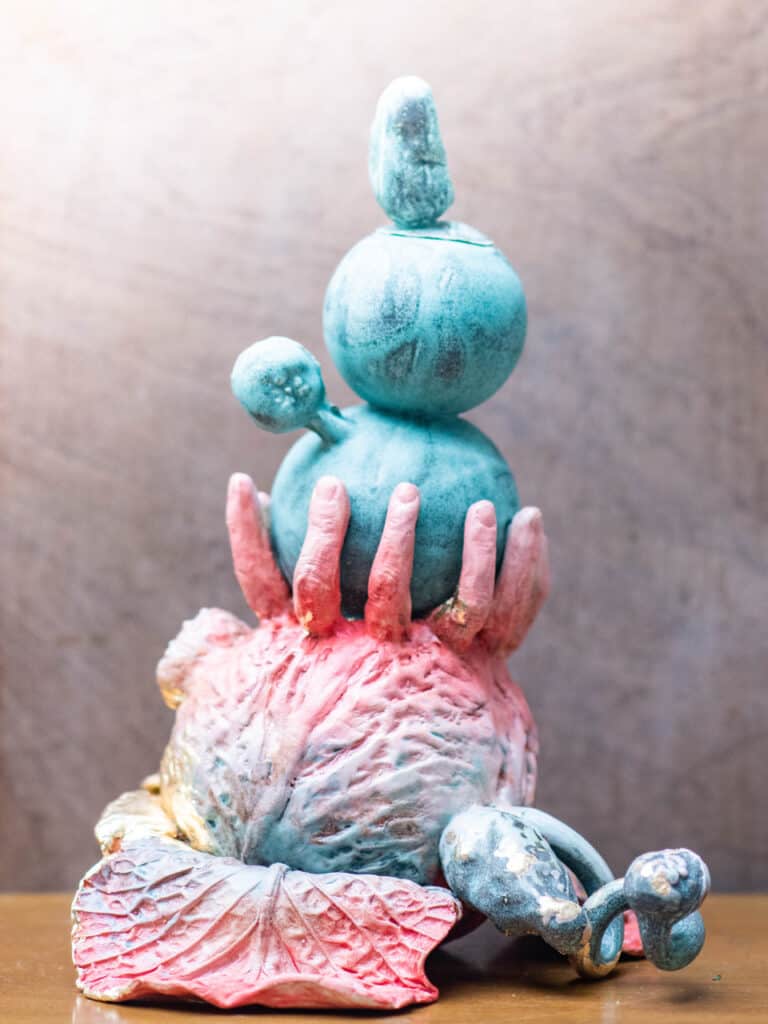 New exhibition Frequencies (for healing) opens on March 11th with a Private View from 5pm – 8pm. Nature according to the French philosopher, theorist and writer Michel Serres is conceived etymologically as relating to the Latin Natura, to that 'which is born, is born and will be born' (Serres, 2020) and considers a subject or object that is ever-evolving, changing,  responding to and of itself. For him, the genesis of everything involves communication from molecular code to the genetic coding of living things, to pixels of information with a  recording medium made up of forms of noise and interference that can never be excluded completely from systems of information exchange.  
The agency of nature is seen as the ongoing enactment of the world with its interrelations of both artificial and natural elements, acting and responding. It is not the mute, passive ground of human action but instead is a vibrant energetic space to which all things human and non-human communicate, constantly in motion, vibrating, oscillating, resonating at varying frequencies.  
Tuning into the hum of nature and its dynamic agential forces, Frequencies (for healing) invites eight artists to contemplate nature through drawings, paintings, prints, ceramics and sound.  Text Hayley Lock
Ryan Barrett presents recently 3D printed ceramics that are digitally coiled and mixed with coloured oxides. The precarious nature of porcelain's natural drying process and the use of cutting edge technology allows Ryan's ceramic practice to teeter between form and collapse.  
Ruth Calland considers the idea that the film or a painting can synthesise the human and the natural through a series of works depicted in sickly hues of yellow, green or violet.  Through the sense of the uncanny, recent works use stills from 1920's horror films,  focussing on our anxiety around the relationship with the unnatural, both internal and external.  
Michele Fletcher's focus is on the cyclical changes in a garden, informed by the natural world but relying on visual memory. 
Serena Korda celebrates the gaps or splits, explosions and the unforgiving nature of working with clay in relation to her garden in lockdown, alongside sound pieces inspired by the anthroposophist Theodor Schwenk, who studied the flow of water and prints made from the rhythm of her daughter's evolving voice.  
Robyn Litchfield's paintings connect the idea of the wilderness and the unknown,  introducing stencilled red forms that represent loss and longing.  
Mimei Thompson's bright, fluid paintings depict repeated motifs such as brambles,  dandelions and weeds in vacant lots. She toys here with the idea of nature in the realm of the synthetic through the use of bright and acid tones.  
Linda Wallis presents drawings referencing unconscious and conscious preoccupations with entrapment, exposure and expulsion. Her carefully executed pencil drawings allude to the surreal sense of what a landscape can be.  
Sue Williams A'Court's paintings describe a state of mind. Presenting anthropomorphic landscapes that have all human and cultural content removed, nature becomes the subject,  transcending art historical hierarchical norms.  
Frequencies (for healing) March 11th – June 15th at Confer and Karnac  Strype Street  London  E1 7LQ Private view March 11th 5-8PM  
Categories
Tags