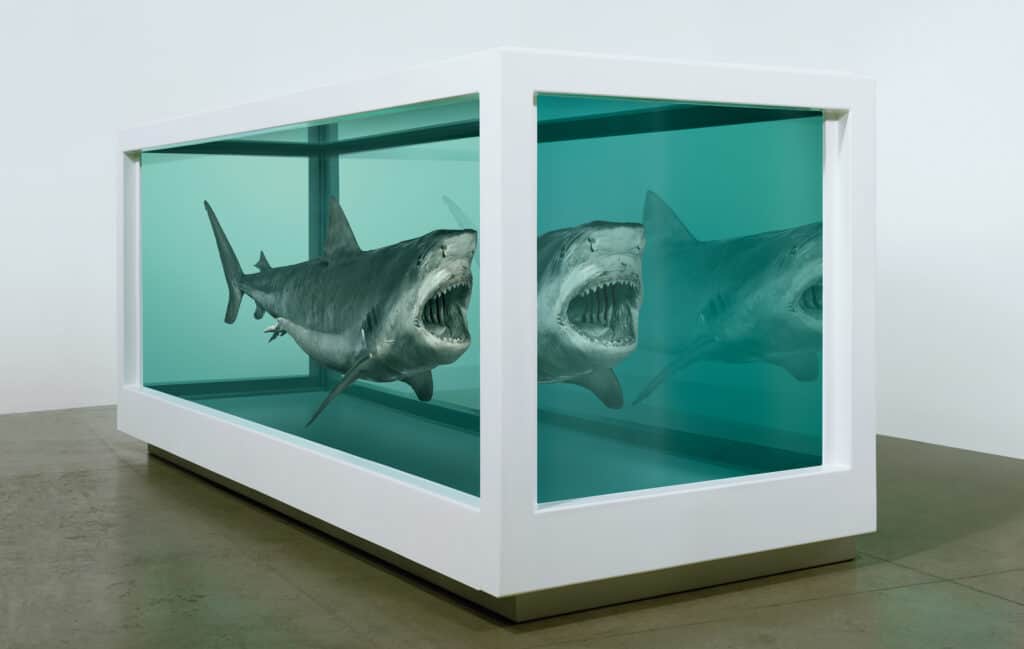 I wanted a shark that's big enough to eat you, and in a large enough amount of liquid so that you could imagine you were in there with it.

—Damien Hirst
Natural History is the first-ever exhibition dedicated to Damien Hirst's groundbreaking works employing formaldehyde. The exhibition—part of Hirst's takeover of Gagosian's Britannia Street gallery—will survey more than twenty of the most iconic examples, dating from 1991 to 2021.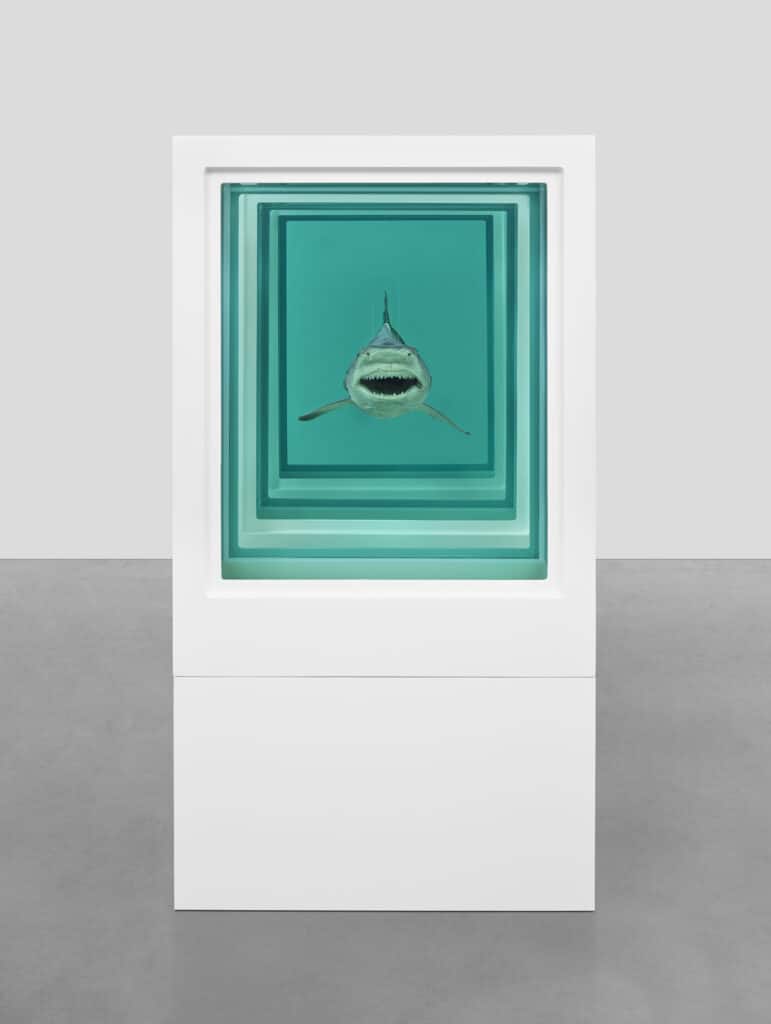 Ever since he first exploded into the public consciousness in 1991 with The Physical Impossibility of Death in the Mind of Someone Living, a fourteen-foot tiger shark preserved in a tank of formaldehyde, Hirst has used the naturally occurring compound in many of his best-known works. Embodying his ongoing drive to bridge the gap between art and science, the Natural History series includes a variety of preserved animals, such as sheep, doves, a zebra, and even a "unicorn"—some of which are bisected, sliced into cross sections, or flayed. This exhibition, which features works spanning a thirty- year period, gathers many of these works together for the first time.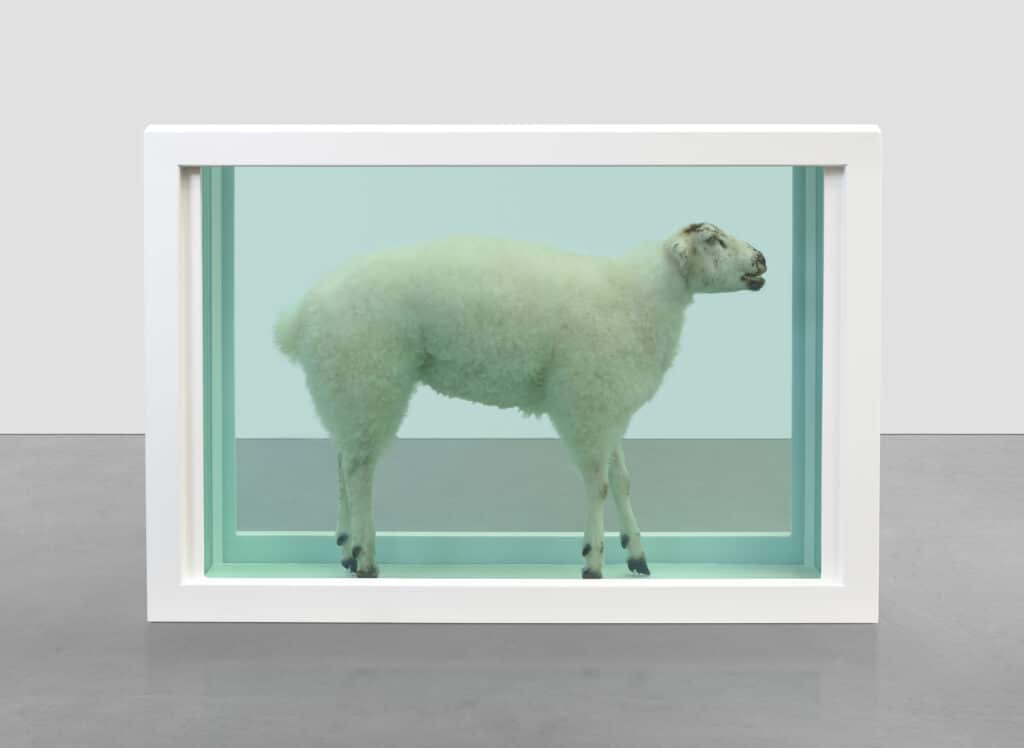 Beginning with The Impossible Lovers (1991), a cabinet filled with glass jars containing preserved cow's organs, Natural History also includes works incorporating sheep (I Am [1995]), fish (Saint Philip [2005] and Love Is Blind [2008]), calves (Cain and Abel [1994] and The Ascension [2003]), and, of course, sharks (Myth Explored, Explained, Exploded [1993], among others). On view as well are complex tableaux such as The Pursuit of Oblivion (2004), in which animal carcasses are joined by other objects including knives and a chain mail glove. As their titles and components suggest, these arrangements combine strikingly unexpected variations on religious iconography with investigations of phenomenological and psychological facts and events.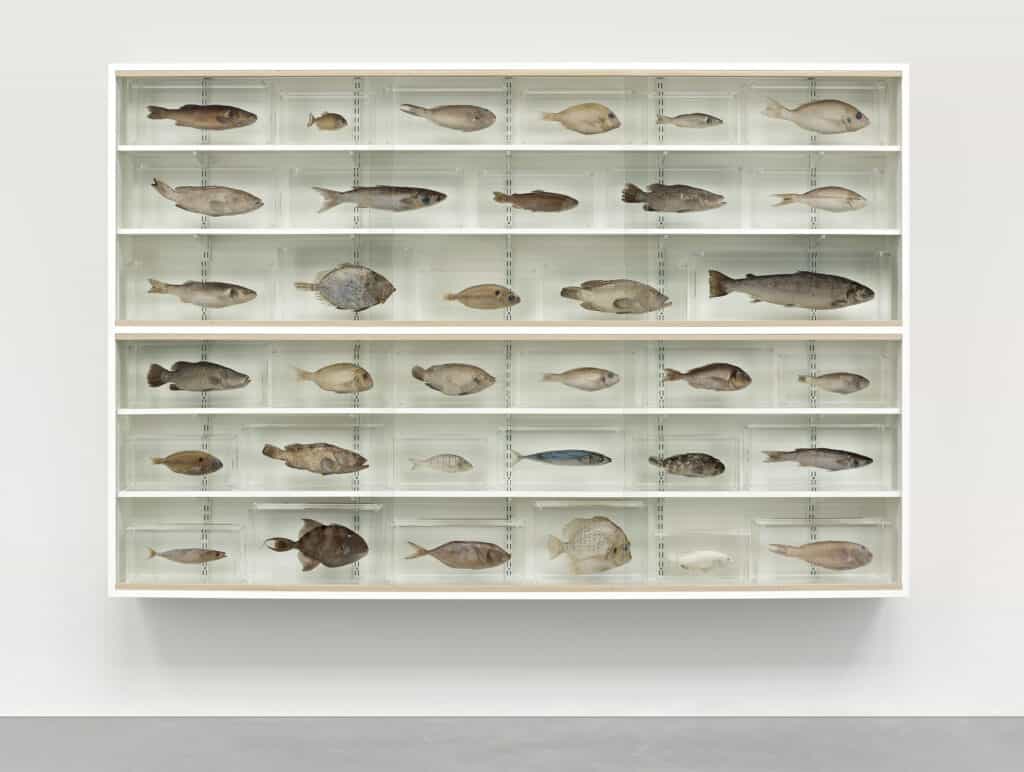 Hirst's use of formaldehyde allows him to present visceral, often disturbing objects in a knowingly cool, clinical style, adapting formal devices identified with Minimalism to a meditation on life and death, fact and faith. The heavy frames of the sculptures' tanks have been a feature of his work since the 1990s in artworks such as A Hundred Years and A Thousand Years (both 1990). Hirst's vitrines are rooted in the fear of fragility, and in a consequent desire to isolate and protect. Yet ultimately, far from proposing formaldehyde as an effective medium for preserving objects and the ideas they convey, Hirst concludes that the very idea of preservation is futile in the face of inevitable death.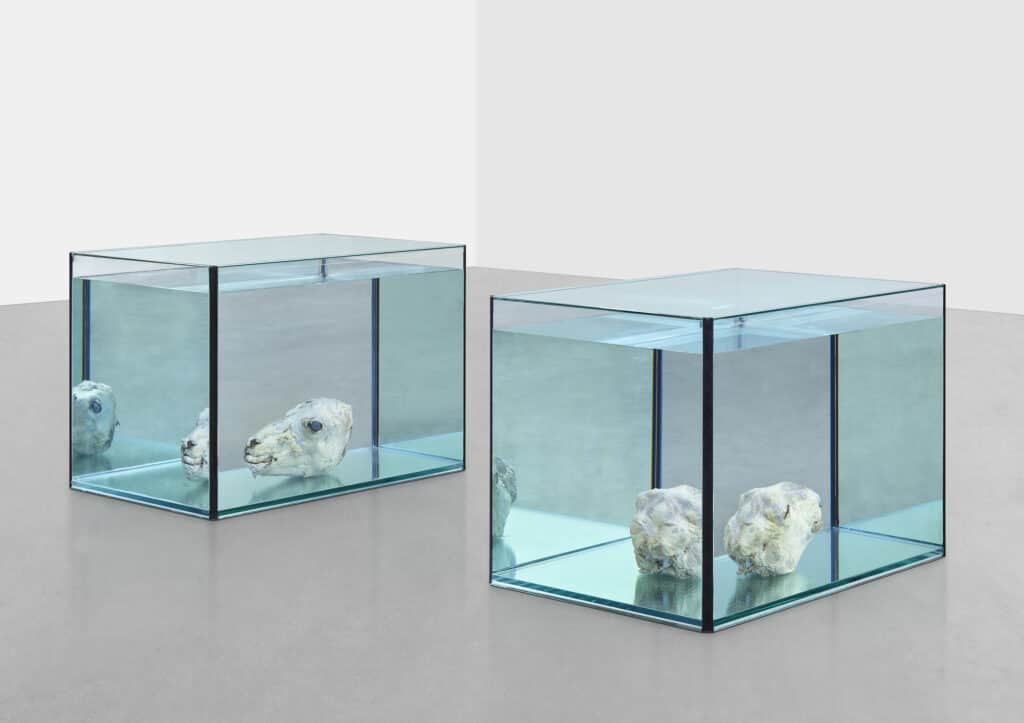 DAMIEN HIRST Natural History Opening March 10, 2022 Gagosian Britannia Street
 

 

View this post on Instagram

 
About the artist
Damien Hirst was born in in Bristol, England, and lives and works in London and Devon, England. Collections include the Museo d'Arte Contemporanea Donnaregina, Naples, Italy; Museum Brandhorst, Munich; Museum für Moderne Kunst, Frankfurt am Main, Germany; Stedelijk Museum, Amsterdam; Centro de Arte Dos de Mayo, Madrid; Tate, London; Israel Museum, Jerusalem; Astrup Fearnley Museet, Oslo; Gallery of Modern Art, Glasgow, Scotland; National Centre for Contemporary Arts, Moscow; Museum of Modern Art, New York; Hirshhorn Museum and Sculpture Garden, Washington, DC; Art Institute of Chicago; The Broad, Los Angeles; Museo Jumex, Mexico City;
and 21st Century Museum of Contemporary Art, Kanazawa, Japan. Exhibitions include Cornucopia, Oceanographic Museum of Monaco (2010); Tate Modern, London (2012); Relics, Qatar Museums Authority, Al Riwaq (2013); Signification (Hope, Immortality and Death in Paris, Now and Then), Deyrolle, Paris (2014); Astrup Fearnley Museet, Oslo (2015); The Last Supper, National Gallery of Art, Washington, DC (2016); Treasures from the Wreck of the Unbelievable, Palazzo Grassi and Punta della Dogana, Venice (2017); Damien Hirst at Houghton Hall: Colour Space Paintings and Outdoor Sculptures, Houghton Hall, Norfolk, England (2019); Mental Escapology, St. Moritz, Switzerland (2021); Cherry Blossoms, Fondation Cartier, Paris (2021); and Archaeology Now, Galleria Borghese, Rome (2021). Hirst received the Turner Prize in 1995.
Categories
Tags