The third edition of Frieze Los Angeles kicked off on Thursday 17 February at its new Beverly Hills location, the Beverly Hilton hotel. After the cancellation of the fair in 2021 due to the pandemic, collectors, celebrities, and what felt like the city's most beautiful people teemed to the tented wonderland to gaze at, admire, and – you guessed it – Instagram the vibrant presentations.
Although there were of course many paintings on view, it really felt like applied arts and textile works were the shining stars of the event. Here are a few of our favourites.
Eric-Paul Riege in Focus LA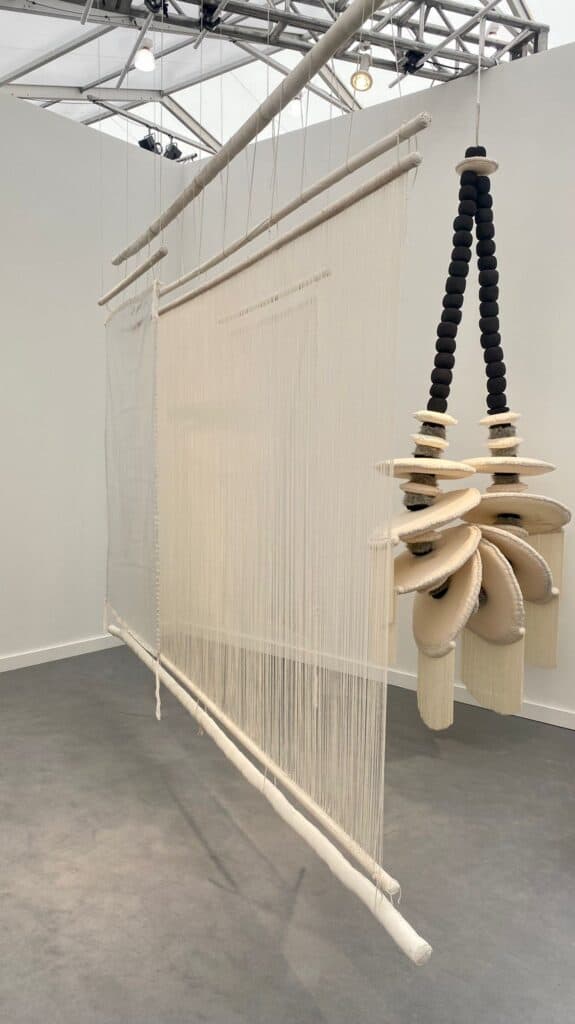 Eric-Paul Riege's mixed fiber sculptures were part of the annual Focus LA exhibition at the fair. Focus LA showcases local emerging artists and this year was curated by the Lucas Museum of Narrative Art's Amanda Hunt for the first time. Eric-Paul's works are informed by his cultural and spiritual heritage as part of the Diné (Navajo People). He is represented by STARS.
A History of Frogs and Minjae Kim in Focus LA
Also part of Focus LA was an artistic conversation between the works of Minjae Kim and A History of Frogs who are both represented by LA gallery Marta. The fence-like wall sculpture by AHoF shown above was particularly intricate and unique, and paired with Kim's tactile wood pieces made for a thrilling juxtaposition between natural and man-made mediums.
Olga de Amaral at Lisson Gallery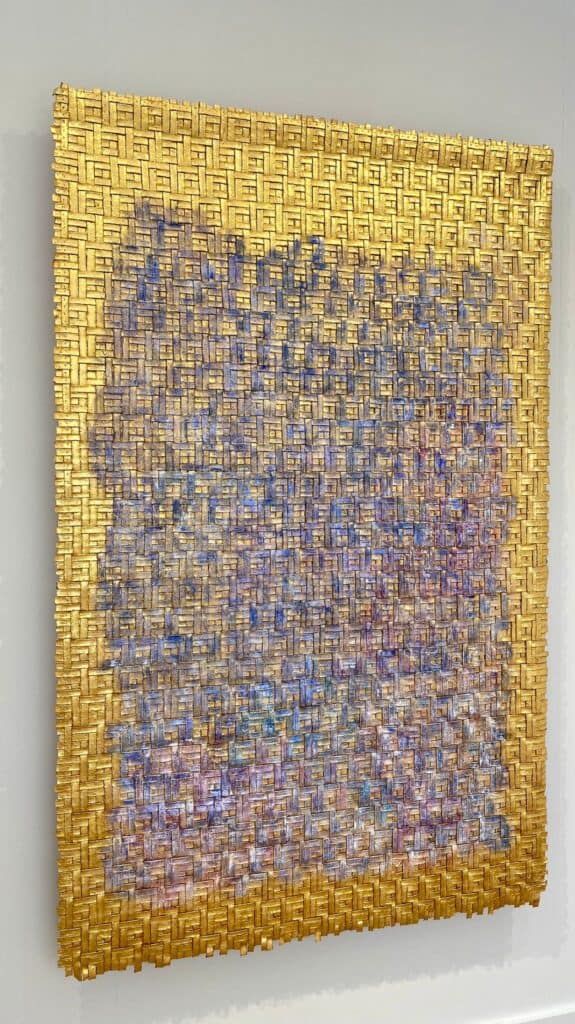 This work by Colombian textile and visual artist Olga de Amaral is from her Mementos series and is a prime example of her longtime practice in weaving and fiber art. The work itself walks – or perhaps disrupts – the line between art and craft. It was constructed by interlacing hundreds of linen strips and integrating metallic elements throughout.
Annette Messager and Marian Goodman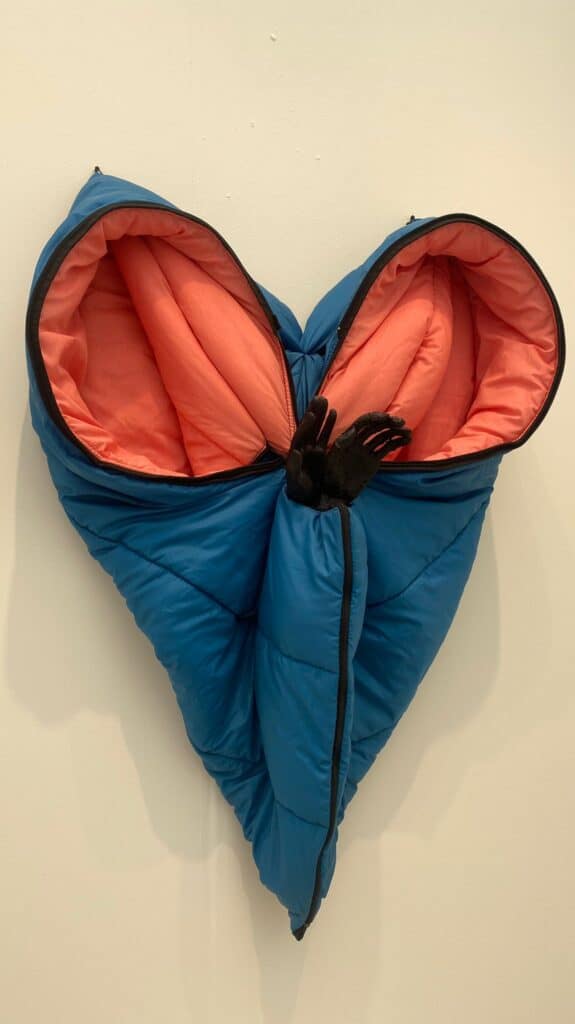 Annette Messager's Sleeping Heart is a playful and witty soft sculpture made primarily from a duvet. Inviting and warm, the mural sculpture can suggest dreams, nightmares, love, loneliness and all that we as humans associate with sleep, love and being in bed.
Simone Leigh at Matthew Marks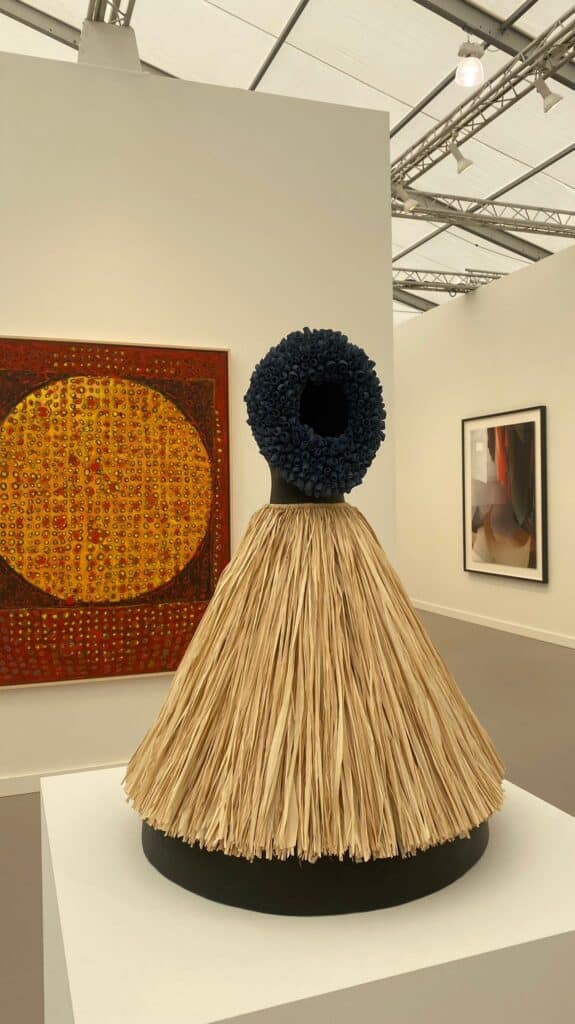 Simone Leigh is an African American Brooklyn-based sculptor and will be representing the US at the upcoming Venice Biennale this April. Her practice is based around placing focus on Black female subjectivity and also applying a critical lens to all she creates. 
Ishgaan Adams at Casey Kaplan NYC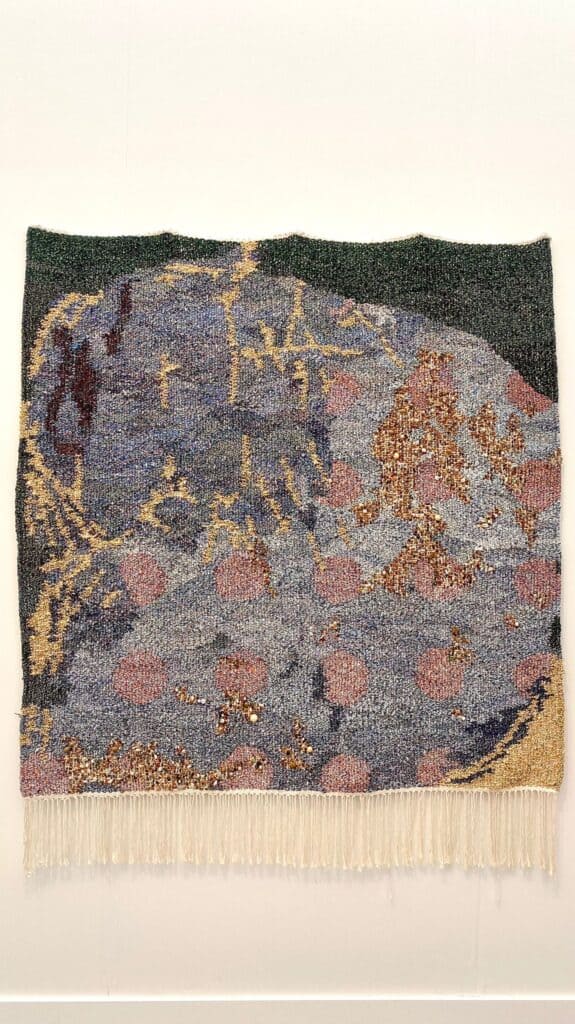 Igshaan Adams' labor intensive woven artworks incorporate glass, plastic, precious stone, bone, beads and more into intricate and poetic hanging tapestries. As a gay practicing Muslim, the multiplicity of his own identity can be felt in his works, which also draw on inspiration from prayer rugs and the linoleum floors that are prevalent in Capetown, his home city.
Jessi Reaves at Herald Street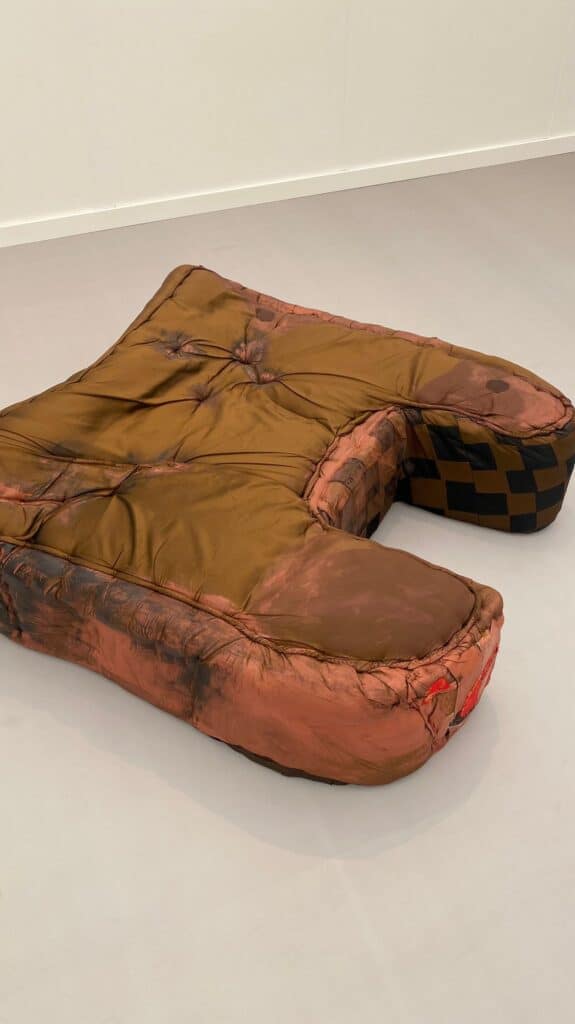 American artist Jessi Reaves' practice explores the relationship between art and design. She often makes works that can function both as sculpture and pieces of furniture such as this funky and tactile soft sculpture above.
Lenore Tawney at Allison Jacques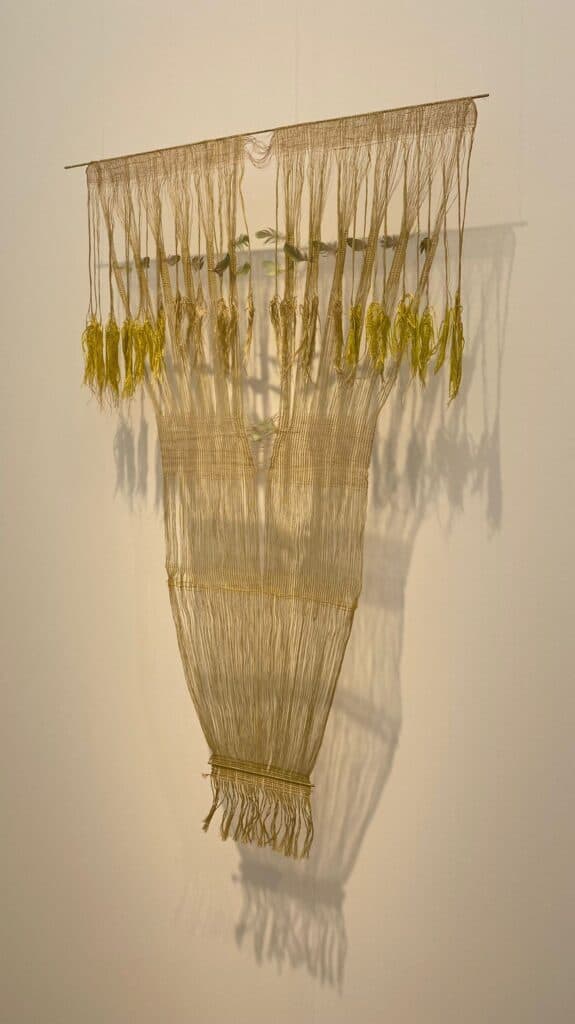 American artist Lenore Tawney uses linen thread as a primary material in her works as seen in the delicate wall hanging above. The shadow the piece casts behind it feels as much a part of the creation as the physical work itself.
Categories
Tags