Entering an exhibition, we always carry baggage. However minimal, we invariably have some idea of what we expect to see. These preconceptions, though they might make sense, can be limiting. There is a risk that they will close us off, leaving us open only to learn from the exhibition the things that we already knew. The more familiar we are with the exhibition's subject, the greater this risk becomes. Before visiting the Hayward Gallery for The Woven Child, the first major retrospective of Louise Bourgeois' work to focus on the fabric works that she made during the final chapter of her career, I was well-acquainted enough with her work to think I knew what to expect. After I left I understood that, although not incorrect, what I thought was the singular truth about Bourgeois was just one part of her complex world. 
The first time I looked at the artist's work in detail was when I co-authored an article about The Reticent Child (2004), a set of three etchings chronicling a surreal and uncomfortable pregnancy. Tanja Staehler, who I wrote the piece with, praised the work for reminding us that "our origin is somebody else's body, a female body, about which we know so little and which we push into invisibility so much, by way of shame." Since then I have associated Bourgeois with ideas about shame and the body. My preconception was that she solemnly dealt with the feelings of alienation that come with living in a world that relentlessly objectifies female bodies.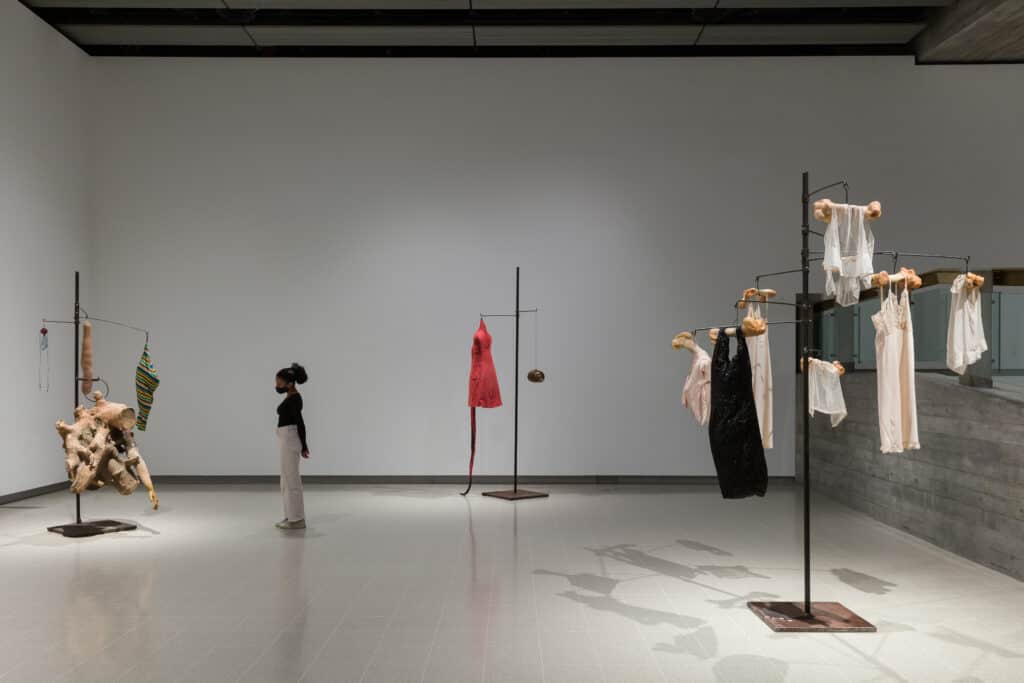 Entering the exhibition, lo and behold, I saw what I expected to see. Its first room is filled with tree-like metal structures bearing strange and often anthropomorphic fruit. In Untitled (1996), dainty items of women's clothing dangle from irregularly-shaped hangers that look to be made of flesh. Hanging elsewhere is what looks like a piece of driftwood with a pig's head and human's arm. This unnerving forest is overseen by a large clock with two headless figures – one with an erect penis and the other with a pregnant belly – repeated next to each number on its dial. A few rooms in, the exhibition's title work is a six-page woven book depicting colourful pregnant bellies, featureless faces and hands. It looks to me like another story about alienation, its protagonists an anonymous mother and her anonymous baby. When we wrote about The Reticent Child, Tanja Staehler spoke of how pregnancy often brings with it a feeling of being "responsible for something which is so invisible and alien," the same feeling I think Bourgeois is suggesting in The Woven Child. Its title suggests to me some essential otherness in the child. Rather than being the flesh and blood of its mother, it is something separate, something synthetic.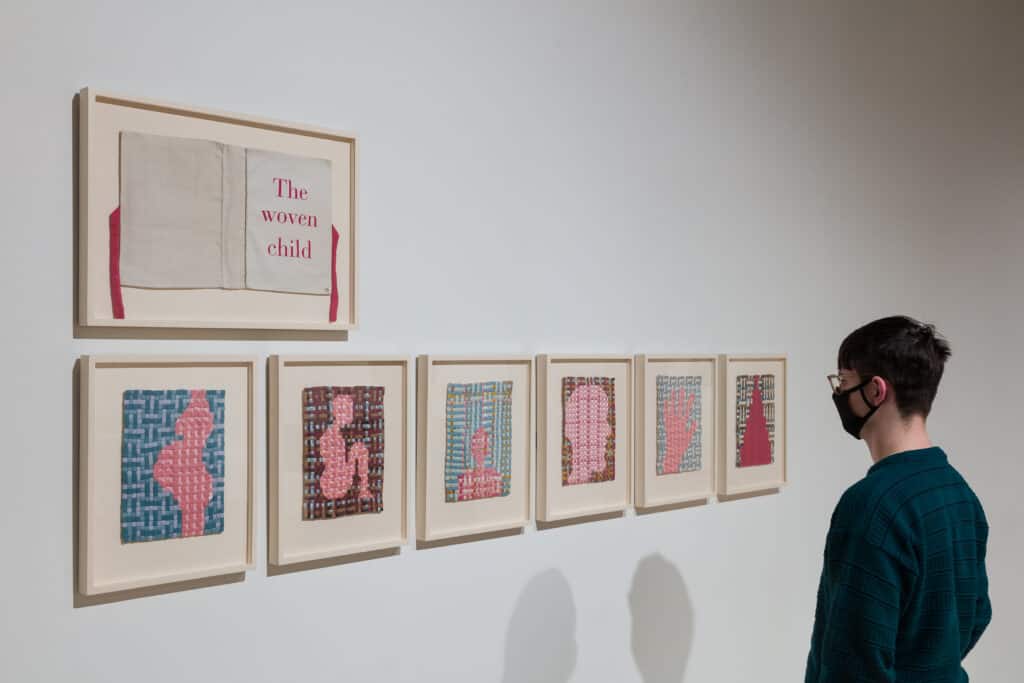 Opposite The Woven Child is another fabric book. Ode a la Bièvre (2007), made up of 24 printed textiles, pays homage to the river that flowed through the garden of Bourgeois' childhood home and that supplied her family's tapestry restoration workshop with tannin, a dyeing ingredient. The compositions in this book are filled with soft edges and soft colours. They feel whimsical and lovingly nostalgic. Here, I struggle to find the allusion to shame, objectification and alienation that I am looking for. Instead I find a light and hopeful ode to the artist's mother's practice as a weaver and tapestry restorer. In one of the final rooms of the exhibition stands Spider (1997). It is composed of a towering arachnid with eight spindly legs supporting it, hovering above a steel cell containing a single tapestry-covered chair. Though visually worlds away from the abstract landscapes of Ode a la Bievre, it could be seen as symbolic of similar themes. Bourgeois has been known to think of the spider as a maternal figure. Like her mother, the spider is a weaver and a repairer; "if you bash into the web of a spider, she doesn't get mad. She weaves and repairs it," she once said. 
The spider weaves and repairs its web, its own woven child, just as Bourgeois' mother would weave and repair textiles, with help from tannin from the Bièvre. These motifs are not about alienation; they stand for generation and connection. With this symbolism in mind, I can re-interpret The Woven Child; its wovenness is not a symbol of anonymity but one of connection. Or maybe it is both. My preconceptions about Bourgeois were not necessarily wrong; her work is often dark, it deals with body shame in a sexist world, she explores feelings of alienation within one's own body. But that isn't the whole truth; her work can also be light and whimsical, exploring themes of connection and interwovenness.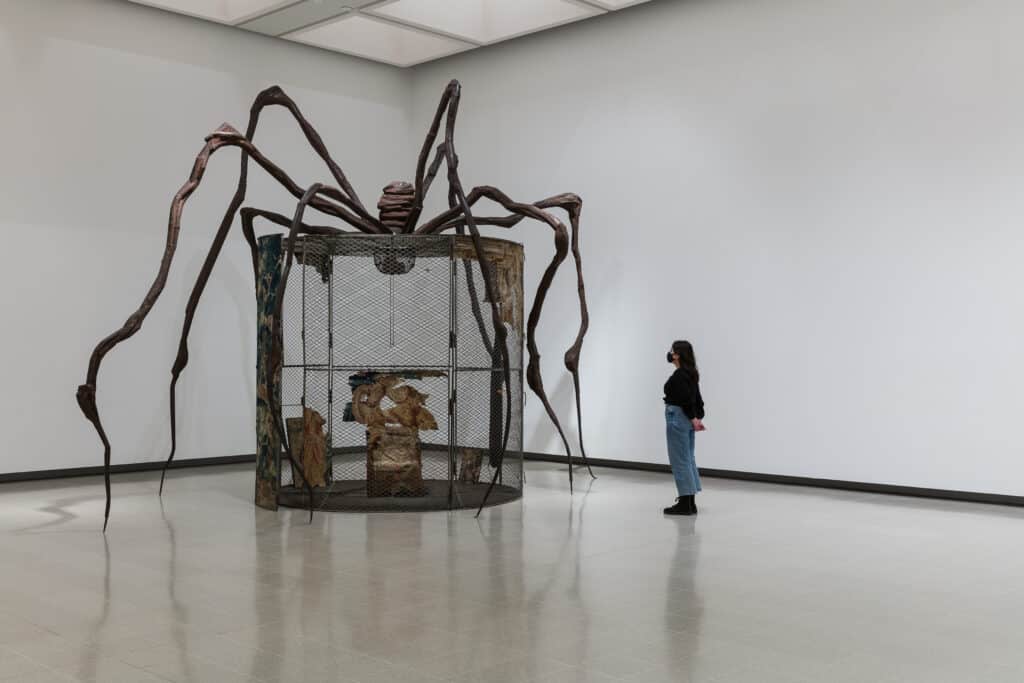 Louise Bourgeois: The Woven Child – 15th May 2022 The Hayward Gallery, Southbank Centre, Belvedere Road, London SE1 8XX
Categories
Tags