Tabish Khan the @LondonArtCritic picks his favourite exhibitions to see this month – this time they're all shows to catch this month. Each one comes with a concise review to help you decide whether it's for you. Those looking for more shows should check out last week's top 5 where all remain open.
Danielle Brathwaite-Shirley: She Keeps Me Damn Alive @ Arebyte
The run and gun approach to shoot 'em up video games is flipped as it's now about not shooting people. You have to pick your shots really carefully so you don't target black trans persons of their allies, only those working against them hiding in plain sight. It's remarkably hard, and that's the point, so that it highlights both the treatment of Black trans persons and the nuances of what makes for a true ally. Until 18 February.
En-ger-land @ OOF gallery
Football is the beautiful game, but it can also be violent as seen in a painting of a crunching tackle by artist Mattia Guarnera-MacCarthy or Evie O'Connor's paintings of angry mob on an ashtray. It's part of the nation's fabric but something that fans continue to wrestle with as part of our identity given the racist abuse that arose after England's loss in the final of the Euros, a topic that's also referenced in this show and very relevant today. Until 20 February.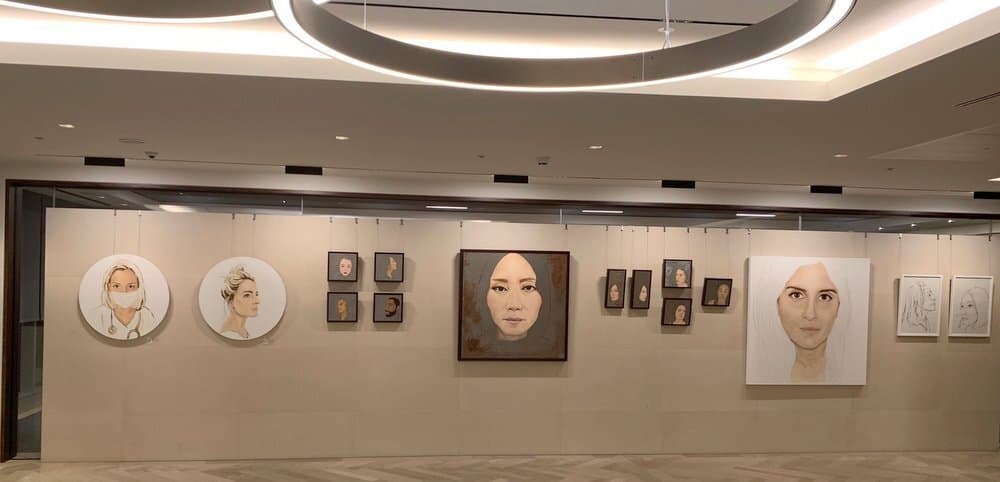 Andrea Tyrimos: Resilient @ ING
Following on from winning the ING Discerning Eye purchase prize Andrea Tyrimos has an exhibition of her portraits at ING's headquarters in the City. Focussing on mental health her medium of steel reflects that we can all appear strong but that just as steel rusts so can life chip away at all of us. Her subjects are all persons who have struggled with mental health, including her colleagues and a doctor whose life became more stressful because of the pandemic. Until 31 March, appointment only.
The Reality in Whytch You Create @ Studio West
Time to venture into the surreal as greenery takes over buildings, and a dream like scene pairs a bird with a scythe. All of the artists in this excellent group show deal with the idea of the fantastical in very different ways – whether it be a church on a floating island by Sholto Blissett, a rising ethereal figure by Lydia Makin, or figures barely contained within the borders of the paintings by Alfie Rouy. Until 17 February.
Architecture Drawing Prize @ John Soanes Museum and online
Whether they are hand drawn, digitally rendered or a mixture of both these drawings are superb works containing fascinating ideas – from building atop nuclear waste to keep it contained, or a bright reimagining of the promenade through Enfield town. The finalists are on display at Sir John Soane's Museum, while they and the last five years of entries can be found on a excellent website where you can navigate between the works by entering separate chambers. Until 20 February.
Arebyte photo: Dan Weill Photography. OOF Gallery image copyright Mattia Guarnera-MacCarthy, courtesy OOF Gallery. Studio West image copyright Alfie Rouy. Architecture prize copyright Sachini Jayasena.
Categories
Tags