Tate St Ives presents Thao Nguyen Phan's most extensive UK exhibition to date. Phan is internationally renowned for her poetic, multi-layered artworks, which explore the historical and ecological issues facing her homeland Vietnam, while speaking to broader ideas around tradition, ideology, ritual and environmental change. Through storytelling, and the mixing of official and unofficial histories, her work often amplifies narratives that are less well documented, or in some cases obscured. This exhibition brings together a selection of Phan's videos, paintings and sculptures from the past five years, alongside new work exhibited for the first time. This includes First Rain, Brise Soleil (2021–ongoing), a major new multi-channel film commission, and an accompanying series of paintings.
Phan's mesmerising work intertwines mythology and folklore with urgent issues around industrialisation, food security and the environment. The threat posed by the destruction and excessive consumption of Earth's resources is a recurring theme across her practice. Her recent projects have expanded on 'the beauty and suffering' of the Mekong River, which runs through Tibet, China, Myanmar, Thailand, Laos and Cambodia before meeting the sea on the coast of Vietnam. Phan's latest moving image work First Rain, Brise Soleil continues this exploration of the Mekong, proposing a new way of being that draws on indigenous knowledge and respect for the ecosystem.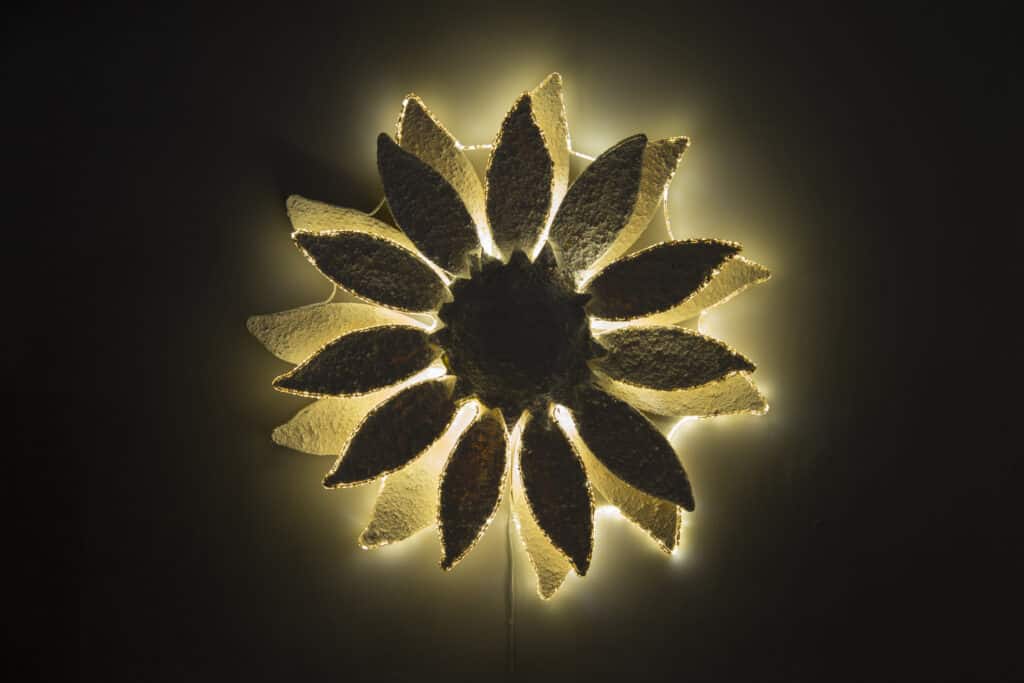 The exhibition at Tate St Ives includes Becoming Alluvium, Phan's 2019 video which tells an unfolding story about destruction, reincarnation and renewal of not only the Mekong, but of the necessity for human life to live in respect and awareness of the tangible and intangible world. Composed of video, animation and found imagery, it explores the environmental and social changes caused by the expansion of farming, overfishing, dam construction and the looted heritage as an aftermath of colonialism. The video is exhibited with the accompanying work Perpetual Brightness (2019–ongoing), a multi-part screen made using traditional Vietnamese silk and lacquer painting techniques. Made in collaboration with artist Truong Cong Tung, the paintings tell imaginary stories of the Mekong and its human and non-human inhabitants.
Also featured is Mute Grain (2019), Phan's three-channel film interpretation of the Vietnamese famine of 1945–46, which took place during the Japanese occupation of French Indochina (1940–45) and is believed to have resulted in the loss of an estimated 2,000,000 lives. The work revolves around a young woman named Tám (August), who becomes a hungry ghost unable to move to the next life, and her brother Ba (March), who anxiously searches for his sister. March and August represent the poorest months of the lunar calendar, when farmers once borrowed money and worked side jobs to sustain themselves. Mute Grain weaves together oral histories with elements of Vietnamese folk tales and the literature of Yasunari Kawabata to reflect on issues of colonialism, agriculture and food security. The exhibition presents Dream of March and August (2018–ongoing), Phan's series of suspended watercolour on silk paintings, which expand on Mute Grain's tale of the two siblings.
Tate St Ives's exhibition space is transformed by an installation of hanging jute stalks that divides the film and static works and through which visitors can move. For Phan, this organic, interactive installation, titled No Jute Cloth for the Bones (2019/2021–22), acts as a kind of "lullaby" dedicated to lives lost through the tragedies of war and famine.
Thao Nguyen Phan is curated by Anne Barlow, Director of Tate St Ives, with Giles Jackson, Assistant Curator.
Thao Nguyen Phan 5th February – 2nd May 2022 Tate St Ives
About the artist
Thao Nguyen Phan (b.1987, Vietnam) lives and works in Ho Chi Minh City, Vietnam. Trained as a painter, she started working in film when she began her MFA in Chicago. Phan exhibits internationally, with solo and group exhibitions including New Museum Triennial, (New York, 2021), Chisenhale Gallery (London, 2020); WIELS (Brussels, 2020); Rockbund Art Museum (Shanghai, 2019); Lyon Biennale (Lyon, 2019); Sharjah Biennial (Sharjah Art Foundation, 2019); Gemäldegalerie (Berlin, 2018); Dhaka Art Summit (2018); Para Site (Hong Kong, 2018); Factory Contemporary Art Centre (Ho Chi Minh City, 2017); Nha San Collective (Hanoi, 2017); and Bétonsalon (Paris, 2016), among others. She was shortlisted for the 2019 Hugo Boss Asia Art Award. In addition to her work as a multimedia artist, she is co-founder of the collective Art Labor, which explores cross-disciplinary practices and develops art projects that benefit the local community. Thao Nguyen Phan is expanding her 'theatrical fields', including moving image and what she calls 'performance gesture'. In 2019, Phan was the recipient of the Han Nefkens Art Foundation – Loop Barcelona video art award, Fundació Joan Miró, Barcelona, Spain. She is also a 2016–17 Rolex Protégée, mentored by internationally acclaimed New York-based performance and video artist, Joan Jonas.
Categories
Tags