In the first collective release under the name Organic Material, the core members have brought together a group of artists whose practices extend outside solely that of the digital. For some, with the arrival of art on the blockchain, this is their first foray into the digital world, for others, the digital works presented here represent the newest works produced from long-standing relationships with the digital medium that have been built over the course of many decades. In bringing this group of artists together, Organic Material reveals the provenance of artists beyond their blockchain ledgers; a provenance that is enmeshed within the history of art and creative production.  
"Over the course of nearly the last year, I've watched the works on the Ethereum blockchain become more and more conservative as the cost for entry and gas fees rose. I don't think that artists are willing to take as many risks there anymore because of the potential financial losses. On Tezos however, because of the nearly non-existent gas fees, artists are freer to experiment and play both conceptually, materially, and socially."

—Mark Dorf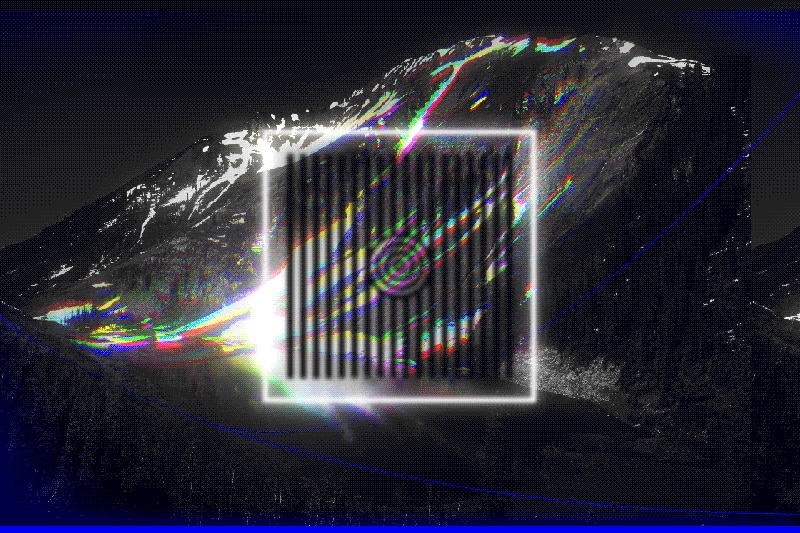 A.L. Crego, a digital artist, and poet, who uses software to create hypnotic animations that draw us in and connect digital experiences to our consciousness. His GIFs/Animations expand, contract, and pulse effectively creating a space for a meditation amongst the noise of social media/internet culture.  
The works from Mark Dorf's series "The Way We've Always Seen" uncover connections between design, urbanism, and what is commonly considered "Nature"—connections that have always existed in symbiosis, but are rarely recognized as reality. 
Hybrid forms emerge from the confluence of nature, architecture, abstraction, and the unconscious in Sara Ludy's work. These enmeshed abstract ephemeral images reflect an uncanny presence that questions our relationship to immateriality and space. 
In Amir H. Fallah's digital works, his painting practice is seamlessly extended, although in a notably different manner, into the digital sphere acting as a logical extension of his materially and conceptually refined creative practice. The intertwining and diverse compositional components found in Fallah's works reflect his personal history, ideas of race and representation, and the memories of cultures left behind. 
Lorna Mills' work explores how "the notion of public decency is anachronistic". Images in her GIFs are gathered from the darknet on sites such as 4chan, porn fails, and Russian domains. She transforms the unsettling imagery into playful and irreverent GIFs. 
Skye Nicolas' work explores what he refers to as 'induced nostalgia', prompted by the layering of cerebral readymades and youth culture tropes. His playful virtual fragments spark a digital déjà vu.  
Kristen Roos' digital practice uses vintage software and hardware to create animated works that mine the aesthetics of past generations of technology and the web. Complementing this digital practice Roos continues this exploration through textiles, printmaking, and electronic and electroacoustic music composition. 
Colette Robbins' 21st-century approach to art-making exemplifies the presence of the artist's hand in new technology. Drawing on her early training as a painter, she digitally sculpts in a mode similar to how she would sketch or paint. Through this 3D software and traditional training lens, she forms a closeness with ancient artists and artisans as she digitally 'touches' files of historical remnants. 
"The Tezos blockchain is the up and coming NFT space for contemporary artists to experiment and expand their art. Organic Material is an artist-run collective that brings conceptually driven contemporary artists together in the Tezos NFT community."

—Colette Robbins
Organic Material brings together artists who produce creative works foregrounded by the deep history of art and technology within the fast-paced world of the blockchain. As a deeply engaged and diverse community of artists, we share a fascination with the possibilities and challenges that are created by the collision of blockchain technology and contemporary art. Organic Material fosters intricate conversations that reflect our lived experiences in the face of the often distracted and chaotic world of NFTs. By crafting a framework for ourselves and our extended community within Tezos, we seek to slow the stream of attention in order to create a critical perspective and bring focus to the artworks shared on the blockchain. 
Organic Material was founded in 2022 by four contemporary artists: Mark Dorf, Amir H. Fallah, Colette Robbins, Skye Nicolas.
"Organic Material was born out of four like-minded artists who felt at home in the Tezos ecosystem, as they facilitated art-centric conversations with a curious NFT community of artists and collectors who welcomed such interactions. The collective aims to foster and encourage direct and healthy relationships between artists and collectors, never before seen and rarely practiced in traditional art world systems."

—Skye Nicolas
Selected works from Organic Material will be displayed in the Times Square Building from February 7th – 11th. This screen-based exhibition will run concurrently with the digital release of the artworks as NFTs on the blockchain. The initiative was facilitated by Robert Kruschbersky and MediaNow as a means to explore the exhibition and viewing of art on the blockchain in alternative spaces such as the historic Times Square Building.
*Due to COVID-related concerns the display of the artworks at the Times Square Building will be cancelled. 
Twitter spaces will be held daily at 1pm PST / 4pm EST / 6pm GMT At the end of each space, the artists works will become publicly available 
02.07.2022 A. L. Crego Skye Nicolas 
02.08.2022 Lorna Mills Kristen Roos 
02.09.2022  Sara Ludy Colette Robbins Mark Dorf 
02.10.2022  Mark Schoening Amir H. Fallah 
Categories
Tags